This easy Mixed Berry Cobbler from Donna Hay's cookbook Fresh and Light is slightly sweet, tart, and has a delicious earthy crust with just a little crunch from the addition of oats and raw cane sugar.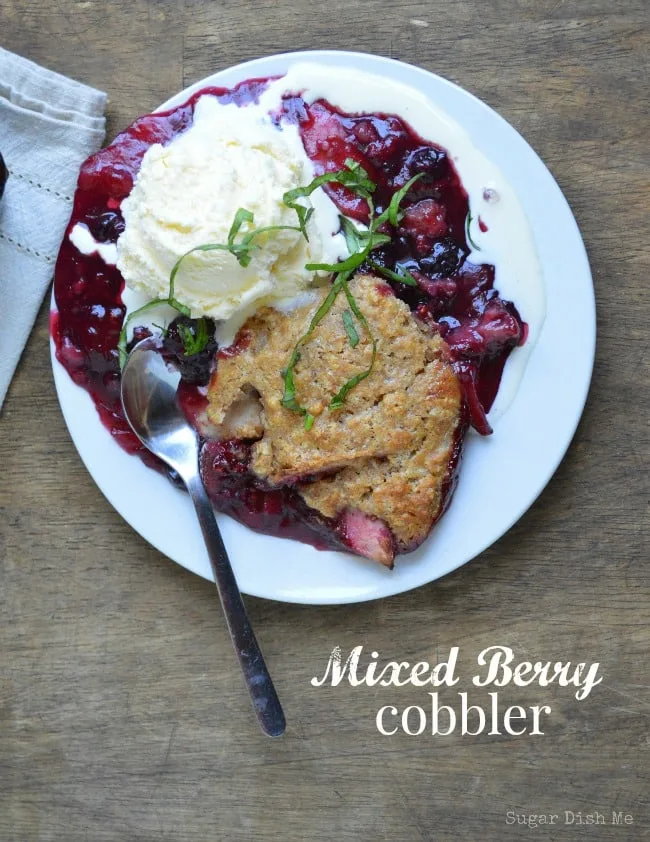 Dessert on Monday.
This is where we're at in life.
Which, honestly, seems like a pretty good place to be.
So let's talk cookbooks for a minute. Are you a cookbook collector? Fanatic? Have 1654 too many? I have a pretty long wishlist, but really I don't actually have that many. I love to flip through the pages and LOOK at things (especially in the bookstore, coffee in hand), but I am not one of those people that says they 'like to curl up with a cookbook and read it from cover to cover.' I'm pretty visual. I need the photos to lure me into reading the recipes. And then I only read them to see if they are crazy, complicated, or call for xanthum gum or something I have no home of finding in rural NC.
More power to my cookbook-reading people, but I'm kind of a suspense thriller girl, reading while I eat the snack that I made from the cookbook.
A couple weeks ago though, I received a copy of Donna Hay's new cookbook Fresh and Light to review and whoa. I mean really.
This book is GORGEOUS. With really fresh, simple recipes. There is a heavy focus on fruits and vegetables, chicken, fish, and healthy grains. It's like the how-to-eat-for-your-whole-life kind of sensible guide book, but all the food is seriously nothing short of amazing. I plan on cooking my way from cover-to-cover. Forget curling up. This is food we have to EAT.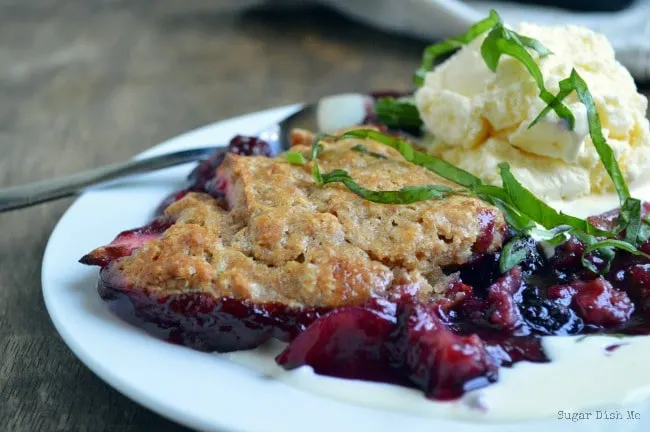 Annnnnd in true Sugar Dish Me fashion, I definitely flipped to the back of the book to make dessert first. Fresh and Light dessert? Yes please.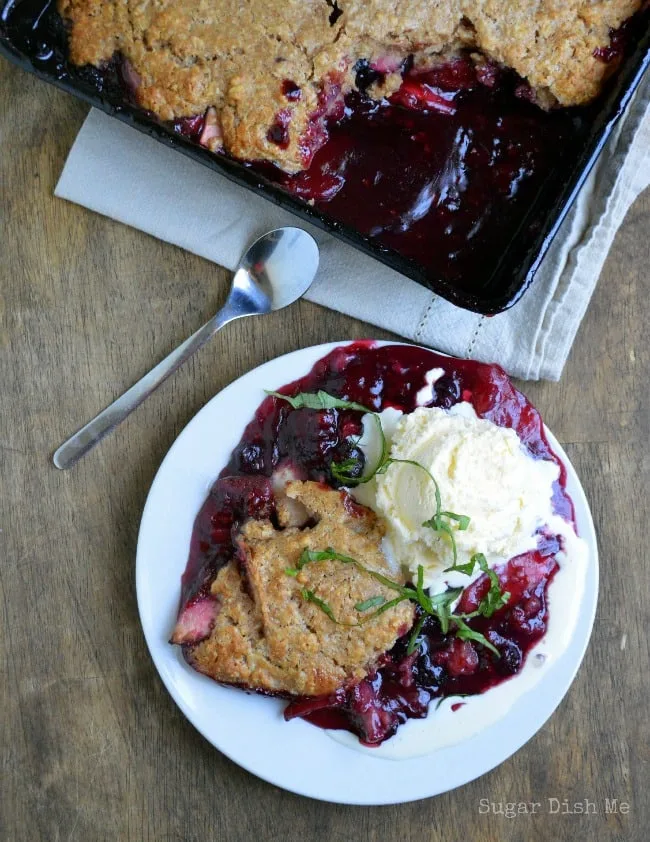 This cobbler was perfection.
I don't say that lightly.
I had to purchase only two things – whole wheat flour (because I was out) and raw sugar. I don't usually keep raw sugar on hand, but I always go for it when the little packets are there for the taking and I need a little sweet in my coffee. In a dessert you get sparkle and crunch with raw sugar, plus a depth of flavor that is sort of lacking with refined sugar. It was $1.79 well spent.
Can I Make Almond Meal?
This recipe is also going to call for almond meal. Don't panic.
If you have a good gluten-free section in your grocery store, you can probably purchase it, but I'd bet it will be expensive.
So instead, you can just make almond meal. Just toss the whole natural almonds (I always have these in my cabinet. They are my favorite snack. Also they are my dogs' favorite snack.) into the food processor and pulse. When you have a powdery meal, you are ready to go.
And if this feels like too much work, then you can add extra oats to compensate. I won't tell.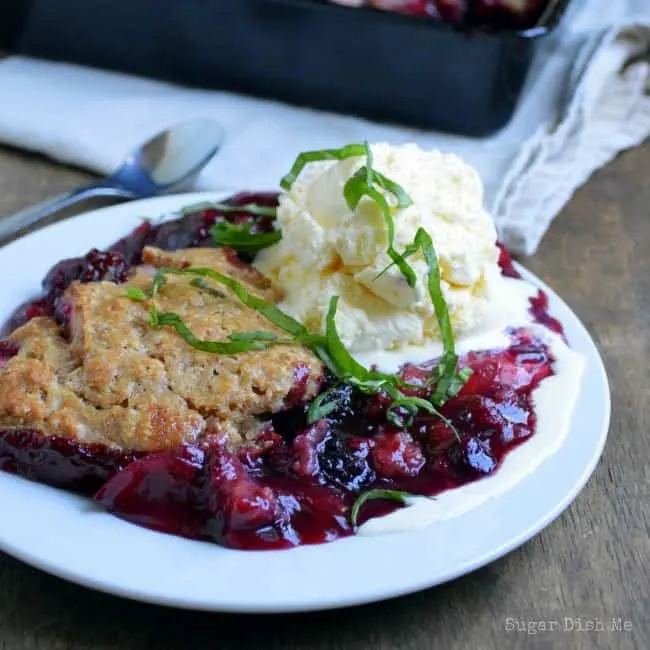 I added the ice cream because… cobbler in my world needs ice cream. I also added fresh basil. Basil and fruit are sooooo good together!
THE VERDICT: I am in love with this book. There are so many things I want to try that I don't know where to start! It was inspired and just really really beautiful. If you'd like to focus on lighter eating without trying to "diet" and just eat real food, this book is your bag.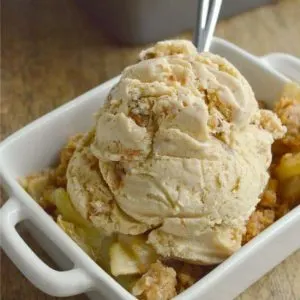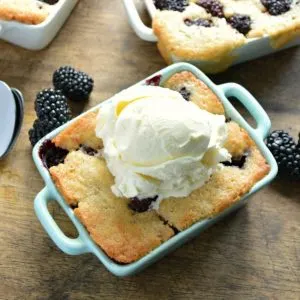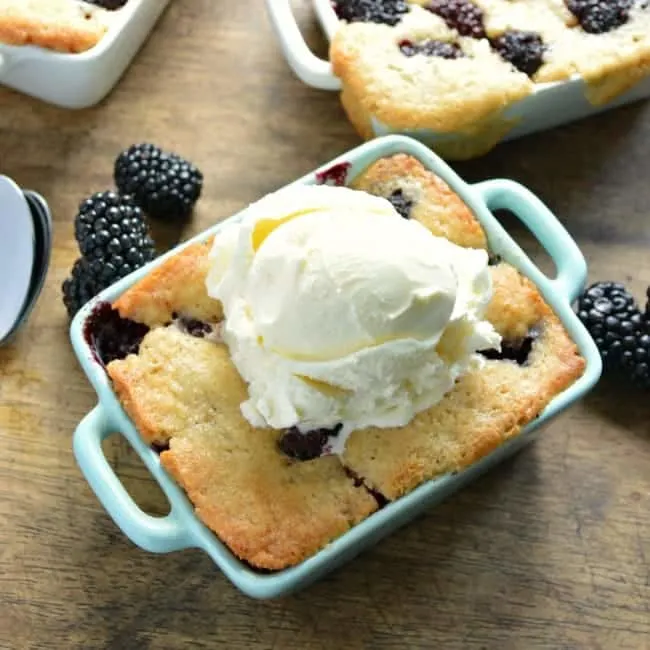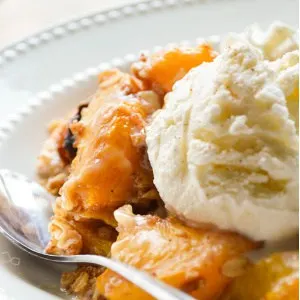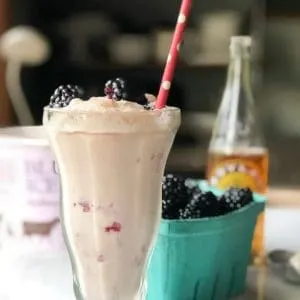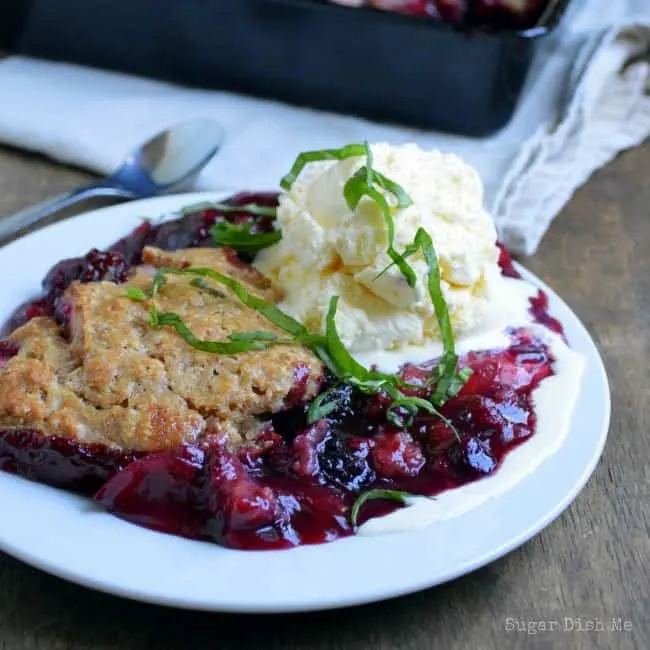 Yield:

6-8
Mixed Berry Cobbler
Mixed Berry Cobbler is made with frozen berries and has a nutty oat crust with whole wheat flour. A tasty simple dessert for any occasion
Ingredients
24 ounces frozen unsweetened mixed berries (2 12 ounce bags), slightly thawed
3 medium tart apples (such as Granny Smith), peeled, cored, and sliced
1 1/2 tablespoons cornstarch
1/3 cup super fine sugar **see note**
For theTopping:
1/2 cup self-rising flour
1/2 cup whole wheat flour
1 teaspoon baking powder
1/3 cup rolled oats
1 teaspoon ground cinnamon
1/4 cup almond meal (ground almonds)
1/2 cup raw sugar, plus a little more for sprinkling
4-5 tablespoons cold, unsalted butter
1 cup buttermilk
ice cream and fresh basil for serving (optional)
Instructions
Preheat the oven to 350°F.
In a large bowl, toss together the berries, apples, cornstarch, and super fine sugar. Place in an ungreaded 9 X 9 baking dish.
To make the topping, whisk together the flours, baking powder, oats, cinnamon, almond meal, and raw sugar.
Use a box grater to cut the butter into the dry mixture. Combine into coarse crumblies with your fingers.
Pour in the buttermilk and mix until just combined. Spoon the topping over the fruit, sprinkle with a little more raw sugar, and bake for 20 minutes (see note) or until the topping is puffed and golden and a skewer inserted into the center comes out clean.
Serve warm with ice cream and fresh basil.
Notes
1- You can purchase super fine sugar OR you can just throw granulated sugar in the blender and pulse for a minute
2- I had to bake my cobbler for longer than the recipe called for. Actually quite a bit longer. Be sure to check the topping in the center for done-ness before removing from the oven to cool.
Recommended Products
As an Amazon Associate and member of other affiliate programs, I earn from qualifying purchases.
Nutrition Information:
Yield:
8
Serving Size:
1
Amount Per Serving:
Calories:

374
Total Fat:

12g
Saturated Fat:

6g
Trans Fat:

0g
Unsaturated Fat:

5g
Cholesterol:

28mg
Sodium:

232mg
Carbohydrates:

64g
Fiber:

6g
Sugar:

33g
Protein:

5g
If you love that earthy whole wheat flavor with fresh berries and fruit, you'll also love this Raspberry Apple Pie with Oatmeal Cookie Crumble!