Rubbed and seared pork is doused in BBQ sauce and slow cooked for several hours yielding totally tender, melt-in-your-mouth BBQ. Stuffed into a corn tortilla and topped with Gouda and pineapple salsa, these BBQ Pork Tacos will be your new favorite!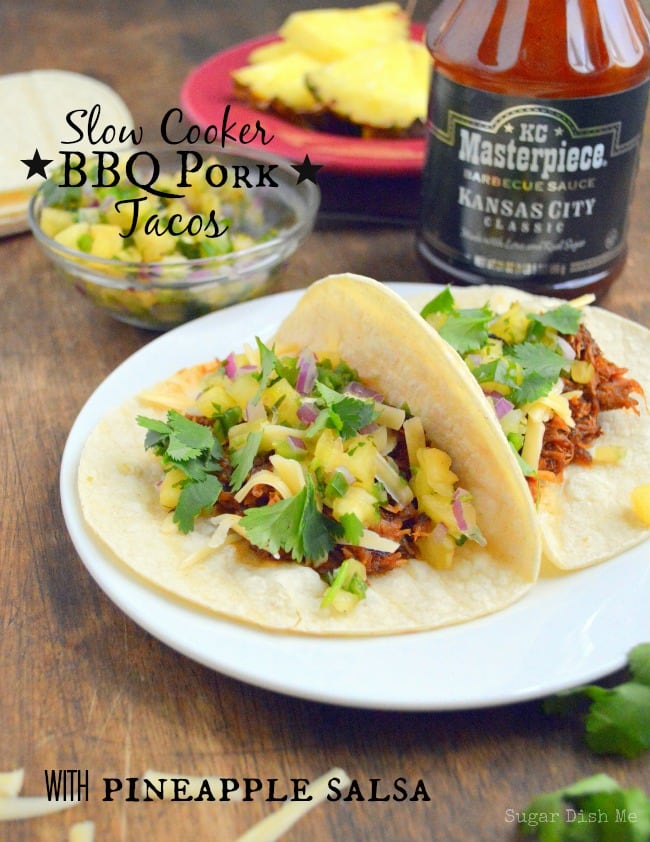 When I think of BBQ and KC Masterpiece, I think of my grandpa.
He was crass and kind of crabby with a shock of white hair and dangerous whiskers.
My grandpa was famous for lots of things in my family, most notably whoopee cushions, always changing the channel whenever you settled in to watch something on TV. But he was VERY FAMOUS for his pork steaks.
and his pork steaks. Whenever we visited, Grandpa would put on this whole huge day-long pork steak production, searing on the grill, slow-cooking them in the oven for hours, and slathering them in 'secret sauce'.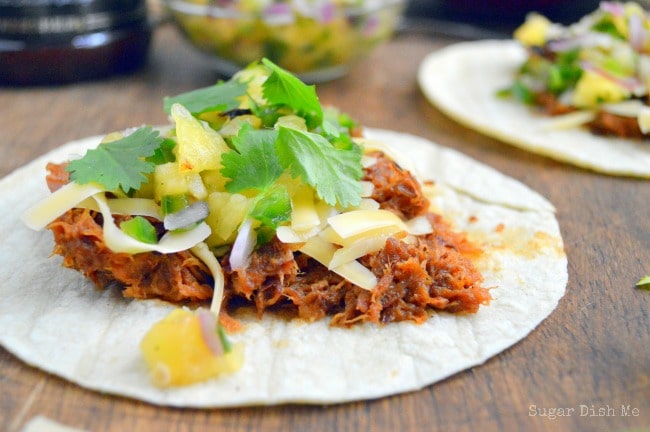 When it was time to eat, all us kids sat around the table while Grandpa held the pan in one hand and used tongs to toss a piece of meat down on each plate with the other, always with some gruff comments like, "HERE. Eat that."
And ohhhhhh we did.
We waited all year for those pork steaks. They were amazing.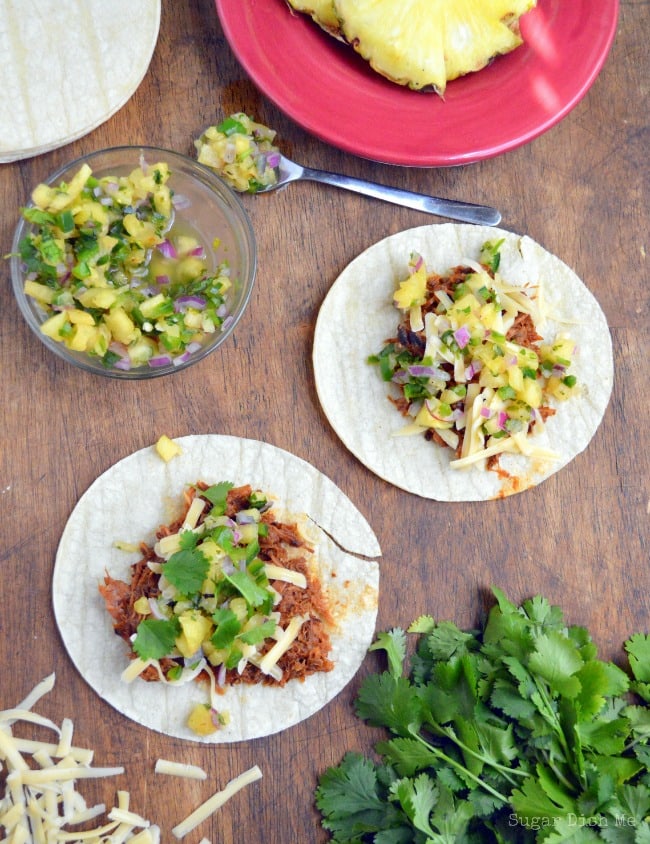 For the longest time I thought my grandpa has some magic sauce recipe, a miracle concoction that made those pork steaks so doggone good. But then I remember once I poked my head through the sliding glass door, out to the back deck where Grandpa was situated with his charcoal grill, and I saw the bottle of KC Masterpiece® perched on the railing.
Busted.
But not really. Because ohmygosh this sauce.
When I saw that KC Masterpiece® had introduced a new 35th Anniversary Blend, I knew I HAD to grab it and put it to good use. And as much as I like to try to share my Paw Paw's pork steaks with you, I am positive that I could not do them justice. Something about being cooked by a grouchy old man that loves you from the very bottom of his grandpa heart just makes them taste better.
But I could buy KC Masterpiece® and put it to good use.
I made you tacos!!! The most delicious, full-of-flavor tacos I have shoved in your face yet. And because you are just going to sear the pork really quickly, cover it in BBQ sauce, and then throw it in the slow cooker, you'll come home and your house will smell completely amazing.
I topped these with a sprinkle of smoked Gouda cheese (yesyesyes) and a simple, fresh, perfectly spicy sweet pineapple salsa.
Grandpa approved.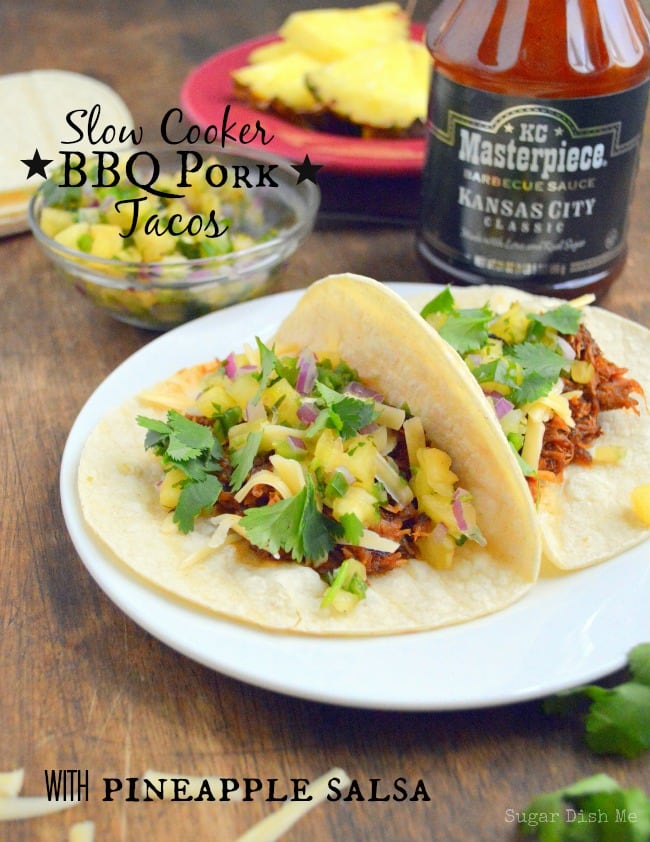 Yield:

Makes around 20 tacos
Slow Cooker BBQ Pork Tacos with Pineapple Salsa
Total Time:
5 hours
15 minutes
Slow Cooker BBQ Pork Tacos are made with a tender cut of pork slow cooked in KC Masterpiece® 35th Anniversary Blend, shredded, and stuffed into tacos with a simple. delicious pineapple salsa.
Ingredients
For the Pork:
3 -4 pound pork roast
1 tablespoon chili powder
1 tablespoon paprika
1 tablespoon brown sugar
1 teaspoon cumin
1 teaspoon kosher salt
1 teaspoon coarse ground black pepper
1/2 teaspoon cayenne pepper
1 tablespoon oil
1 (21 ounce) bottle KC Masterpiece® 35th Anniversary Blend
For the Salsa:
2 cups diced fresh pineapple
1/2 cup diced red onion
1-2 jalapeno peppers, de-seeded and finely diced
1/3 cup fresh cilantro, chopped
juice of 1 lime
1/2 teaspoon kosher salt
For the Tacos:
corn or flour tortillas (corn tortillas pictured)
2-3 ounces shredded Gouda
Instructions
Combine the chili powder, paprika, brown sugar, cumin, kosher salt, black pepper, and cayenne pepper in a small bowl. Rub the pork all over with the spice mixture, covering all sides.
Heat the oil in a large skillet. You want the pan HOT. Sear the pork on each side for 1-2 minutes.
Place the pork in the crock pot (mine is a 6 qt. capacity). Pour the BBQ sauce over the pork, reserving about 1/4 of the bottle for serving. Cover and cook on High for 4-5 hours, or Low for 7-8 hours.
Shred the cooked pork, spooning sauce from the crock pot over the meat as you go.
To make the pineapple salsa, toss together the pineapple, onion, jalapeno, and cilantro. Squeeze with the lime juice and sprinkle with the salt. Toss to combine.
To make the tacos, spoon the pork onto each tortilla. Sprinkle with a little of the cheese, and then top with the salsa. Garnish with additional cilantro if desired
Recommended Products
As an Amazon Associate and member of other affiliate programs, I earn from qualifying purchases.
Nutrition Information:
Yield:
20
Serving Size:
1
Amount Per Serving:
Calories:

265
Total Fat:

18g
Saturated Fat:

7g
Trans Fat:

0g
Unsaturated Fat:

9g
Cholesterol:

71mg
Sodium:

299mg
Carbohydrates:

7g
Fiber:

1g
Sugar:

3g
Protein:

19g