This easy No-Bake Mocha Latte Pie is loaded with all the flavor of one of my favorite hot beverages! Cream, chocolate, and espresso with a chocolate cookie crust.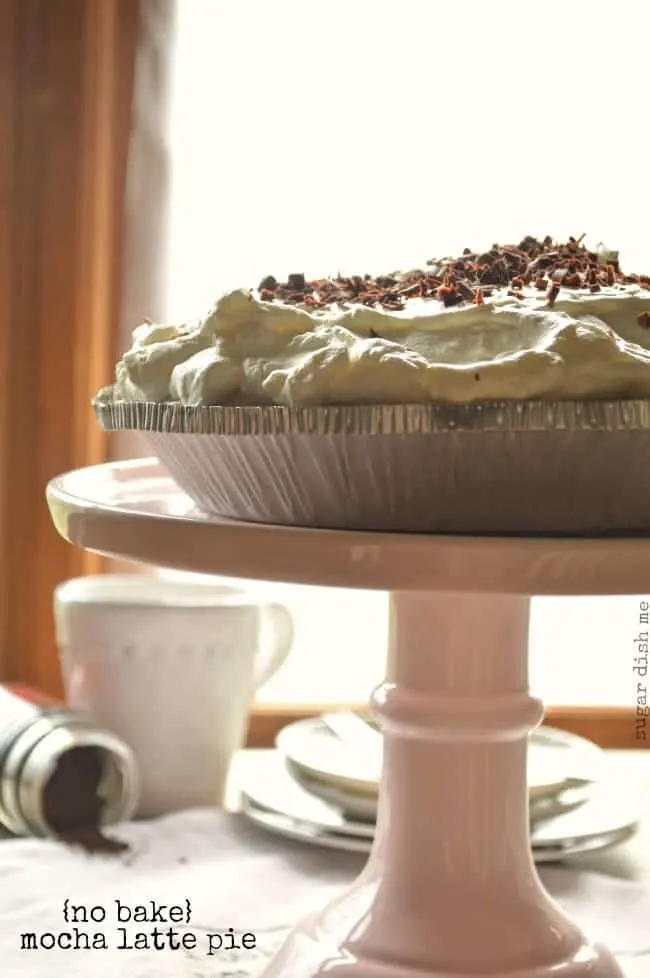 Waaay back in 2011 Chad wanted to make me a birthday dessert. Except he was trying to keep it a secret – like a surprise. So all day long while I was at work he kept texting me these weird questions like "what does it mean to 'fold' something in?" and "do we have a hand mixer?"
I was a little worried because Chad knows zero about doing laundry, so I wasn't sure what the folding mess was all about, and the hand mixer thing totally threw me off.
But when I got home I had two very lovely peanut butter pies waiting for me.
One day I'll dig out the photos so you can hysterically laugh at Chad's attempt at piping 'Happy Birthday' in Nutella.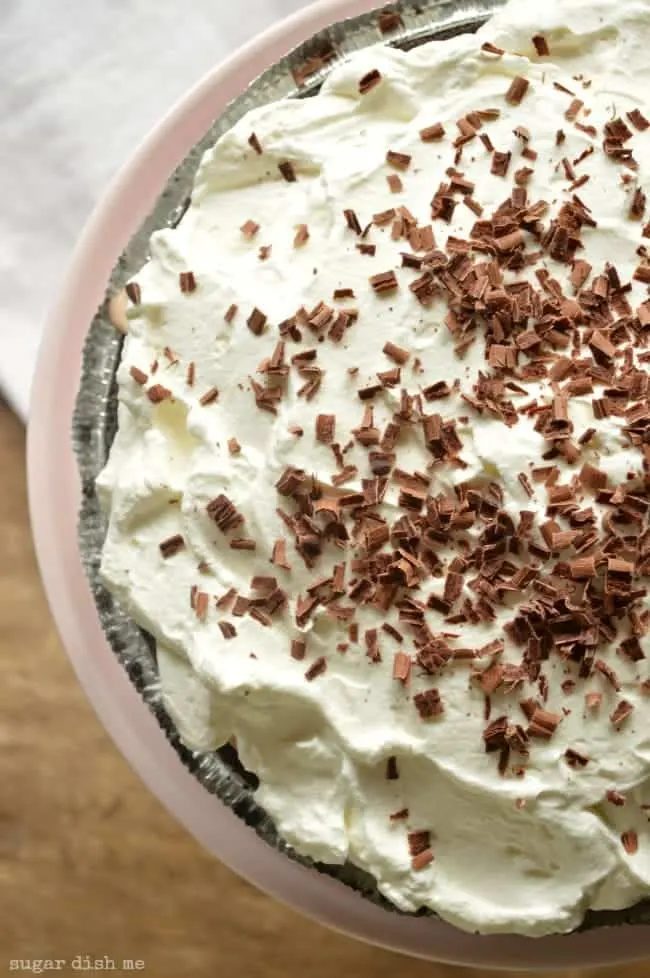 I based this recipe on Chad's ugly but delicious no bake peanut butter pie. I swapped peanut butter for some creamy chocolate spread and added some espresso powder.
ESPRESSO POWDER!!!
get some.
When I put this recipe together it was for my friend Betsy at Java Cupcake. You can see the original post for No Bake Mocha Latte Pie <<<— here. She was taking some time off to spend with her family and requested some guest posters to help fill some space.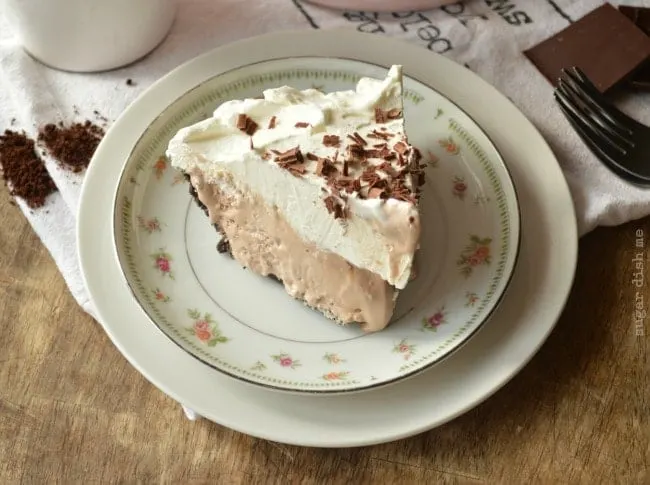 Betsy's was one of the first baking blogs I followed and you should for sure check out her Raspberry Rhubarb Pie and her Frozen Nutter Butter Pie. Plus she made these gorgeous Sugar Cookies that look like Doughnuts.
So you should visit Betsy's blog, but also? You should make this pie. Because it's awesome and there's no baking.
No Bake Mocha Latte Pie
Ingredients
2 prepared chocolate cookie pie crusts
8 ounces cream cheese, softened
1 cup powdered sugar
1 cup chocolate spread
3 tablespoons instant espresso powder
2 teaspoons vanilla
½ cup milk
2 (8 ounce) containers of Cool Whip
For the topping:
3 cups heavy whipping cream
5 tablespoons powdered sugar
chocolate shavings to garnish
Instructions
Beat the cream cheese and powdered sugar together until fluffy. Add the chocolate spread and espresso powder. Beat until combined. Then mix in the vanilla and milk until smooth.
Using a rubber spatula fold in the Cool Whip until it is evenly incorporated. Divide the pie filling between the two crusts.
To make the topping add the heavy cream to the bowl of a stand mixer and beat on med high until stiff peaks form, adding the powdered sugar a tablespoon at a time while it mixes. Spread over both pies and cover with the shaved chocolate.
Freeze for at least 2 hours or overnight.
Love Not Baking? Here are a few more recipes from friends…
No Bake Cherry Cheesecake Fluff Pie from Or Whatever You Do
Mini Nutella No Bake Pies with Pumpkin Whipped Cream from Lemons for Lulu