It's the 20th! (Already? What in the world?)
For this month's Surprise Recipe Swap I was assigned This and That, a blog that dabbles in Canadian, American, and African cuisine. I've been playing with new cheesecake recipes to post for awhile now, because it's been too long, right?
Right.
So after some searching around Marly's blog I settled on Nanaimo Bar Cheesecake because um… wow!
I'd never heard of Nanaimo Bars before so I had to do a little research. If you are in the Always-the-Last-Person-to-Know Club with me then I need to explain that Nanaimo Bars are a Canadian treat named after the west coast city of Nanaimo, British Columbia. Traditionally they would be entirely no-bake and would consist of 3 layers: this completely awesome and chocolatey crust chock full of shredded coconut and chopped nuts, a light custardy vanilla layer, and then a layer of melted chocolate.
I'm just gonna go ahead and say delicious.
I did make a few changes to the original recipe, but nothing crazy. I also opted for cheesecake bars instead of cheesecake slices because I'm mostly a dessert-on-a-napkin kinda girl. Also I thought it was important to let the crust shine with this recipe– the bottom layer is really where it's at.
I was completely pleased in love with totally smitten with Nanaimo Bars!!!

Nanaimo Cheesecake Bars- Surprise Recipe Swap
Ingredients
½ cup unsalted butter
¼ cup granulated sugar
3 tablespoons unsweetened dark dutch blend cocoa
1 egg, lightly beaten
1½ teaspoons vanilla
1½ Oreo cookie crumbs
1 cup shredded coconut
½ cup chopped nuts (pecans, almonds, walnuts)
2 (8 ounce) packages cream cheese, at room temperature
½ cup granulated sugar
⅛ cup vanilla pudding mix (instant OR cook & serve--either is fine)
2 eggs, at room temperature
⅓ cup heavy cream
1 cup semi-sweet chocolate chips or 8 ounces semi-sweet baking squares
½ tablespoon unsalted butter
⅓ cup toasted coconut (see note)
Instructions
Melt the butter in a small saucepan. Stir in the ¼ cup of sugar and the 3 tablespoons cocoa powder until smooth. Remove the mixture from the heat and set it aside to let it cool for about 10 minutes.
Butter a 9 X 9 square pan. Line it with parchment paper and then butter the paper (this will make lifting the chilled bars out and cutting them later muuuuch easier). Pre-heat the oven to 350.
In a medium bowl combine the Oreo cookie crumbs, shredded coconut, and chopped nuts.
Gently stir the lightly beaten egg into the cooled butter/chocolate mixture (make sure the mixture has cooled enough to NOT scramble the egg but you still want the mixture to be smooth and liquid). Then add the vanilla.
Pour the chocolate mixture into the Oreo crumb mixture and stir until combined. Press into the prepared pan and refrigerate.
In a large bowl beat together the cream cheese, sugar, and vanilla pudding mix. Add the eggs one at a time, beating well after each addition.
Pour the cheesecake batter over the chilled crust and bake for 15 minutes.
Reduce the heat to 275 and continue cooking for the remaining 15 minutes. Turn the oven off and let the bars come down to room temperature in the oven (this helps prevent the cheesecake layer from cracking).
Heat the heavy cream to a simmer in a small saucepan. Add the chocolate chips or semi-sweet baking chocolate squares and remove the pan from the heat, stirring until smooth. Stir in the butter until it's melted completely. Pour the melted chocolate over the cooled cheesecake. Sprinkle with the toasted coconut and refrigerate the whole pan for at least 2 hours.
Lift the parchment paper from the pan and gently pull it away from the cheesecake bars. Cut into 16 pieces
Notes
To toast coconut, pre-heat the oven to 350 and scatter the coconut across an ungreased baking sheet. Bake for just a couple minutes until it's a pretty golden color-- check it frequently because it's quick to burn!!
Hey, Canada. I found another reason to love you.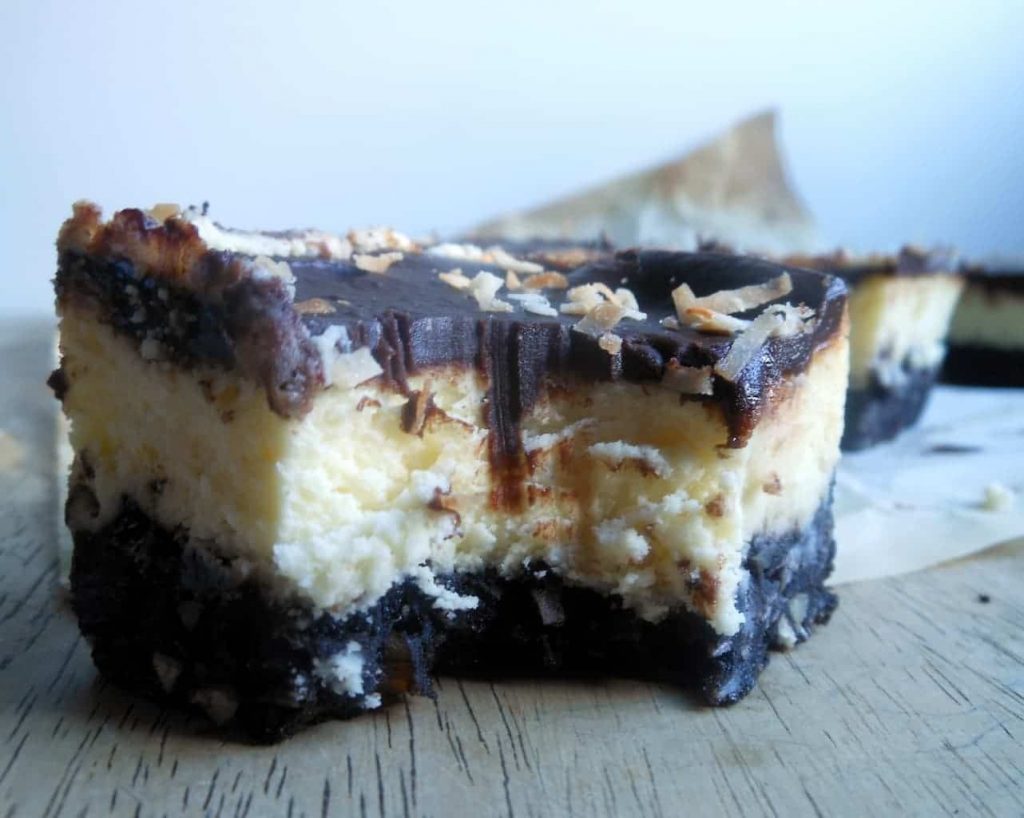 To see my past recipe swaps with SRS…
Prosciutto and Provolone Baked Egg Breakfast
Honey Mustard Vinaigrette Salad with Goat Cheese Pastries
If you're interested in participating in the Surprise Recipe Swap click on the "I participate" icon below and fill out the sign up form. You'll be assigned another blog to recipe shop (in secret) and another blogger will be assigned to you. Posts/reveals go up on the 20th of every month. It's fun!