A super simple 30-Minute meal your whole family will love! One Pot Chicken and Spinach Macaroni uses Horizon White Cheddar Macaroni for the best shortcut to any cheesy delicious meal yet!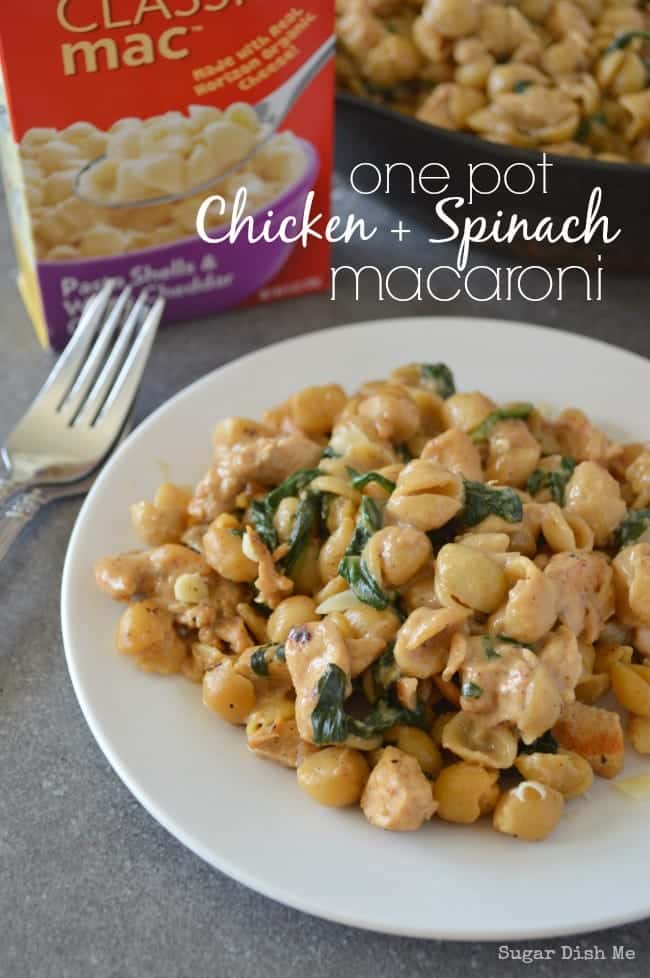 This is a sponsored conversation written by me on behalf of Horizon Organic. The opinions and text are all mine.
Let's get something straight: I never buy boxed macaroni and cheese.
I know. I am the uncoolest mom ever.
It's not because I don't love macaroni and cheese [I do!], but it's mostly because I have no idea what's in it. Monosomethingorotherwithglucascarememine or whatever is not an ingredient I'm familiar with so… I just pass and get creative with things like Philly Cheesesteak Macaroni. There are some days though that DANG I need a shortcut. I mean, I was raised on boxed macaroni and cheese and look at me! I'm still standin' (yeah, yeah, yeah). I needed a middle ground.
I mean… we all have days that from scratch feels tedious, buuuut then you don't want to just pack-it-up and cave in to the drive thru or pizza delivery guy, because after it's all said and done, you just can't feel good about that.
Also sometimes my mom-dinner brain is SHUT OFF. I have no idea what we are having for dinner, thankyouverymuch. I'm quite fine with yogurt. Or brownies.
Please tell me I'm not alone in considering peanut butter toast a wholesome meal on a busy Thursday when I really just can't be bothered.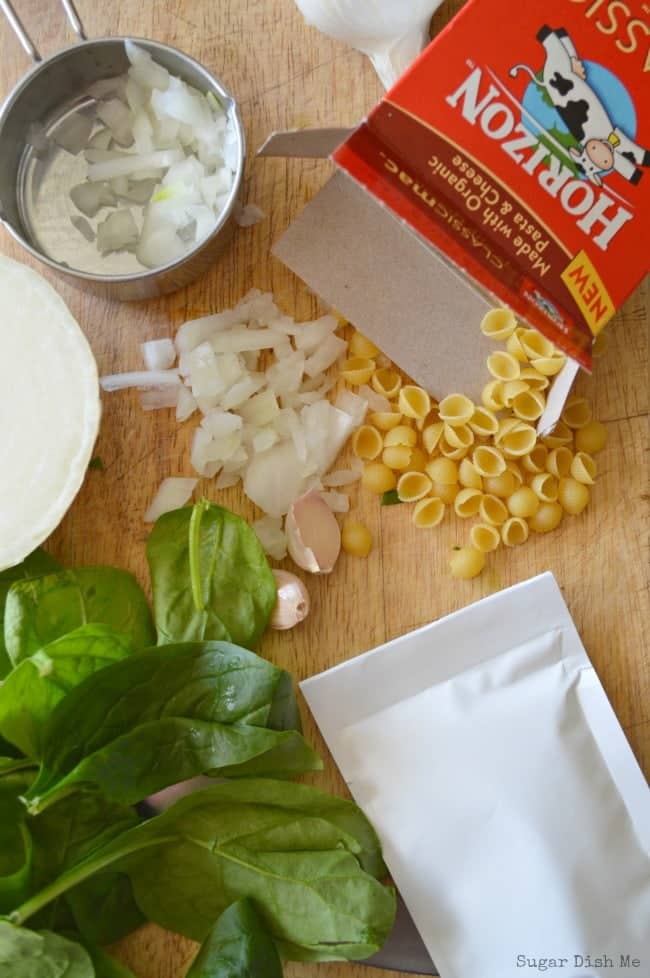 So middle ground: a recipe you can make with wholesome ingredients, incorporating WHOLE FOODS, but that cuts a few corners and is ready to go in 30 minutes or less. YESSSS.
That's what we have here. One Pot Chicken and Spinach Macaroni made with Horizon Macaroni and Cheese. This is like my dream meal for weeknights and it hits all the points — only one pot? CHECK. ready in 30 minutes? CHECK. includes all the food groups? CHECK. for real loved by the whole entire family? CHECKITY CHECK CHECK.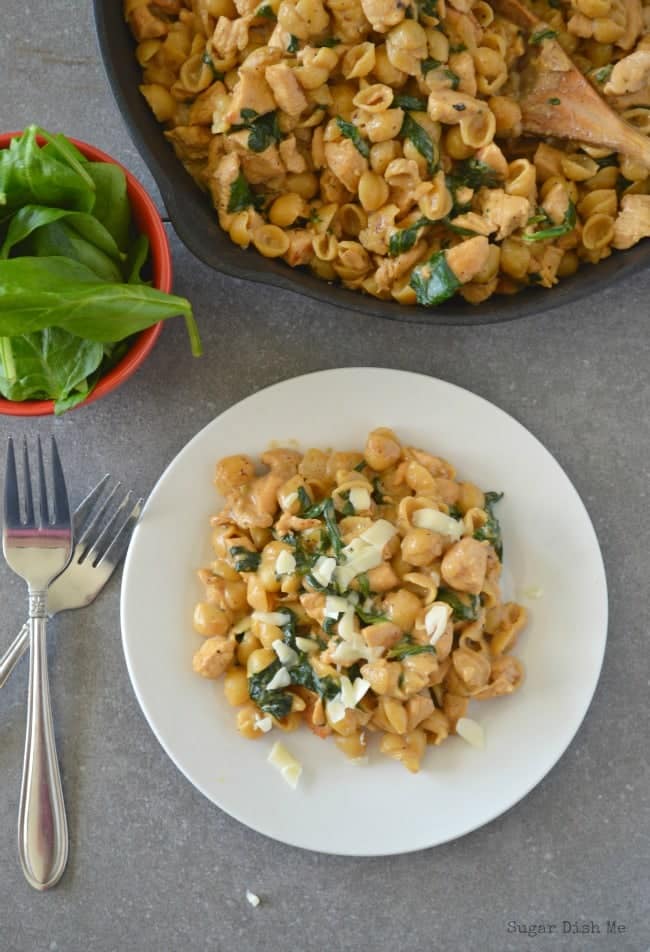 I used two boxes of Horizon Organic Mac Pasta Shells & White Cheddar Cheese, but I think any variety would work super well with this easy everyday recipe. One box contains about 2 1/2 cooked servings, so this yields 6 (my math is not that bad I promise; adding the chicken and spinach yields an extra portion) filling portions that are full of protein, organic pasta, and real Horizon organic cheese. I felt really good about serving this and I had nearly everything to make it hanging around the house.
The kiddos raved and the other half (the pasta-hating other half) had seconds. Also I tricked them into eating cooked spinach so there's that.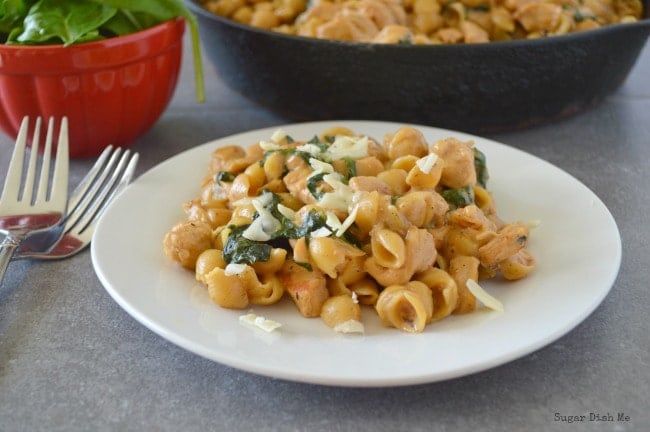 One Pot Chicken and Spinach Macaroni
A simple 30-Minute , one-pot meal perfect for weeknights. One Pot Chicken and Spinach Macaroni hits all the food groups and gets a well-rounded, cheesy, delicious, protein-filled meal on the table fast.
Instructions
In a large skillet over medium high heat melt 1 tablespoon of the butter. Add the chicken breast pieces and sprinkle with the salt and pepper. Cook, stirring occasionally, until the chicken is browned, about 5 minutes.
Add the onion and cook until translucent -- approximately 2 minutes. Then add the garlic and cook for just 1 minute.
Pour in 2 cups of the chicken broth. Let it come to a simmer. Add the pasta from both boxes of the Horizon Macaroni, setting aside the cheese packets for now. When the liquid simmers again after adding the pasta, pour in the remaining 1 cup broth and 1 cup milk.
Cook, stirring occasionally, for about 10 minutes.
Stir in the contents of the cheese packets and the remaining 3 tablespoons butter. Once the butter has melted and the mixture looks creamy, add the spinach.
Let the pasta cook with the spinach, stirring occasionally until the pasta is tender and the spinach is just wilted. Serve immediately.
If this kind of recipe is just exactly the thing you need then you will be sososo happy that there are tons more like it! One Pot Chicken and Spinach Macaroni is just one of the recipes you can find with Horizon's Mac-n-Ator tool. My recipe here falls in the 'Everyday' category, calling for little more than simple pantry staples. You could also go for Classic, Bold, or Adventurous — in truth this is one of those things I'd use to just plug in my random ingredients on hand and then wait for it to tell me what to feed the family.
It's nice to not have to think about it.
You can also follow Horizon on Pinterest so you can save all your favorite macaroni and cheese recipes.
p>This is a sponsored conversation written by me on behalf of Horizon Organic. The opinions and text are all mine.