Dense, rich and perfectly fudgy, and topped with a perfect chocolate buttercream frosting. This Sour Cream Fudge Cake is intense, decadent, and says I Love You with every bite.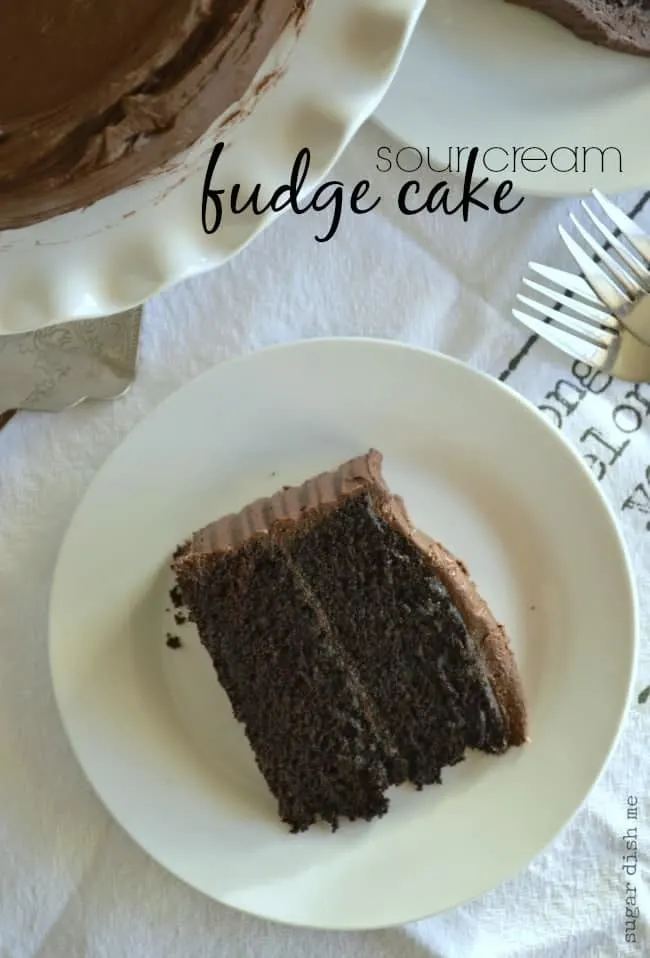 Okay well, as a disclaimer I'll start off by saying that I totally know that making super beautiful cakes is not a skill I possess.
Making super delicious cakes though — well that's something I can do. This Birthday Cake Oreo Birthday Cake is maybe the closest I ever got to making a pretty cake, but this Sour Cream Fudge Cake? Holy moly, ya'll. I don't even care that it looks sort of wonky. You'll want to faceplant straight into the center of it anyway, so appearances aren't that important.
Which sort of accidentally on purpose brings me to why I decided to bake this cake.
I've been reading a handful of blogs since before I ever got the nerve to hit publish on my own, and one of my all-time favorites for forever — like I never miss one single post — is Can You Stay for Dinner?, by Andie Mitchell. The writing is stellar and the recipes are some of my favorites. Some are light and some are indulgent, all are thoughtfully composed and will make your taste buds hug you.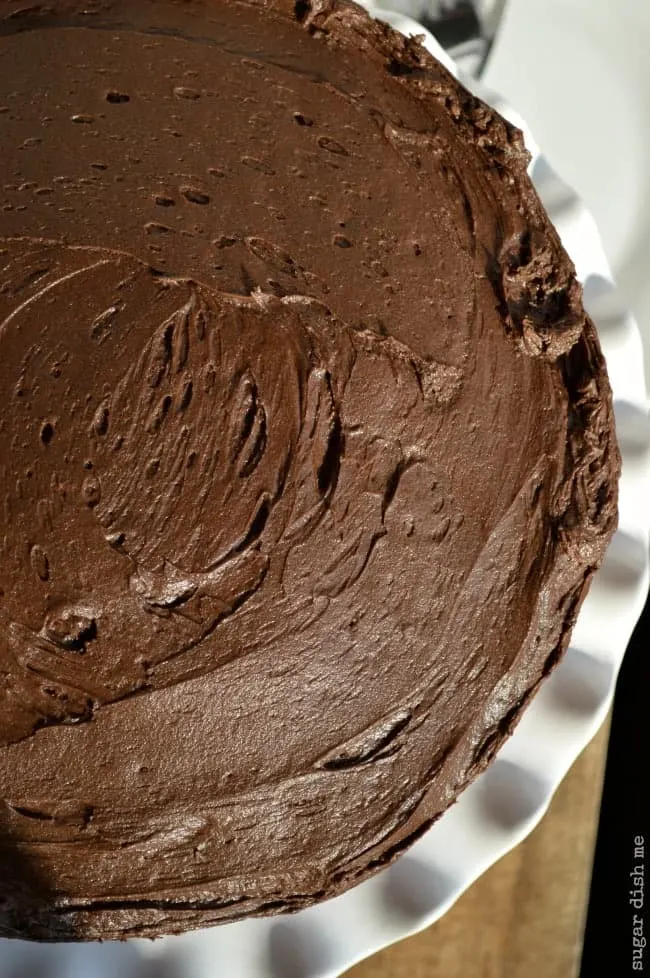 Probably my favorite part about Andie's blog though, is the open honesty on every single page.
Weight loss and body image are real issues for nearly every woman I can think of, myself so definitely included. Too thin, too fat, too tall, too short, too muscled, too soft — all of us are too something in our own heads. For many we feel like if we could just conquer the physical parts that allude us then everything else would just magically fall into place.
I know it seems out of place to talk about weight loss and body image while surrounded by in your face photos of chocolate cake.
But.
It actually makes perfect sense. Because after years of penning thoughtful and encouraging words on the internet, the author of Can You Stay for Dinner? finally published her book – a memoir – and I loved every word.
The book also started and ended with this Sour Cream Fudge Cake.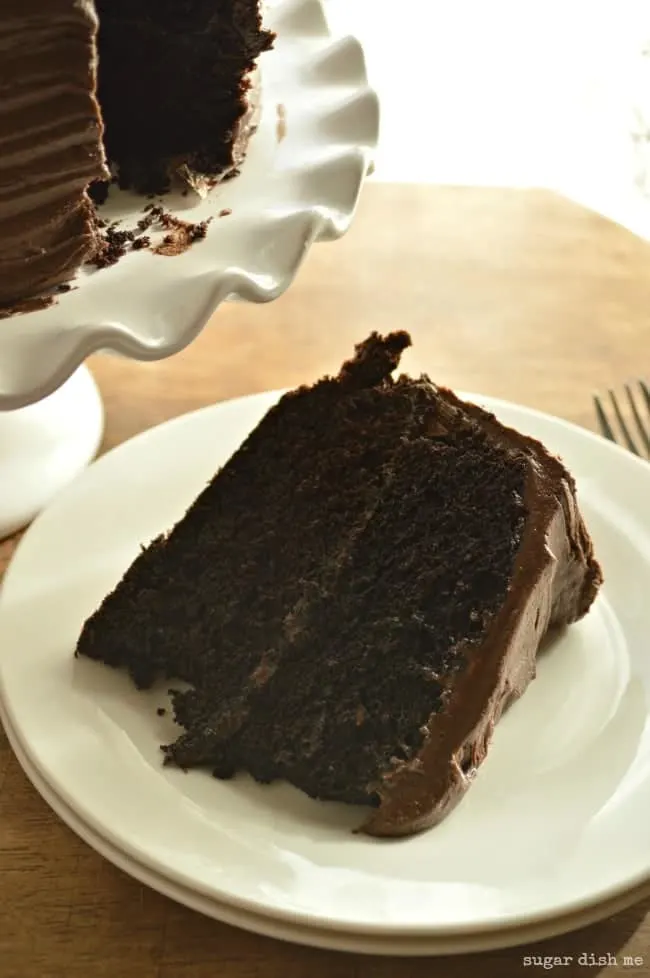 The introduction to It Was Me All Along (NOT an affiliate link – just a link so you can find the book) is all about this beautifully dense, rich, chocolatey Sour Cream Fudge Cake topped with the most wonderful Classic Chocolate Buttercream Frosting. And as soon as I read those pages of cake love I knew I needed to find the recipe. I scoured Andrea's website, Googled things, I mean — I was looking everywhere for this recipe.
But when I got to the end of the book, there it was!!!
Which made me cherish the book, the author, and the journey she took me on even more.
I am so serious when I say that half of the words I read in this book were like she took them from my own inner monologue. The struggle, the worry, the fear, and all the work it takes to accept and love yourself — all of it is there in 232 pages.
The resentment about losing and how others automatically assign you more value. The fear of gaining because you become increasingly more invisible. The relationship to food and how much it can shape you. Learning to love yourself in spite of it all.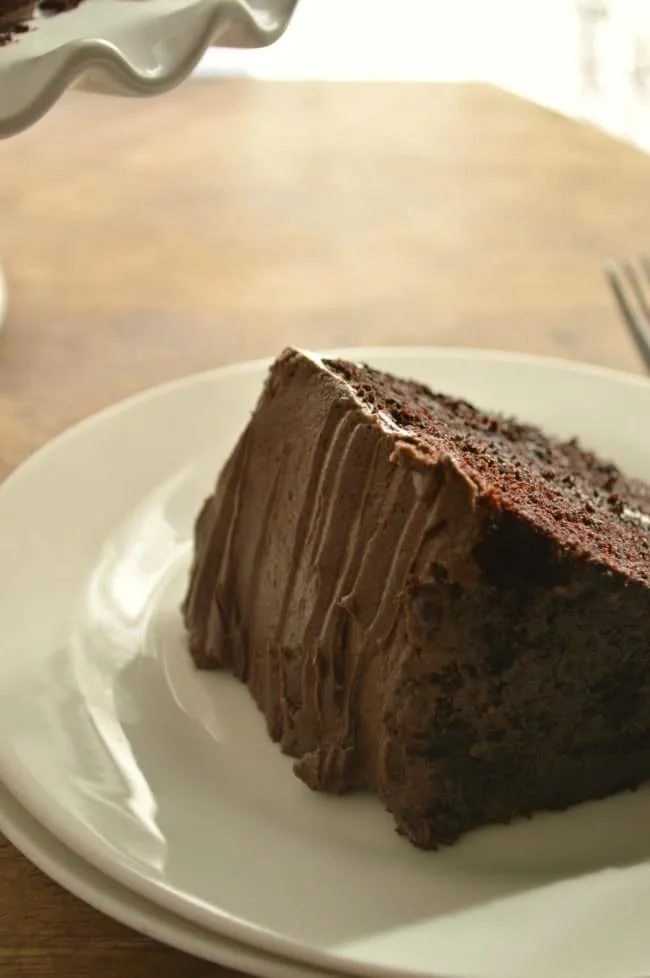 So.
Today we are going to make this cake. But if you have ever thought yourself to be "too" something everytime you walk past the mirror, I'd encourage you to read this book. If you love food, read this book. If you stress or struggle or think that 10 more pounds, less frizzy hair, or straighter, whiter teeth will suddenly solve that inner turmoil, read this book. And if you are one of the luckies that escaped all the mental strain that goes along with shape and size, you should still read this book because it's a lovely story full of lovely insights and also — there's cake.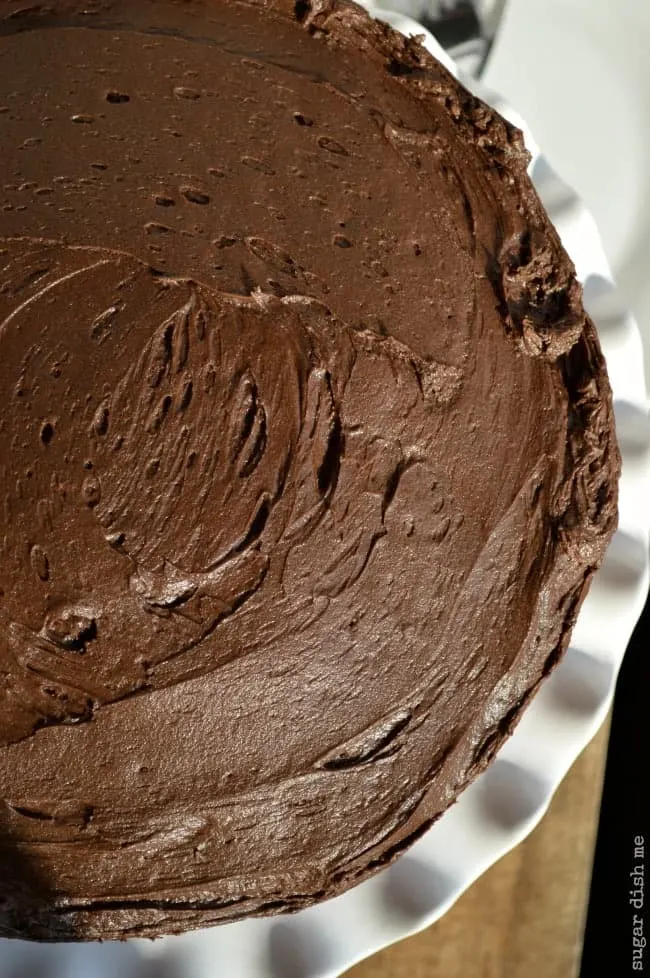 Yield:

serves 12
Sour Cream Fudge Cake
Andie Mitchell's Sour Cream Fudge cake from her memoir 'It Was Me All Along' . This cake is dense and fudgy and a chocolate lover's dream. It says I love you with every bite.
Ingredients
1 cup unsweetened cocoa powder (I used special dark dutch process cocoa)
1 cup HOT brewed coffee
1/2 cup sour cream
1 teaspoon vanilla
1 cup unsalted butter, softened (plus additional for the pans)
1 cup granulated sugar
1/2 cup light brown sugar, packed
3 large eggs
1 1/2 cups all purpose flour (plus the flour for the pans
1 teaspoon baking soda
1/2 teaspoon salt
For the Chocolate Buttercream:
1 cup unsalted butter
4 cups powdered sugar
1/2 cup unsweetened cocoa powder
1/2 cup milk or cream
1 teaspoon vanilla
1/2 teaspoon kosher salt
Instructions
Preheat the oven to 350°F. Butter and flour two 9" round cake pans.
In a medium bowl, whisk together the cocoa powder, coffee, sour cream, and vanilla. It will make a gorgeous shiny fudge.
In a large bowl beat the butter until smooth and shiny. Add the sugars and continue beating until fluffy, and then beat in the eggs one at a time, mixing between each addition.
In another bowl whisk together the flour, baking soda and salt. Add it to the butter in thirds, alternating with the fudge mixture, scraping down the bowl several times as you go.
Divide the batter between the two prepared cake pans and bake for 25 - 30 mins. A pick inserted into the center will come out clean.
Let the cakes cool before turning them out on a wire rack to cool completely.
To make the chocolate buttercream, beat the butter until smooth. Whisk together the powdered sugar and cocoa powder. Add it a cup at a time to the butter, mixing well in between each addition. When the mixture is too dry to add any more of the powdered sugar, add the vanilla and milk, and sprinkle in the salt. Add the remaining powdered sugar/cocoa and beat the frosting on high until fluffy and smooth. If it seems too thick you can add just a little more milk.
Stack and frost the cooled cakes, slice and serve.
Nutrition Information:
Yield:
16
Serving Size:
1
Amount Per Serving:
Calories:

522
Total Fat:

27g
Saturated Fat:

16g
Trans Fat:

0g
Unsaturated Fat:

9g
Cholesterol:

103mg
Sodium:

237mg
Carbohydrates:

66g
Fiber:

2g
Sugar:

45g
Protein:

5g
This recipe is from the memoir It Was Me All Along by Andie Mitchell. For more amazing recipes from the same author, please visit Can You Stay for Dinner?