Creamsicles.
Love 'em? Or hate 'em?
I think creamsicles are a polarizing sort of food.
I am obviously in the love group. Like I love Orange Crush poured over vanilla ice cream. And I love the original Orange Creamsicle Popsicles. And I love orange sherbet which for me totally falls into the creamsicle category. I DO NOT love that spell check doesn't recognize the word "creamsicle". Or "Popsicles". The squiggle red line under all my dessert words is annoying. Who are the people that update this computer dictionary stuff anyway? They obviously don't eat good food.
Anyway.
It's feeling like summer this week. I want ice cream trucks and popsicles and bright pink toenail polish. I want to cook everything outside. I want fireflies and fresh cut grass. I want more excuses to chase my kids outside. And I want Orange Creamsicle Cookies.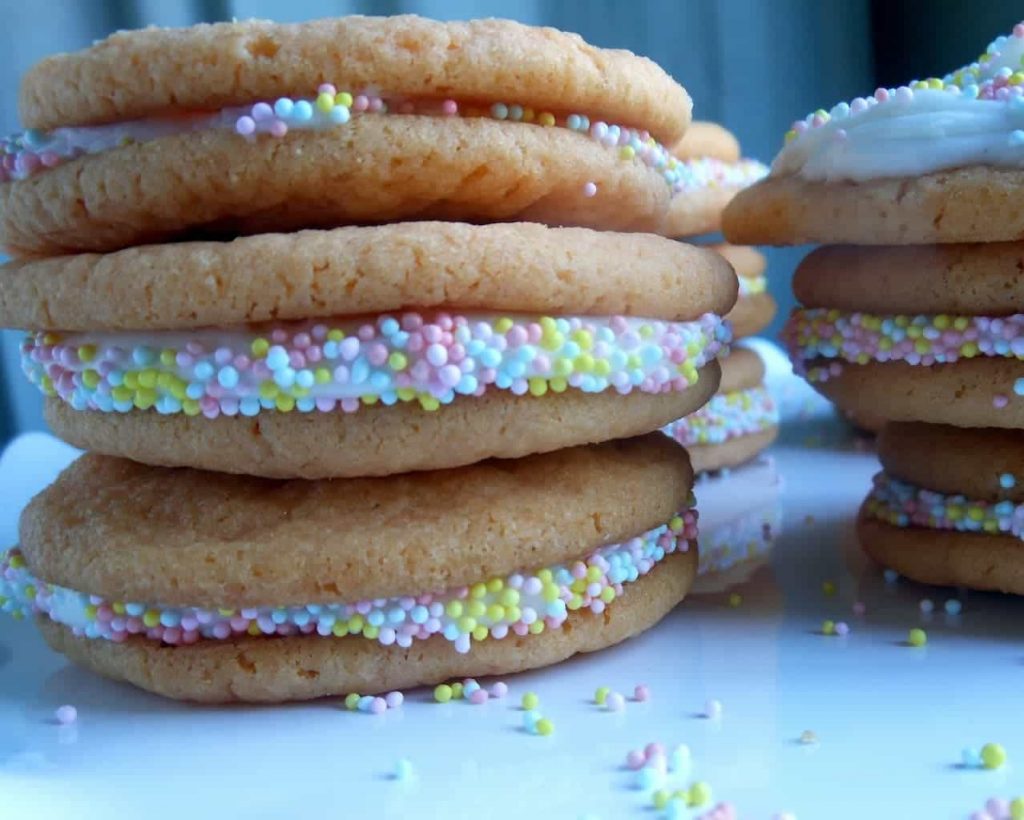 These cookies are just a basic pudding cookie recipe (read: super soft and moist and wonderful) with some Orange Cream Frosting Creations added in. Then I sandwiched marshmallow creme in between 2 cookies and added sprinkles. Because I really love sprinkles. Remember the Cotton Candy Buttercream? The Duncan Hines Frosting Creations do some super cool things (and they don't even pay me to say that, although, Duncan Hines: if you are listening and you wanna throw me some cash for creating fun things with your products I'm totally open to it.).

Orange Creamsicle Cookies
Serves:
24 cookie sandwiches
Ingredients
Orange Creamsicle Cookies:
1 cup unsalted butter, softened
1 cup granulated sugar
1 (3.5 ounce) package instant vanilla pudding
1 package Orange Creme Frosting Creations
2 eggs
1 teaspoon baking soda
2 cups all purpose flour
Marshmallow Creme Filling:
½ cup marshmallow fluff
½ cup unsalted butter, softened
2 cups powdered sugar, sifted
1-2 tablespoons milk
½ cup nonpareils
Instructions
Pre-heat the oven to 350.
Beat together the butter and granulated sugar until fluffy. Mix in the pudding and Orange Creme Frosting Creations.
Add the eggs and beat until combined.
Mix in the baking soda and flour until you have soft smooth orange cookie dough.
Roll the dough into 1½ inch balls and place them about 2 inches apart on an ungreased cookie sheet.
Bake for 9-10 minutes. Let the cookies cool for 3-4 minutes before removing to a wire rack to cool completely.
To make the marshmallow creme filling beat together the marshmallow fluff and the unsalted butter until it's whipped and smooth. Sift in the sugar 1 cup at a time. IT WILL BE THICK. Add the milk 1 tablespoon at a time until you've reached your desired consistency. I like mine to be about the texture of smooth peanut butter. If you get it too thin, add a little more powdered sugar.
Frost the bottom of half the cookies and then sandwich the frosted half between another cookie.
Roll the exposed frosting in the nonpareil sprinkles using your fingers to sprinkle and cover evenly.
Pudding cookie recipe adapted from
Kraft's Easy Pudding Cookies
.