Creamy cheesecake spiked with tequila and topped with boozy strawberries. This Tequila Lime Cheesecake Recipe has a Strawberry Margarita Topping that will blow your mind! PLUS. Tips for not cracking the baked cheesecake.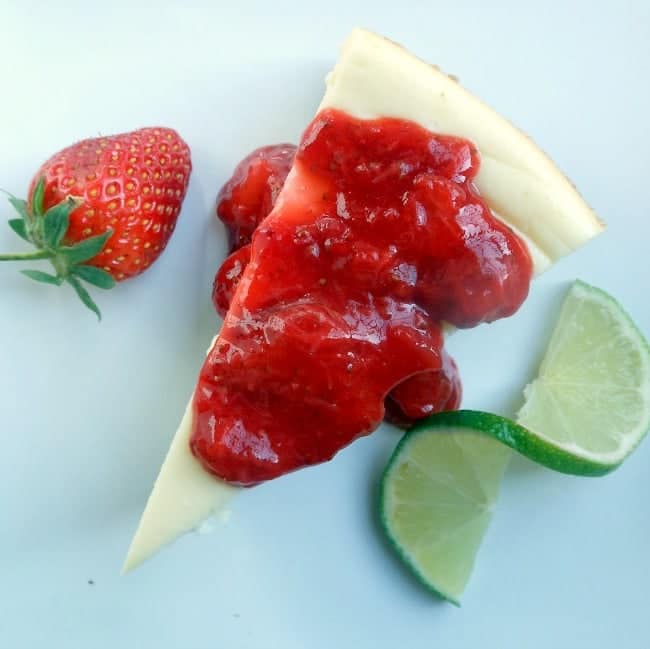 I am a cheesecake cracker.
I usually stick to cheesecake bars because I , without fail, crack the cheesecake EVERY. SINGLE. TIME. There are a zillion billion tips and tricks for how not to crack a cheesecake but I am a lost cause. Mostly I can blame the oven because it is it hot little broken mess. The seal is stripped, the light melted away, and there is no temperature gauge on ANYTHING. In case you were wondering why I tolerate such a serious injustice it's because we are renting here while we house-shop. A stove will be my first major purchase.
Forget the new couch. We can sit on the floor.
Not kidding.
I've been working on this recipe here for awhile because usually my cheesecake motto is to not stress about the cracks and then cover them with awesomeness. When you smother cheesecake in perfectly placed fruit slices or thick gooey caramel or crushed Oreo cookies no one knows or cares that the cracks are there.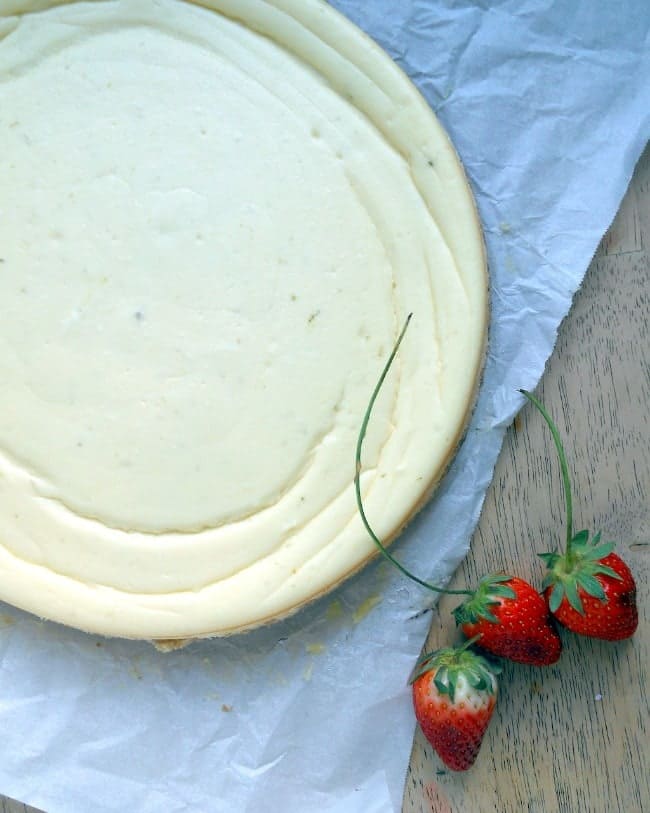 So I actually planned this recipe around the topping!
And then something amazing happened: I didn't crack the cheesecake. I took this picture to prove it.
But you're still gonna want the topping. Oh yes you are.
I tossed 1 pound of fresh strawberries with a little cornstarch, a little sugar, and TEQUILA. The results are thick, sticky, strawberry-margarita-flavored, jam-like berries.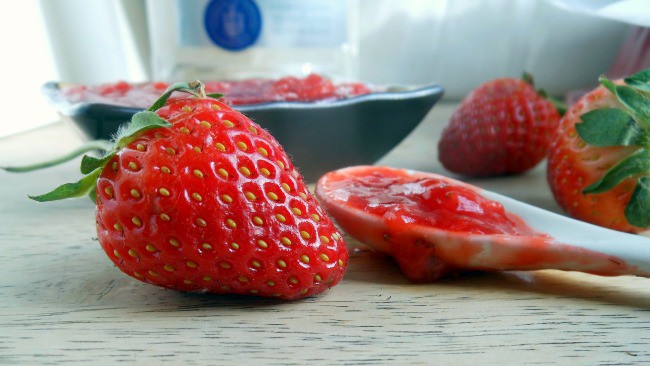 If you follow me on Instagram you know that Mother's Day over here ended with dinner at an awesome Mexican restaurant with delicious $2.99 margaritas. I like to call them market research.
So I put tequila in the cheesecake.
Maybe that was the magic reason it didn't crack? Who knows.
What I DO know is that this cheesecake on its own is dense and fluffy at the same time. It's rich and desserty without being overly sweet. The lime is fresh, the cake is creamy, and the strawberry topping could happily live on top of pound cake or blondies or ice cream.
Also: It didn't crack.  Just saying.

Tequila Lime Cheesecake with Strawberry Margarita Topping
Serves:
1 - 9" cheesecake
Ingredients
8 graham crackers
1 tablespoon granulated sugar
4 tablespoons unsalted butter, melted
3 (8 ounce) packages cream cheese, at room temperature
⅔ cup sour cream
⅓ cup ricotta (see note)
¾ cup granulated sugar
2 tablespoons tequila
zest + juice of 1 lime (about 1½ tablespoons fresh lime juice)
4 eggs, at room temperature
1 pound fresh strawberries, hulled and coarsely chopped
2 teaspoons cornstarch
1½ tablespoons granulated sugar
2 tablespoons tequila
2 tablespoons water
Instructions
Pre-heat the oven to 325. Lay a sheet of parchment paper across the removable bottom of a 9" springform pan and then close the pan around it, keeping the paper smooth. There will be lots of additional paper hanging out the sides of the pan -- leave it. It will help you later.
Pulse the graham crackers in a food processor to make fine crumbs. Stir them with the sugar and melted butter to make the graham cracker crust. Press the crust into the bottom of the prepared pan and go up the sides just a little.
In a large bowl beat the cream cheese until fluffy. Add the sour cream and ricotta. Beat until combined.
Beat in the granulated sugar, the tequila, the lime zest and the lime juice.
Add the eggs one at a time beating well after each addition.
Pour the batter over the crust and bake for 30 minutes.
Reduce the heat to 250 and bake for 45 more minutes.
Raise the heat to 300 and bake for 15 more minutes. The center will be set/firm but still slightly jiggly.
Turn the oven OFF and let the cheesecake cool inside the oven all the way to room temperature.
Refrigerate until you're ready to serve.
While the cheesecake cools, toss the berries with the cornstarch. Place them in a medium saucepan.
Throw the sugar and the tequila over the strawberries and cook over medium heat, stirring frequently.
When the strawberries start to break down they will stick to the pan a little. Stir in the water when this happens and continue cooking and stirring for 30 minutes.
Let the sauce cool and serve it over the cheesecake slices.
Notes
Instead of using ⅔ cup sour cream and ⅓ cup ricotta you could use 1 cup of sour cream. Don't buy extra ingredients! I just used what I had on hand and the results were great. ***Room temperature cream cheese and eggs are KEY to baking a cheesecake that doesn't crack! Take the time to set your ingredients out ahead of time.
Tequila Lime Cheesecake very loosely adapted from
Martha Stewart's Margarita Cheesecake recipe
Other Boozey Baking from Sugar Dish Me…
Whiskey Sour Cake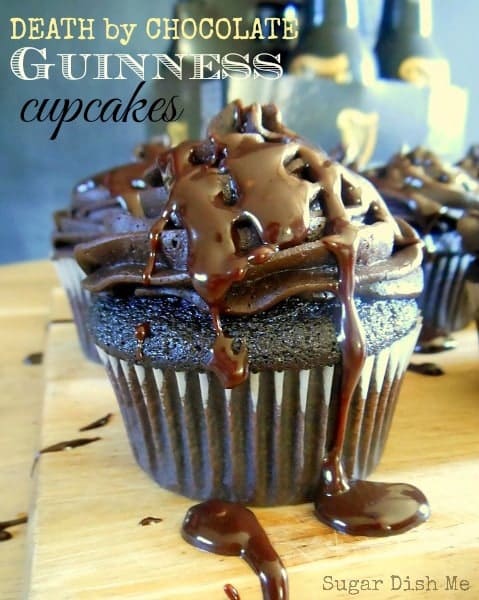 Death by Chocolate Guiness Cupcakes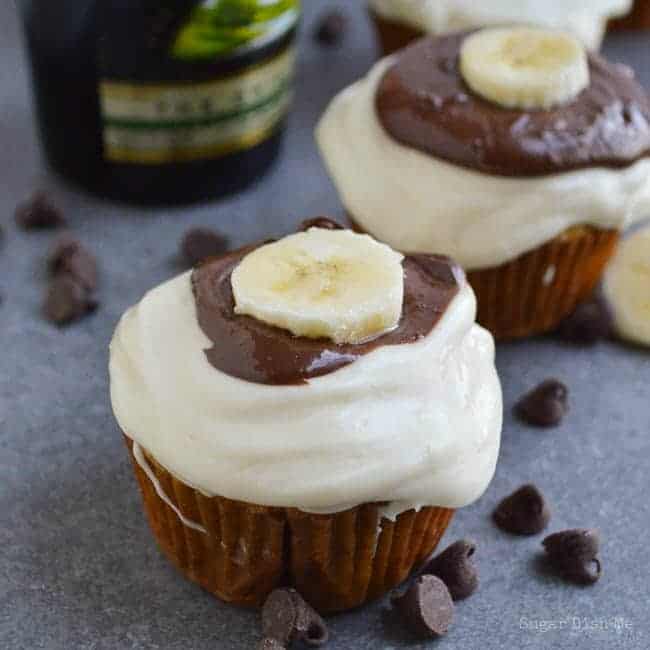 Bailey's Irish Banana Cupcakes
Want Some More?
Get new recipes plus a healthy dose of snarky humor delivered to your inbox each week. It's good stuff y'all.