Parks and Recreation fans will recognize this take on Pawnee, Indiana's most famous burger joint. The Paunch Burger is a triple decker with 3 kinds of cheese, bacon, fried onions, and a garlic dill aioli. This is a serious burger.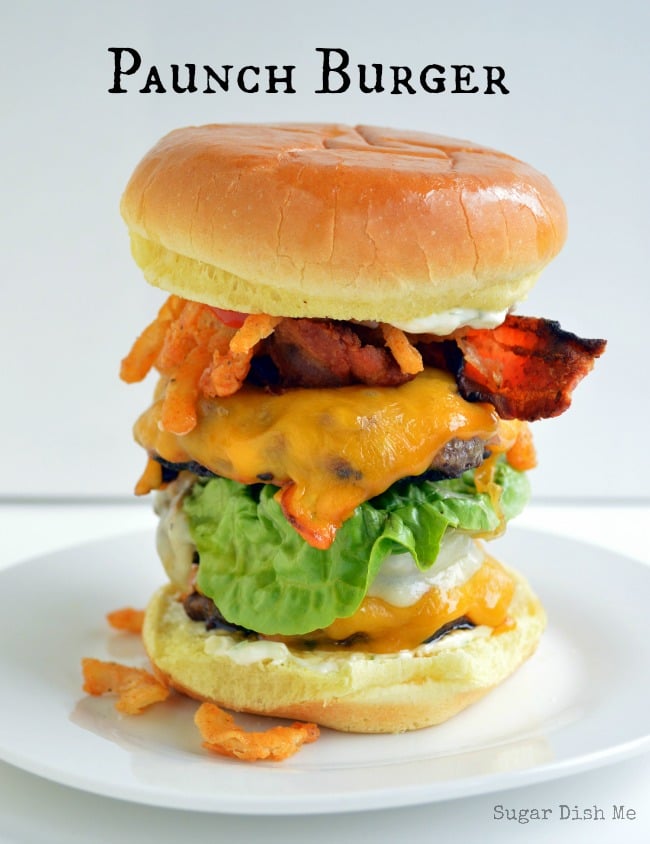 If you are a fan of Parks and Recreation then you already know where I'm going with this. If not, then what is the matter with you?! No seriously though, if you're not please pause this post and go watch every single episode on Netflix or Hulu or whatever. Then report back and we will talk burgers.
As much as my other half is definitely related to the Hamburgler or Dagwood or someone equally gluttonous with a big fat cheeseburger, I only have one other recipe for a beef burger on this site because I really don't make them much. So when I decided to do a burger for Dad day, I also decided that I was going all in and that it would be the biggest, most cheese-laden, deliciously bad-for-you mess I'd ever put on a bun.
I think I succeeded.
This burger is not for the faint of heart.
If I lived in Pawnee, Indiana and I had a burger joint called Paunch Burger, this is what I would fully expect to be served.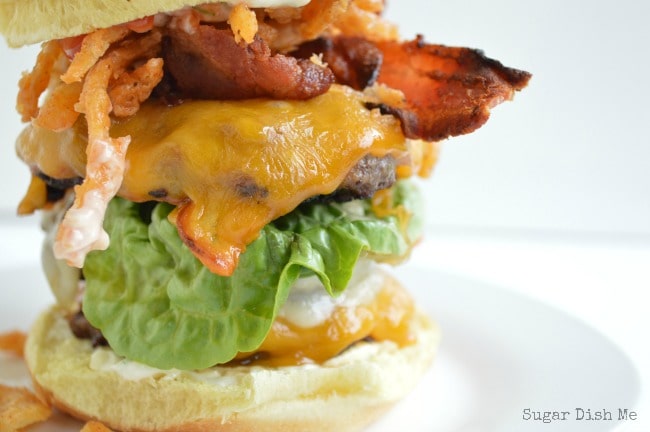 I started with a potato bun – for a little bit of sweetness. I spread it all over with a garlic dill aioli <<—– fancy word for mayonnaise.
I added tons of herbs and onion and garlic to some 80/20 ground beef. Normally I buy the extra leanest beef I can find for burgers, but for these I wanted them extra flavorful and juicy. Plus they are pan fried. Eeeek! I know! I never do that! But I had this whole flat-top-grill-in-a-greasy-spoon-diner image stuck in my head and THAT is how they roll. If you would like to grill your burgers, or broil them, I won't stop you. But I called this a Paunch Burger, so I had to commit.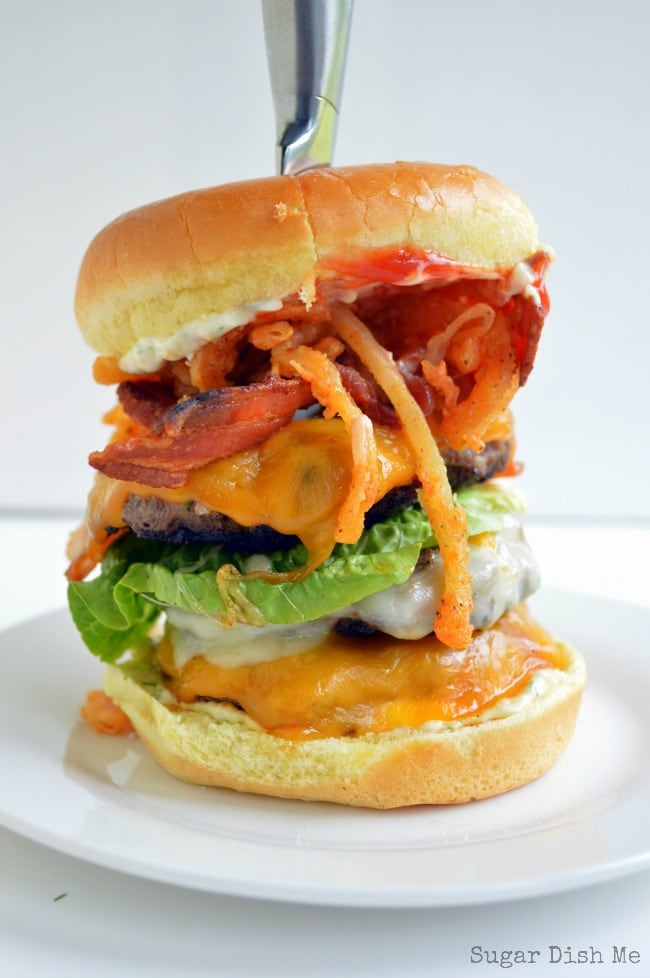 There are 3 patties in this bad boy, each topped with a different kind of cheese – smoked cheddar, Swiss, and Monterrey Jack.
I shoved a piece of lettuce in the center because I like a little bit of green on my burger. Dill pickle slices would also do the trick. Then I topped everything with stringy fried onions and bacon, more of the garlic dill aioli, and some ketchup for good measure.
Holy wow. This burger is amazing you guys.
In case you are wondering though, I could not even come close to eating this whole thing. I cut it into fourths and shared it with my boys. They were happy. Chad requires one of his own, possibly two, with a Child Size drink on the side.
Let's not get started on his annoying metabolism.
Paunch Burger
A big fat triple decker cheeseburger recipe based on the Paunch Burgers from the show Parks and Recreation. Prep time includes time for all the herb, garlic, and onion chopping.
Serves:
4 monster Paunch Burgers
Ingredients
For the Garlic Dill Aioli:
⅓ cup mayonnaise
1 clove garlic, finely minced
1 teaspoon finely chopped fresh dill
salt to taste
For the Beef Patties:
About 2 pounds of 80/20 ground beef (see note)
2 cloves garlic, finely minced
⅓ cup Vidalia onions, very finely chopped
2 tablespoons freshly chopped chives
1 tablespoon freshly chopped dill
1 teaspoon kosher salt
1 teaspoon black pepper
For the Fried Onions:
1 small Vidalia onion, halved and thinly sliced
1½ cups buttermilk
1 cup all purpose flour
1 teaspoon paprika
½ teaspoon black pepper
oil for frying
kosher salt to taste
For Building the Burgers:
4 Potato Buns
4 slices each Smoked Cheddar, Swiss, and Monterrey Jack Cheese
4 slices bacon, cooked and drained on a paper towel.
lettuce and dill pickle slices
ketchup
Instructions
In a small bowl combine the mayonnaise, garlic, dill, and salt. Cover and refrigerate until time to serve.
Combine the ground beef, garlic, onions, chives, chopped dill, kosher salt, and black pepper. DO NOT over mix. Over-mixing yields tough burgers. Divide the beef into 4 portions and then divide each portion into 3 patties. The patties should be on the small side and will be easier to cook and stack if you make them thin. Refrigerate while you work on the onions.
Soak the onions in the buttermilk. In a shallow dish combine the flour, paprika, and pepper.
Heat the cooking oil over medium high heat (I use a small saucepan and fill it halfway up with Canola oil). Dredge the onions a few at a time through the flour mixture and then toss them in the hot oil. I make these in several small batches - they will only take a minute to cook. Set them on a paper towel to drain. Sprinkle salt on the cooked fried onions.
Heat a large skillet (I used cast iron) over medium high heat. Add as many patties as you can without over-crowding the skillet. I reduce my heat just a little at this point. 3-4 minutes on the first side should be fine. Flip and cook for just another minute or two on the second side. The thin patties should cook quickly.
Remove the cooked burgers to a plate and add the cheese. Each burger will get 3 patties, and each of the 3 patties will get a different kind of cheese.
Build your burger: Grab the fancy mayonnaise you made and spread it on the bottom bun. Add a burger patty with cheese, and then another. Then add pickles and lettuce. Add the 3rd burger patty, then a slice of bacon, then a handful of fried onions. Spread the top bun with more garlic dill aioli and some ketchup.
Notes
2 pounds will yield you 4 extremely obnoxious half pound burgers. You can scale this portion accordingly.