Chewy oatmeal cookies made with Greek yogurt and fresh strawberries, and then drizzled with dark chocolate. Chocolate Covered Strawberry Oatmeal Cookies are an awesome snack or breakfast on-the-go.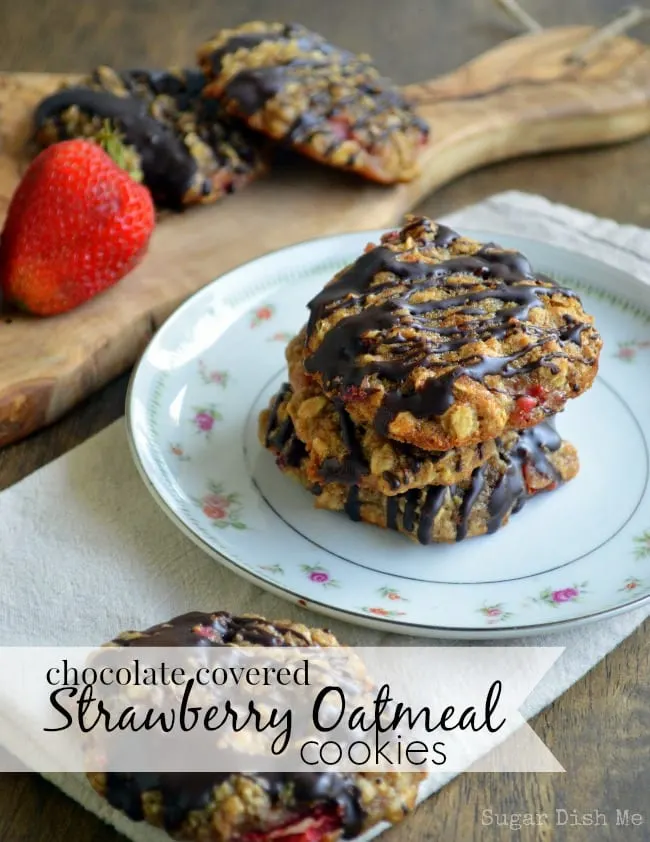 Yesterday I had my first moment of being a crappy neighbor.
I mean, not really because the neighboring house is empty, but it was the first time in my life that the property line was drawn and I was all crazy and indignant with raging thoughts of NO TRESSPASSING!!!
So now you guys probably think I am a terrible person, but I swear I was justified and am normally the kind of neighbor that brings you plates of oatmeal cookies.
See, new house is on about 1 1/2 acres which is not much, but in the city limits IT IS. So out my front window where I am perched with work for lots of the days, I have front row seats to my own little wild kingdom. We have chipmunks. LOTS of them. There are squirrels that chase each other in circles around the trees. All kinds of birds come and go during the day, and we have a big fat groundhog that waddles around the yard and stands on his back feet to survey the situation.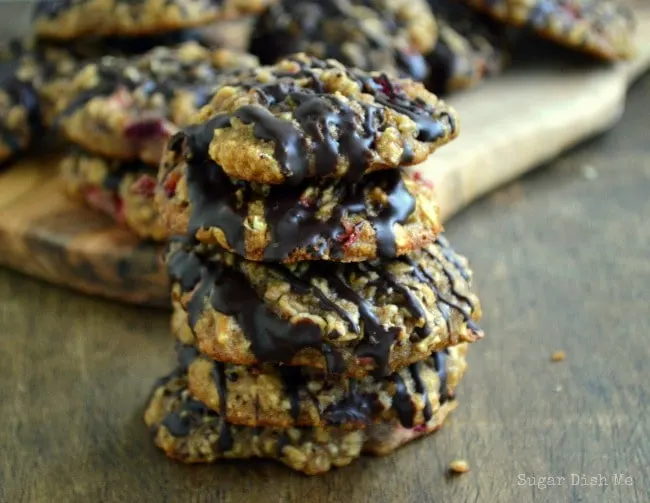 Two days ago I noticed movement in the field off to our right and a doe came wading out of the tall grass to drink out of our little stream (which is actually just a natural spring with a bridge over it, but there's always fresh running water so I am calling it a stream, ok? Ok.). She was just on the other side of some tall bushes; Evan and I were watching her from the front window, when the teeniest, tiniest baby deer came running to her from where she'd been hiding behind a fallen tree.
A baby!!!
The boys and I watched them through the trees with total wonder – I mean, is there anything cuter than a mama and her baby? NO. There is not.
So the next morning I'm back at my computer hoping to see the sweetest pair again, when out of nowhere a great big riding mower came shooting across the field and into my yard. See, the house on the other side of the field has a little patch of grass on our side of the stream. There is a bridge there for access, but this mower was too gigantic. Without asking, loser mower guy came barreling across the field and down my driveway to get to that patch of grass.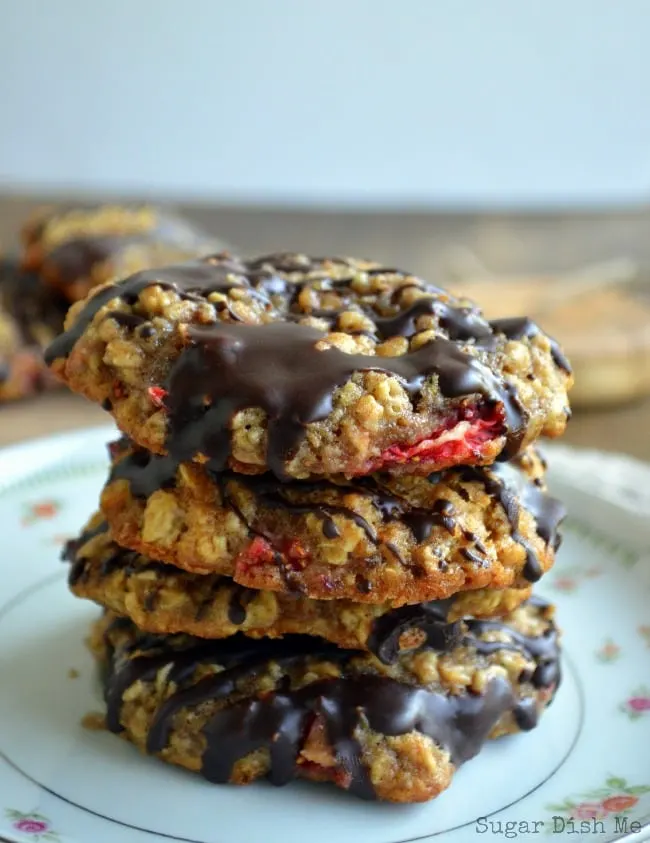 As soon as I saw him all I could think was "Oh my gosh the BABY!" and I tore down the stairs like a lunatic.
Stupid mower guy is just going to town on the grass and as I stood there in my driveway, tiny little baby came running, first along the line of my back fence, then around our truck, then straight towards me. You guyssss. She was so tiny and precious and I stretched out my arms in protest, hoping to steer her back towards the safety of the field or the grove of trees, but she just kept going on those wobbly little Bambi legs, straight up my driveway and across the street.
At this point my kids have realized that I am in full-on mommy panic mode and have come outside just in time to witness me marching up to Lawn Mower, make a slicing motion across my neck so he will turn that loud monster machine off, and tell him that this is not going to work. I tell him that he is going to HAVE TO find another way to mow that grass or just leave it be, because he just scared the littlest tiniest baby deer and now she will never find her mama and that is not okay.
Dude just worked for a company that is hired to mow the grass at the empty house, and probably thinks I am off my rocker, but I guess at least I said my piece.
I have since spent the last 24 hours worrying that the baby is alone and scared. Chad says that deer are smart and that mama probably found her baby, but I'm not so sure. Can you even believe this happened? I still can't.
And I will not be sharing these cookies. Except with you, because you would never do anything like that, right? I knew you'd understand.
These cookies use fresh strawberries! And oats. And a little Greek yogurt in place of some of the butter. They are kind of addictive and are definitely the sort of cookies you should bring to nice neighbors. Not neighbors with scary baby-chasing lawnmowers that drive through your yard.
Chocolate Covered Strawberry Oatmeal Cookies
Chewy oatmeal cookies made with butter and Greek yogurt for extra protein and fewer calories. These are also made with half whole wheat flour and are stuffed with loads of fresh strawberries. Drizzled with dark chocolate these cookies are great for breakfast on-the-go or a quick snack.
Ingredients
½ cup granulated sugar
½ cup light brown sugar, packed
½ cup unsalted butter, softened
¼ cup plain Greek yogurt (see note)
2 eggs
1½ teaspoons vanilla
¾ cup all purpose flour
¾ cup whole wheat flour (see note)
1 teaspoon baking soda
½ teaspoon salt
3 cups old fashioned oats
1¼ cups fresh strawberries, chopped into ½" pieces
4 ounces dark chocolate
Instructions
Preheat the oven to 350. For these cookies I like to line a baking sheet with parchment paper or a Silpat liner, but it's not required.
In a large bowl beat together the sugars, softened butter, and Greek yogurt until smooth. Add the eggs and vanilla and mix on medium speed until just combined.
In another smaller bowl, whisk together the flours, baking soda, and salt. Add this dry mix to the large bowl and mix on medium speed until just combined.
Stir in the oats and fresh strawberries.
I portion these cookies on the smaller side -- less than a tablespoon. Drop the rounded dough onto the prepared baking sheet about 2" apart.
Bake for 9-10 minutes. These are chewy cookies so don't bake them too long! The edges will be just starting to turn golden.
Let the cookies cool for about 5 minutes before removing to a wire rack to cool completely.
When the cookies are cool, melt the chocolate. I always melt chocolate by using a small, heavy-bottomed saucepan over medium low heat. High quality chocolate will also make this much easier. As soon as the chocolate starts to slide around in the hot pan, remove it from the heat and stir until melted and smooth. This will keep it from seizing. Using a spoon, drizzle the melted chocolate over the cooled cookies and let it set up.
Fun tip: I love to keep these cookies in the refrigerator. They are really good cold!
Notes
You can use all butter instead of butter + Greek yogurt. You can also use all all purpose flour if that's what you have on hand. I would not opt for all whole wheat flour though; it will affect the texture and rise of the cookies.