A totally delicious and fast chicken dinner! Pickle Chicken is brined in pickle juice and then grilled to tender perfection. Served with roasted garlic fries and a creamy, spicy pickle dipping sauce. You can have dinner on the table in 30 minutes!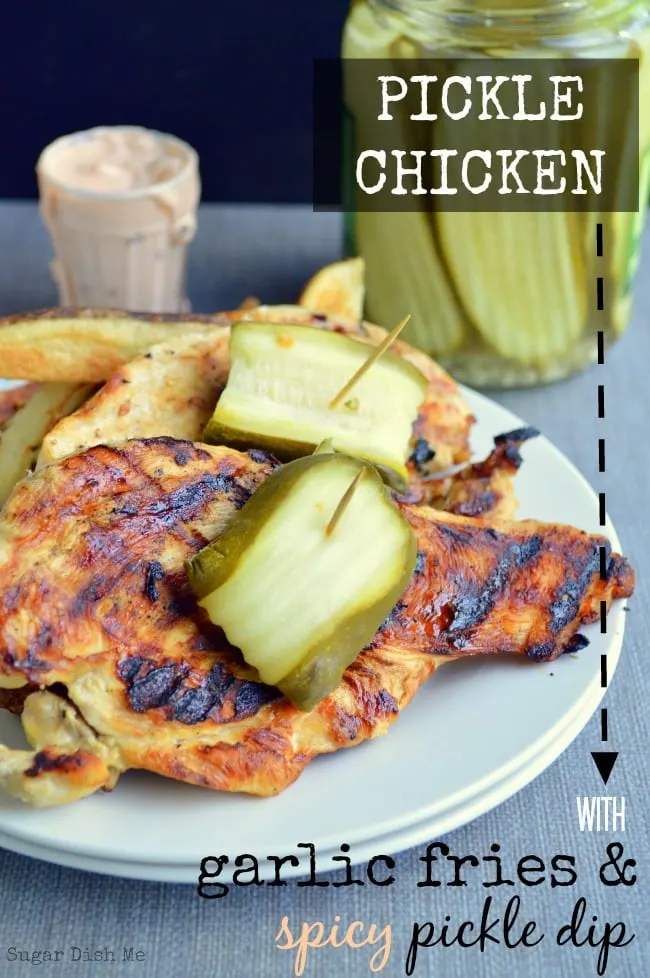 I'm pretty picky about pickles (I was going to write 'fickle' instead of 'picky', but I chickened out with the food rhyme). I do not want any part of sweet pickles, bread and butter pickles, pickled relish, or those tiny little sweet pickles that always end up on a plate with olives at potluck dinners. All of those are a great big huge NO in my taste bud book.
I also apologize if I offended your love for sweet pickles. You can have all mine.
So anyway, for the longest time I thought I did not like pickles AT ALL because somehow all the people in my life were only offering up the sweet varieties. I was an adult before I figured out there was a whole new realm to pickles: Garlic Dill.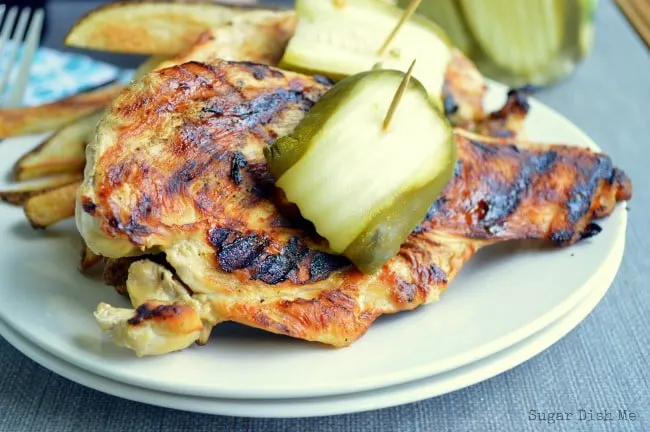 Garlic + dill is one of my favorite flavor combos (as evidenced by this delicious burger); it's the reason so many people like ranch dressing. It stands to reason then that once I figured out there were garlic dill pickles!!!!! I was sold on the idea.
But once you eat all the pickles you are left with this whole jar of perfect pickle brine that just gets washed down the drain. I got clever one day and dumped the brine on some chicken breasts I wanted to grill. And what I got was basically the best marinade in all the whole wide world. Okay, well maybe the whole wide world is stretching it, but there really aren't any easier marinades, or more cost effective! You don't even have to mince garlic.
Here's the deal. This Pickle Chicken passes across our dinner table often. I always like it best when it has marinated overnight. And sometimes when I go to throw it on the grill, parts of the chicken are no longer pink. Sometimes brine has this effect, but if you are holding the chicken at the proper temperature, there's no problem. There are also thoughts that leaving chicken in certain types of marinades or brines too long can do one of two things: either break down the proteins and make the texture mushy, or result in tough meat. I've never had either problem with this recipe. I've only ever gotten totally awesome, tender, juicy chicken.
So normally I marinate the chicken in the pickle juice for 24 hours. I've done it for as little as an hour though, and if that's what you have to work with, it will still be amazing.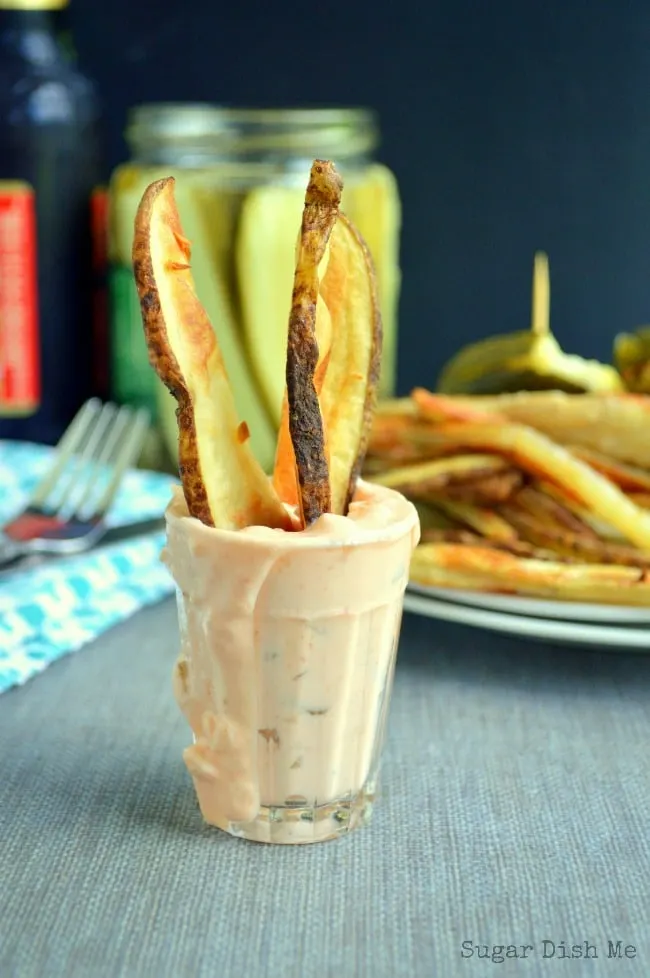 Also amazing? These garlic fries with Spicy Pickle Dip!!!
The fries are actually just crispy roasted potatoes. And the dip? I made it with Greek yogurt. So actually this fast dinner is going to fall firmly in the healthy meal camp.
Yay!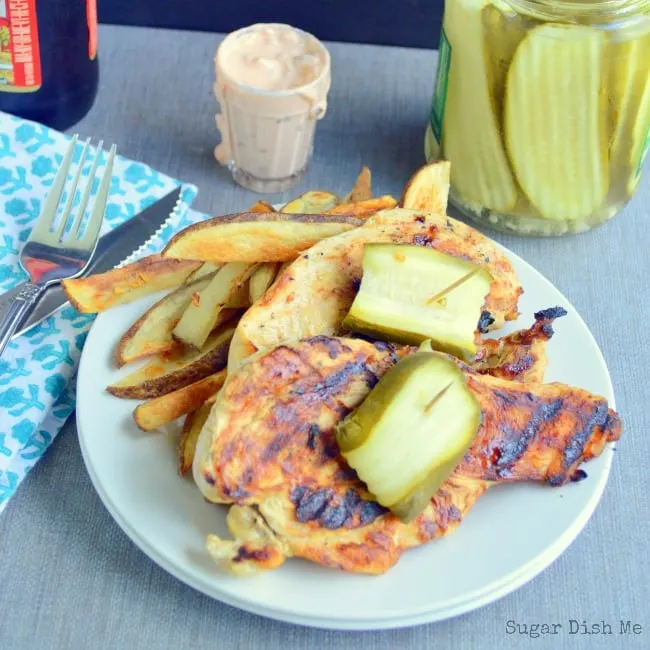 Dinner is served.
Pickle Chicken with Garlic Fries and Spicy Pickle Dip
Chicken breasts marinated in leftover pickle juice! Grilled and served with crispy roasted garlic fries and a spicy pickle dip made with Greek yogurt. A delicious and healthy 30-minute meal! (Active time is 30 minutes. You'll need to marinate your chicken ahead of time)
Ingredients
4 boneless skinless chicken breasts
1 jar of garlic dill pickles (I go for the sandwich slices to top each piece of chicken with - see note)
4 medium baking potatoes, scrubbed and sliced relatively thin - like steak fries
2 cloves garlic, finely minced
½ teaspoon kosher salt
3 tablespoons finely chopped garlic dill pickles
¼ cup plain Greek yogurt
1 teaspoon sriracha sauce
salt to taste
Instructions
Up to 24 hours ahead of time (but at least an hour) place the chicken in a shallow dish and pour the pickle juice over it. Cover tightly and refrigerate until you re ready to cook.
Preheat the oven to 450°F. Line a baking sheet with parchment paper or foil. Lightly spray with non-stick cooking spray. Lay the potatoes out in a single layer. Sprinkle them with the salt and garlic. Bake the potatoes for 25 minutes, turning them over on the tray halfway through.
While the potatoes bake, heat your grill. You could also utilize a stovetop grill pan.
To make the Spicy Pickle Dip, mix together the chopped pickles, Greek yogurt, sriracha, and salt.
Grill your chicken. I usually opt for thinner chicken breasts and 4-5 minutes on each side will cook them through (grill temperature should be 350°-400°F). Make sure you either check the chicken with an instant read thermometer for an internal temperature of 165°F OR slice into the thickest part of the meat and check that the juices are clear and there's no pink.
Serve the chicken with a pickle slice on top (optional) , with a handful of the Garlic Fries and a side of Spicy Pickle Dip!
Notes
1. You don't actually need a whole jar of pickles. You only need the pickle juice/brine they are in. Topping with pickle slices is great, but it's optional