Easily my favorite sandwich for fall! These Pork tenderloin Sliders are piled high with lean herb-rubbed pork, caramelized onions, apples, and garlic aioli on toasty little ciabatta minis. Perfect for a party or tailgating, Pork Tenderloin Sliders can be served hot or at room temperature.
Thanks to Volk Enterprises Inc. Cook'd Right Sensors for providing me with product and sponsoring this post. I have been compensated for this content, but opinions, original recipe, and photographs are my own.
When we moved earlier this year, our heavily used but rarely cleaned gas grill did not come with us. It went to live at the recycling center. I think we might qualify as abusive grill owners.
At the new house we bought a charcoal grill with a smoker attachment. Nothing motivates a good grill cleaning like a big 'ol pile of ashes, right?
So our new grill stays sparkly clean but the temperature gauge on the front is totally wonky and inaccurate. We bought a thermometer that is made to read the temperature at the surface, but the glass is now charred and black, and I'm beginning to think it was maybe not meant to sit over an open flame all the time? Whatever.
True Story: my other half has this really bad habit of overcooking or undercooking all the grilled meat. Buuuut… because of all the crazy thermometer troubles I really can't blame him. And I make him do all the outside cooking so he can't blame me!
We have tried like 75 different instant read thermometers and THEY ALL FAIL. Does anyone else have this problem? Are we just totally dysfunctional thermometer people? Probably.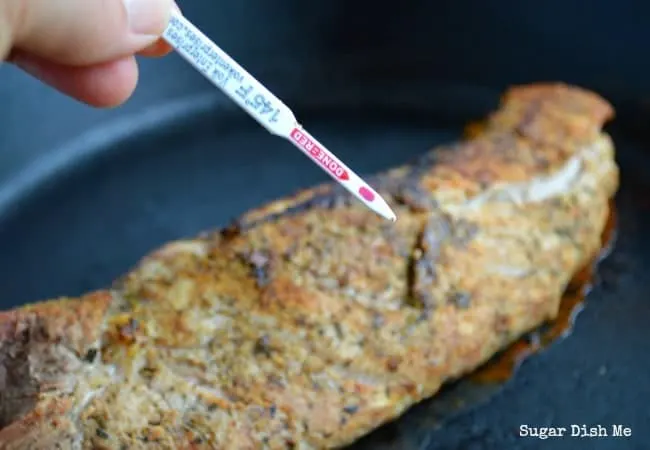 But these Cook'd Right™ Sensors are fool proof. Or at least Heather and Chad proof.
The first time I saw them was when my friend Paula made these Grilled Chicken Quarters. <<<——– Mind blown.
And then I was waaaaay eager to try them out in our own kitchen because we have such bad luck with all the temperature-taking gadgets.
We tested these on chicken, on burgers, and on steak. Every single one was RIGHT ON. My burgers were medium well, my steak was medium rare, and my chicken was neither dry nor pink.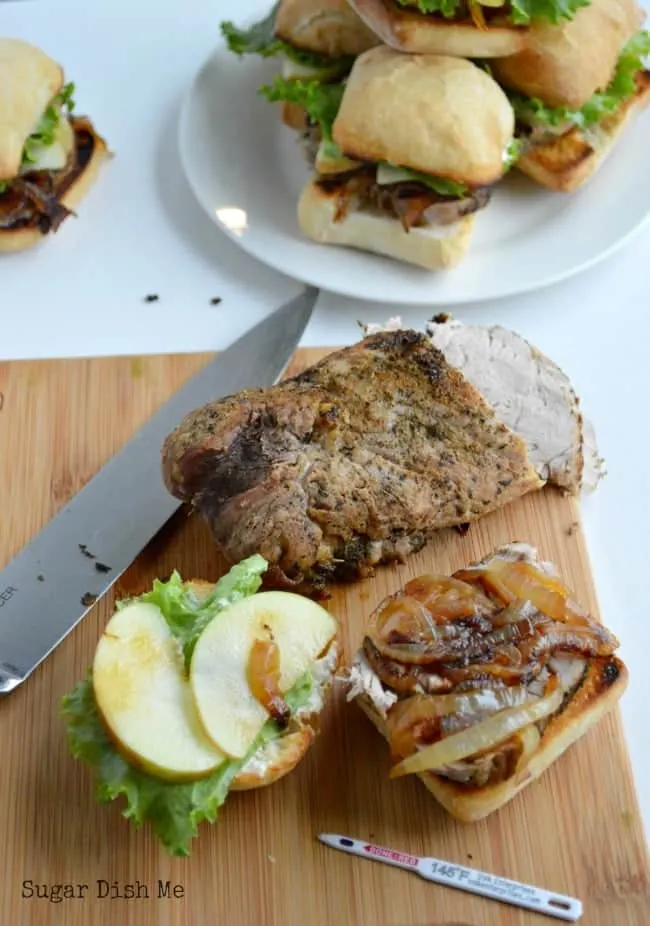 I mean… is there anything more gross than sitting down to dinner and biting into your chicken and then wondering if that is the wrong color pink? #problemsolved
I opted to skip the grill and go with an easy indoor recipe to do one final test with these — we worked it out with pork (There are different sensors to meet each of your cooking needs. For medium rare pork you are looking for 145°F – you can check the Cook'd Right™Sensors page for a chart of safe cooked temperature ranges).
[socialpug_tweet tweet="#1 thing to freak out about at dinner: Undercooked Chicken or Pork. #problemsolved Love these Cook'd Right Sensors! #CookdRightTailgating" display_tweet="#1 thing to freak out about at dinner: Undercooked Chicken or Pork. #problemsolved Love these Cook'd Right Sensors! #CookdRightTailgating" style="1″]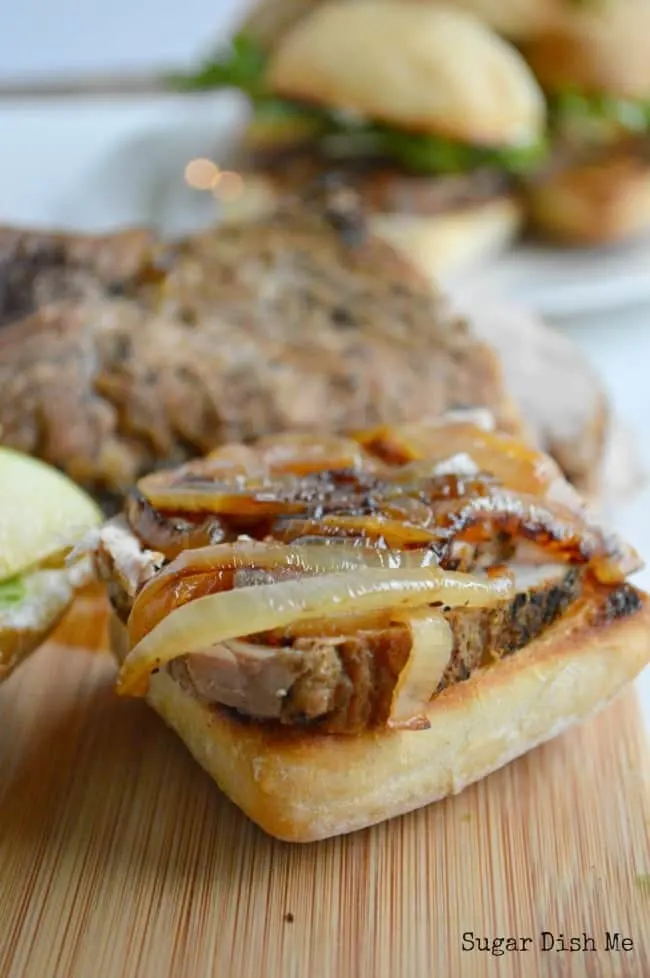 I know I get excited and say things like this a lot, but these are FORREAL right at the top of the list of the best sandwiches I've ever made. Tailgate heaven. I am trying to tell you — these are AMAZING.
I rubbed a pork tenderloin with a few things I had in the cabinet. I roasted it, sliced it thin, and then topped it with the sweetest, most delicious caramelized onions, apple slices, crisp greens, and a garlic aioli.
Everything about it just works.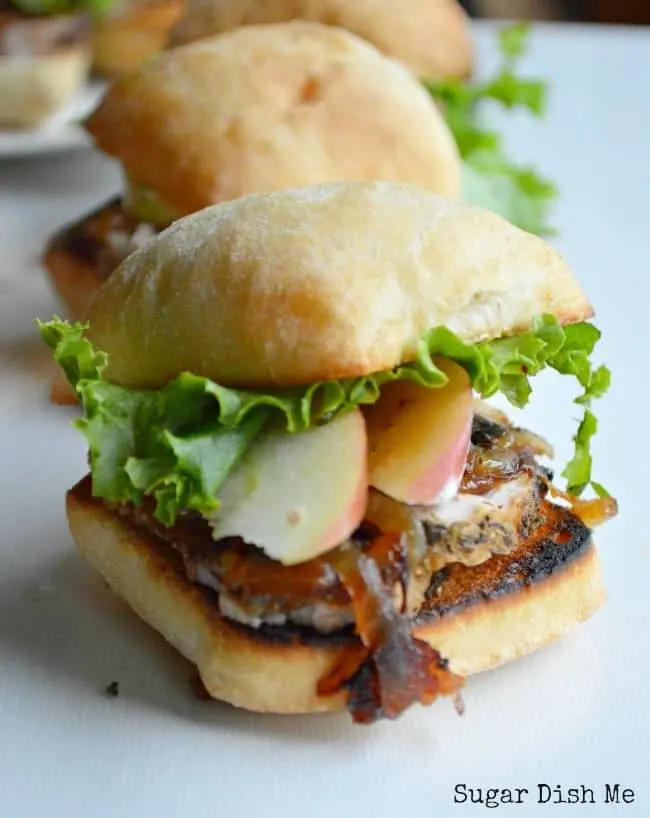 And with a drawer full of these single-use instant read sensors, I do not have to be afraid that my other half might unintentionally give me food poisoning.
Wanna try these for yourself?
You can request Cook'd Right Sensors by name from your local grocer, butcher, or favorite brand!
The First 50 Readers can request free samples to try in their own kitchens by using the link below.
CLICK HERE to request your free sample!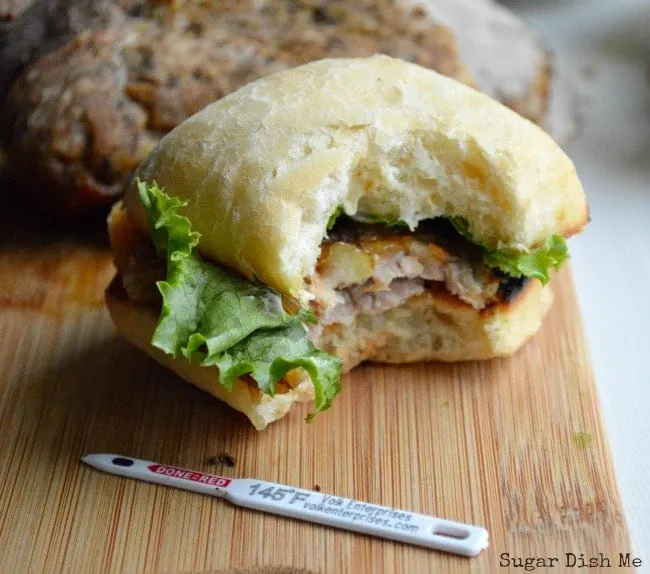 Pork Tenderloin Sliders
Little ciabatta rolls piled high with herb-rubbed roasted pork tenderloin, caramelized onions, apple slices, and a garlic aioli.
Ingredients
For the Pork:
1 - 1½ pound pork tenderloin
1 teaspoon dried oregano
1 teaspoon dried thyme
1 teaspoon cumin
1 teaspoon kosher salt
½ teaspoon coarse ground black pepper
For the Sliders:
1 tablespoon olive oil
1 tablespoon butter
½ teaspoon kosher salt
1 medium onion, halved and thinly sliced
1 medium crisp apple, halved, de-seeded, and thinly sliced
lettuce
garlic aioli or mayo (see note)
12 slider buns (pictured: mini ciabatta rolls)
Instructions
Preheat the oven to 375°F. Heat a large cast iron skillet over medium high on the stove. Combine the oregano, thyme, cumin. kosher salt, and black pepper. Sprinkle the spice mixture over all sides of the pork and gently pat to rub it in.
Place the rubbed pork in the hot skillet and sear on all sides. Once you've taken a minute to sear all the sides (30 seconds to a minute on each side should be fine), place the skillet in the oven and roast the pork for about 25 minutes.
While the pork cooks, add the oil, butter, sliced onions, and salt to a small skillet. Cook over medium heat (low and slow is the best way to caramelize!), stirring occasionally until they are caramel-colored, soft, and fragrant. Remove from the heat and set aside
Use your 145° Cook'd Right ™ Sensor to check for an internal temperature of 145°F. Take the pork tenderloin from the oven and let it rest for 5 minutes before slicing. (My slices were about ¼" thick)
To build the sandwiches, layer slices of pork on the bottom bun of each slider. Top with caramelized onions, a couple of apple slices, and lettuce. Spread the garlic aioli or mayo on the top bun of each sandwich.
Enjoy!
Notes
I made the
garlic aioli
for these sandwiches WITHOUT the dill. Either way would be fine, but if you don't have dill on hand it will be fine!
You can follow Volk Enterprises Cook'd Right™ Sensors on Facebook, twitter, and Pinterest for more information and totally inspiring recipes.