Rice Krispies Treats covered in chocolate and topped with a ghost-shaped marshmallow Peep! These Spooky Halloween Krispy Treats are so easy they barely qualify as a recipe, but were major lunchbox winners at my house. Be an easy Halloween treat hero!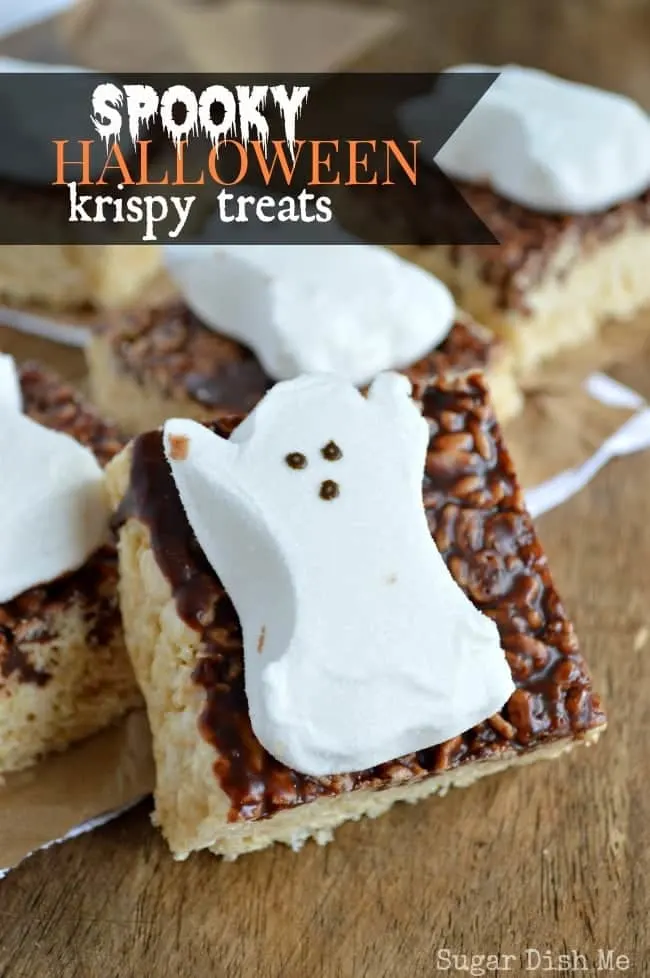 I'll just start by saying that this recipe is so easy that it's not really fair to call it a recipe.
Those are the best kind, right?
Right.
Like putting on a mask and calling it a costume — EASY.
For the record though, I don't do that. First of all I am claustrophobic and mask = death by suffocation. Second, I am all about the face paint.
For the last 5 years we lived in a crappy little house on a rural road that saw ZERO trick-or-treat traffic. This will be our first Halloween in the new house inside the city limits. We live in a neighborhood and I have been decorating like crazy with the hopes of attracting some cute kiddos in costume. If they don't come I might be emailing all of you candy.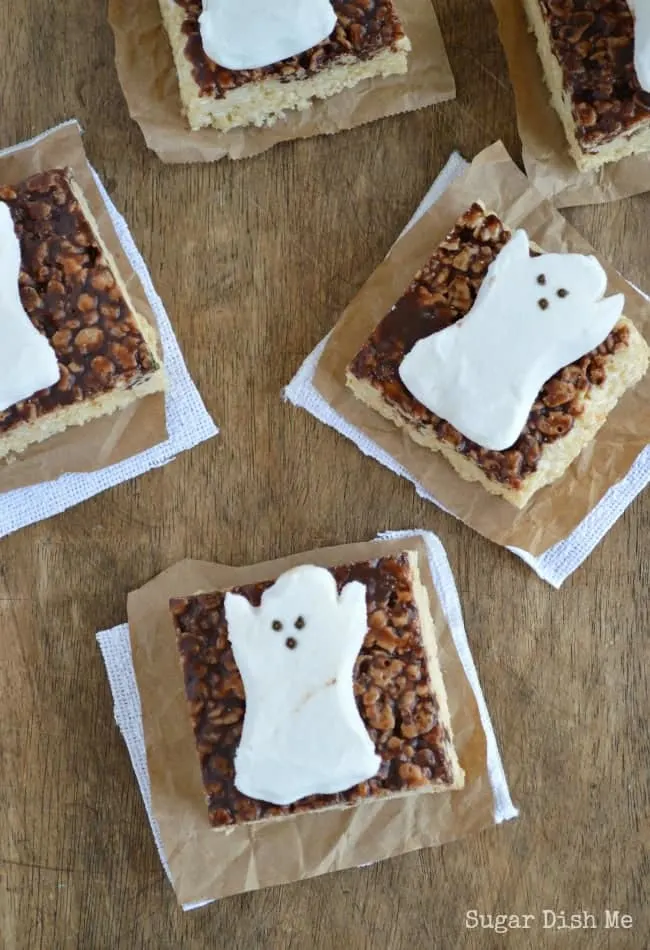 I've also been cranking out the spooky treats and stuffing them into the boys' lunchboxes. Word is that the highschoolers are very VERY into applesauce snack cake and Evil Eye Cherry Cupcakes. These Spooky Halloween Krispy Treats were also a win.
So here's what you're gonna do: You're gonna make some regular old krispy treats and press them into a 9 X 9 pan. [the smaller pan makes fatter, crispier treats] Then you're gonna melt some chocolate and spread it on top like a thin layer of frosting. And then you're gonna put one of those cute little Spooky Ghost Marshmallow Peeps on the chocolate.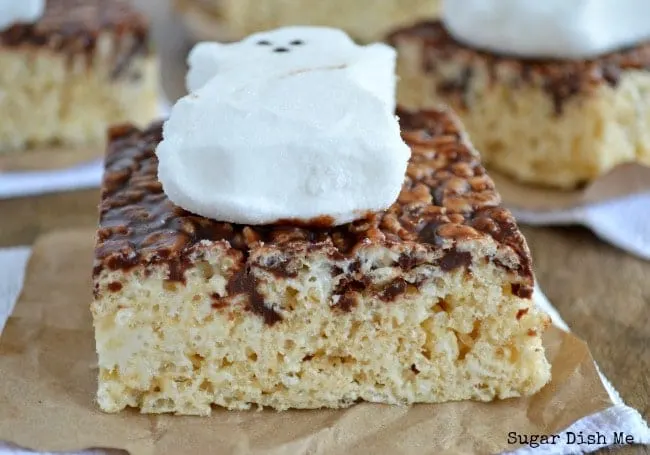 Go buy all the Ghost Peeps RIGHT NOW. Hint: they are probably already in the clearance aisle because in Retail World it's already December 24th.
Spooky Halloween Krispy Treats
Ingredients
3 tablespoons butter (plus butter to grease the pan)
1 (10 ounce) bag mini marshmallows
6 cups Rice Krispies cereal
3 ounces semi-sweet or dark chocolate (good quality melts best)
1 (9 count) package Marshmallow Ghost Peeps
Instructions
Butter a 9 X 9 square pan and set it aside.
Melt the 3 tablespoons butter in a large pan or dutch oven. Stir in the marshmallows over medium heat until they are melted completely.
Remove the pan from the heat and stir in the cereal with a rubber spatula. Stir and turn the mix over in the pan until everything is evenly incorporated (no big pockets of marshmallow), and then turn it out into the prepared pan.
PRESSSSS the mixture into the pan as firmly as you can. The more you press, the crispier the treats.
In a small saucepan over medium low heat melt the chocolate, stirring almost constantly to prevent burning. Scrape all the chocolate out onto the top of the treats and spread like frosting all the way across to the edges.
Place all 9 of the Ghost Peeps on top, spaced evenly across.
Let everything cool (I like to refrigerate mine so they set up faster), slice into 9 pieces, and serve.