I've been really super busy so I've gone pretty easy on you guys with the attack of all fall things.
You probably did not know before just right this second that I am kind of a Halloween junkie.
I dragged Chad into our neighbors' corn field after he'd been at work all day and made him help me gather up a bunch of dried corn stalks (I say "help me" but actually I just kind of stood there, and I say "gather up" but really I mean he had to rip them out of the ground and then try to shake the Carolina clay out of the roots) because I was DETERMINED that I needed to tie them to the posts of the front porch. Last year I made like 42 bazillion little ghosts from styrofoam balls, cheesecloth, twine, and black buttons (I'll put photos up at Trailer Trashtastic this week), so of course he had to help me suspend them from all of our front yard trees with fishing line. Same with the black rubber bats I procured from the dollar store.
There are little staked ghosties that line the driveway. I already have 3 pumpkins just waiting to be carved on the front steps (ooooohhhhh the waiting is soooo hard!!!), and I think I've planted like 6 flats of violas and pansies.
And then there are the Halloween movies!! I can't get enough of all things Paranormal Activity. They scare the heck outta me. Love them. I don't get down with gore-fest flicks (sawwwree) because I just have to cover my face the whole time and that's not scary. I like suspenseful music and loud noises that make me jump out of my seat. Yessssss.
Also- Nightmare Before Christmas. I would watch that every single day in October if I didn't have to share the TV.
I habitually fill every spare minute of October with Halloween activities. We usually hit 4 or 5 haunted houses/trails/ hayrides, except last year Chad and I went with my sister and her husband to the creme de la creme of scary things and drove out to this completely terrifying haunted farm. It was kind of expensive, but worth every penny. This year they've added a Zombie Hunt (If you are in southwestern North Carolina or northwestern South Carolina you need to go to this place. Not even kidding).
Chad doesn't know it yet, but he is taking me.
The little boys are also begging me to let them go to a haunted house for the first time this year… I'm still debating on whether or not Evan will end up in my bed every night from now until Christmas if I cave.
We went to spend the day with all of my brothers and sisters (that seems rare here lately!) at my mom's house yesterday. In true awesome mom fashion she had a huge bowl of Halloween candy.
So in addition to my love affair with Halloween candy, for the next little while I will probably be adding pumpkin, apples, and pecans to everything.
And butter.
Can't stop. Won't stop. Not sorry.
So remember when I begged you to wrap up a loaf of the cream cheese banana bread from the other day? This pumpkin bread pudding is the cozy warm spice-filled buttery reason. I cut the whole loaf, toasted walnuts and all, into one-inch cubes and used them for this fantastic bread pudding recipe I found at A Cozy Kitchen. Basically you douse banana bread in melted butter, drown it in a mixture of cream, eggs, pumpkin puree, and spices, and then bake it.
Bread. Pudding.
A new staple in my fall dessert diet. Yours, too.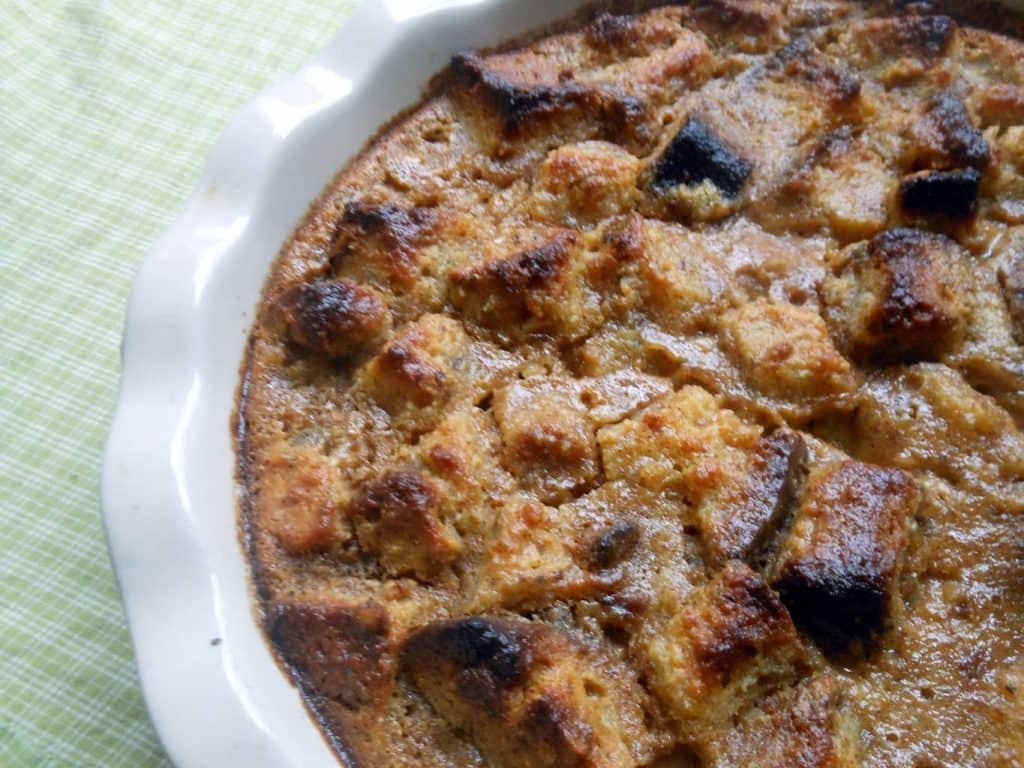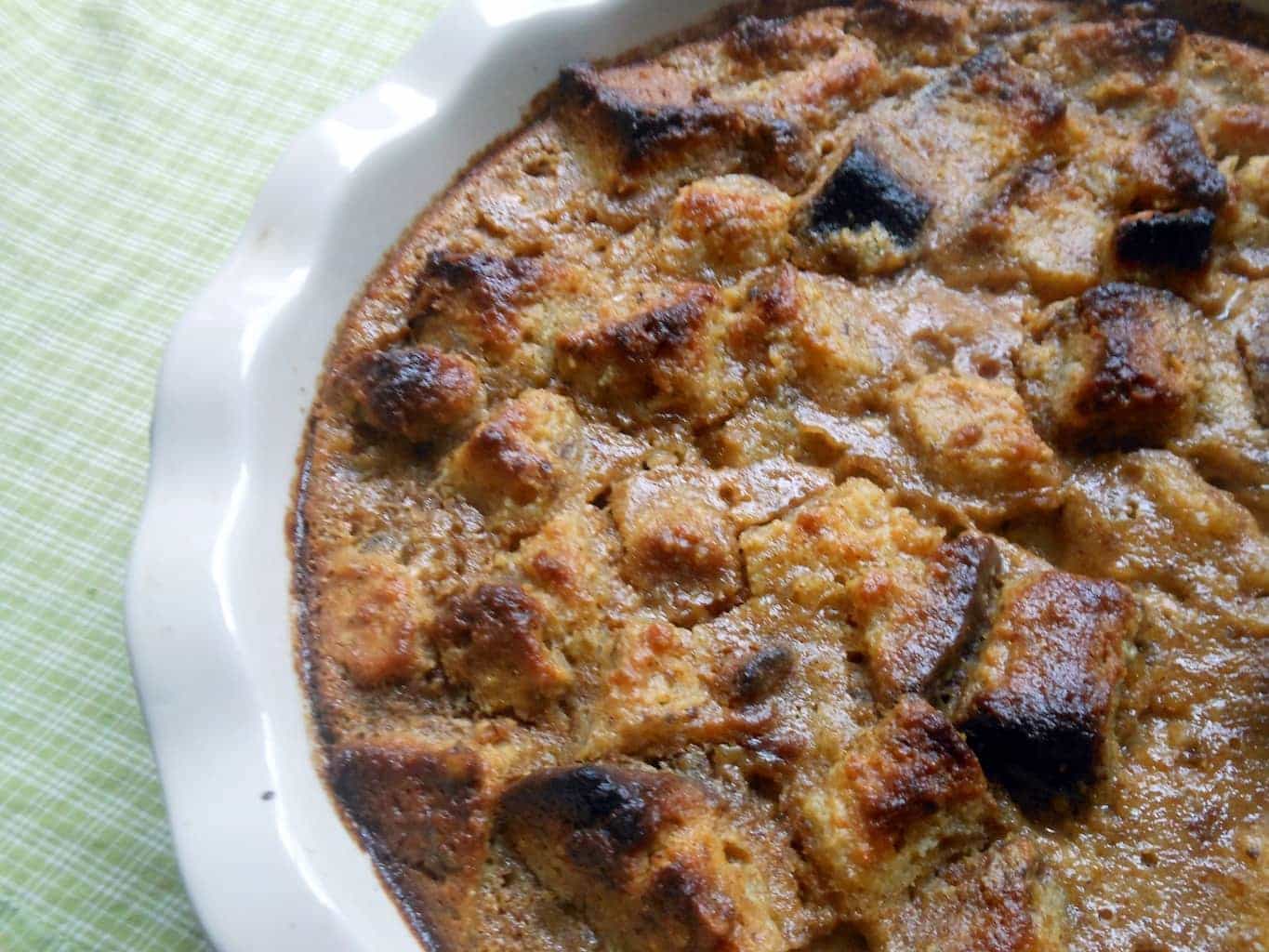 Pumpkin Bread Pudding (slightly adapted from THIS recipe at A Cozy Kitchen)
5 cups (approximately one 8 1/2 X 4 1/4 loaf) Cream Cheese Banana Bread, cubed (or 5 cups of any dense sort of bread, cubed; an italian loaf would work!)
3/4 cup unsalted butter, melted
1 cup heavy cream
2/3 cup canned pumpkin, solidly packed
1/4 cup milk
1/2 cup sugar
2 large eggs plus 1 egg yolk
1 1/2 teaspoons ground cinnamon
1/2 teaspoon ground ginger
1/2 teaspoon pumpkin pie spice
1/4 teaspoon nutmeg
1/4 teaspoon salt
Pre-heat the oven to 350. In a large bowl, toss the cubed banana bread with the melted butter. Empty the buttery bread cubes into an ungreased 8 or 9-inch pie plate or an 8 X 8 baking dish and scatter evenly- it should fill the dish nicely. In another bowl whisk together the heavy cream, canned pumpkin, milk and sugar. Whisk in the eggs and egg yolk, and then the cinnamon, ginger, pumpkin pie spice, nutmeg, and salt. Pour the liquid over the bread cubes. Bake for 30 minutes, until the liquid is set. Cool just slightly before serving.
Great with whipped cream (but then, what isn't?) or ice cream… best served warm.
UPDATE: This post was shared with the Cowgirl Up! Link Party, hosted by The Farmhouse Porch. Check it out!! There are HUNDREDS of entries and I got lost for a minute going through them. It's a great way to find new projects, new reads, and share some of your own creations!