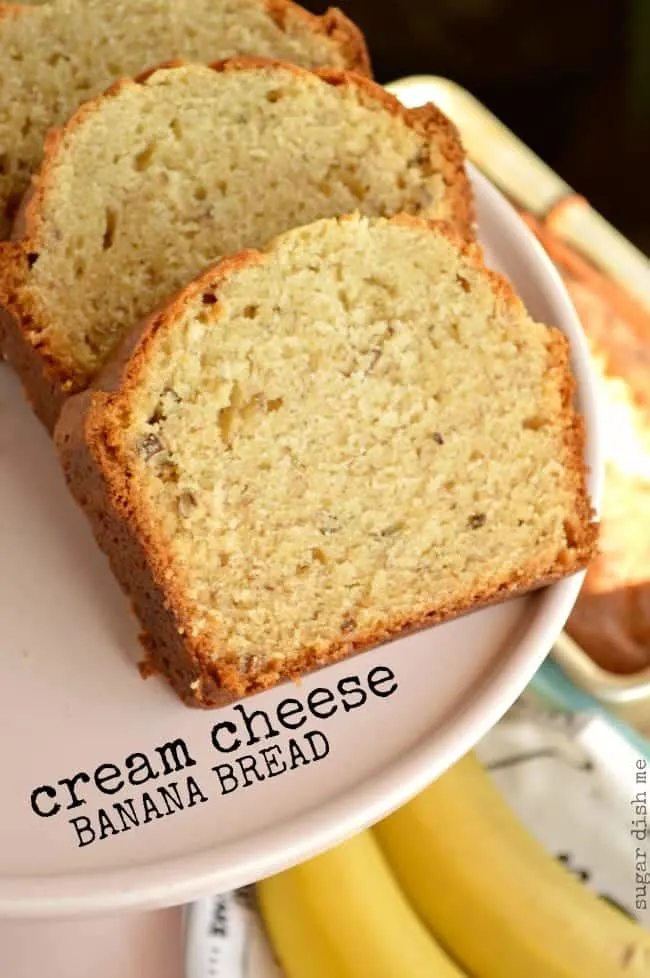 I shared this Cream Cheese Banana Bread Recipe originally in 2012. It still gets traction, especially when the weather is perfect for baking or when you are just having a DAY.
Other awesome banana bread recipes include Elvis Banana Bread and Healthy Pumpkin Banana Bread. Cranberry Pecan Banana Bread is also a winner!
Original rambling post text follows —
I am completely technologically challenged. I've always been that way. When I was in school I preferred the library to the computer lab.
I always researched papers using books, spreading allllll of my papers across the reference section of the library, taking tedious notes and drawing swirls and curly-cues in the margins of my lined note paper.
I wrote rough drafts sitting in a greasy spoon called the Knife & Fork with a slice of diner lemon meringue pie and bottomless coffee poured by an infinitely cranky woman named Nan that had roughly 43 pencils sticking out of the tightly coiffed bun atop her head.
We had a typewriter. My mom really liked to type (that is code for, "My mom typed all my final drafts"). There were no laptops in my life.
I actually didn't break down and purchase a laptop until earlier this year, and then only because the fan in my stegasaurus-era desktop sounded like it was going to spin itself into orbit. I refused a cell phone until I was 24 and I had to have it for work.
We had the same home phone number my whole entire life and my theory was that no one needed to talk to me sooooooo badly that it couldn't wait until I got the message.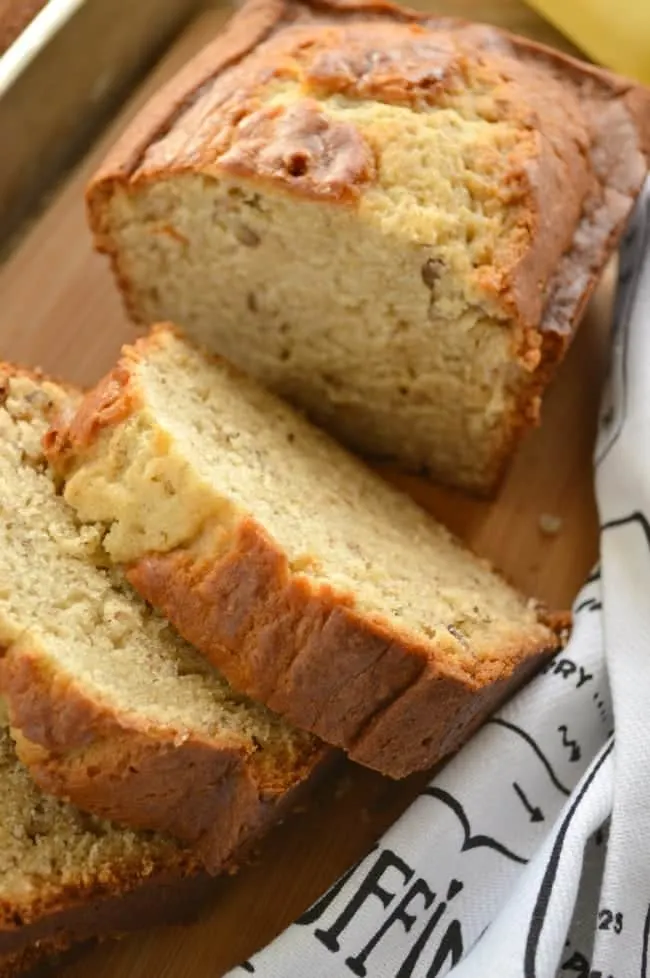 Imagine that.
I still write most things down. I am a list-maker from the very bottom of my scatter-brained heart. I write lists of things we need on the chalkboard in the kitchen. Events and bills are carefully printed on the wall calendar. I keep a notebook full of recipes, scribbles,
Andrew's math homework, and more lists. It does not ever occur to me to open up the notepad on my computer or use the calculator on my phone. And like that weirdo waitress from my high school days, if my hair is up, there is probably a pen stuck in it.
I tell you all this- the ins and outs of my quirky and sort of retro ways- as a bit of a disclaimer and also a plea…
With all of this shuffling around I'm not quite sure about the fate of my email subscribers. Comments from those of you that have landed here would be sooooooo appreciated. I will reward you with banana bread.
And I'll get this all sorted out eventually.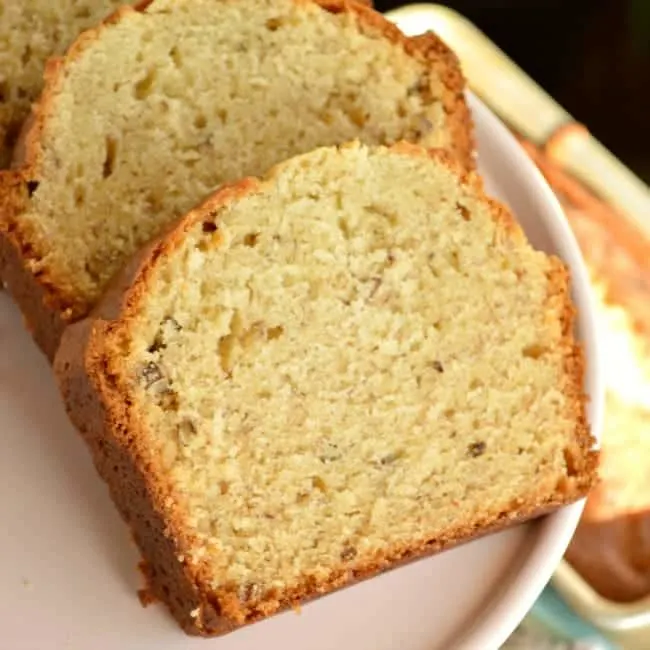 This Cream Cheese Banana Bread is moist and rich and WONDERFULLLLL. It has more butter and sugar than my usual banana bread recipe and boasts a whole 8 ounce block of cream cheese. It bakes up more like a cake and was pretty hard to resist right out of the oven paired with an afternoon cup of coffee.
I'll tell you, though… If you can muster a bit of self-control, save one loaf. Wrap it up TIGHTLY and hang onto it for another day. Leftover banana bread is amazing in things like Blueberry Bread Pudding with Whiskey Sauce!
Thanks in advance for commenting, subscribing, and helping me!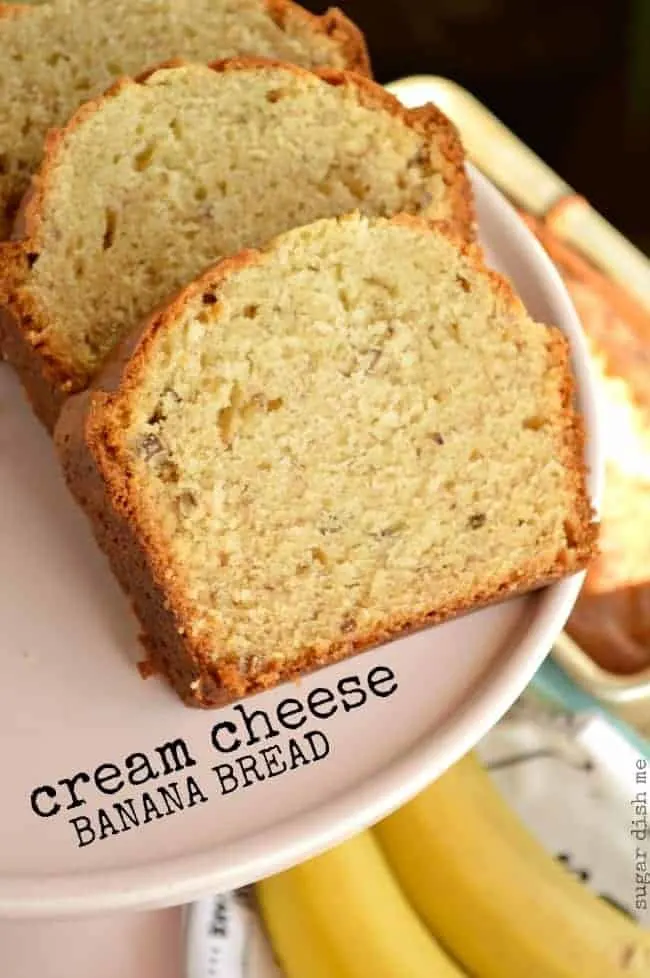 Yield:

2 loaves
Cream Cheese Banana Bread
Ingredients
3/4 cup butter, softened
1 (8 ounce) package cream cheese, softened
2 cups granulated sugar
2 eggs
1 1/2 cups mashed bananas (about 3 bananas mashed)
1 teaspoon vanilla
3 cups all purpose flour
1/2 teaspoon baking soda
1/2 teaspoon baking powder
1/2 teaspoon salt
1 cup toasted walnuts, coarsely chopped
Instructions
Pre-heat the oven to 350. Grease two 8 1/2 X 4 1/2 loaf pans.
In a large bowl cream together the butter, cream cheese, and sugar. Beat in the eggs one at a time. Then add the bananas and vanilla.
In another bowl, whisk together the flour, baking soda, baking powder, and salt. Gradually beat the dry mixture into the wet mixture. Stir in the walnuts.
Divide the batter between the two prepared loaf pans and bake in the pre-heated oven for 45-50 minutes, tenting with foil halfway through.
The bread is done when it's golden brown and a toothpick inserted into the middle comes out clean.
Recommended Products
As an Amazon Associate and member of other affiliate programs, I earn from qualifying purchases.
Nutrition Information:
Yield:
24
Serving Size:
1
Amount Per Serving:
Calories:

245
Total Fat:

10g
Saturated Fat:

5g
Trans Fat:

0g
Unsaturated Fat:

5g
Cholesterol:

34mg
Sodium:

144mg
Carbohydrates:

36g
Fiber:

1g
Sugar:

20g
Protein:

3g
(slightly adapted from
Southern Living magazine
)