All the colors of the fall rainbow! Rainbow Harvest Roasted Vegetables are easy to make, crazy good for you, and look gorgeous on any table – dressed up for holidays or not.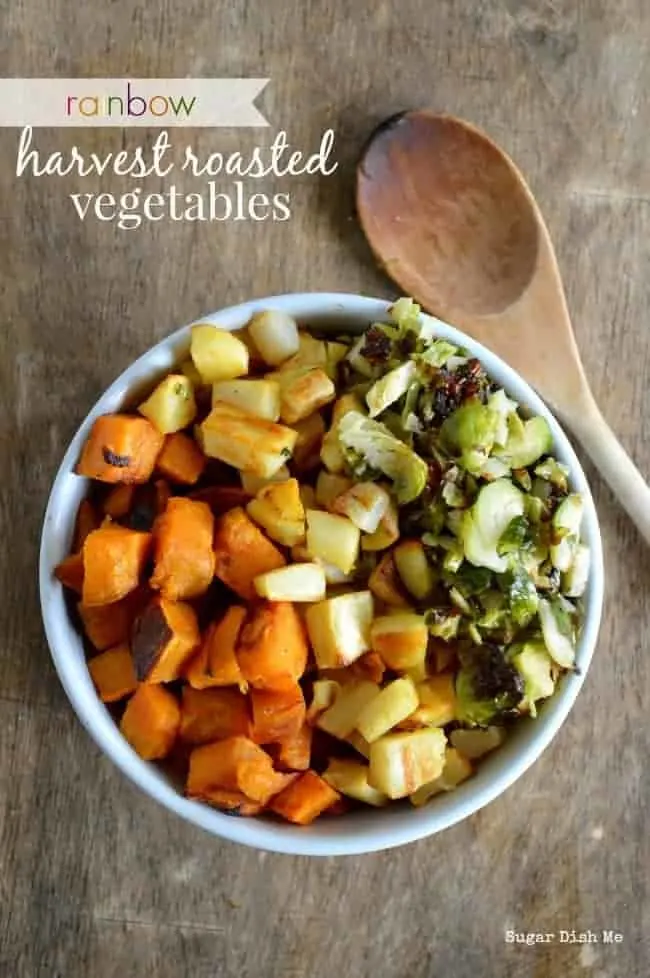 I made you a fall rainbow! Is that a thing? I think it should be.
Sometimes we get these wild thunderstorms in the fall down here in the south. They are usually a spring thing but occasionally they happen after September, while the leaves are multicolored and crunching everywhere, and the sky goes from this insane vibrant blue to gunmetal black. But I don't think I've ever noticed a fall rainbow. Maybe I just wasn't paying attention.
Clearly I am not a meteorologist.
Also — if you do find a fall rainbow — is there a pot of gold at the end? I feel like that lore is heavily discussed in March and then gets tossed. Fall rainbows are almost as rare as sunbows which I think are a sign of snow, and definitely make all the people run to the store and buy every stitch of bread and milk. One day I will figure out what they do with all that bread and milk. Like maybe there is some secret snow forecast recipe using 10 loaves of bread and 7 gallons of milk. Maybe they are making a giant vat of bread pudding. Maybe we should ask the Lucky Charms people because all this rainbow stuff is complicated and I am definitely not on task.
Cue more coffee.
Okay. Let's talk Rainbow Harvest Roasted Vegetables.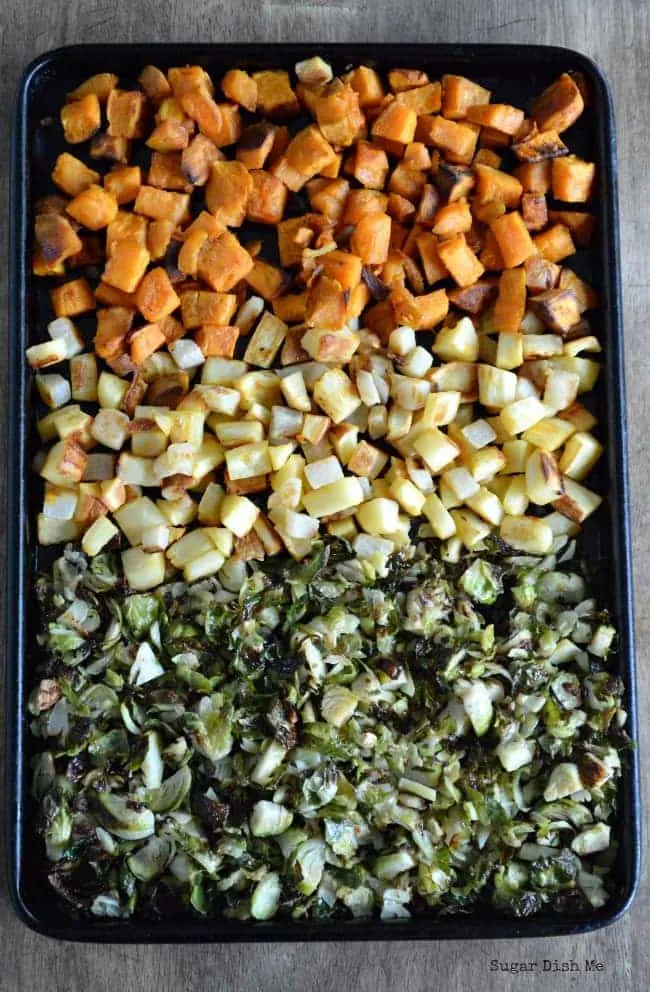 I could pretty much eat roasted vegetables for every meal. The oven set at 400+°F does something kind of magical (sort of like rainbows) to the vegetables you put in there. The flavor gets amped up, the colors deepen, the nutritional value stays put.
We always have a tray of roasted vegetables at our holiday tables — you can peel, chop, and get the general prep out of the way ahead of time. They don't take up a ton of room in the oven. You can throw them in at the end, just before your breads, and still get everything set out all nice and hot and happy. PLUS the colors! I love the colors.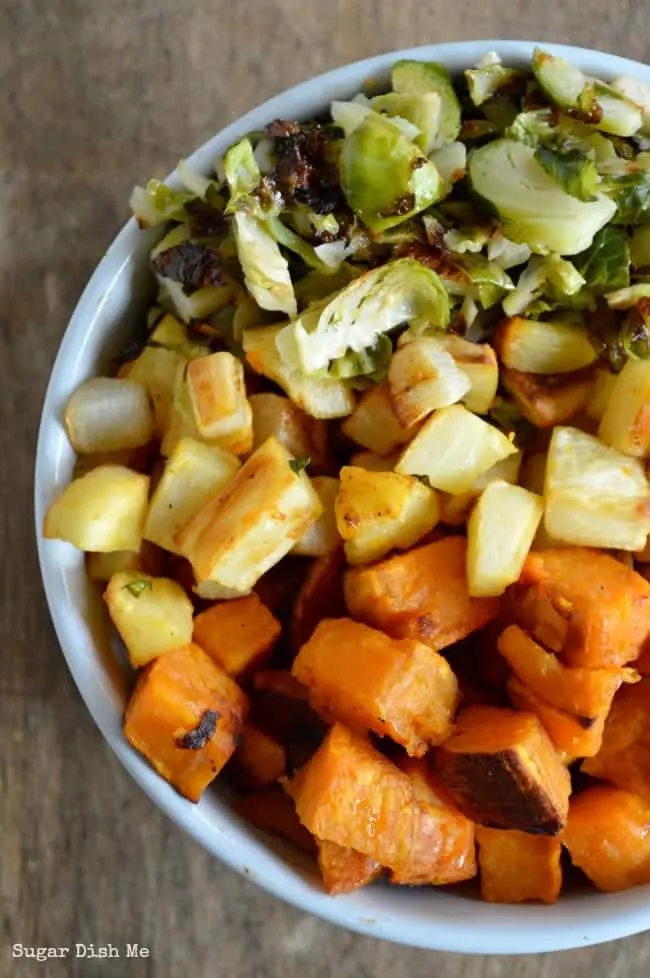 For the photos here (and probably what I'll be making for Thanksgiving) I roasted sweet potatoes, parsnips, turnips, and Brussels sprouts. Once my mom told me that may dad didn't like turnips. I have no idea why that oddball fact has stayed with me for years. I am pretty sure that my dad must have had some strange canned mush version of turnips because roasted turnips are freaking delicious. (need help picking a perfect turnip? Check here)
You could swap out (or add!) butternut squash for the sweet potatoes. You could mix in those pretty purple and ruby red fingerling potatoes for even more rainbow colors. You could check out this handy list of seasonal produce and invent your own custom rainbow.
But for our purposes I'm gonna give you my times and temperatures for the veggies I used.
Eat more [rainbow harvest roasted] vegetables.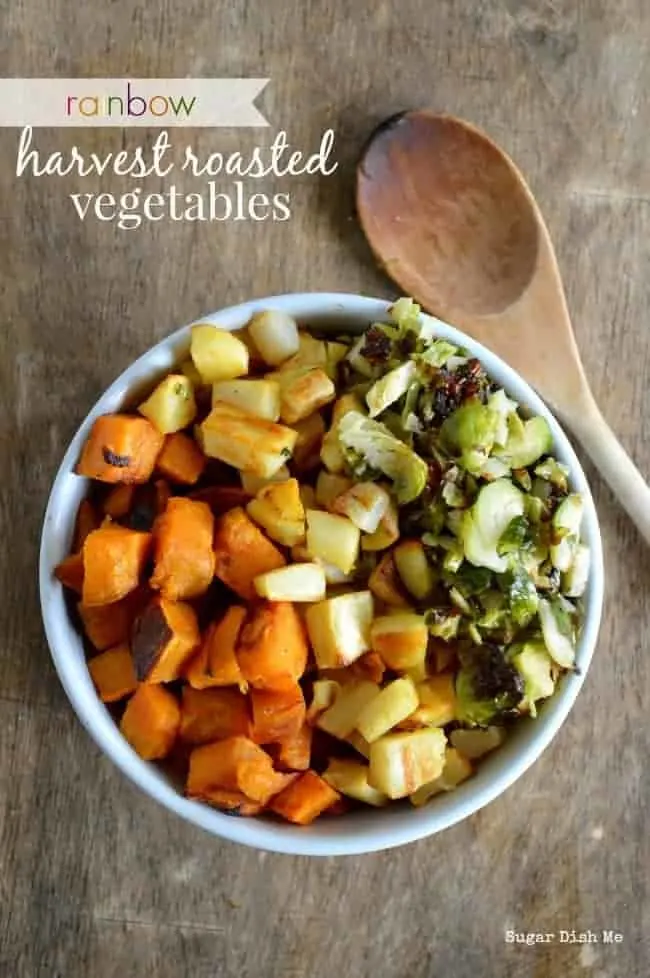 Yield:

Serves 6
Rainbow Harvest Roasted Vegetables
All the pretty fall colors in one dish! Set your holiday table off with a tray of these Rainbow Harvest Roasted Vegetables -- delicious, healthy, and sure-to-impress.
Ingredients
2 large sweet potatoes, peeled and cut into 1" pieces
2 large parsnips, peeled, tops trimmed, cut into 1" pieces
1 pound Brussels sprouts, coarsely chopped
3 tablespoons olive oil, divided
1 teaspoon kosher salt
1/2 teaspoon nutmeg
Instructions
Preheat the oven to 400°F. Line a heavy, rimmed baking sheet with parchment paper or foil. **See Note**
Toss the sweet potatoes in 1 1/2 tablespoons of the olive oil. Lay them out on the prepared baking sheet in a single layer, leaving room on the baking sheet for the remaining veggies.
Toss the turnips and parsnips with 1 tablespoon of the olive oil to evenly coat. Scatter them across the baking sheet in a single layer, leaving room for the Brussels sprouts (you will add them after baking for 20 minutes.
Sprinkle the sweet potatoes, turnips, and parsnips with the kosher salt and nutmeg, reserving just a little for the Brussels sprouts. Roast the vegetables on the tray for 20 minutes, gently turning them with a spatula halfway through.
Too the Brussels sprouts with the remaining 1/2 tablespoon of olive oil. When you have just 10 minutes of bake time left add the Brussels sprouts to the baking sheet and sprinkle them with the remaining salt and nutmeg. Bake for 10 minutes.
Serve warm.
Notes
1. You may need more than one baking sheet. My baking sheets are small (it's a preference) so I use two for this recipe. One for the sweet potatoes and another for the remaining veggies.
Nutrition Information:
Amount Per Serving:
Calories:

0
Cholesterol:

0mg
Sodium:

0mg
Carbohydrates:

0g
Fiber:

0g
Sugar:

0g
Protein:

0g