A sweet tart spread you just have to have at your Thanksgiving table! Cranberry Butter is perfect on all kinds of breads and muffins, makes a great spread on sandwiches, and can even be used for roasting. Easy to make and ready in less than 30 minutes.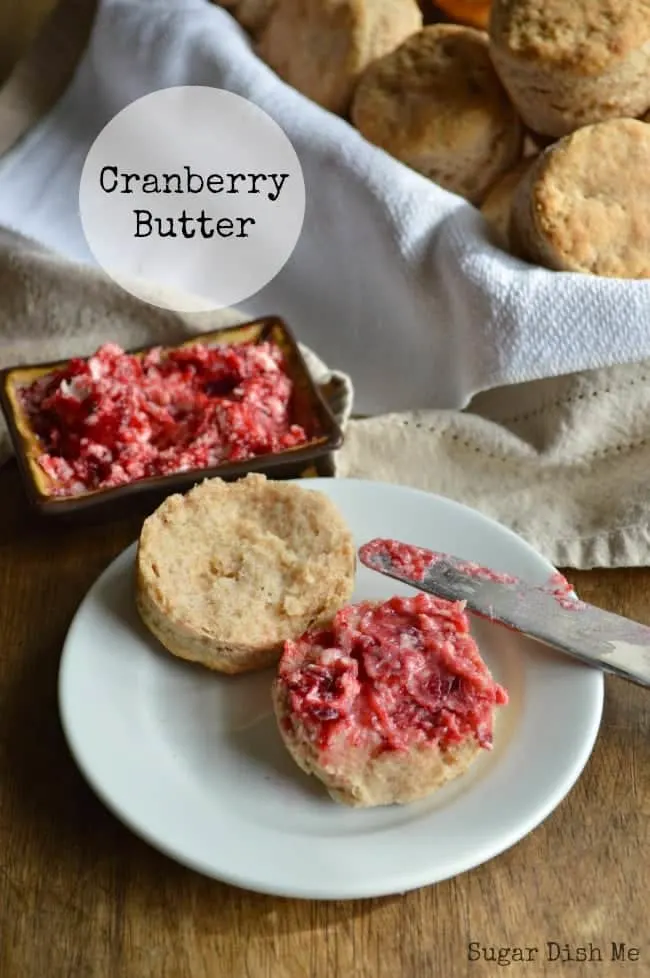 Save This Recipe for Later
Saved!
A sweet and tart spread that is perfect for any holiday. Cranberry Butter comes together easily by making a fast cranberry orange sauce, letting it cool, and mixing it with softened butter. You'll love Cranberry Butter on breads, rolls, and sandwiches!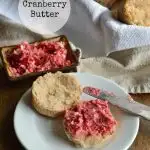 It's all about the butter today.
I am an all-butter girl all they way. But I don't usually use butter as a spread. I bake with butter. I cook with butter. I love making different flavored butters like this orange basil butter for roasting chicken. Or this basil garlic butter for shrimp and bruschetta and pretty much everything.
So for the holidays I decided that we really really really needed a butter for smearing on rolls and breads and spreading on all the delicious carbohydrates that are lurking.
Cranberry Butter is where I landed and I am so glad.
I mean… first of all, it's pink.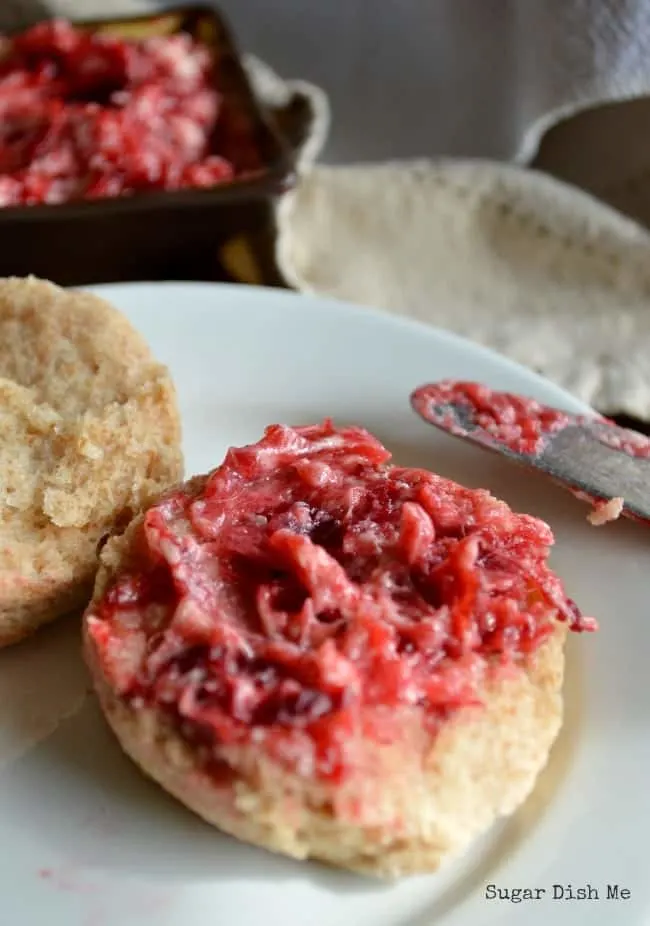 And second it's sweetly tart which is probably my favorite combination.
Remember when I teased you with it a couple weeks ago on this Healthy Pumpkin Banana Bread? Healthy breads need butter, yes? Yes.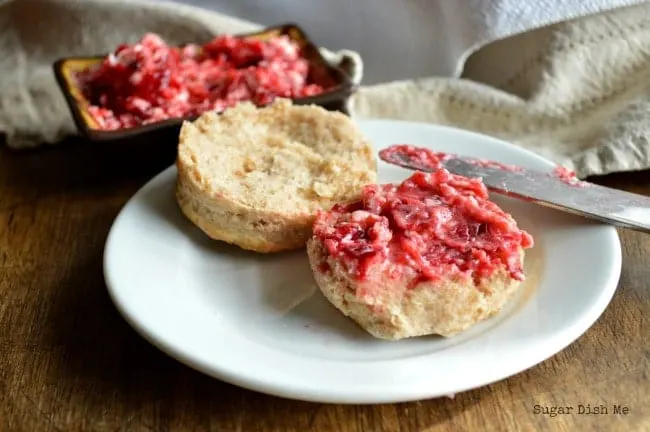 Like these Honey Butter Glazed Whole Wheat Biscuits pictured here. They were begging to be buttered.
I basically made a really quick and easy cranberry sauce with a hint of orange, let it cool, and then mixed it with some softened sweet cream butter.
You could actually double the recipe (minus the butter) and serve that up with your Thanksgiving turkey. Bam! 2 recipes in one!
But also you should definitely definitely make this butter and then spread it on these Leftover Turkey Sandwiches because… they are the best sandwiches you will make all year.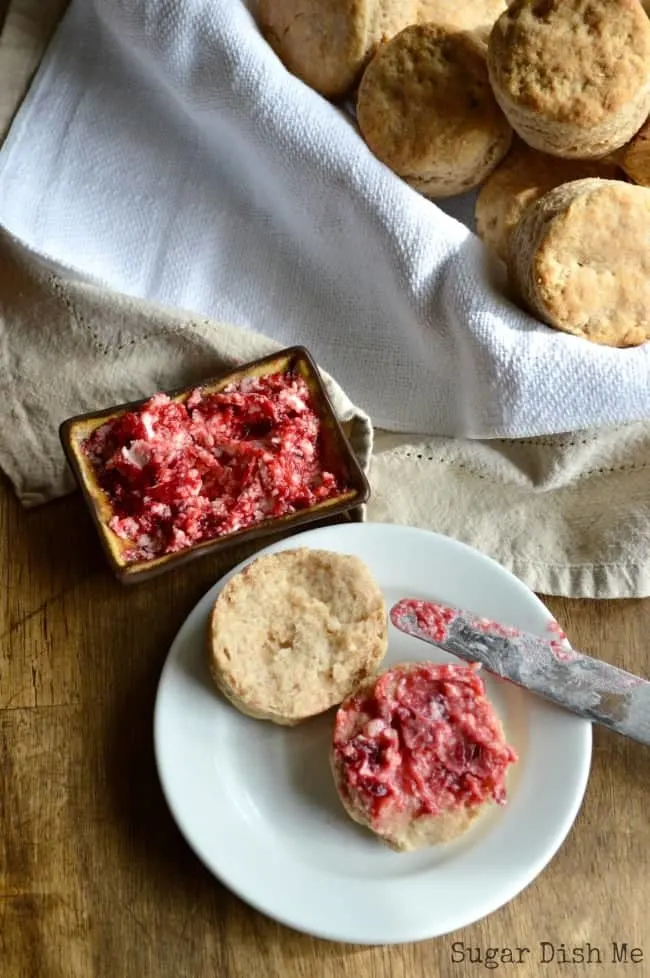 I would also not hold it against you if you used this butter to roast a chicken. Or a turkey breast. Bottom Line: it takes less than 30 minutes and has a zillion Thanksgiving and holiday uses. Dooooo it.
Cook's Notes
you can make this 7-10 days ahead of time if you keep it refrigerated
the refrigerated Cranberry Butter will be kind of clunky and chunky if your butter has a high water content. Use quality butter! But also serve this at room temperature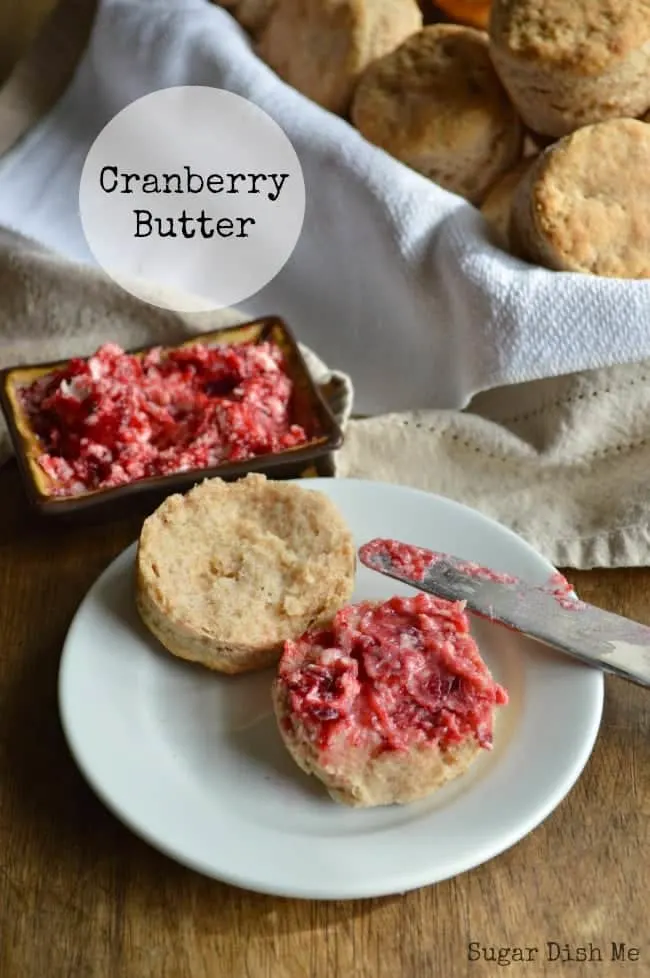 Servings:
3
/4 cup Cranberry Butter Spread
Ingredients
1

cup

fresh cranberries

2

tablespoons

granulated sugar

1/2

cup

orange juice

1

teaspoon

orange zest

pinch

of kosher salt

1/2

cup

water

as needed

1/2

cup

unsalted butter

softened (see note)
Instructions
In a small saucepan, heat the cranberries, sugar, orange juice, orange zest, and salt over medium high heat. Stir, bring the mixture to a simmer, and then drop the heat to medium.

Simmer, stirring occasionally for about 10 minutes. If the liquid cooks out before all the cranberries are tender and the skins have popped, add just a little water at a time while you continue cooking.

Remove the sauce from the heat and let it cool completely.

Stir the cooled cranberry sauce with the softened butter until it's evenly combined.

You can place this in a serving dish, wrap tightly, and refrigerate until serving or you can lay out a piece of plastic wrap, scrape the butter into the center, fold in the sides, and roll it into a log. It will keep in the refrigerator this way for 1-2 weeks.

I like to let mine soften before serving.
Notes
1. It pays to use high quality butter with this recipe. Cheaper butter has more water in it and doesn't want to bind to the cranberries as easily. I skipped the store brand with this recipe and used Cabot Sweet Cream Unsalted Butter -- use your favorite!!