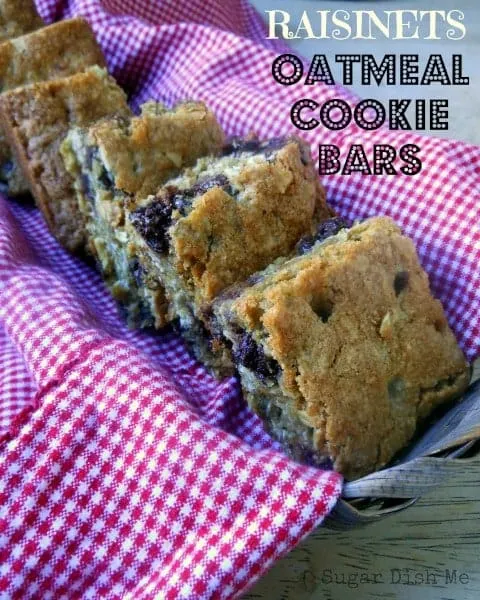 There are two groups of people: the ones that like raisins and the ones that don't
I am in the pro-raisin camp.
And therefore I definitely love chocolate covered raisins.
I'm actually confused by the non-raisin people. Raisins are so sweet!!!! I am all about things that are sweet and healthy. Like oatmeal cookies must be infinitely better for you than all other cookies because oats are good for your heart so it automatically cancels out butter and sugar. #science
So I made the mistake of grocery-shopping-while-starving the other day and I spied some Raisinets on sale near the cash register. I NEVER SEE RAISINETS!!!!!!! So of course I grabbed them because we all know that a small handful of candy will completely quell your hunger until you get home with the groceries which is why they place it at the cash register. Duh.
It was on the way home that I decided the Raisinets needed to be in cookies.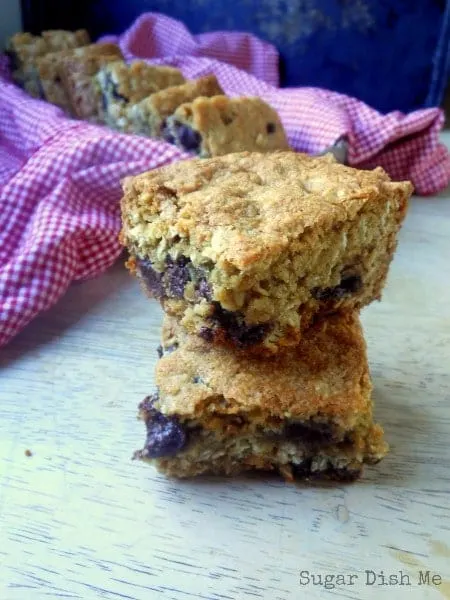 I took my never-fail favorite oatmeal cookie recipe and pressed it into a 9 X 9 pan to make big fat oatmeal cookie bars. Bar cookies are WAY faster than regular cookies because you don't have to watch the oven every 9 minutes, but if you would prefer regular cookies this recipe is perfect for those too.
I found a big bag of Dark Chocolate Raisinets that I used for these cookie bars. If you do not love Raisinets you could go for pretty much anything here. Chocolate chips would be the easiest thing. But if you find yourself with loads of snack-sized candy bars laying around those would be really delicious.

Raisinet Oatmeal Cookie Bars
Big chewy oatmeal cookie bars loaded with Dark Chocolate Raisinets!
Serves:
16-25 big fat cookie bars
Ingredients
¾ cup unsalted butter, softened
½ cup granulated sugar
½ cup light brown sugar, packed
2 eggs
1½ teaspoons vanilla
1½ cups all purpose flour
1 teaspoon baking soda
½ teaspoon salt
3 cups old fashioned oats
1½ cups Raisinets
Instructions
Preheat the oven to 350. You can line a 9 X 9 pan with parchment paper and butter it (makes removing the bars extra easy) or you can just lightly butter the pan.
Cream together the butter and sugars until they are fluffy. Add the eggs and vanilla and beat on medium until combined. Add the flour, baking soda, and salt. Mix until the dry is incorporated with the wet.
Stir in the oats, then stir in the Raisinets.
Press the dough into the prepared pan and bake for 30-40 minutes. The top will be golden and the bars will be thick. A pick inserted into the center will come out mostly clean (some moist cookie bits will cling). Let the bars cool before slicing into 4 or 5 rows.