A deliciously simple and crazy moist cake recipe that resembles a quick bread. Loaded with apple butter, spice, and buttermilk, and then covered with a sweet orange glaze. Apple Butter Spice Cake is perfect with coffee and makes great gifts!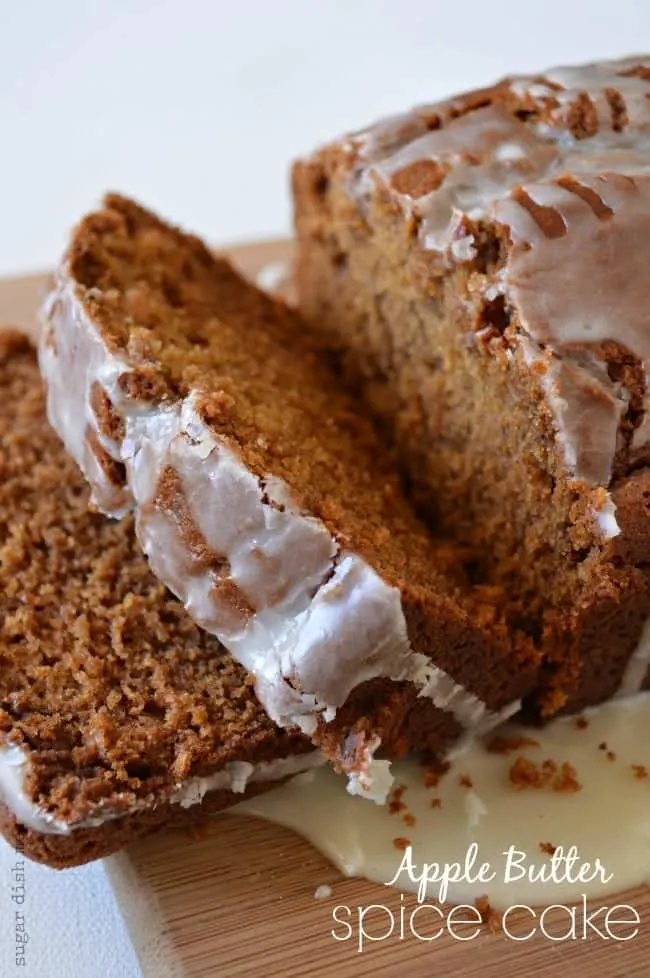 A 2018 update and quick disclaimer: This is NOT a sponsored post! But I DID work with Musselman's for years doing recipe development, so there are a TON of apple butter recipes on this site. This recipe for Apple Butter Spice Cake was written before we worked together in any official capacity, but I DID receive free product to play around with.
As always, I love sharing the things that work for me in my own kitchen with the hopes of saving you all the trial and error in yours. All opinions, photos, and original recipes are my own.
Evan got a camera for Christmas last year and he is pretty funny with it. For awhile he took pictures of everything everywhere all the time.
He actually started photographing our family get-togethers and then we had to have a little talk about flattering photos and how to take them. Shoulders up, buddy. And don't take photos from down low.
You guys know what I'm talking about, right? The webcam selfie fail where the camera is clearly sitting on the table and even if you are 94 pounds you look like you have 6 chins? That is what happens when you are tall and are being photographed by a ten-year-old.
So after family portraits lost their appeal he started making stop-motion videos of Matchbox car crashes on the living room floor. One of them came complete with a tow truck handling the wreckage. It was super creative and adorable, but then I stepped on one too many cars/legos/wooden blocks littering the floor and we had to shut video production down.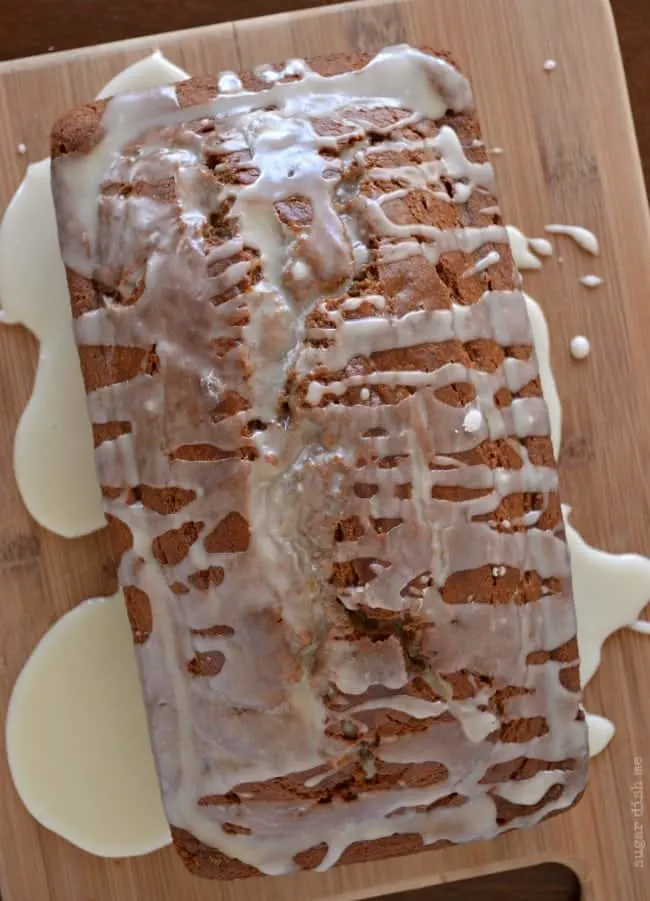 So then Evan started crashing my food photo shoots which is pretty much the most flattering and squishy cute thing in the whole entire world.
He hovers behind me until I am through and then swoops in to get a few shots. Watching him watch the world through a camera is really really endearing and wonderful. He is observing and learning what he likes and is figuring things out in his own little ten-year-old way.
I think I should solicit my kid to make us some stop-motion cooking videos.
And while we are talking about Evan, you should know that this cake has his stamp of approval. I was informed that he would like to have this as his next birthday cake. In February. Because when you are ten you are always planning for the next big event.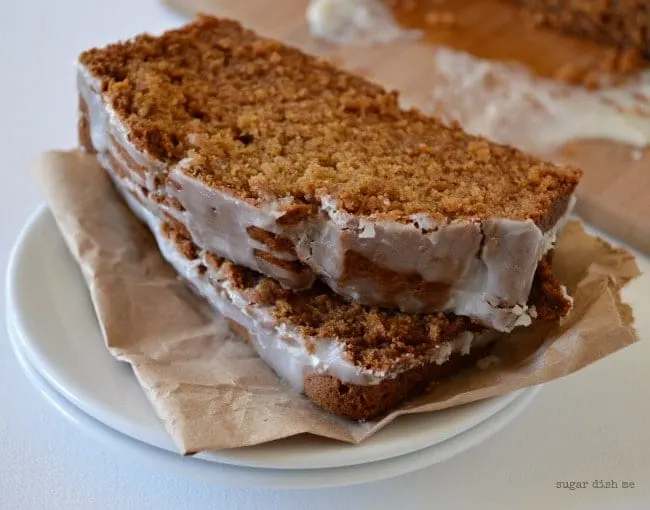 I made this Apple Butter Spice Cake using Musselman's Apple Butter. I worked with Musselman's for years developing creative recipes that use apple butter. Some major faves include Apple Butter Roast Chicken and Apple Butter Whoopie Pies.

This recipe was slightly adapted from one of the recipe cards they send out with product. It is reliably one of my favorite quick bread / cake recipes ever. Apple Butter Spice Cake just smells and tastes like fall. I love it.
Want more fall-flavored quick bread goodness? I have some other goodies to try!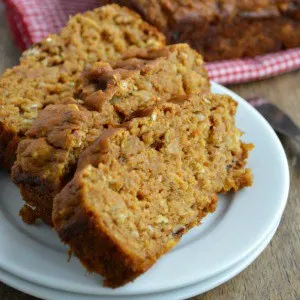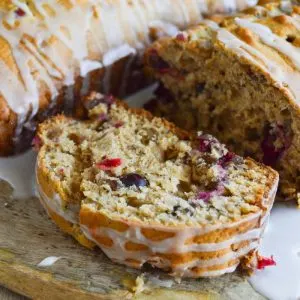 Healthy Pumpkin Banana Bread is a Sugar Dish Me reader fave! It's simple to make, comes together fast and is right at 89 calories a slice.
Cranberry Pecan Banana Bread is one of my favorite things to set out for breakfast / brunch with coffee on holidays. It makes an excellent gift and is a fun tart twist on a traditional banana nut bread.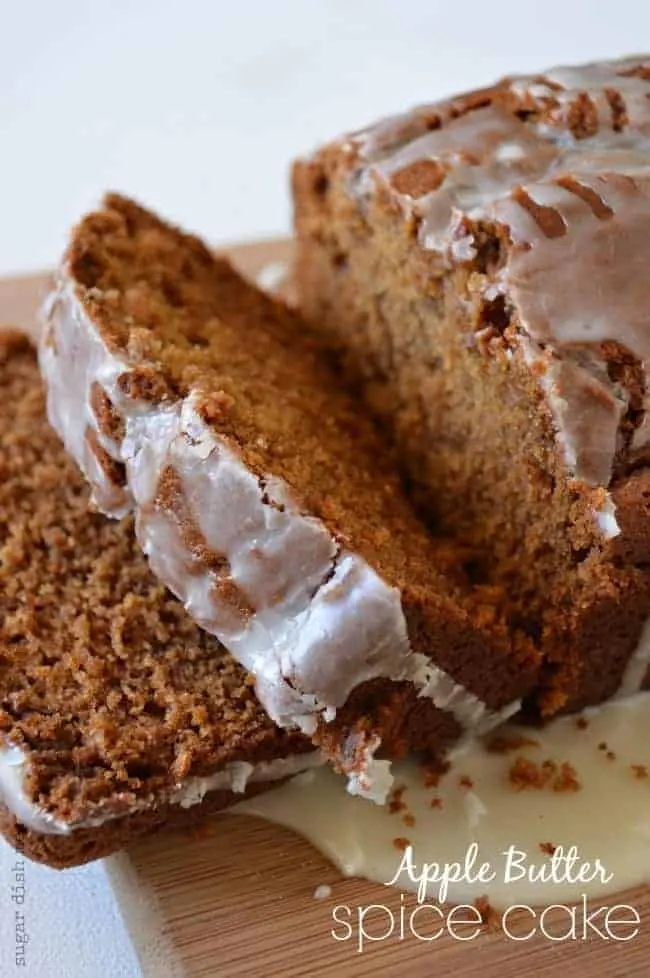 Yield:

10
Apple Butter Spice Cake
Total Time:
1 hour
5 minutes
A super moist spice cake loaded with apple butter and buttermilk, and then topped with a sweet glaze. A perfect recipe to pair with a hot cup of coffee and fall!
Ingredients
For the Cake:
1/2 cup unsalted butter, softened
3/4 cup granulated sugar
2 eggs
1/2 cup buttermilk
2 cups all purpose flour
1 teaspoon baking soda
1/2 teaspoon salt
1/2 teaspoon cinnamon
1/2 teaspoon ground cloves
1/2 teaspoon pumpkin pie spice (see note)
1 cup apple butter
For the Glaze:
1 cup powdered sugar
2 tablespoons orange juice (water or milk is fine if you don't have juice)
Instructions
Preheat the oven to 350 and butter a 9 X 5 loaf pan (see note).
Cream together the butter and sugar. Add the eggs and half of the buttermilk. Beat until smooth.
In another bowl whisk together the flour, salt, baking soda, cinnamon, cloves, and pumpkin pie spice.
Add half of the flour mixture to the wet ingredients in the bowl. Beat, and then add the rest of the buttermilk. Beat again, and then add the rest of the flour mixture. Beat until just combined.
Stir in the apple butter until the batter is an even color. Pour the batter into the prepared pan.
Bake 55-65 minutes, checking the center with a toothpick for done-ness.
Let the cake cool and turn it out of the pan before glazing.
To make the glaze simply mix together the juice and powdered sugar until smooth. Drizzle the glaze over the top of the cake and let it run down the sides. Let the glaze set, slice, and serve.
Notes
1. The original recipe called for nutmeg. I was out and used pumpkin pie spice. It was delicious! But if you find yourself without pumpkin pie spice then nutmeg is the way to go.
2.If you are gifting these in those little cardboard disposable loaf pans, only pour 1/3 of the batter into each of 3 pans and reduce the bake time to 40 mins.
Recommended Products
As an Amazon Associate and member of other affiliate programs, I earn from qualifying purchases.
Nutrition Information:
Yield:
10
Serving Size:
1
Amount Per Serving:
Calories:

356
Total Fat:

11g
Saturated Fat:

6g
Trans Fat:

0g
Unsaturated Fat:

4g
Cholesterol:

64mg
Sodium:

289mg
Carbohydrates:

60g
Fiber:

1g
Sugar:

37g
Protein:

5g