Roasted Cilantro Chicken Tacos with Black Bean Salad are light and healthy with baked crunchy shells, roasted chicken, & black bean salad that stands alone!

Yesterday morning I woke up to a really fun surprise!!
Just kidding.
I'm an early riser– always the first one up around here (Chad likes to sleep until 5 minutes before he has to be somewhere). So my little Lucy Girl and I have our routine. When she hears the alarm go off she likes to do this little belly crawl across the bed and give me some extra puppy love before we go for a walk. I fumble around for my sneakers and we head out the door to spend 15 minutes in the fresh air, taking in the dark and the quiet while the birds are just waking up.
But yesterday when I woke up… there was no Lucy.
I laced up my sneakers and headed into the living room figuring Little Miss must be curled up on the couch but… I stopped in the kitchen.
Because the garbage was exploded everywhere.
Eh. Vur. EEE. Where.
Then I spied Lucy peeking up over the arm of the couch looking riddled with guilt.
I think she thought if she never woke me up that I would never have to know.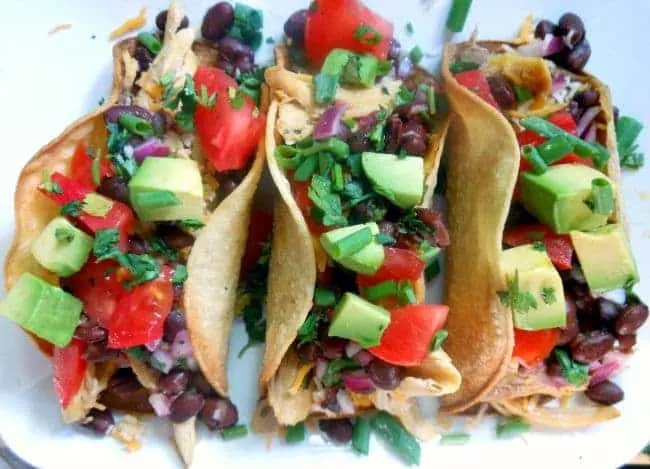 Maybe it was payback for not sharing tacos?
This recipe uses homemade crunchy shells along with shredded roasted chicken covered in a buttery cilantro rub and a dash of chili spice. I topped the chicken with a delicious black bean salad, fresh tomatoes, and avocado. They are fresh and healthy and OMG soooo good. I basically never ever get tired of Mexican-inspired dishes and these tacos are no different. You could use a few shortcuts– a store bought roasted chicken would save time (though it would lack the cilantro oomph!!). You can also make the chicken and black bean salad ahead of time. Shells are best the same day, still slightly warm.
Roasted Cilantro Chicken Tacos with Black Bean Salad
Ingredients
To Roast the Chicken:
3-4 pound whole roaster chicken, skin on, wings trimmed. patted dry
4 tablespoons unsalted butter, softened
2 tablespoons fresh chopped cilantro
1 teaspoon kosher salt
2 teaspoons chili powder
1 teaspoon paprika
For the Black Bean Salad:
1 (16 ounce) can black beans, drained and rinsed
¼ cup red onion, diced
juice of 1 lime
1 clove garlic, minced
¼ cup red wine vinegar
1 tablespoon olive oil
½ teaspoon salt
½ teaspoon coarse ground black pepper
½ teaspoon onion powder
1 tablespoon fresh chopped cilantro
For the Tacos:
12 taco-sized corn tortillas
non-stick cooking spray
1 cup shredded cheddar blend cheese
1 cup fresh tomatoes, diced
1 avocado, diced
sour cream (optional)
cilantro & chopped green onions to garnish
Instructions
Pre-heat the oven to 375. In a small bowl combine the butter and cilantro (I like to mix it with the back of a spoon).
Gently pull the skin away from the meat on the chicken breast and scoop some butter up with your fingers. Rub the butter in between the mean and the shin all over the chicken-- use all the butter!! Rub what's left on your hands on the outside of the skin all over the chicken.
Place the chicken in a roasting pan, breast-side down. Sprinkle with the kosher salt, chili powder, and paprika. Roast the chicken for about 20 minutes per pound and then add an extra 20 minutes. A 3-4 pound chicken will be done in about an hour; internal temperature should read 165.
Let the chicken rest and cool.
While the chicken bakes combine the black beans, red onions, lime juice, garlic, red wine vinegar, olive oil, salt, black pepper, and onion powder in a medium bowl. Toss the tablespoon of cilantro over the top, cover, and refrigerate until you're ready to use.
Make sure the oven is heated to 375. Spray both sides of the corn tortillas with the non-stick cooking spray and gently lay them over 2 rungs on the oven rack (if you lay them over just one the corn tortillas will split and break while baking). I usually work with only 4 at a time so I can keep them all in the front of the oven; it makes the baked shells easier to remove.
Bake the tortillas for 8-10 minutes until they are a toasted and a light golden brown. They will hold their shape.
Shred the chicken.
To assemble the tacos, layer shredded chicken in each baked shell. Top with shredded cheese, black bean salad, diced tomatoes, and avocado. Add sour cream. Toss the fresh cilantro and green onions over each taco and serve.
Notes
This recipe is divided into 3 parts: Roasted Cilantro Chicken (steps 1-4), Black Bean Salad (step 5), and Homemade Baked Corn Tortillas (steps 6 and 7). Each piece is really great on its own, but when all these parts are added together you end up with a healthful, fresh meal that will rival any take out.
You might also like…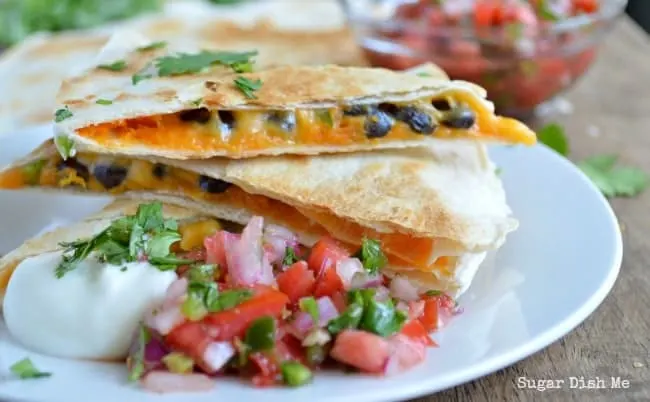 Sweet Potato & Black Bean Quesadillas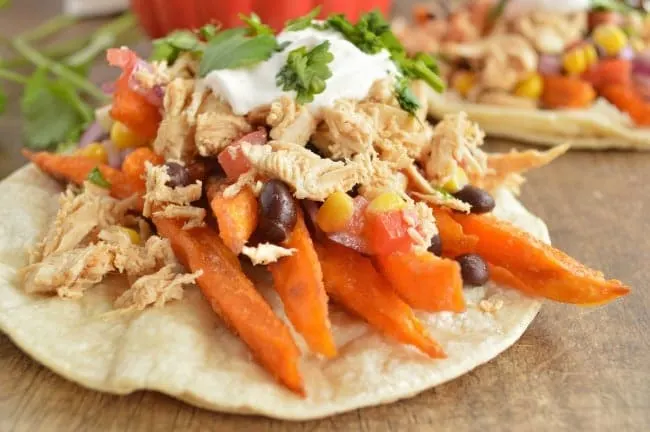 Chicken & Sweet Potato Tacos with Spicy Maple Sour Cream