This shop has been compensated by Collective Bias, Inc. and its advertiser. All opinions are mine alone. #KingOfFlavor #CollectiveBias
Grilled chicken marinated in a spicy green sauce is topped with a cool Mexi Slaw and a delicious Grilled Pineapple Salsa, this is the most colorful, flavorful Grilled Chicken Taco Recipe around!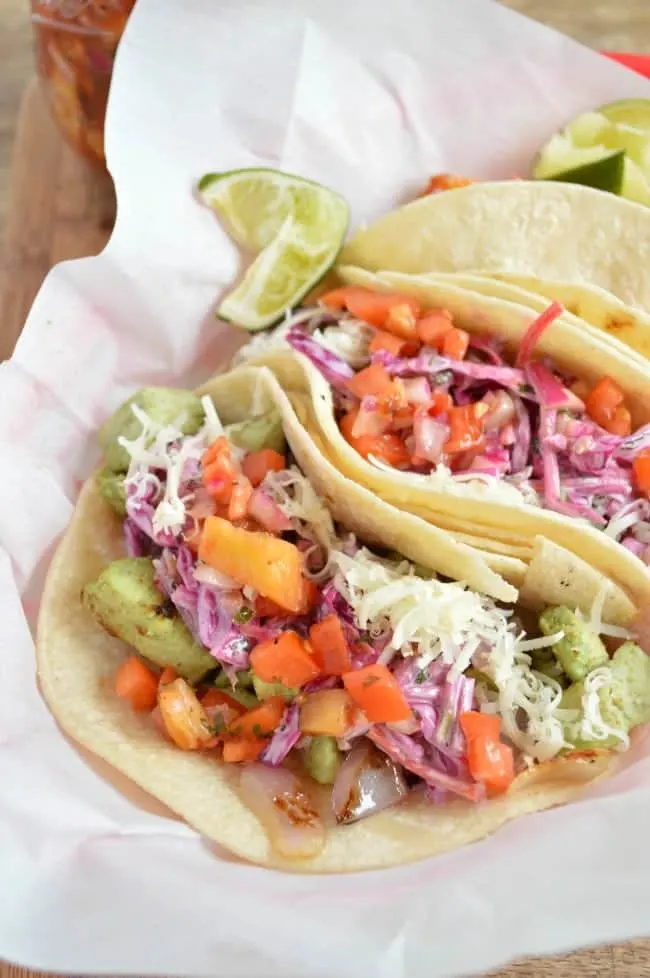 Summer! Party Time!
Over here we cook out year round because we live in a part of the country that boasts pretty mild weather (yay!). Once it starts to get warm though, our out-of-door cooking rises to a new level. I'll find any excuse to linger on the deck a little longer into the evening, and I tend to plan our menus around fresh ingredients that are grill-friendly. You do this too, right?
That's why we're friends.
Our warm-weather get-togethers follow the same theme, and if I'm being totally honest here, it's pretty nice to have guests over without scrubbing every corner of the house. ( #lazy ) As long as the guest bathroom sparkles and there's no laundry scattered between there and the back door, we are good to go.
Planning an entire party menu that can happen ON the grill makes my job even easier, so with this party that's what I set out to do.
The Menu:
Grilled Chicken Tacos with Grilled Pineapple Salsa

Grilled Red Habanero Corn on the Cob

Grilled Pineapple Wedges

Grilled Pound Cake with Brown Sugar Peaches and Whipped Cream
Then I scattered the deck chairs around different parts of the yard, added a few beer buckets, some citronella candles, corn hole, and music, and we called it a successful day.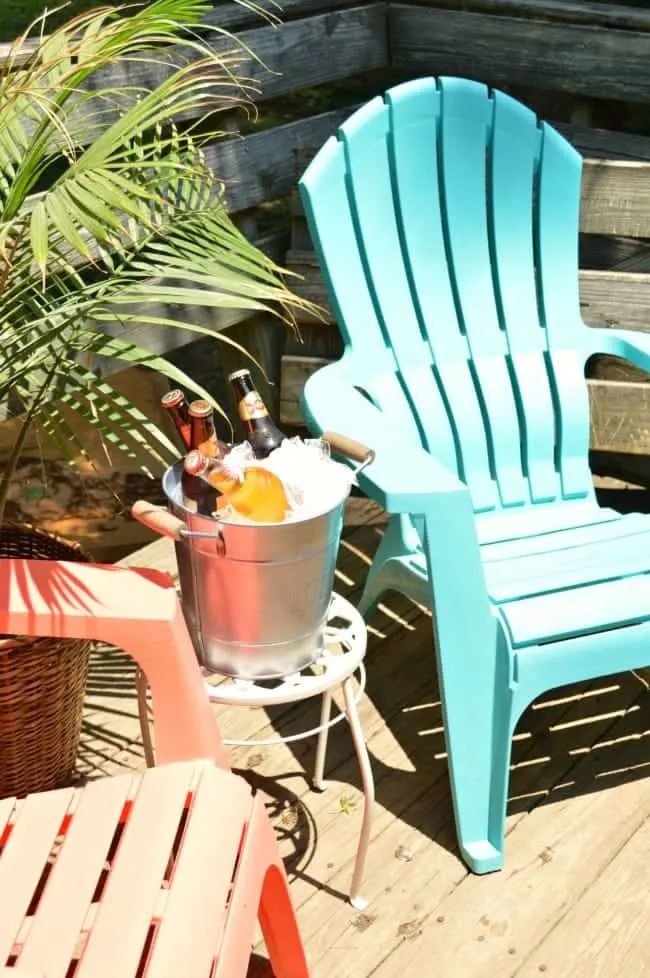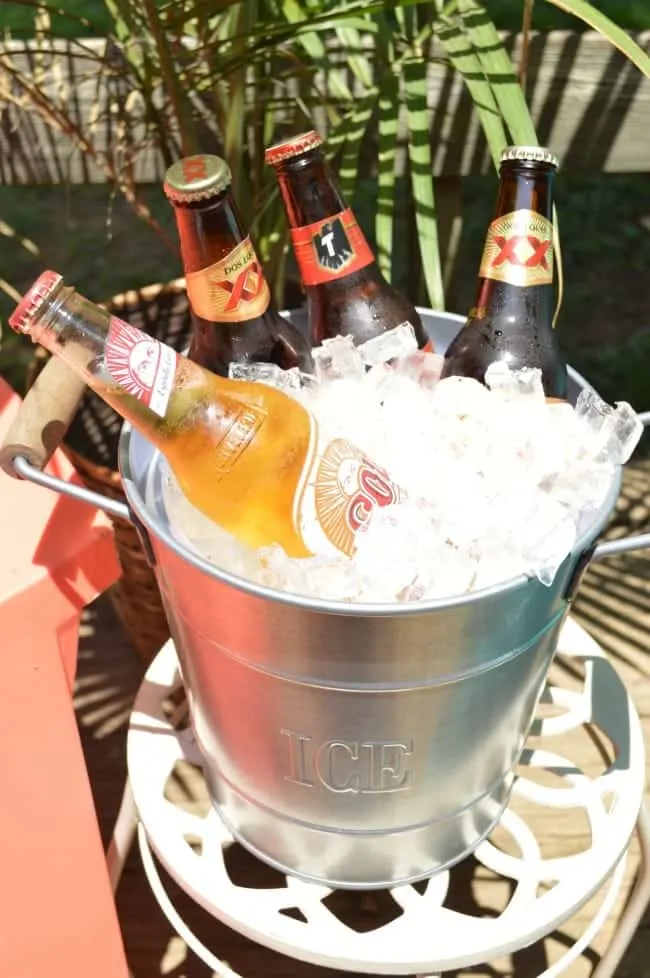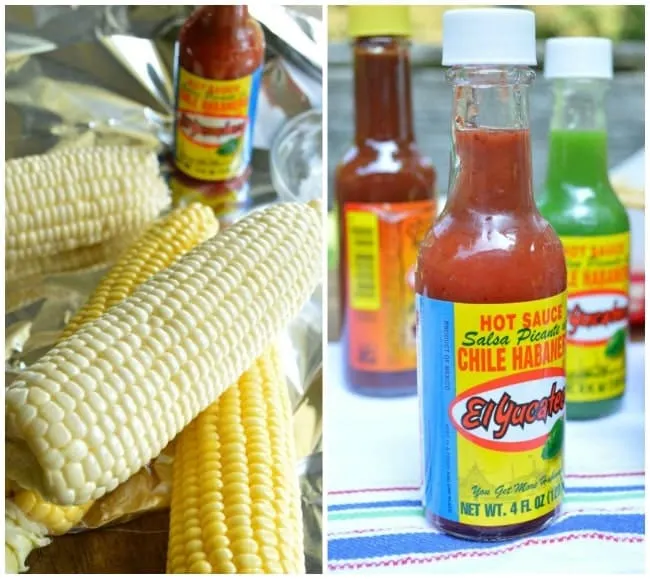 We grilled everything, and all I had to do was take the time to chop some veggies and wrap some corn beforehand.
[socialpug_tweet tweet="The secret to easy outdoor cooking is good prep" display_tweet="The secret to easy outdoor cooking is good prep" style="1″]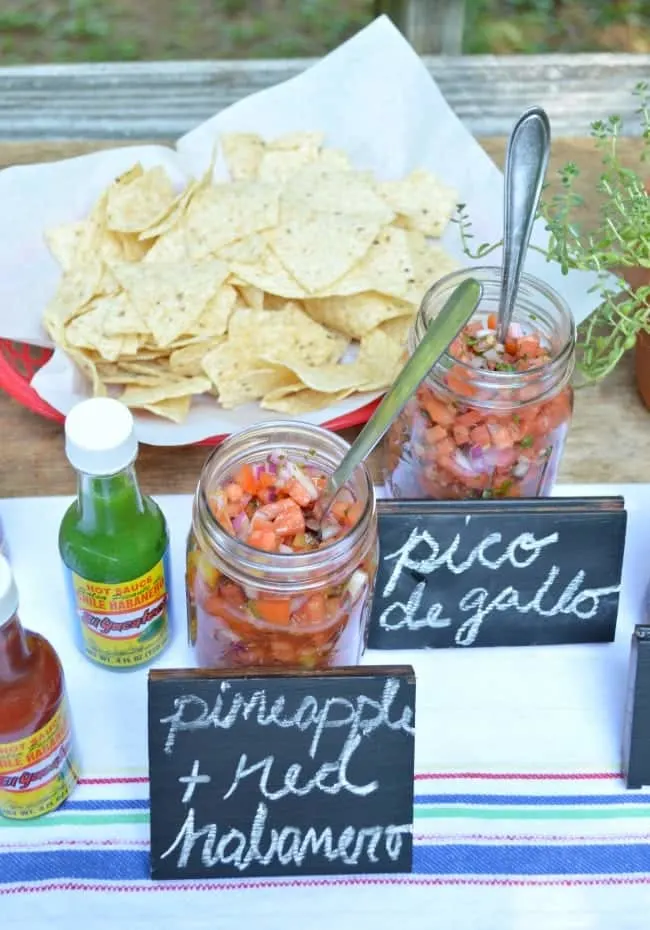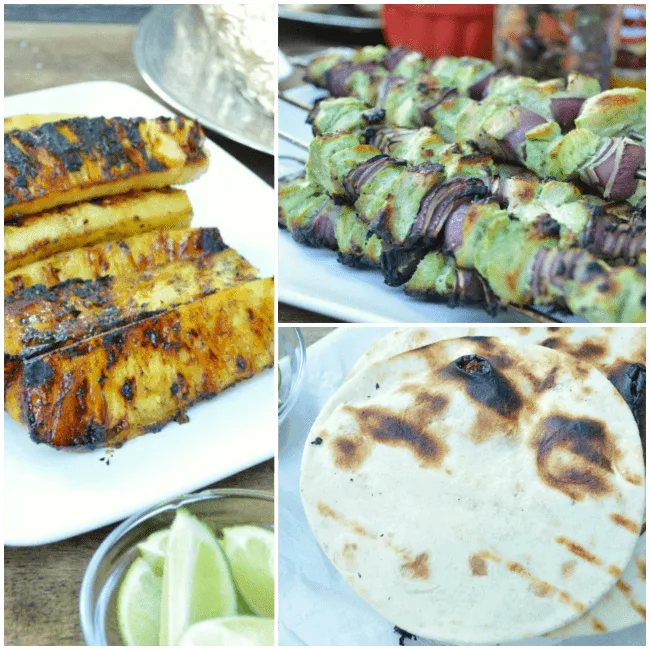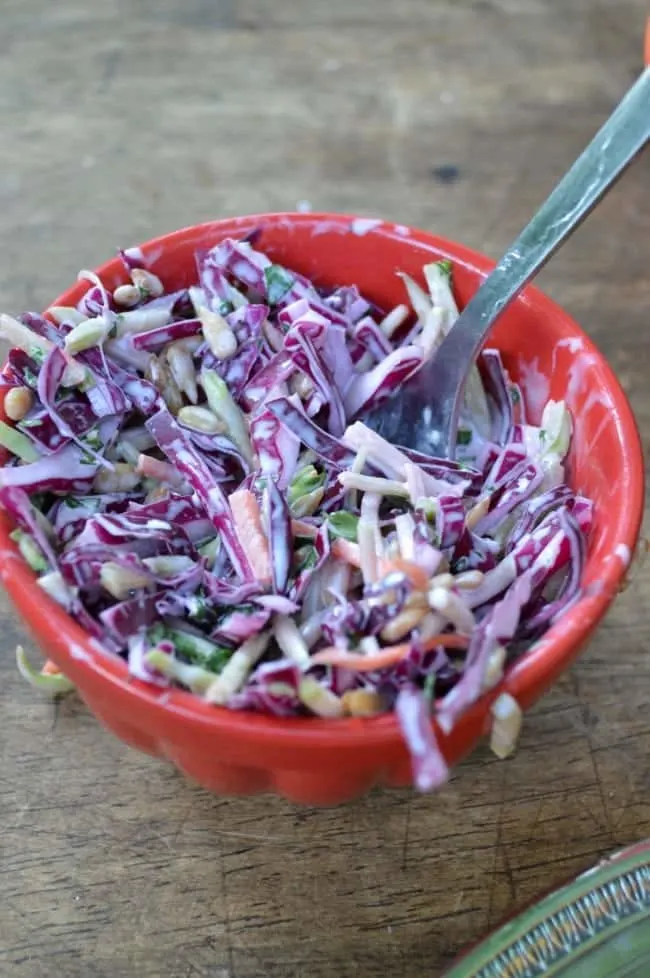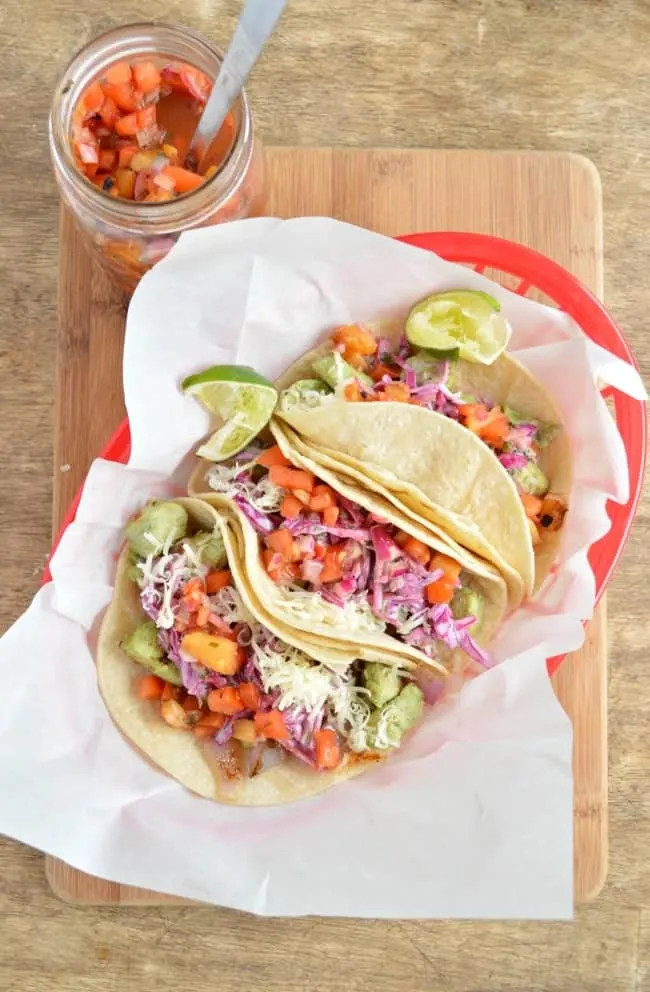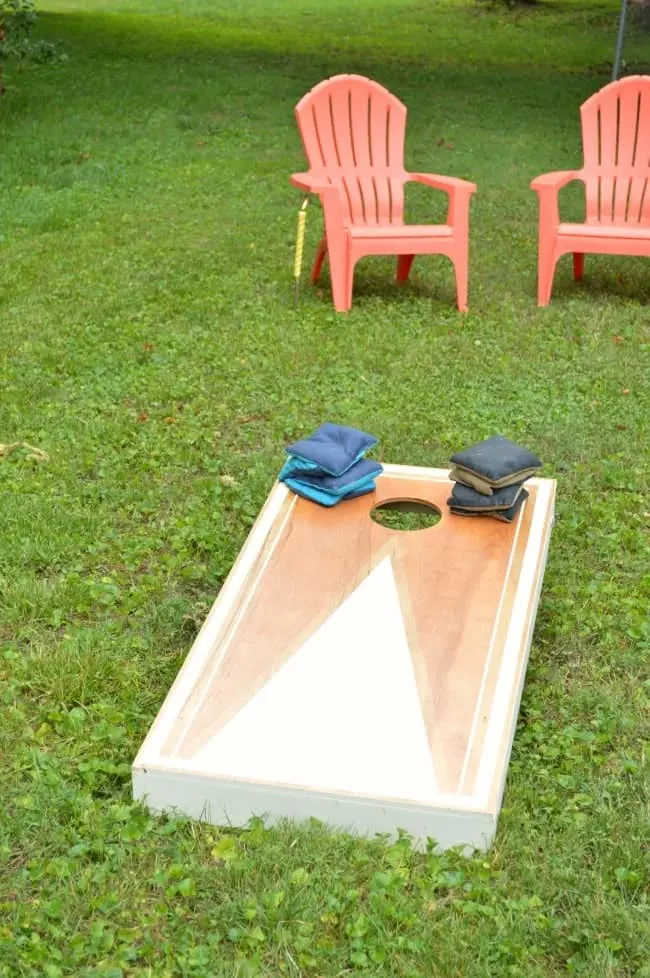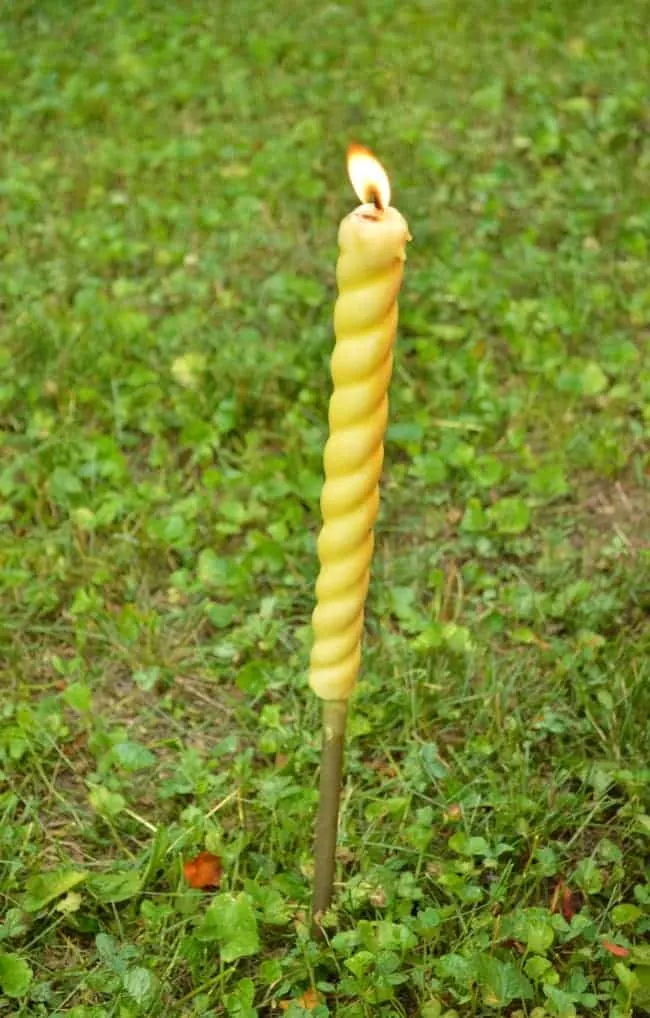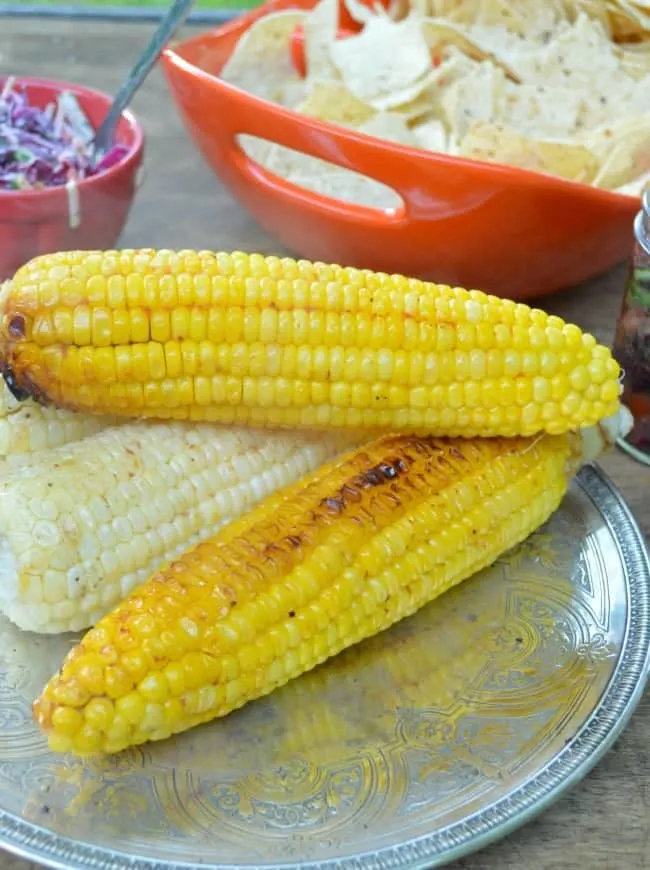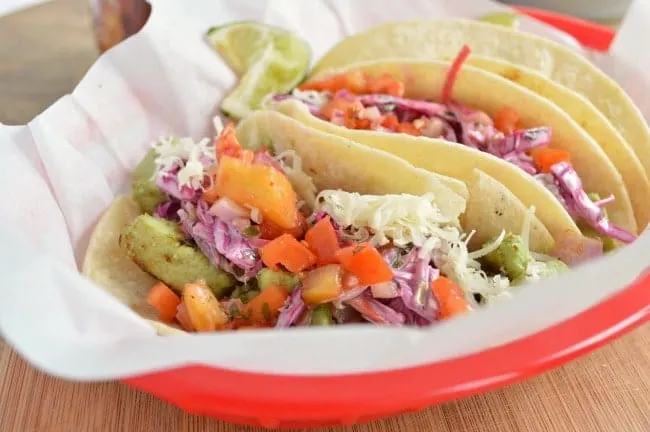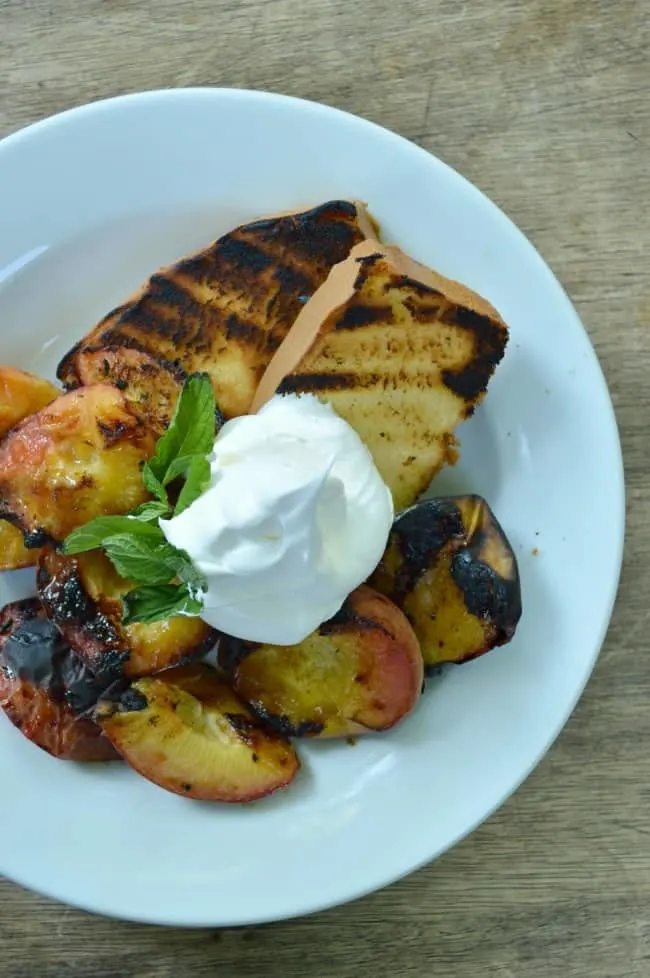 Packaged pound cake is sliced and toasted on the grill at the very end. Paired with some grilled peaches sprinkled with brown sugar and cinnamon, this easy dessert was a total hit.
One fresh salsa, prepared 3 ways is also a really simple way to pull off a salsa bar.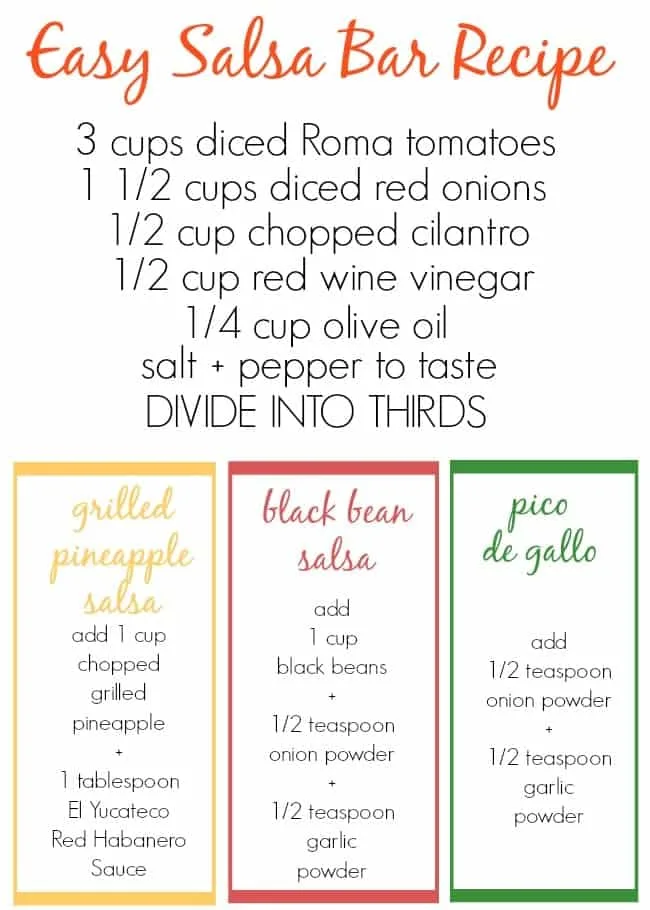 Notes on the Hot Sauce:
The El Yucateco Red Habanero Sauce is the perfect "all-purpose" sauce. I paired it with the corn as well as with the pineapple salsa. It has a well-rounded flavor with less vinegar than a typical hot sauce. We loved it.
The El Yucateco Green Habanero sauce is HOT. We love that crisp habanero flavor, so this one was perfect for us. It is also this brand's #1 national seller. I can see why! I used it to marinate the chicken, and while the spice was ample, the flavor was on point. PLUS the creamy Mexi Slaw + sweet pineapple balances it out
El Yucateco Chipotle Sauce has a milder, naturally smoky and slightly sweet flavor. It would be a perfect substitute as the chicken marinade or even in place of the El Yucateco Red Habanero Sauce addition to the salsa in this recipe. I also really like it on my eggs in the morning. Just sayin'.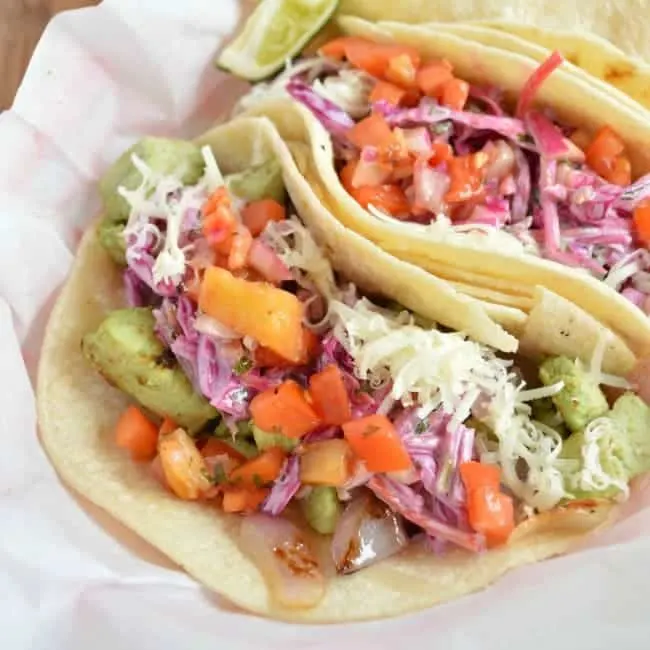 Grilled Chicken Tacos with Grilled Pineapple Salsa
Boneless skinless chicken breast is marinated in a spicy green sauce and grilled with onions. Wrapped in a lightly grilled tortilla, topped with cool, creamy Mexi Slaw, and Grilled Pineapple salsa, these are the best grilled chicken tacos around!
Ingredients
For the Chicken:
1 pound boneless skinless chicken breast, cut into 1" pieces
2 - 3 ounces Green El Yucateco Sauce (about ½ a bottle)
1 red onion, coarsely chopped
For the Mexi Slaw:
2 cups red cabbage, shredded
1 cup prepared broccoli slaw
⅓ cup red wine vinegar
1 tablespoon honey
¼ cup mayonnaise
1 tablespoon chopped cilantro
1 teaspoon granulated sugar
2 tablespoons shelled sunflower seeds
For the Grilled Pineapple:
1 whole fresh pineapple, cut into wedges
2 tablespoons brown sugar
½ teaspoon cinnamon
For the Red Habanero Corn:
4 ears of corn, shucked
4 tablespoons butter
2 tablespoons El Yucateco Red Habanero Sauce
kosher salt to taste
aluminum foil
***Easy Salsa Bar*** (see post)
Taco Fixin's:
Flour or Corn Tortillas
Shredded cheddar or crumbled queso fresco cheese
Instructions
At least an hour before you are ready to cook, pour the Green El Yucateco sauce over the chicken pieces and toss to coat. Cover and refrigerate. Once the chicken has marinated, skewer it with the red onion slices and set aside (see note).
Toss together the Mexi Slaw ingredients and stir to coat. Cover and refrigerate until you are ready to serve.
Place the cut pineapple, brown sugar, and cinnamon in Ziploc bags. Seal and poress/toss a little to coat. Refrigerate until you are ready to grill.
Place each ear of corn on a piece of foil big enough to wrap it. Add a tablespoon of butter, sprinkle with kosher salt and El Yucateco Red Habanero Sauce. Wrap tightly.
If you are setting up a salsa bar, prep those ingredients before you cook.
Heat your grill to medium high (my external grill thermometer reads 300F and we use charcoal; gas would ideally cook at 350F). Place the wrapped corn over direct heat, but towards the back of the grill. Add the chicken skewers and close the lid.
After 4 minutes, flip the chicken skewers, turn the corn and close the lid. When the chicken is cooked through remove it to a plate.
Add the pineapple to the grill, over direct heat, just 1 - 2 minutes per side. It will become caramelized and tender with pretty grill marks. Remove the pineapple to a plate and close the lid.
Cut up enough of the pineapple to yield 1 cup diced and add it to ⅓ of the salsa on your salsa bar.
Toss the tortillas on the grill and let them toast for less than 30 seconds on each side. Stack them on a plate. Remove the chicken and onions from the skewers.
To assemble the tacos pile each tortilla with grilled chicken and onions, Mexi Slaw, Grilled Pineapple Salsa, and shredded cheese. Serve in paper lined baskets for easy clean-up.
Notes
1. You can marinate and then skewer the chicken + onions the morning of. Wrap with plastic wrap and refrigerate until ready to grill.
2. Mexi Slaw can be made the day ahead. The color will be more vibrant and the dressing will be more flavorful if it sits overnight, although you can prepare it the same day and still have plenty of flavor + more of the cabbage crunch.
3. For a slightly sweeter/milder flavor in with the chicken and/or the Grilled Pineapple Salsa, try using the El Yucateco Chipotle Sauce.
I found my El Yucateco Sauces at Lowe's Foods in the aisle with all the salsas. The authentic flavor it lent to every one of these recipes made it something I'll be sure to stock all summer long!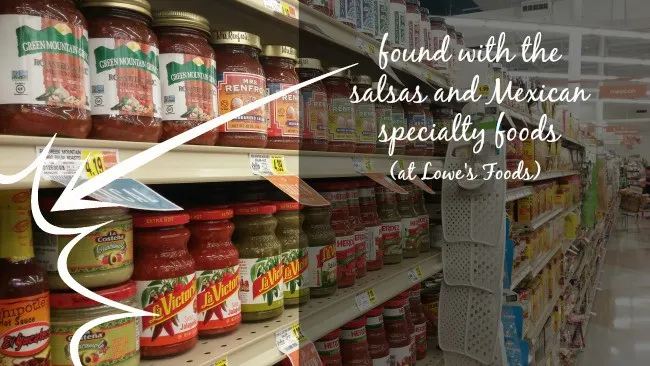 Find out more about El Yucateco Sauces (and other products!) HERE.
And enter to win!