Sweet Potato Black Bean Quesadillas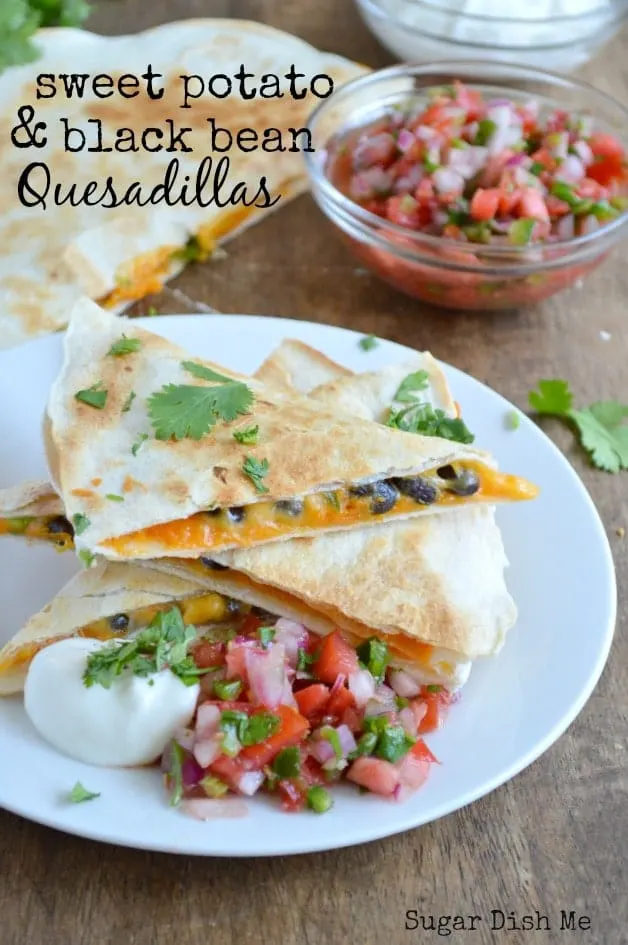 Was your Halloween awesome?
Ours was.
It was awesome. I'm exhausted.
So I'll keep this short and sweet.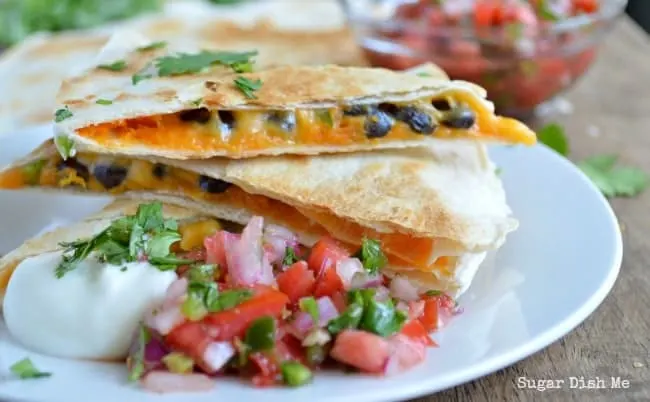 Speaking of sweet… I can't believe that I'm not in a sugar coma right now. I swear I'm worse than the children. I've been eating Halloween Candy alllllll day. Skittles. Reese's Cups. Itty bitty pieces of Hershey's Special Dark. Nerds. Evan just gave me a snack size Snickers bar. I didn't need it. I ate it anyway, though.
Also I made you some Halloween colored food.
Because even though Halloween is over, and there is snow happening like 45 minutes from here, and all the stores decorated for Christmas the week before last, it's still TECHNICALLY fall for at least another month. So bear with me here.
Sweet potatoes. Black Beans. Four Kinds of Cheese. Sort of healthful and full of things that are vitamin-ey. You know. To help cancel out the candy.
I also added some fresh Serrano peppers to my sweet potatoes and black beans. They came off the plants that Chad is so completely obsessed with that he has made them a nice warm over-winter place right smack in the middle of our bathroom. And now Norma Jean thinks it's a jungle in there.
These quesadillas are sorta spicy and sorta sweet and completely amazing. Just like our Halloween.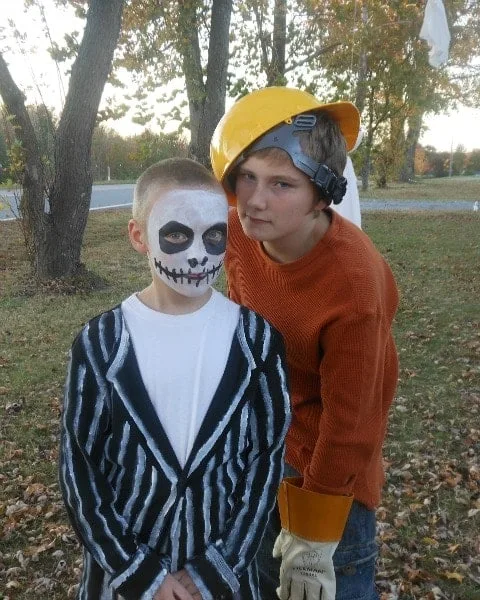 How cute are my little monsters?
Andrew has informed me that this was the last year he will be trick-or-treating.
He went out with a bang in Chad's construction garb (he's missing half his costume in this photo, also he's making a weird face. But! He's still cute).
And then we have Jack Skellington here… I love that every year he lets me turn his face into an art project.
Halloween is officially through. And I'm crashing pretty hard right now. Oh the things a sugar binge will do to you.
So let me share this recipe before I fall flat out on my keyboard.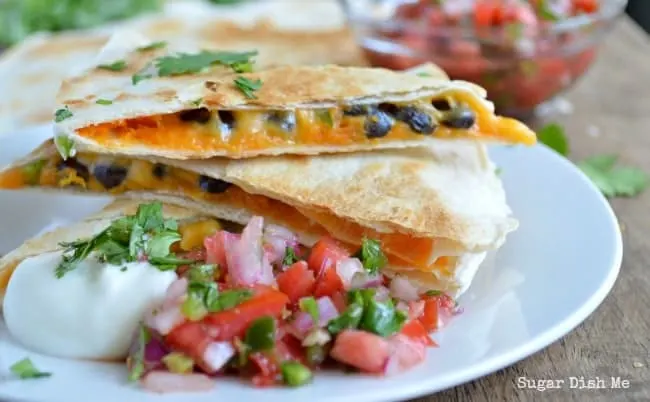 Yield:

Serves 8
Sweet Potato Black Bean Quesadillas
Sweet Potato Black Bean Quesadillas are vegetarian quesadillas made with sweet potato mash, black beans, queso fresco, and serrano peppers. Sweet, spicy, hearty, and healthy!
Ingredients
8 (10 inch) flour tortillas
2 baked medium to large sized sweet potatoes (if you're in a hurry, microwave them!!), skins removed and flesh smashed smooth
1 (15 ounce) can of black beans, drained and rinsed OR 2 cups cooked black beans
2 cups of shredded cheese; I like a blend of sharp cheddar, Colby, and Monterey Jack
1 cup Queso Fresco, crumbled
4 Serrano peppers, sliced (remove the seeds or exclude the peppers entirely if you're not into the heat)
1 bunch of cilantro, coarsely chopped
salsa and sour cream for serving
Instructions
I like to use my pancake griddle for quesadillas; I heat it to 375 and I don't use any oil. You can also use a large skillet, but my stove tends to burn flour tortillas pretty easily so I cook these at a lower temperature on the stove top, and I usually opt for a little bit of non-stick cooking spray.
Spread 1/4 of the mashed sweet potato onto each of 4 of the flour tortillas. Place the tortillas onto the heated griddle or skillet.
Sprinkle each with 1/4 of the black beans, 1/2 cup of the shredded cheese, and 1/4 cup of the crumbled queso fresco.
sliced Serrano pepper gets evenly spaced across each and a healthy handful of the chopped cilantro on top of that.
When the cheese looks nice and melty, place the top tortilla shell onto each quesadilla. Wait a minute for each quesadilla to fuse together and then flip them.
Let the second side brown, remove to a cutting board, and let them rest for about a minute before cutting.
Serve with salsa and sour cream.
Recommended Products
As an Amazon Associate and member of other affiliate programs, I earn from qualifying purchases.
Nutrition Information:
Yield:
8
Serving Size:
1
Amount Per Serving:
Calories:

521
Total Fat:

25g
Saturated Fat:

13g
Trans Fat:

0g
Unsaturated Fat:

9g
Cholesterol:

62mg
Sodium:

717mg
Carbohydrates:

49g
Fiber:

8g
Sugar:

3g
Protein:

25g
Until next October 31st…