Learn how to make this Easy French Bread Recipe with step by step photo instructions!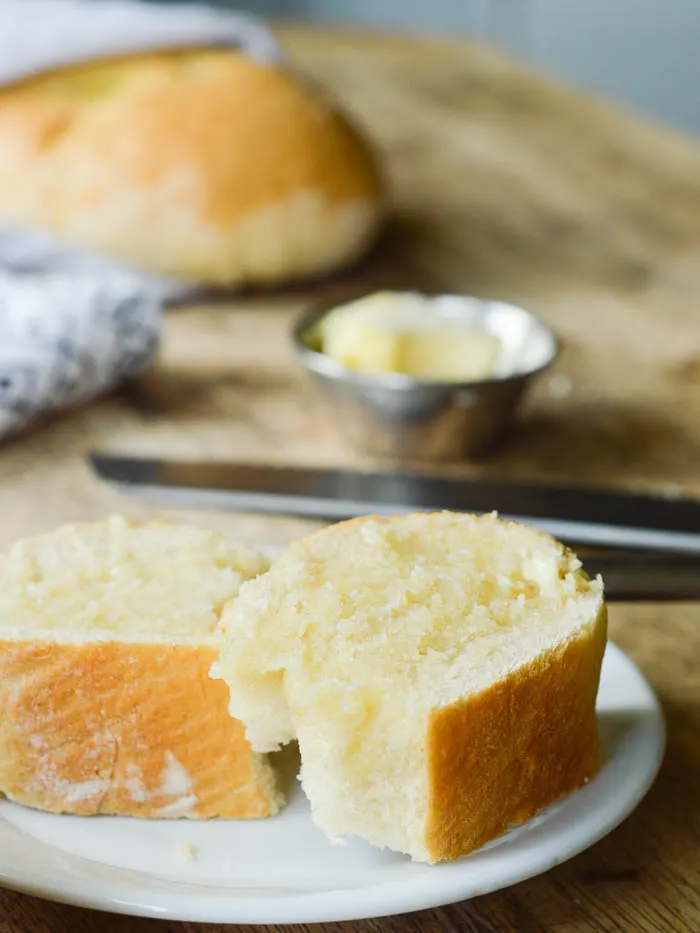 I am a bread eater.
I can distinctly remember craving the biscuits more than the bacon when breakfast was served while visiting my grandparents as a kid. I would opt for an extra dinner roll – the plain old brown 'n' serve kind – instead of more of my mom's broccoli and rice casserole or my favorite sliced turkey at our holiday meals.
Bread with my salad in a restaurant? Bonus points. A bit of crusty loaf to dip in my soup? Even better.
Don't even get me started on bagels.
Somewhere along the way I decided I should learn how to make bread, and it's honestly one of my favorite things to bake. It's also REALLY EASY and requires just a few ingredients. so if you have never tried your hand at bread baking, NOW IS THE TIME!
This Easy French Bread Recipe is great for beginners, and will become a solid favorite whenever you think a homemade loaf is needed. If you're looking to make a REALLY easy beginner-yeast-bread recipe, I recommend trying my One Hour Bread before attenpting to make French Bread.
It's not fussy and there IS kneading. But I am going to walk you through it step by step, and you'll be a pro by the time we get to the end here.
Ingredients for Making French Bread
You'll be blown away by the simplicity of this ingredient list. Are you ready?
active dry yeast
water
flour
salt
olive oil
egg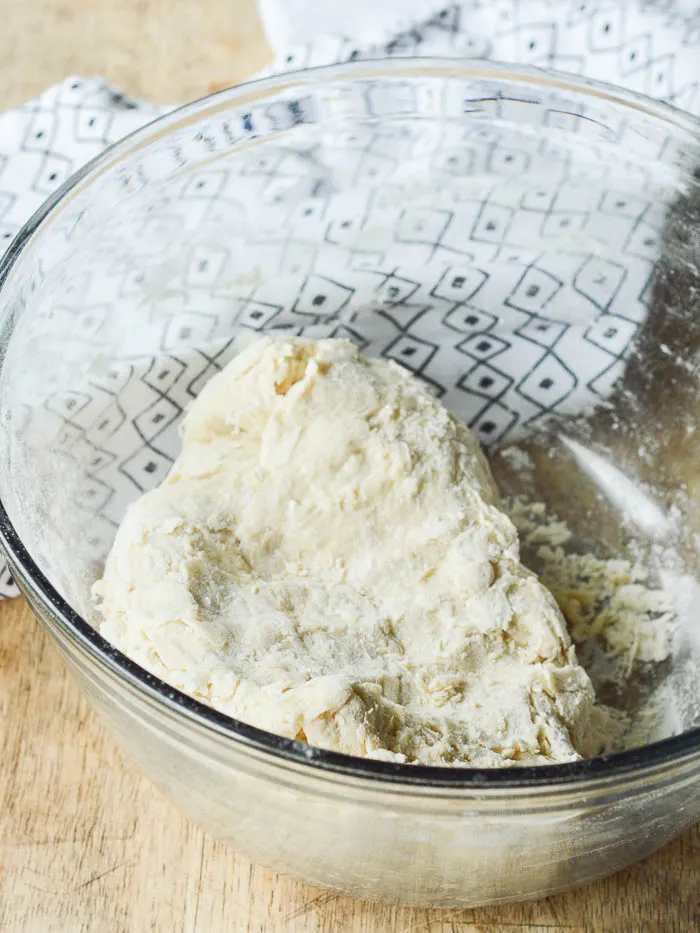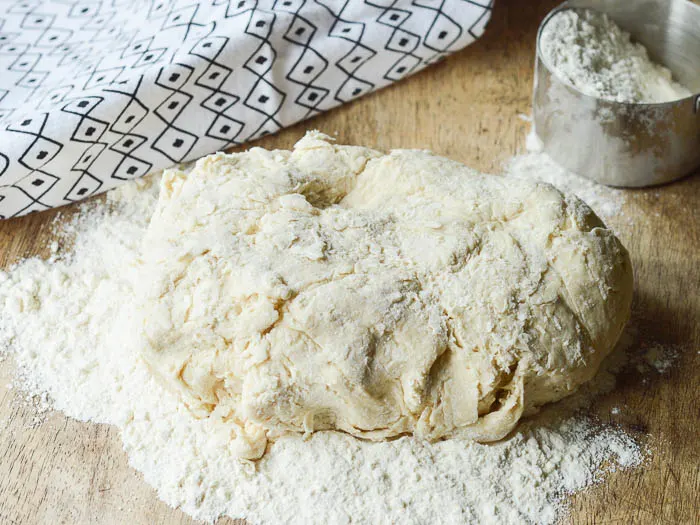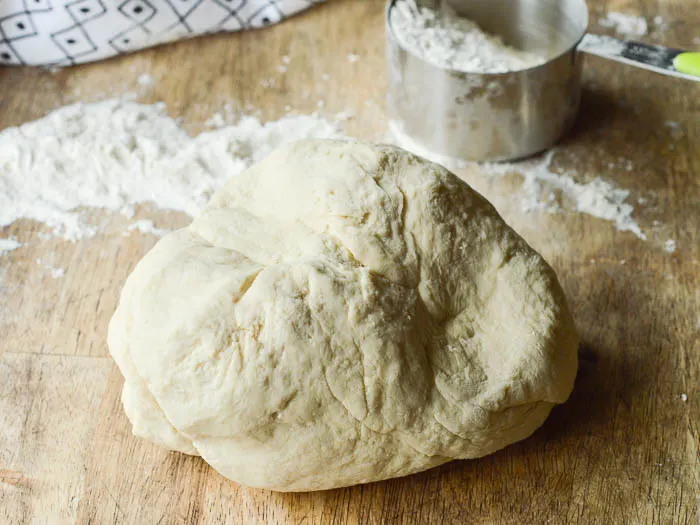 Yield:

makes 2 loaves
Easy French Bread Recipe
Rise Time:
2 hours
40 minutes
Total Time:
3 hours
25 minutes
Ingredients
1 envelope active dry yeast
1 1/2 cups warm water* (see note)
4 cups all-purpose flour, plus a little extra for kneading
2 teaspoons salt
1 tablespoon olive oil
1 egg + 1 tablespoon water, lightly beaten
Instructions
In a large bowl whisk together active dry yeast and warm water. Let stand for about a minute - it will look a little cloudy / foamy. In another large bowl, whisk together 4 cups of flour and 2 teaspoons salt. Add the flour mixture to the water and yeast, and stir everything together with a wooden spoon until a shaggy dough forms.
Use your hands to scrape the bits of dough off the spoon and begin to press the stray bits together. Then dump the dough out onto a lightly floured work surface and knead for 10 minutes. Add flour just a tiny bit at a time, as needed.
The kneaded dough will be smooth and will bounce back slightly when you press on it. ** I only typically have to add flour twice; this dough is soft and pliable, but shouldn't stick to your hands. Work the dough into a ball.
In a large clean bowl, add the tablespoon of olive oil. Place the ball of dough into the oiled bowl, and turn it so that all sides are coated. Cover the bowl loosely with plastic wrap and then cover with a clean towel. Let the dough rise for 2 hours.
Line a baking sheet with parchment paper. Punch the dough down in the center and then pull the sides in towards the middle. When you've pressed the air out of the risen dough, turn it out onto a cutting board, and use a sharp knife to cut it in half.
Lightly dust your work surface with flour, and roll each half into a log. Place the shaped dough onto the prepared baking sheet. Cover with a kitchen towel and let the dough rise for another 40 minutes.
While the dough is rising for the second time, preheat the oven to 400°F. Pour a cup of hot water into a shallow pan and place it on the bottom rack (you'll be baking on the top) of the oven. This creates moisture in the oven.
After the second rise, use kitchen shears to score the loaves diagonally just before baking.
Bake for 20 minutes, until the bread starts to look a little golden brown, and then brush the loaves all over with the egg wash (see note). Bake for another 5-7 minutes, just until the egg wash is baked on, golden, and a bit shiny looking. Let the bread cool just a little before cutting.
Notes
You can bake this bread on a pizza stone! Just be sure to preheat the stone with the oven to prevent breaking.
You can brush the loaves with melted butter instead of egg wash if you prefer. The egg wash gives the finished loaves a shinier golden brown appearance, but both ways are delicious!
Recommended Products
As an Amazon Associate and member of other affiliate programs, I earn from qualifying purchases.
Nutrition Information:
Yield:
24
Serving Size:
1
Amount Per Serving:
Calories:

84
Total Fat:

1g
Saturated Fat:

0g
Trans Fat:

0g
Unsaturated Fat:

1g
Cholesterol:

8mg
Sodium:

180mg
Carbohydrates:

16g
Fiber:

1g
Sugar:

0g
Protein:

2g