And finally, after my week full of babble, I give you
THESE COOKIES.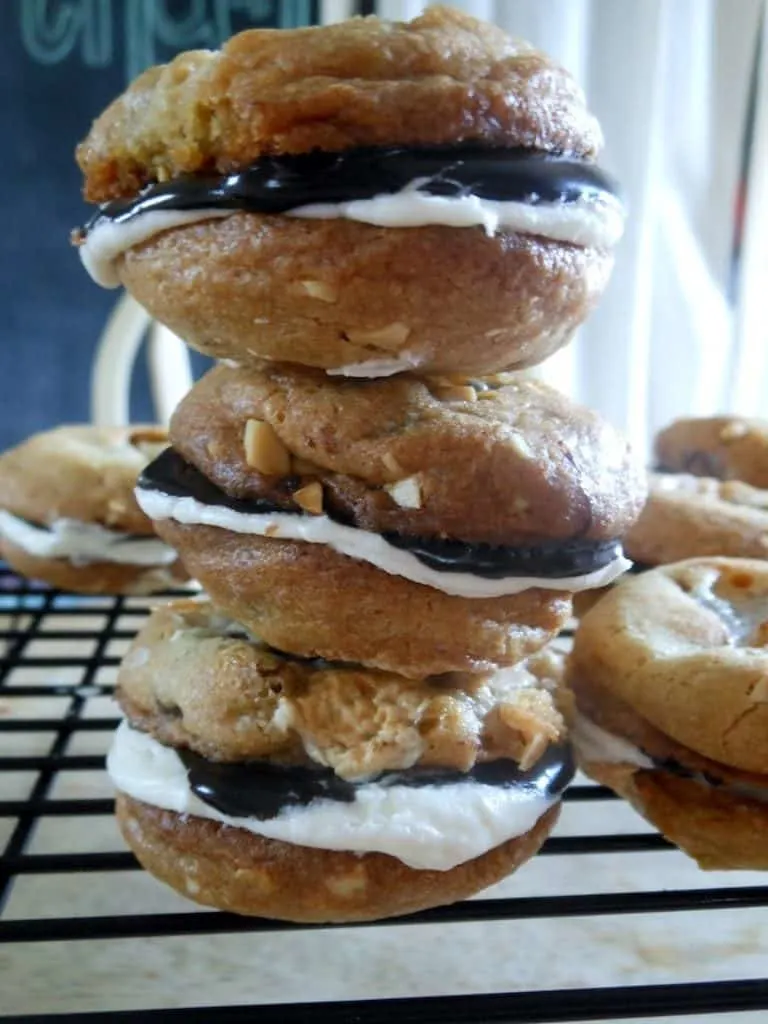 These cookies are kind of… I mean I actually have no words that can effectively describe the wonder that is these cookies. I know I tell you guys all the time that things are super good or so amazing or totally awesome (because my descriptive phrases seem to be limited to those of some hang ten relic of a surfer dude visiting us from Bayside High— COOKIE POINTS if that reference made any sense to you), and I'm being truthful. I actually do completely believe all the happy things I tell you about the food I share here. I wouldn't post anything that I thought was short of amazing because um, hellooo… embarrassing.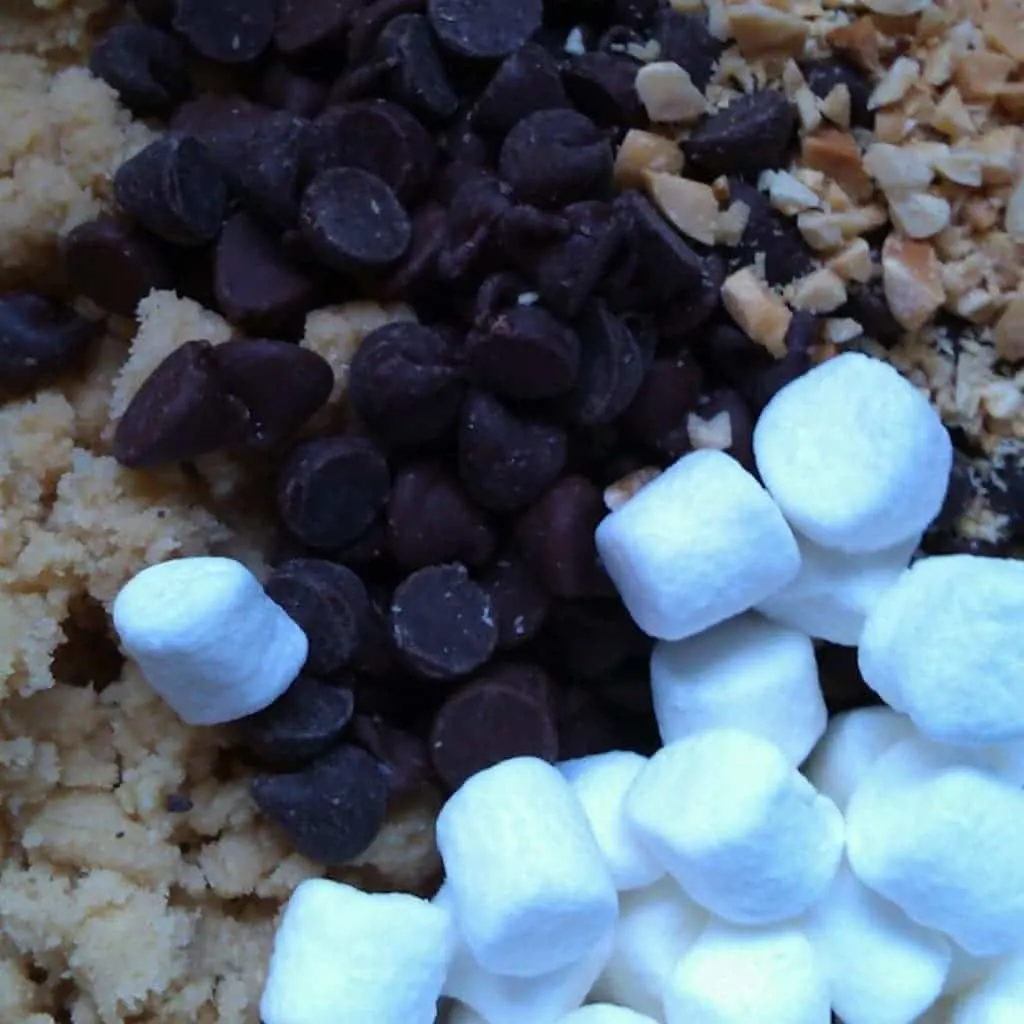 But THESE COOKIES left my entire household completely speechless while we stuffed our faces full of gooey hot fudge and marshmallow buttercream stuffed soft chewy cookies studded with chocolate chips, chopped peanuts, and the remnants of baked fluffy marshmallows. Ridiculous.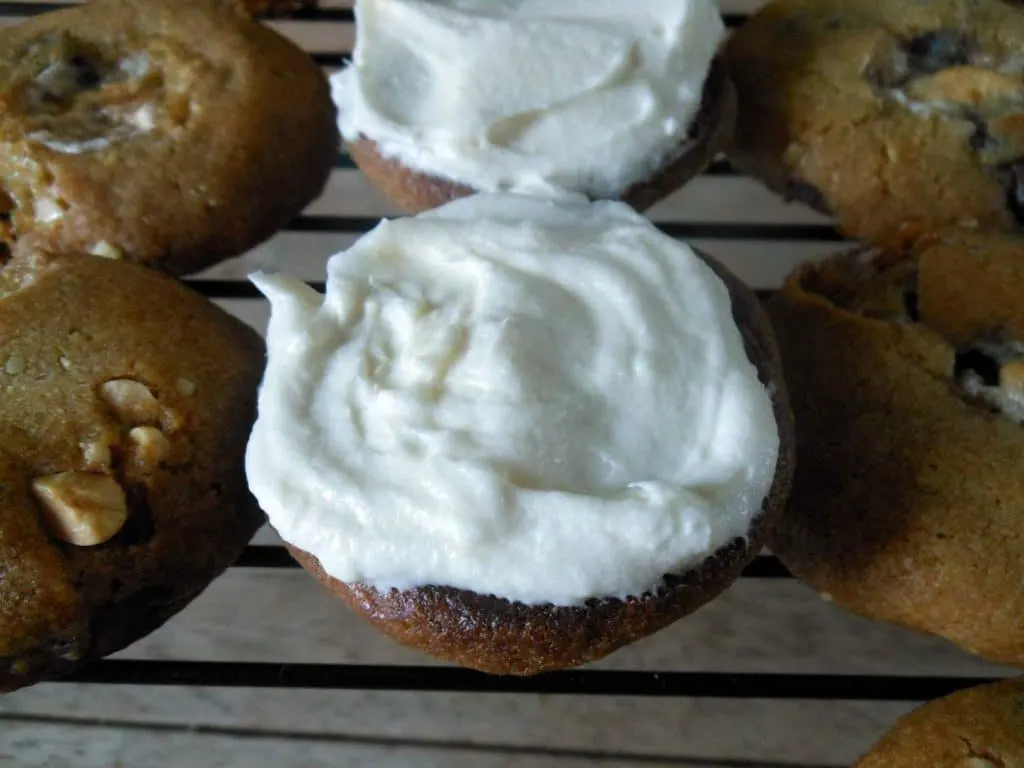 I made these for my little guy's actual birthday a couple weeks ago. We'd all had enough cake by then, he'd blown out pancake candles in the morning, and we just wanted to share some sweet treats and open presents.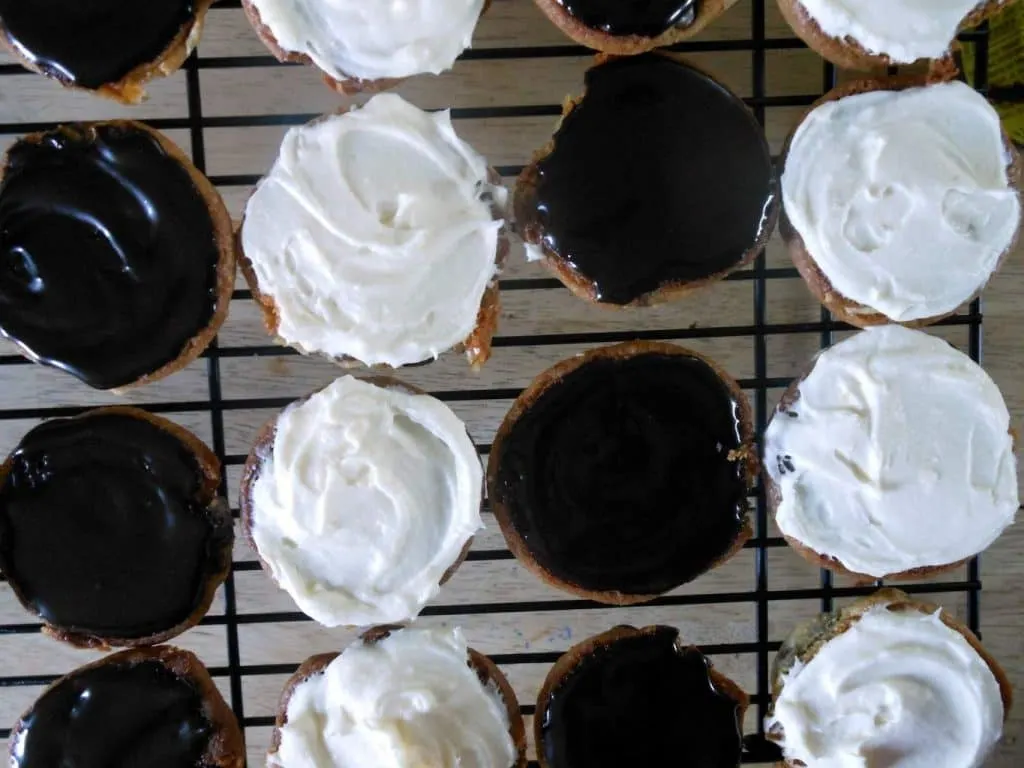 Remember Coop's Hot Fudge that I was all-a-rave about awhile back? All natural no preservatives straight up FUDGE. Got smeared all over these cookies.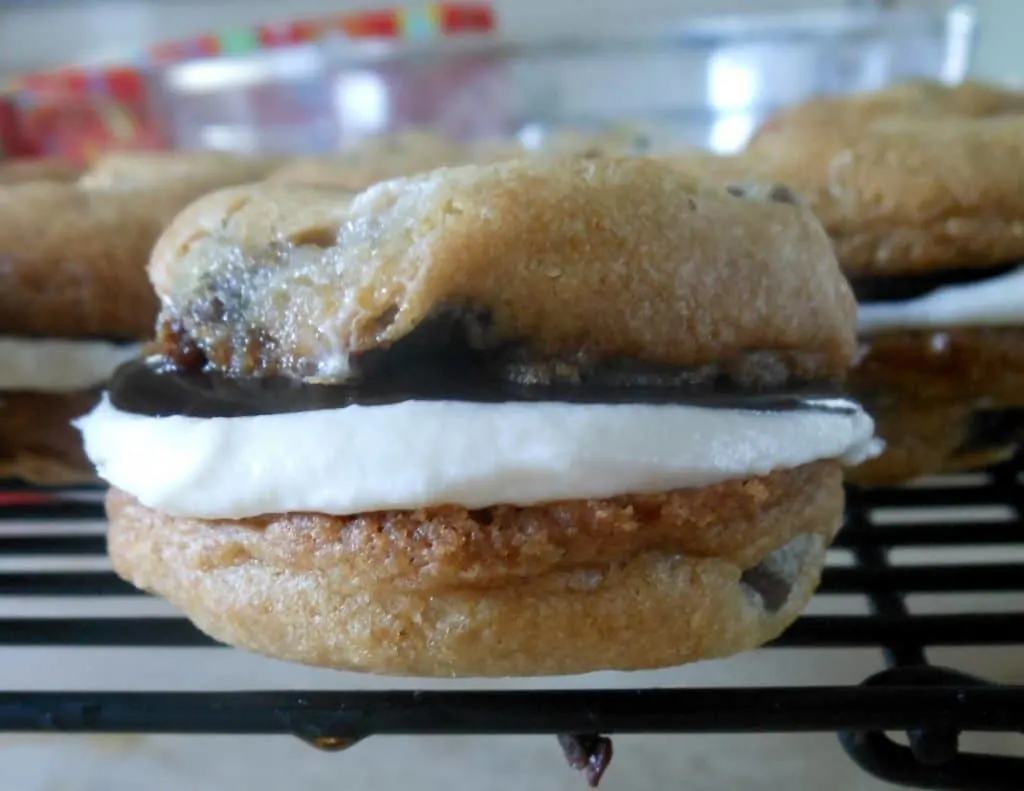 If you refrigerate these little beauties after assembling, they are slightly less messy. But we like the ooze factor, so room temperature worked for us. The marshmallow buttercream is soft and the hot fudge is slightly tacky. The two of them hold the cookie sandwich together and then sort of squish in a happy way when you bite and leave frosting on your face.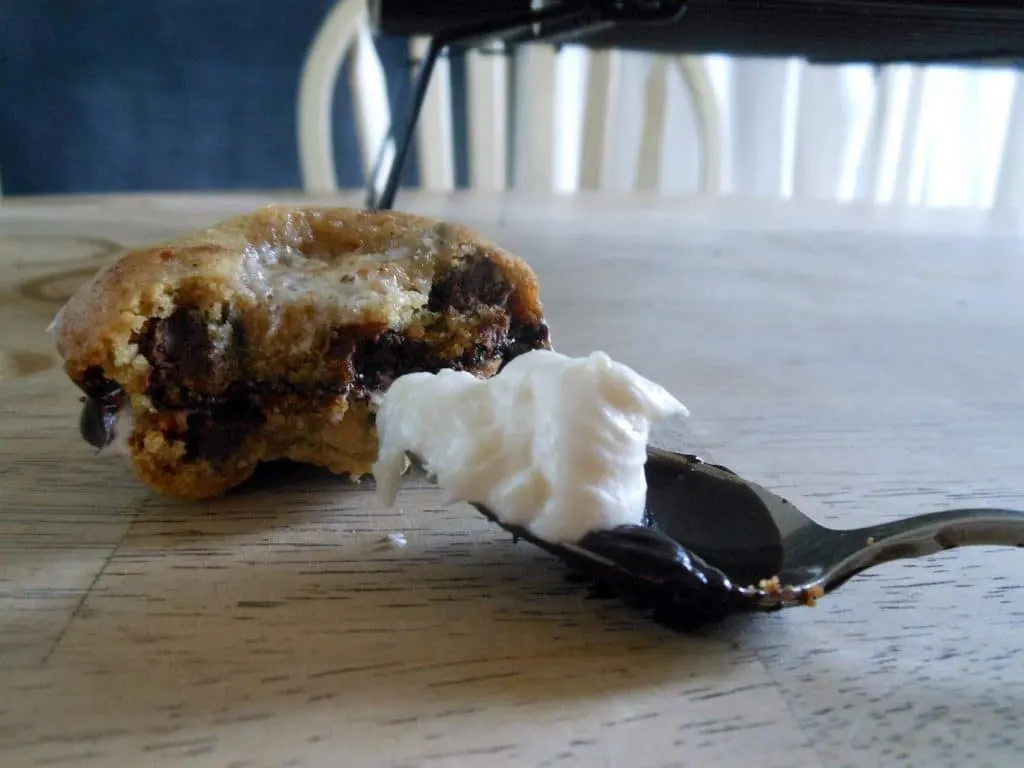 I am in love with these cookies.

Rocky Road Cookies
Ingredients
¾ cup unsalted butter, softened
¾ cup light brown sugar, packed
¼ cup granulated sugar
1 egg
2 teaspoons vanilla
2 cups all purpose flour
2 teaspoons cornstarch
1 teaspoon baking soda
½ teaspoon salt
1 cup mini marshmallows
¾ cup semi sweet chocolate chips
¼ cup chopped peanuts
½ cup unsalted butter, softened
1½ cups powdered sugar, sifted
½ teaspoon salt
1 tablespoon vanilla
1-2 tablespoons heavy cream
2 ounces marshmallow fluff
2-3 ounces hot fudge, warm enough to spread
Instructions
Pre-heat the oven to 350.
In a large bowl, beat the butter and sugars together until fluffy. Add in the egg and vanilla. Beat until just combined.
In another bowl whisk together the flour, cornstarch, baking soda, and salt. Add the dry ingredients to the wet. Mix until everything is incorporated evenly and tou have a nice tacky dough.
Using a sturdy wooden spoon (or something that can handle stirring cookie dough), stir in the chocolate chips, peanuts, and marshmallows.
Roll the dough into 1½ inch balls MAKING SURE *** this is important*** to situate the marshmallows on the TOP of each ball of cookie dough before placing it on the cookie sheet. If the marshmallows end up making contact with the cookie sheet they will make a sticky mess and your cookies won't look so pretty.
Bake the cookies for 9 minutes. Let them cool for a minute on the cookie sheet before removing to a wire rack to cool completely.
While the cookies cool make the marshmallow buttercream. Beat the butter for a minute until smooth. Sift the powdered sugar into the bowl and beat on low for a minute. Add the salt and vanilla. Then beat in the heavy cream (start with 1 tablespoon and add the second if your frosting is too thick). Fold in the marshmallow fluff.
Spread half of the cookies with the marshmallow buttercream. Spread the other half of the cookies with the warm hot fudge. Sandwich together one marshmallow cookie with one fudge cookie, repeating until they are all matched. Let them cool to set before serving.
Base for the cookie recipe is from
THIS
recipe at
Apple a Day
's Best Ever Chewy Chocolate Chip Cookies. This is the only recipe of Kelsey's that I've tried or adapted, but I'll be going back for more because this cookie base was a sure thing.
Also–Coop's Hot Fudge is an affiliate link. Purchasing from the links on my site contributes to my cookie habit. Thanks!!
This weekend you should have a few cookies. And don't forget to "spring forward" (so pretty much be excited about losing an hour of sleep, but an extra hour awake is an extra hour to enjoy things. Like cookies.) !