A simple, good-for-you, filling meal that's loaded with flavor. Sausage and Butternut Squash Breakfast Scramble makes a terrific weekend breakfast, but I've been known to enjoy it for dinner!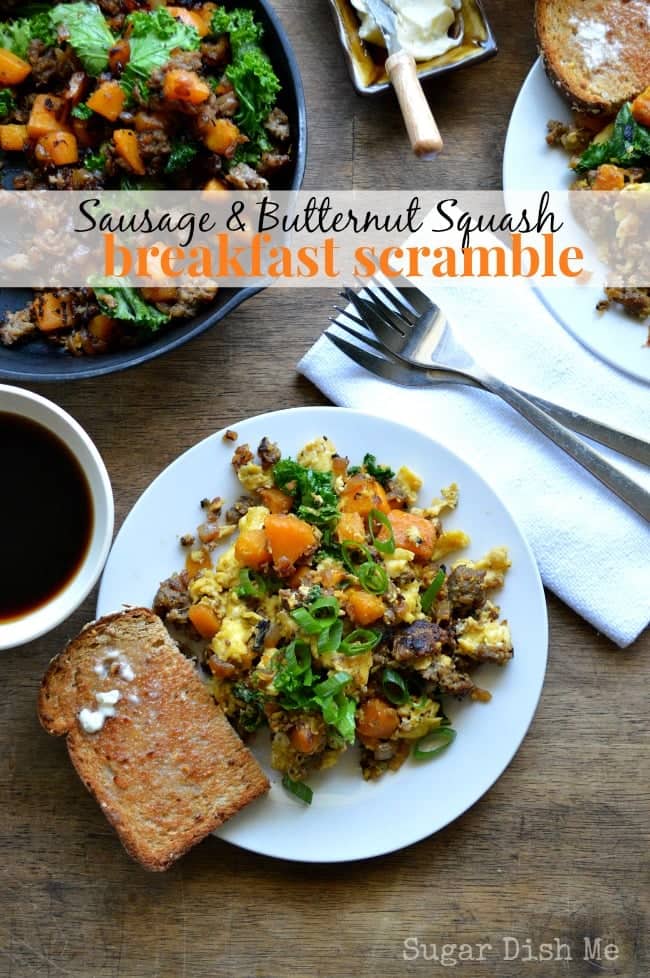 This is one of those meals that I call breakfast, but actually I could eat it at any time of the day, and my family did not complain one bit when I served this up for dinner.
Remember when I told you about our trip to Food Blog Forum in Asheville?
Well, on Day Two my other half and I sneaked off early in the morning to test out The Early Girl Eatery.
I'd heard rave reviews from so many people, and was a little worried we'd have to wait for a table and I'd be late for my morning session. But it was a quiet, muggy, Tuesday morning and we got right in and sat right down. I ordered the Local Sausage and Sweet Potato Scramble and … I mean I have had some pretty amazing breakfasts because it's my favorite meal to go out for, but that one topped the charts. There was so much flavor packed into one simple, fresh plate. I loved it so much I needed to come home and cook up a variation of my own.
And now you guys are the beneficiaries of my need to share.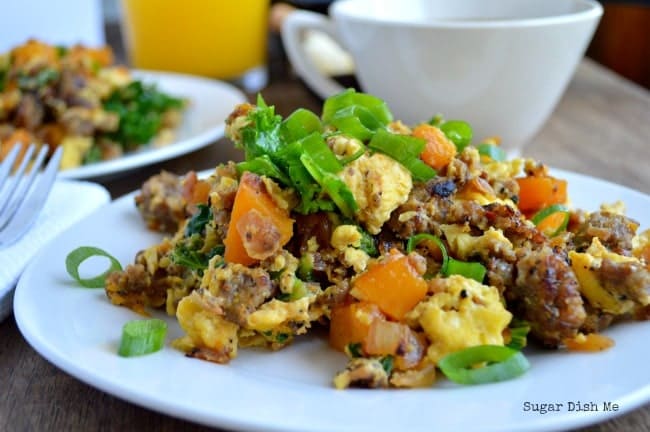 This recipe is so easy, filling, and good for you. I used butternut squash instead of sweet potatoes for no good reason except I had a squash hanging around. Same sweetness and basic texture, and it works really well with the sage in the sausage. I added kale because I am still pretending that September in North Carolina = fall. Plus it's green and pretty and has superfood magical powers.
There are only a few ingredients working here which makes this terrifically cost effective and I'm telling you if you eat it in the morning you will be full all day long.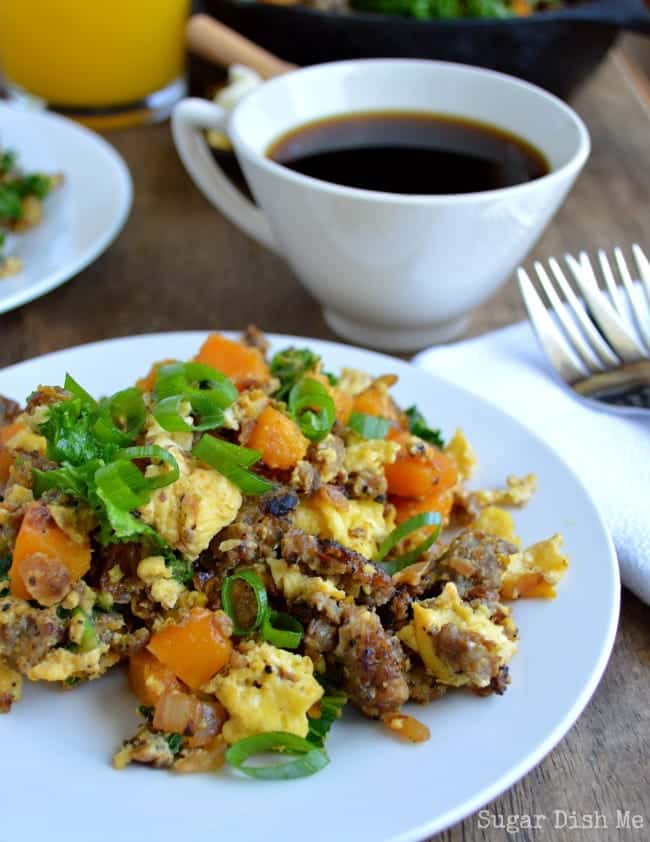 Sausage and Butternut Squash Breakfast Scramble
A hearty, healthy breakfast loaded with sausage, fresh butternut squash, kale, eggs, and green onions. This meal is filling, full of flavor and would be perfect for breakfast or brunch guests!
Ingredients
1 pound breakfast pork sausage with sage
1 medium onion, diced
4 cups diced butternut squash (see note)
½ cup vegetable stock, as needed
4 cups torn kale, stems removed
5 large eggs, beaten
salt and pepper to taste
½ cup chopped green onions to garnish
toast or Jalapeno Cheddar Buttermilk Biscuits for serving
Instructions
Cook the sausage in a large heavy skillet over medium high heat. Break it up and crumble it in the pan as it cooks. Once its cooked through remove it to a paper towel to drain any excess grease.
If there is additional grease in the skillet remove it leaving only about a tablespoon. Add the onions and cook them for 1-2 minutes until they are soft and have taken on some color from the pan. Then add the butternut squash. Let the squash cook until it's fork-tender, stirring occasionally and adding the vegetable broth as-needed if the pan seems dry.
Add the kale and stir to combine. Add the sausage back into the pan. Pour in the beaten eggs and work them around to fold and scramble.
Add salt and pepper to taste, sprinkle with green onions, and serve with the toast or biscuits
Notes
For me 4 cups of butternut squash was about half a large squash, peeled, seeded, and diced. You can shortcut this by purchasing the diced raw butternut squash that's usually available in the produce aisle near the packaged salads.
Additional delicious additions include 1 cup of thinly sliced mushrooms and 1 cup cooked quinoa.
All of that said… if you get the chance to stuff your face full of the real deal, I highly, highly recommend it.