Thick fudge brownies stuffed with chocolate chunks and mini Rolo candies. Chewy Fudgy Rolo Brownies are rich and delicious with the PERFECT fudge brownie texture!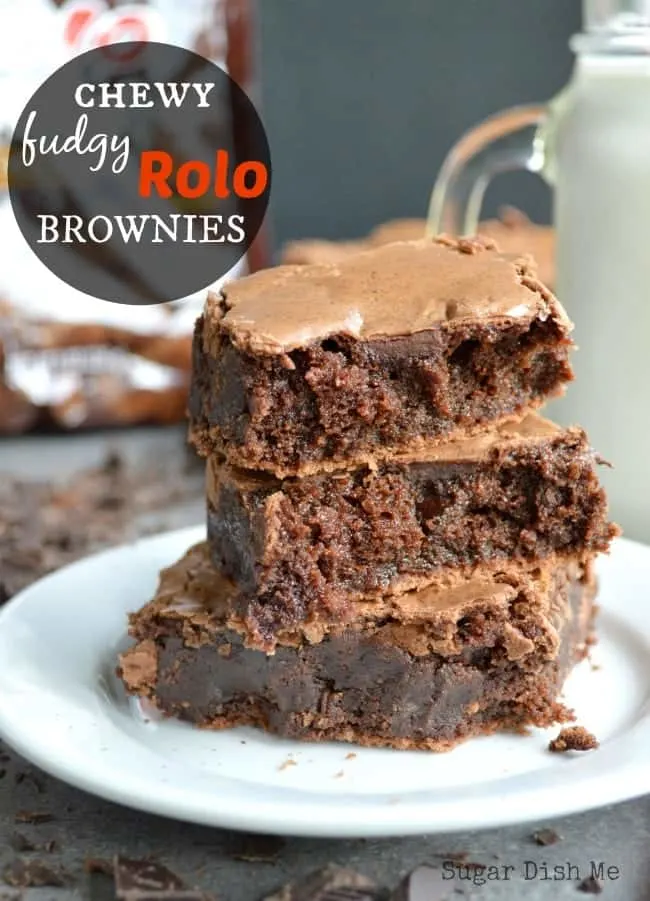 Something about fall makes me want to stuff candy into all the baked goods. I suppose I could do that any time of the year, but in fall, with fun weekend outings, my tendency to candy-hoard, plus movie nights becoming a regular thing, I think stuffing candy into brownies [and everything] is an even better idea.
I am a hard core fudge brownie lover. I can't understand cakey brownie recipes. To me a cakey brownie should really just be… chocolate cake. Let's have frosting on that, yes?
Yes.
If you love cakey brownies I apologize. Also I'm about to sway your brownie tastes the other way.
Fudge is where it's at.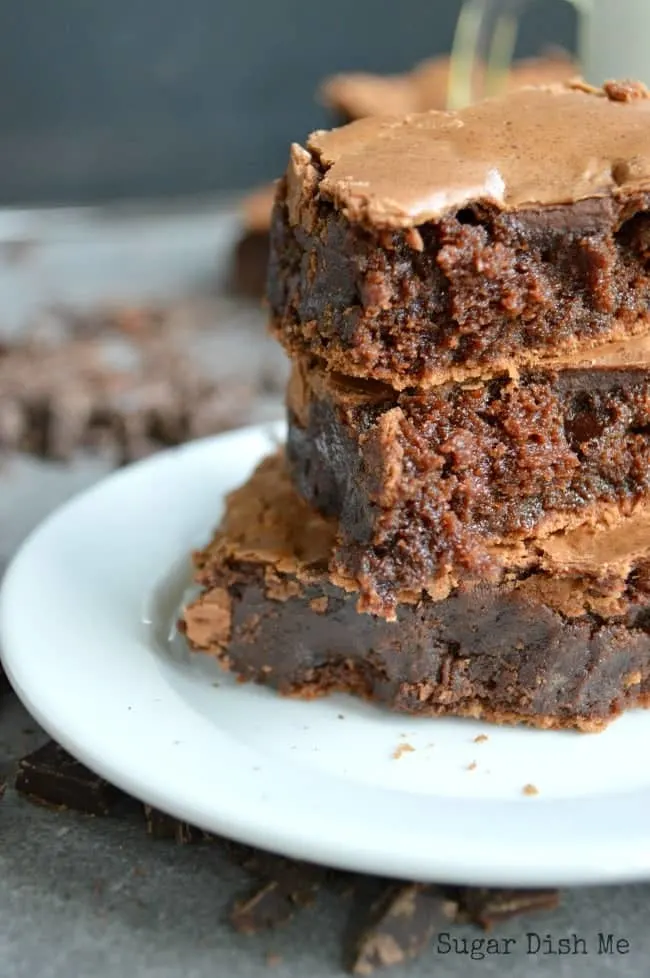 These Chewy Fudgy Rolo Brownies also probably qualify as THE RICHEST recipe on this blog. I don't even like milk and I nearly poured myself a glass. I settled for a latte, which I would highly recommend. Something about coffee and chocolate is just right.
I used Mini Rolos in this recipe — I love the mini versions of unwrapped candies for baking. They are perfect. The caramel from the candies does something fun while it bakes, and it made this already over-the-top brownie recipe into something oooey gooey special. It melts and sort of seeps into the batter so you get pockets of caramel here and there, but moist and sticky caramel flavor everywhere.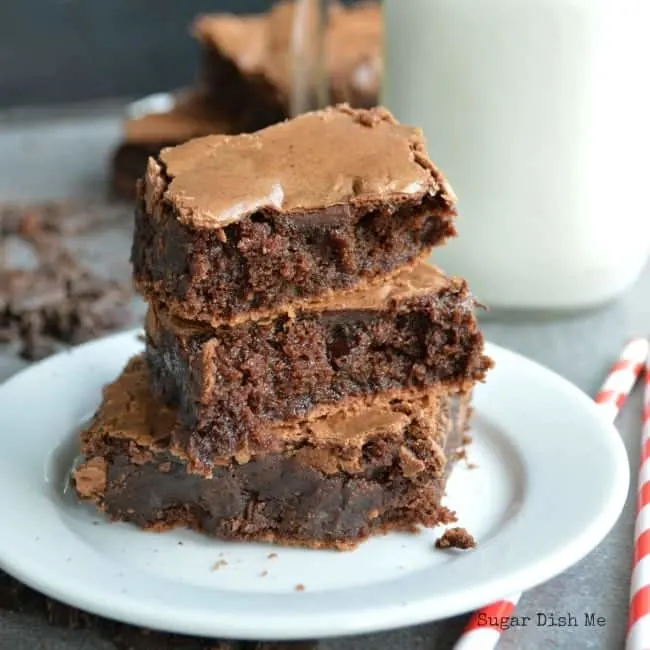 Chewy Fudgy Rolo Brownies
The chewiest, fudgiest brownies ever! Stuffed with chocolate chunks and mini Rolos candies, these rich and decadent Chewy Fudge Rolo Brownies will fast become a favorite!!
Ingredients
12 tablespoons unsalted butter
8 ounces unsweetened, good quality chocolate, coarsely chopped
4 eggs
2 cups granulated sugar
2 teaspoons vanilla extract
1⅓ cups all-purpose flour
1 teaspoon baking powder
½ teaspoon salt
1 cup semi-sweet chocolate chunks
1 (8 ounce) bag Mini Unwrapped Rolos candies
Instructions
Preheat the oven to 350°F. Butter a 9 X 13 baking dish, line it with parchment paper and then butter the parchment (see note).
Melt the butter in a small saucepan, remove it from the heat, and then stir in the chopped chocolate. Let it cool for a few minutes.
While the chocolate mixture cools a little, vigorously whisk together the eggs and sugar in a large bowl until they are frothy. Then stir in the vanilla.
Slowly pour in the chocolate a little at a time while stirring (check it with your finger first to make sure it has cooled enough to not cook the eggs. Warm to the touch is fine. Hot will require some finesse so better to just wait a few more minutes) continuously.
Whisk together the flour, baking powder, and salt. Dump the dry mixture into the wet and stir until just combined.
Stir in the chocolate chunks and Rolos and then spread the batter evenly in the prepared pan.
Bake 25-30 minutes. Let the brownies cool before lifting the parchment from the pan and cutting the brownies into squares
Notes
I normally don't insist on using parchment paper in baking but with these brownies it is pretty necessary. The candies that come into contact with the surface of the pan will stick, even with copious amounts of butter. They'll still taste amazing, but I wouldn't recommend it unless you want to eat your brownies out of the pan with a fork.
This season full of candy is gonna be awesome.