Super easy tips on How to Ship Baked Goods including money-saving postage options, and wrapping to keep your treats fresh and in tact!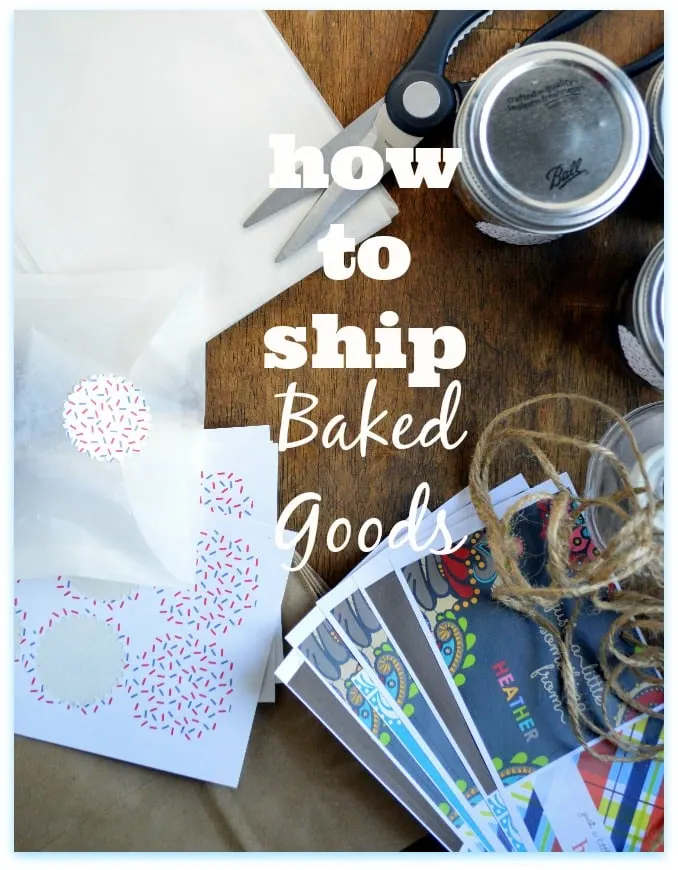 It's May, which means that I have been participating in The Leftovers Club for one whole year. 12 months of swapping "leftover" treats (you guys know we never actually have leftovers around here, right?) with friends that I've found from coast to coast. It's really fun and I always look forward to it — I mean, imagine if your favorite food blogger wrapped up those brownies you were drooling over and mailed them to you?!
Awesome, right? Right.
Here's the thing though. Sometimes awesome brownies do not hold up in the mail.
Actually, LOTS of things don't hold up in the mail. So after one year of hits and misses, stale treats, crumbled cookies, hockey pucks, and other assorted oddities that I know started out as THE MOST amazing foods, I decided to use my experience here (and shipping goodies retail) to break it all down for you (and if you have more tips, please leave them in the comments!).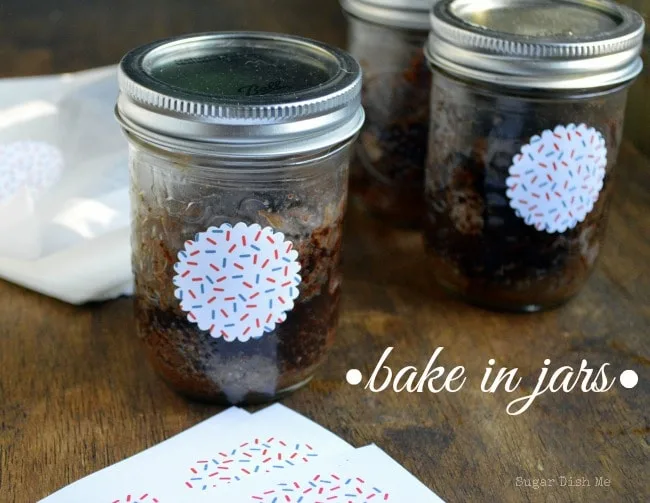 If you've never done this, I will totally vouch. IT WORKS!! I wrote a whole post on my results using white cake and some insanely delicious green frosting. Pictured here are brownies, from scratch, all baked and cooled and ready to eat right out of that jar.
You will have to adjust your bake time (obviously), and then you will FREEZE whatever you've baked before shipping. I would not recommend this for long distances in the summer, but for 1-day mail in a moderate climate (or another bizarrely frigid winter) this solution is perfect! You can find the whole tutorial on shipping cupcakes on The Cupcake Project HERE.
Plastic wrap is your friend. Tupperware is not.
This is going to sound sort of counter-intuitive, but bear with me and I'll explain.
SAVE YOUR NICE PLASTIC CONTAINERS!!
Here's why: Plastic containers are basically air-tight. Which is perfect in your climate-controlled, humidity-free home. Especially when you open the container everyday to grab a cookie and the moisture has a chance to escape.
But when you put that air-tight container in the mail and it isn't opened for days, that moisture hangs around. If it's too warm outside mold can happen. Once I got a very nice container full of sweet mushy goo that I think started out as bars of some kind. The photos were gorgeous! The recipe looked perfect! What came in the mail was not. Plastic wrap fastened with a pretty sticker is cheaper, cuter, and much more forgiving. PLUS it's smaller to ship.
***Things that DO ship well in air-tight containers are granola and nuts***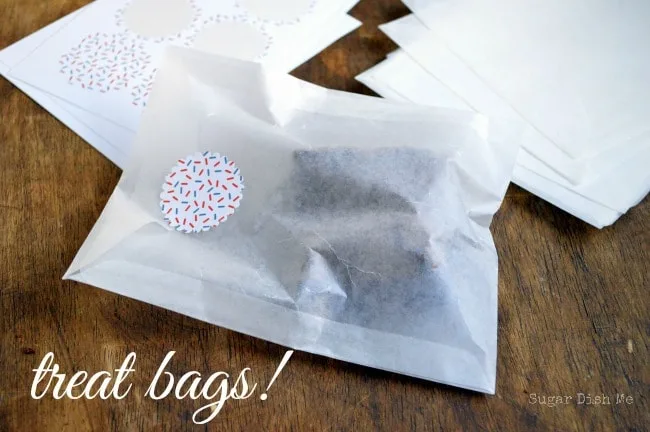 Treat bags are soooooo cute. And I feel all professional whenever I deliver cookies or something tucked neatly into these little parchment envelopes. Bonus points for more stickers.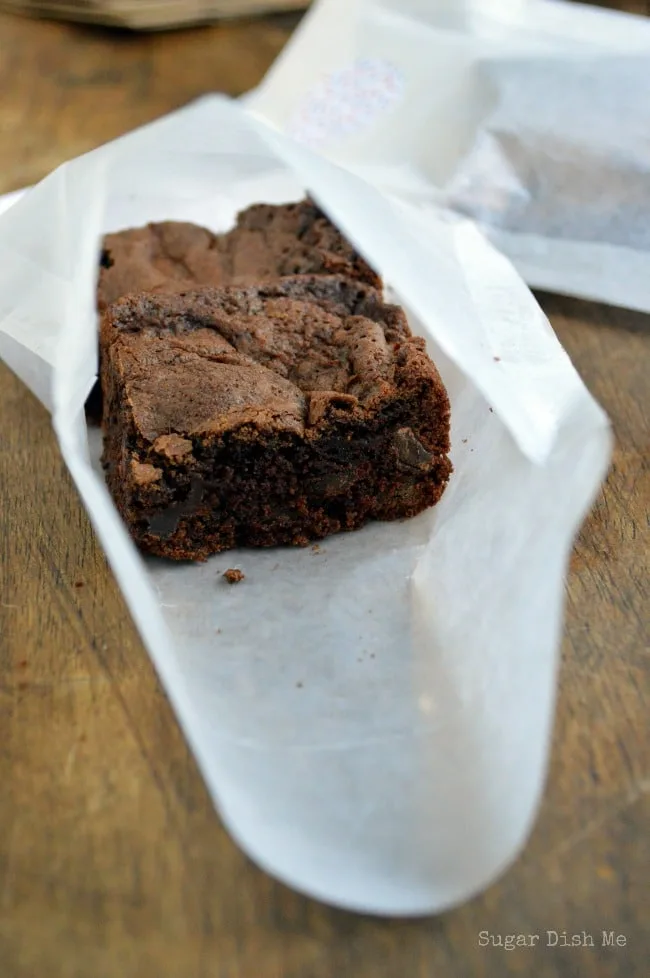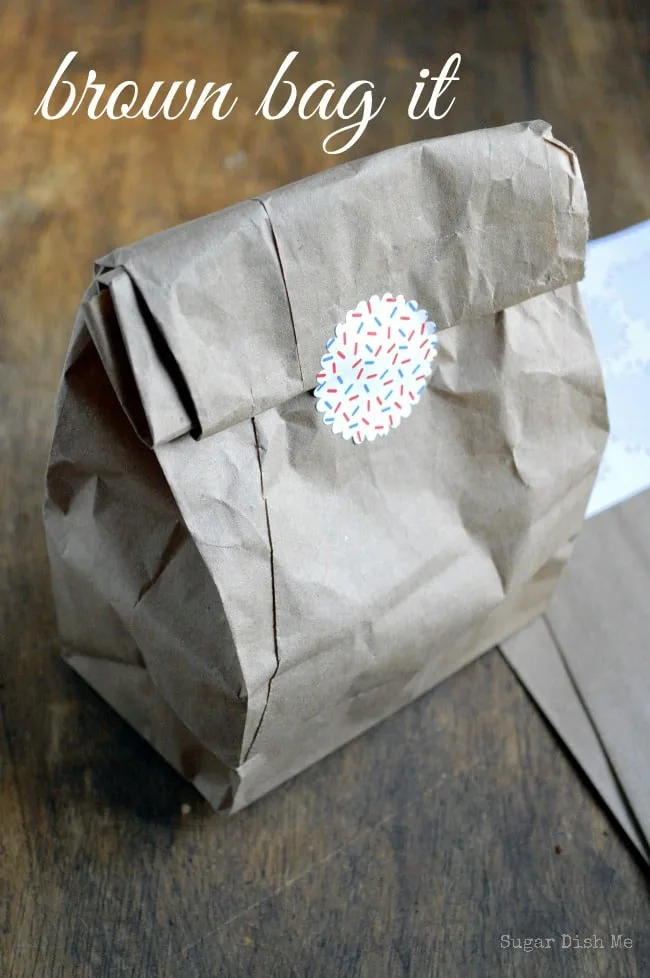 I really dig a good 'ol brown bag. You can stuff it full of so many things! Cookies, brownies, bars, granola, loose nuts — you can brown bag ANYTHING. If you are shipping things that need to retain moisture, you probably want to wrap in plastic before brown bagging. This is how I deliver lots of things locally. Totally cheap and stylish, I think (but remember I live in jeans and tank tops, so you may not want to take my word on the stylish thing).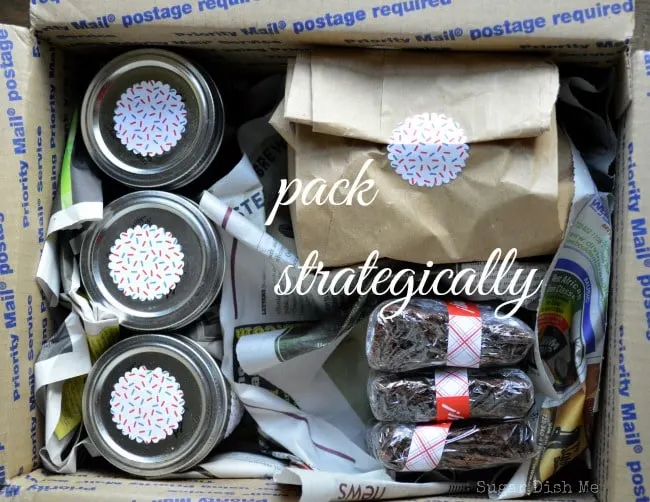 Pack Carefully!!!!
Newspapers, plastic bags, construction paper — you need to FILL your box to capacity so that things don't move around and get smooshed. Once I got some INCREDIBLE macarons in the mail, but they were all chipped and broken. I ate them anyway (oh yes I did) but I felt so sad for the maker because I know she poured some time and heart and soul into them. You can't ever really guarantee that nothing will break, but you can do your best to try!
OH!!
And while we are talking about boxes — I need to tell you my secret.
You can go to the USPS website and order boxes FOR FREE and have them delivered right to your door. It's basically amazing. I ALWAYS opt for USPS Priority Mail 2-Day delivery. It's a flat rate no matter how many loaves of banana bread you shove in that box. AND you know your goodies won't be traveling for a week.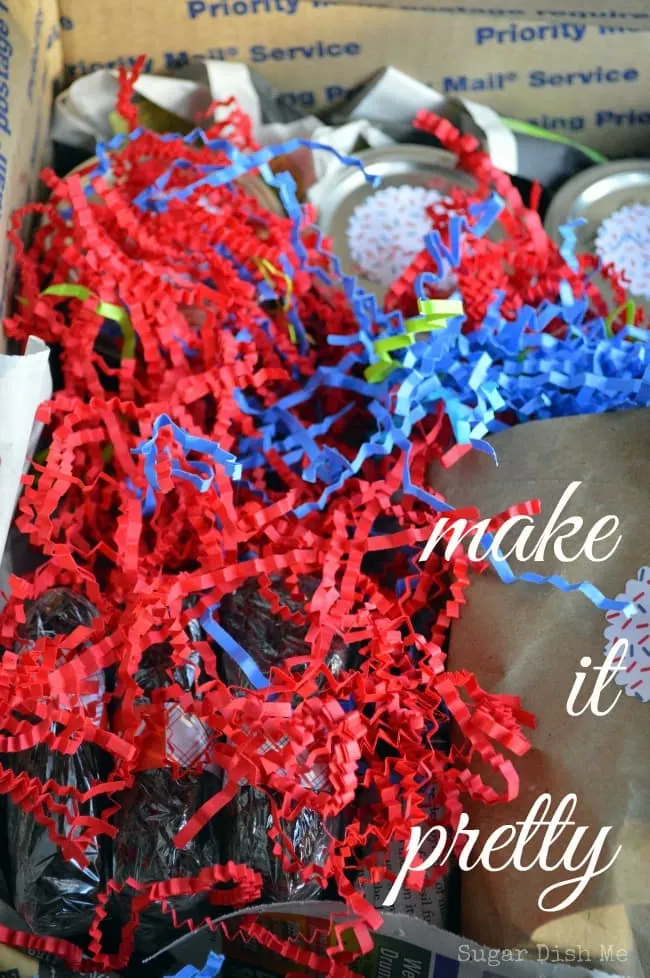 A little bit of flair (37 pieces, to be exact) goes a long way. I love sparkles, confetti, raffia, paper grass — it all makes your gift feel like just a little MORE. I mean, if you are mailing muffins you can skip the wrapping paper, right?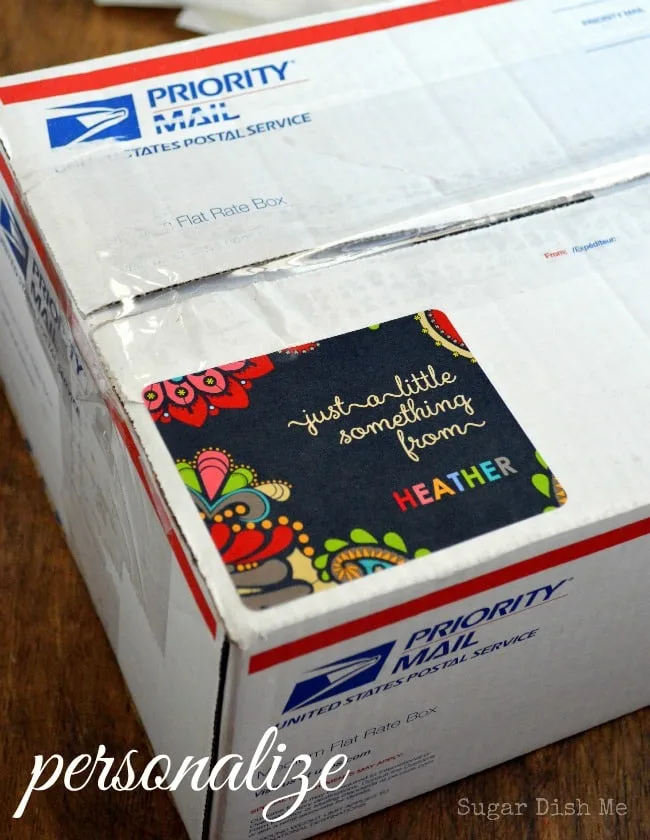 Personal labels are happy. If you have'em, use 'em.
When you go to ship, I have one more super easy time-saving tip for you:
If you ship with USPS, you can not only use the flat rate 2-day FREE boxes, but you can also print your labels right from your computer and have the mailman pick the package up right off your porch!
I do like to play around with the mailing options — some are cheaper than others. For example, a standard medium box to anywhere in the US is $11.30. But I'm in North Carolina and if I am shipping to other states on the east coast, a Regional Rate A box is almost EXACTLY the same size, but ships (any weight!) for around $5.60.
The bottom line here though, is that you can handle all the mailing without leaving home! How easy would this be at Christmas?! Just saying.
I typically schedule pickup the night before, bake either that night or in the morning, let everything cool completely, and have it picked up in the afternoon.
SOOOO easy.
Things That Ship Well…
Things That Don't Hold Up So Well in the Mail…
popcorn (it softens instead of staying crunchy; there is a reason for all those crazy preservatives in packaged popcorn!)
frosted or frosting-filled cookies (something with a shortening or peanut butter base MIGHT be okay, but the frosting tends to harden, turning your cookie into a weapon)
truffles (this can vary. If you have a mostly-cake base it might work. But you want to avoid any climate changes, especially with heat. Be cautious)
bark or chocolate (think of a chocolate bar that warmed and then cooled — the color is off and it looks chalky. Sometimes the texture is affected, too)
If you have tips for shipping baked goods I'd love to hear more from you!