Well.
I was very busy during our 15 minutes of snow this past weekend. . Winter Storm 2013!!!! It really cracks me up when the weather people get all freaked out and give us round-the-clock precipitation coverage in our very extra mild climate and then name the weather things that sound like clever Starbucks drinks. "Wintry Mix!" "Icy Blast!" Those both sound rather tasty to me.
Anyway. The overzealous forecasters gave me a heads up on all things warm and cozy (because on Saturday here it was 63 degrees and sunshine happy, and if they didn't send out the Bread & Milk All Points Bulletin I might have been caught in the snow wearing flats with no socks) and I KNEW that Sunday was gonna be a stew kinda day.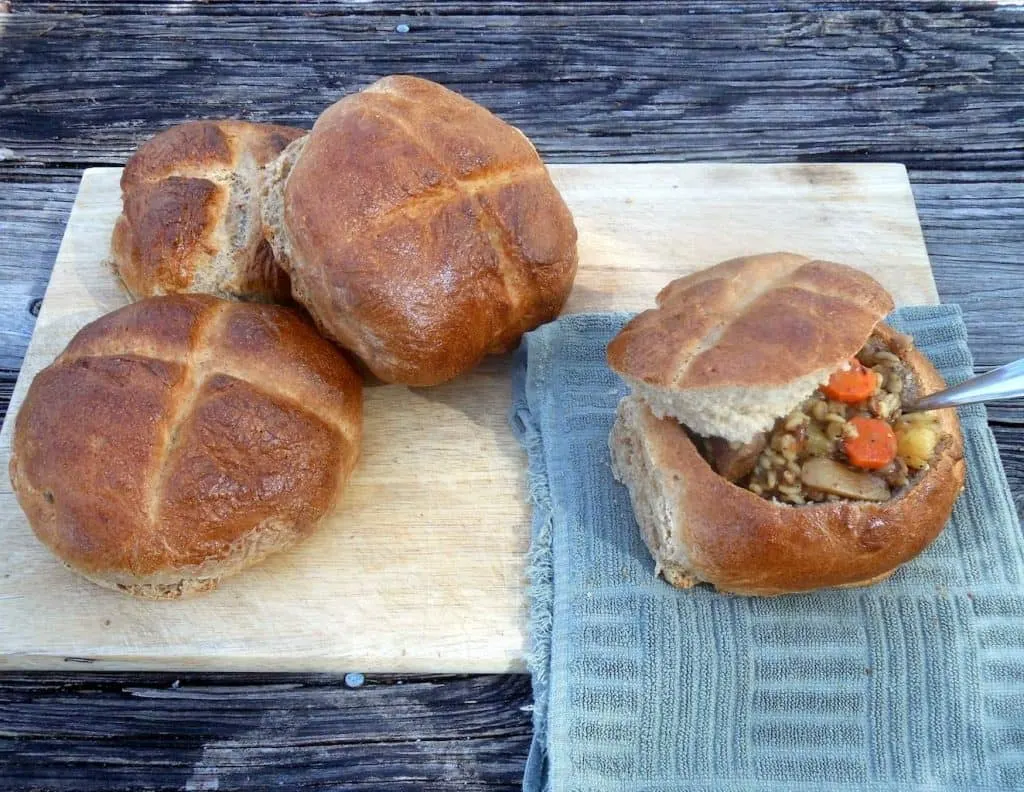 I've had my eye on these bread bowls for awhile. I spied them months ago HERE at How Sweet It Is. I bake a pretty good bit of bread at home, but even if you don't have much bready practice this is an EASY and completely awesome recipe. My Slow Cooker Chicken Tortilla Soup wants to make friends with the bowls made of bread. So does the Cream of Broccoli. Also the Light Spinach Dip.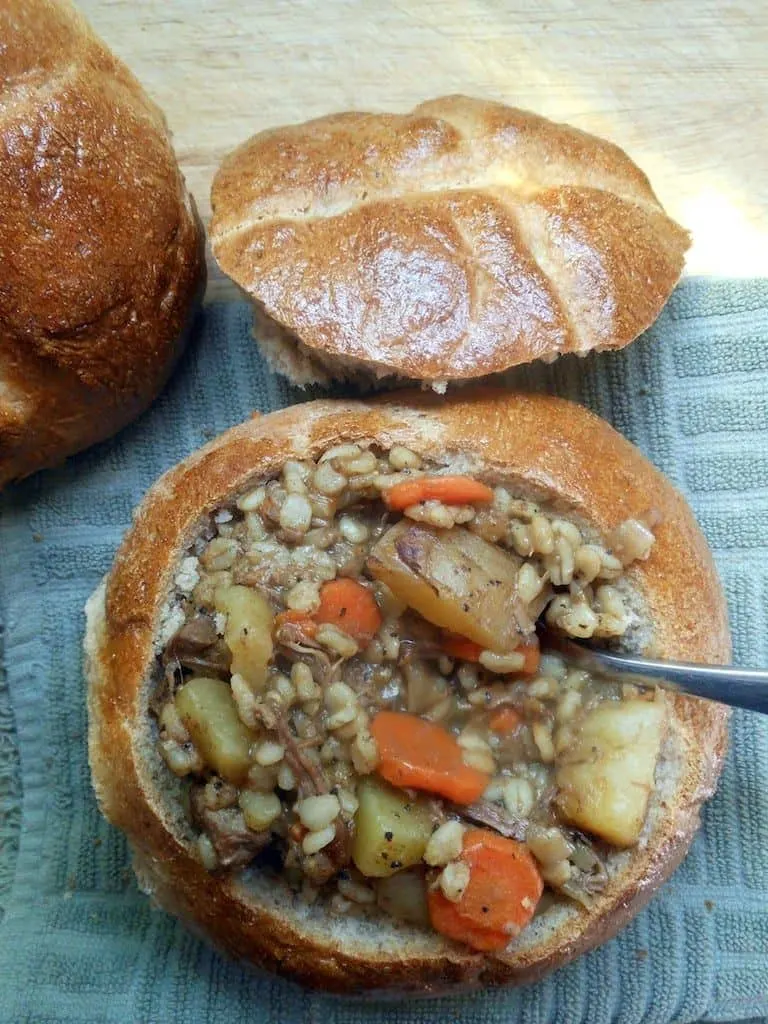 Chad is a soup-sopper and Evan would take bread as a meal any day of any week forever and ever again. Andrew won't eat soup BUT. This total dude meal that sticks to your ribs was an all around win. I guinea-pigged my little brother with leftovers today. He's a 17-year-old bottomless pit. He had 2 helpings of stew and ate the bread and then passed out in a food coma on my couch for a serious chunk of the afternoon.
Mission accomplished.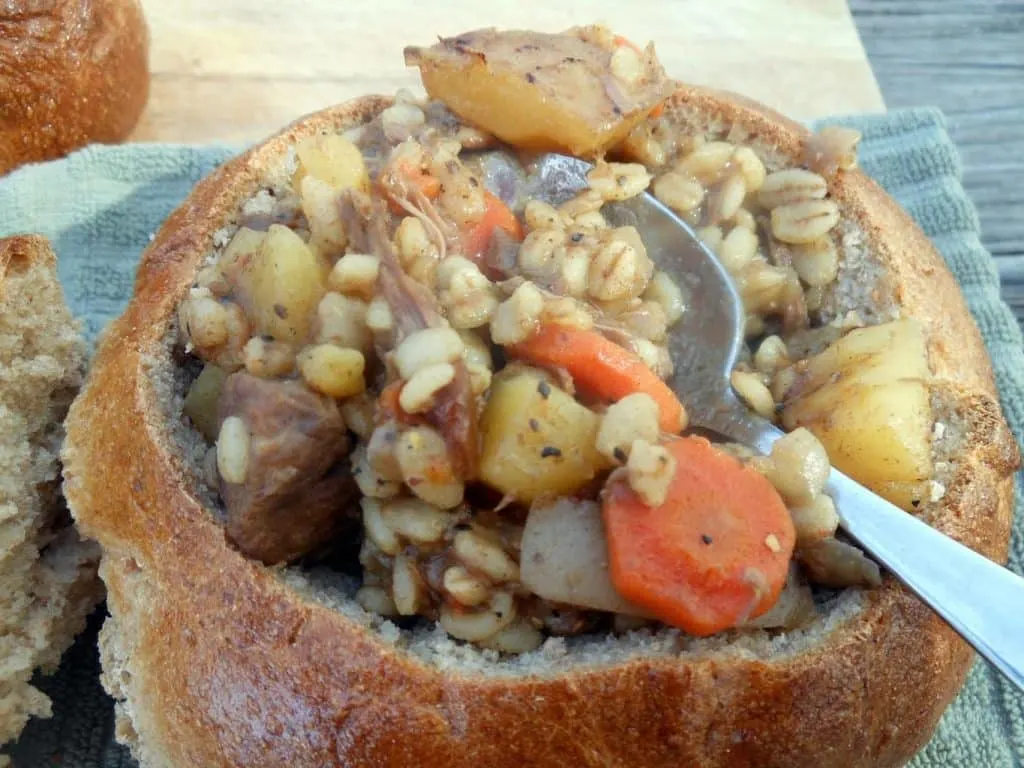 Slow Cooker Beef, Beer & Barley Stew
Ingredients
2 pounds lean stew beef, cut into 1 inch cubes
⅓ cup all purpose flour
2 tablespoons oil
1 medium onion, coarsely chopped
2 celery stalks, trimmed and chopped
5 medium carrots, peeled and sliced
5 medium red-skinned potatoes, scrubbed and cut into 1 inch cubes
1 (11-12 ounce) bottle of dark stout beer
1½ teaspoons kosher salt
1½ teaspoons coarse ground black pepper
1 teaspoon dried thyme
1½ cups low sodium chicken broth
½ cup quick barley
Instructions
Toss the beef with the flour to coat.
Heat the oil in a large skillet. Brown the floured beef and transfer the browned meat to the slow cooker.
To the slow cooker add all the other ingredients EXCEPT the barley, stir quickly, and then cover.
Cook 3-4 hours on high or 6-8 hours on low, stirring in the barley during the last 30 minutes of cooking.
A couple quick notes on the stew recipe vs. the bread bowls: #1- This stew recipe makes quite a bit. I have a house full of hungry guys and we still have leftovers from the weekend! So be prepared to have leftovers. Stew freezes well. #2- The bread bowl recipe makes 4 rather large bread bowls. They are pretty much huge and very filling. For my next round with the bread bowls (with or without this excessive stew recipe) I think I'll divide the dough into 8's and make "cups". Just thought you should know going in that the bowl/stew portions don't match up.
All that being said, MAKE THIS. Winter opportunities are nearly passed!