A simple crock pot soup recipe loaded with southwest flavors, chicken, and smoky chipotle peppers. Slow Cooker Chicken Tortilla Soup is one of my favorite toss-it-all-in-and-go recipes!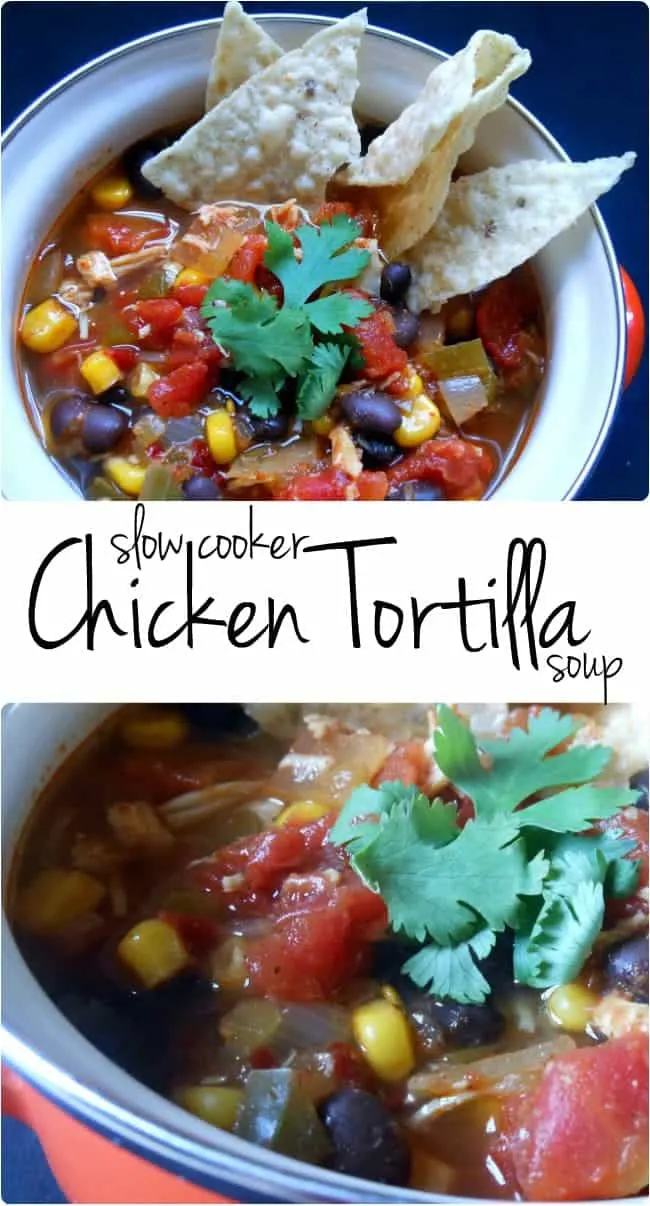 Heyyyyy.
It was 70 degrees today. My kitchen window is open and I'm pretty sure my neighbors were just running around outside for like an hour with a leaf blower in December — in the dark. What the what.
So in North Carolina the weather isn't very soupy… YET. I'm crossing my fingers that it happens any minute. I really hate it when the newscasters report the weather in the morning and they sound all super pumped about the spring-time temperatures… meanwhile i have an 8-foot tall evergreen in my living room. This soup was made in preparation of the cozy food weather that I hope is to come.
Also… I'm trying so so so so so hard to stay on track with fitness and diet and eating things that are good for me. I was on a ROLL earlier this year! I've not gained any weight back (I hop in the scale religiously… it's strangely comforting for me), but I suppose I need to spend some more time doing push-ups and running around my living room until I'm all red in the face because my arms and thighs are feeling flabby. I don't think it's my imagination. It's maybe probably because of things like Raspberry Apple Pie, but in my defense I feed most of that stuff to Chad. He's like a bottomless dessert pit with an annoying metabolism.
Anyway… the goal was to be down another size by Christmas. I. AM. DETERMINED.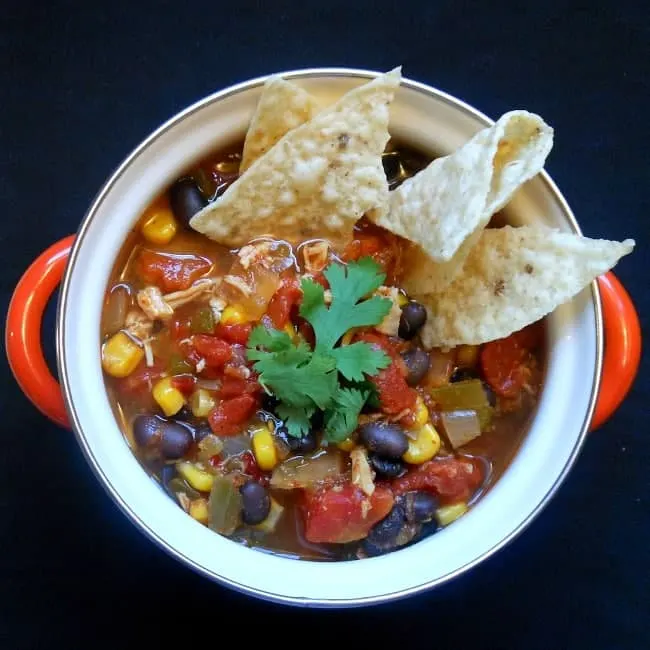 This soup is helping me.
Lots of vegetables, a little chicken broth, some beans, chicken, and that special little spicy ooomph I like to call chipotle chiles in adobo sauce. Healthy and delicious. Plus it's the opposite of labor intensive. Being able to dump a bunch of stuff in a pot, cover it, and wander off for hours is totally perfect for this time of year.
So besides the soup and all the salads I've been noshing lately, I'm thinking on what else might motivate me to get my butt in gear? I'm wondering about trying some of the smartphone/online fitness apps that are available… do any of you have good recommendations?
I was toying with My Fitness Pal… it counts calories, tracks your activity (which is REALLY the part I need), offers challenges, and awards points.
My only experience with fitness apps are the random yoga poses Chad and I try sometimes and he does this ridiculous push-up thing… I'm not so great at it.
So would something like this keep me in line? Or should I just revert back to my 1992 Pilates tape (yes, I said tape)?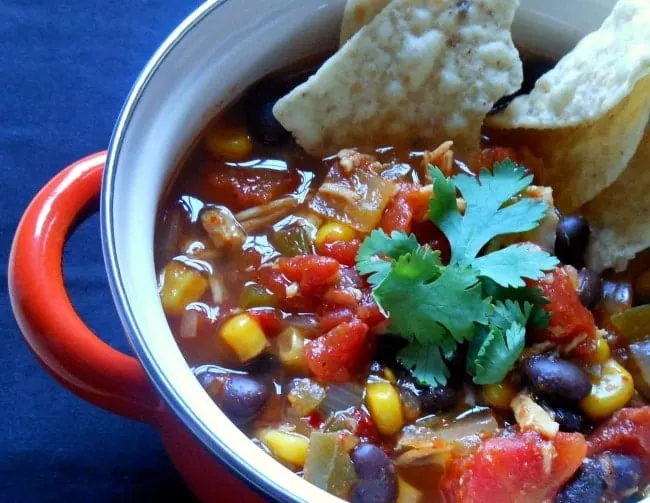 Slow Cooker Chicken Tortilla Soup
Ingredients
2 (14.5 ounce) cans diced tomatoes
3 uncooked boneless, skinless chicken breasts (about 1 pound)
1½ cups chopped onion
1 green bell pepper, diced
1 can black beans, drained and rinsed (or about 2 cups cooked black beans)
1½ cups frozen corn
2 tablespoons chipotle chiles in adobo sauce (more or less according to your heat preference; we like spice)
1 envelope taco seasoning (or about 3 tablespoons of your favorite taco seasoning blend
3 cups low sodium chicken broth
tortilla chips or strips for serving
Instructions
Empty all ingredients into your slow cooker, stirring the seasoning around a little to combine.
Cover and cook on Low for 6 hours, or High for 4 hours, checking to be sure the chicken breasts are cooked all the way through.
Remove the chicken breasts from the soup, shred using 2 forks (the meat will be REALLY tender; it will just fall apart), and then stir it back in.
Serve with the tortilla chips.
All that's really certain right now is that THIS SOUP makes for awesomely satisfying lightened up kind of food.