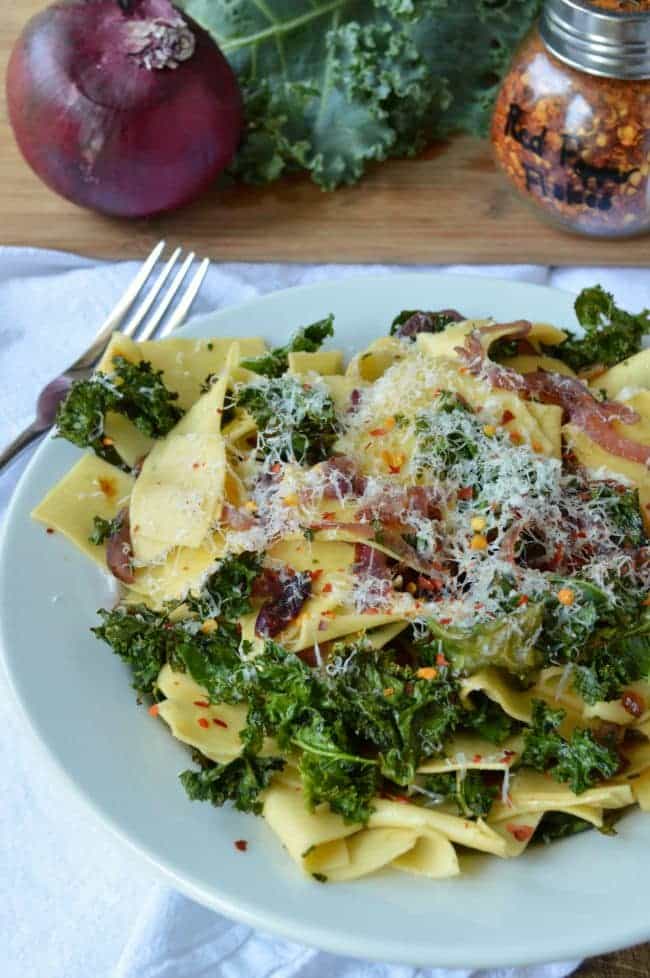 Some days I just need things to be easy.
Okay, most days I need things to be easy. There are a few days that I feel up to a challenge like say, scrubbing my obnoxious bathroom floor tiles with this weird baking soda/lemon juice/dish soap paste because nothing else will make it look clean, because it is definitely the kind of floor that should be waxed and it definitely does not have anything on it resembling wax.
Most days I am partial to my Swiffer wet jet thingy, but it's about to be the holidays, and we are about to have guests for gift exchanges and such, so challenge it is.
Meh.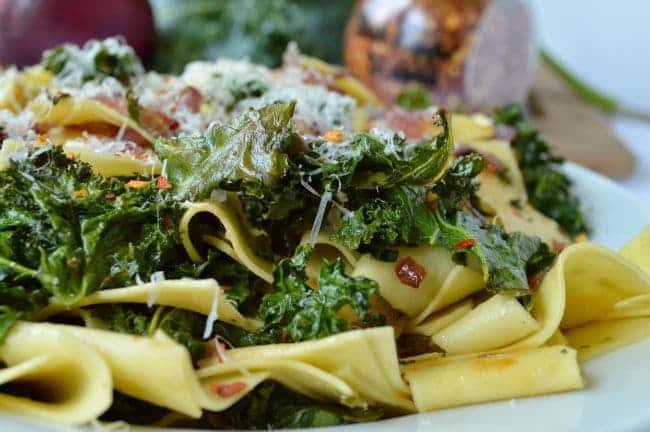 Other things that I need to be easy: getting my boys to put their laundry away correctly (for example, clean folded laundry should not be stacked at the foot of your bed only to be kicked into the floor while you sleep and then trampled when you get ready for school in the morning), convincing Norma Jean that the Christmas tree is not her personal play thing, and shopping for a new car.
Gahhhhh, talk about annoying.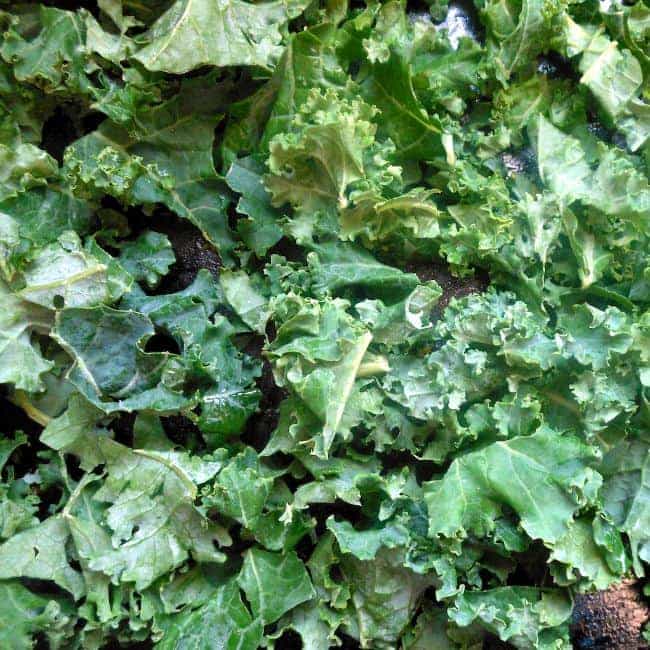 The only thing that's been really easy for me so far this week is online shopping. Not so sure that's the greatest thing to come with ease, but it's Christmas-present-buying-time and it's making me happy. I LOVE buying people presents. Too bad I didn't manage to win that lottery last week.
Oh hey– random thought on having guests and entertaining: does anyone know where to find a Yule Log DVD? There was a channel you could put the TV on when I used to work for the cable company that just aired a pretty log burning in a fireplace. I need that. On DVD. It would be great, right? And kinda cheesy. I like cheesy.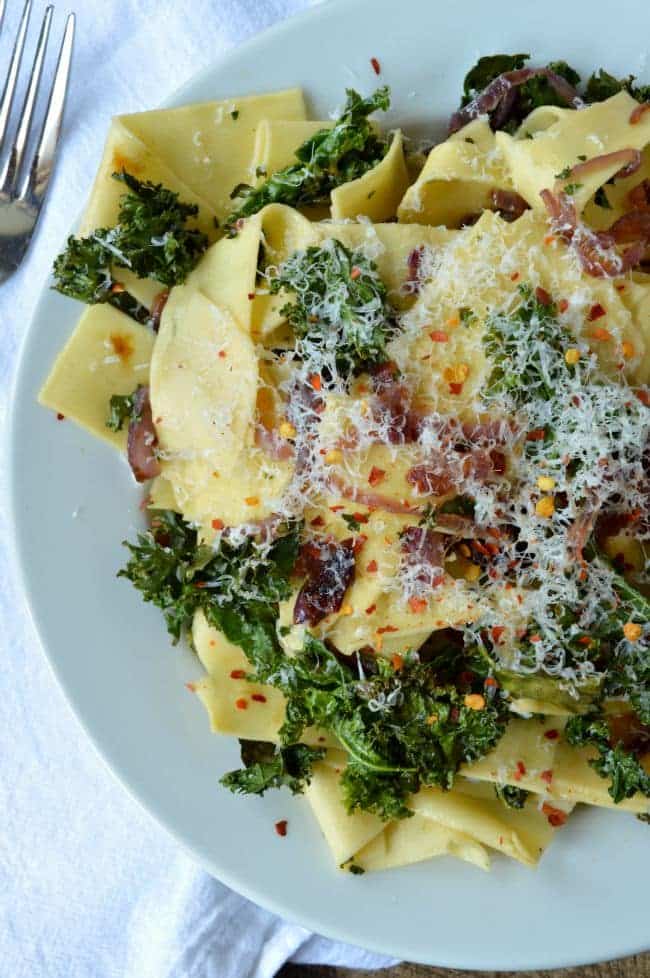 And I'm still all about easy (because the bathroom floor got the best of me and I don't wanna think about cleaning ceiling fans ughhhh).
This meal is EASY. The instructions in the recipe look kind of long winded, but trust me. It's sooooo easy.
And cheap!! That way you have more dollars for online shopping.
While you caramelize onions, you roast some kale and make it all crunch-like in the oven. Meanwhile, the pasta cooks and then you throw it all together with a smidge of the pasta water and some Parmesan cheese.
Easy!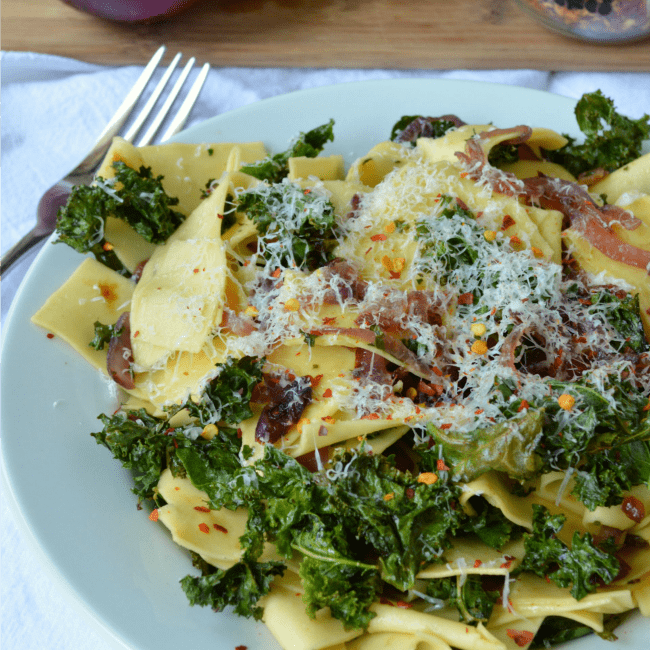 If you are looking for more 30 minute pasta recipes —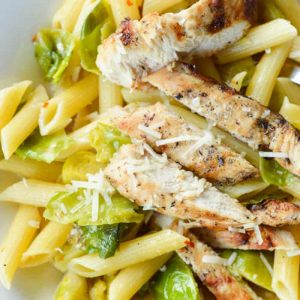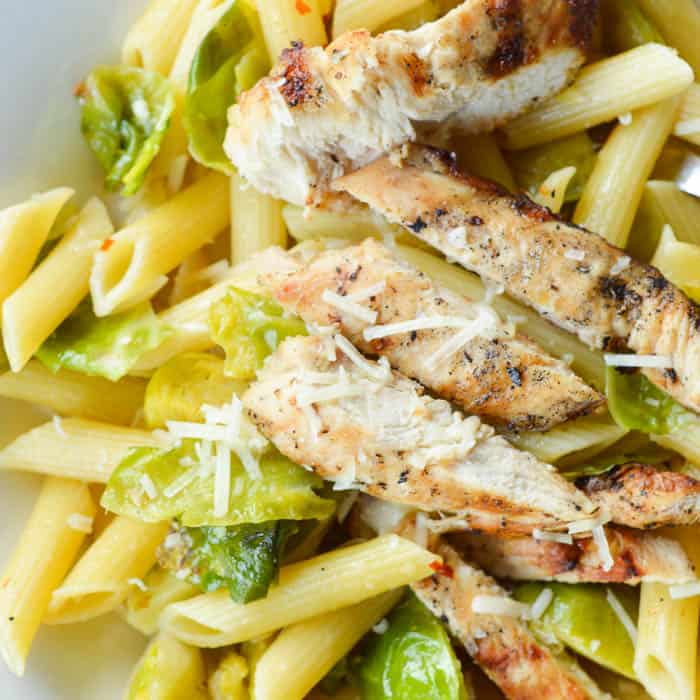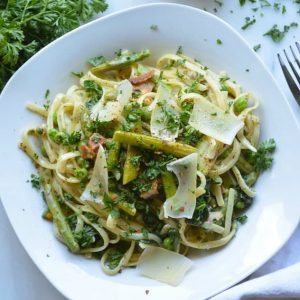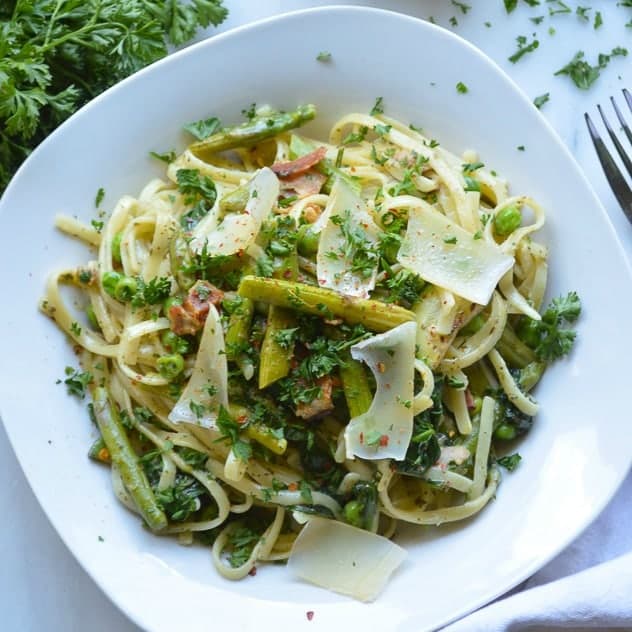 Penne with Grilled Chicken and Brussels Sprouts is a quick, delicious, family-friendly recipe that rings in at less than 500 calories per serving. Easy, healthy, SO GOOD.
Eat Your Greens Linguine is my fave way to eat 5 kinds of green veggies in one sitting. Asparagus, spinach, zucchini, peas, parsley, and anything else you can cram in there when you need your vitamins.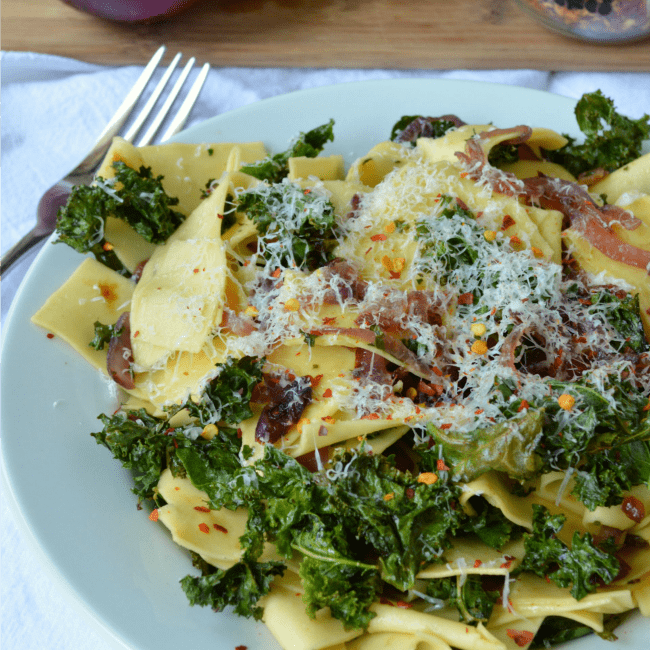 Yield:

2-4
Pappardelle with Caramelized Onions and Crispy Kale
Pappardelle with Caramelized Onions and Crispy Kale is an easy 30 minute meal that's slightly sweet with a hint of spice. If you need a delicious meal on the cheap and fast, this pasta dish is just the thing.
Ingredients
2 tablespoons olive oil, divided
1 tablespoon unsalted butter
1 large onion, thinly sliced
1 teaspoon dried thyme
1 teaspoon kosher salt
8 ounces fresh kale, thick stems removed and cut into 2-3 " pieces
4 ounces sliced mushrooms (optional)
1 8 ounce package pappardelle
Instructions
Step 1

Heat 1 tablespoon of the olive oil and 1 tablespoon of butter in a skillet over medium heat. Add the onions, sprinkle with the kosher salt and thyme, reduce the heat to medium, and cook for about 20 minutes, stirring occasionally to caramelize. Reduce the heat if they darken too quickly.

Step 2

While the onions are cooking, pre-heat the oven to 350. Rub the kale with the remaining tablespoon of olive oil and spread it evenly across a baking sheet.

Step 3

Roast the kale for about 10 minutes, gently stirring/tossing the kale on the baking sheet once during cooking. When the kale is crisp remove it from the oven and set it aside.

Step 4

If you are using mushrooms, add them to the pan with the onions now.

Step 5

Bring a large pot of water to a boil. Cook the pappardelle according to package directions. (pappardelle cooks quickly! only about 3 mins) Reserve 1 cup of the cooking liquid.

Step 6

Place the drained pasta in a serving dish, tossing with a little bit of the cooking water as needed (so the noodles don't stick together). Top with the onions & mushrooms and the crispy kale. Sprinkle with parmesan cheese and serve immediately.
Nutrition Information:
Yield:
2
Serving Size:
1
Amount Per Serving:
Calories:

583
Total Fat:

23g
Saturated Fat:

6g
Trans Fat:

0g
Unsaturated Fat:

15g
Cholesterol:

100mg
Sodium:

1103mg
Carbohydrates:

80g
Fiber:

5g
Sugar:

6g
Protein:

18g
Adapted from
THIS
recipe at Martha Stewart