This easy recipe is favorite for those busy cold weather days. Just throw everything in the crock pot and by dinnertime you'll have a delicious bowl of Slow Cooker White Chicken Chili! Seasoned with garlic, cumin, and green chiles, this chili has complex flavor with just slight heat, and it's totally effortless.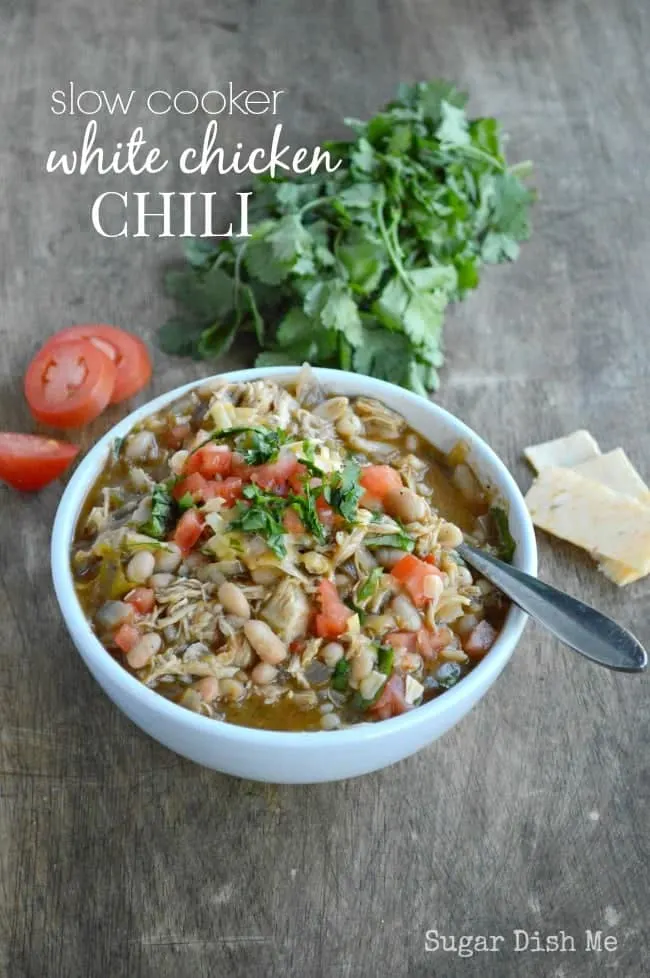 You are looking at my dinner today… and possibly tomorrow.
I have SO MUCH other cooking to do before Thursday, and I can really hardly be bothered with what to eat for dinner. This Slow Cooker White Chicken Chili is my delicious spicy solution.
Oh! And besides the cooking I've had this other disaster happening on the side. Fun times.
If you've been here awhile you know that my biggest focus for the last two years was to move out of the rented shoebox we were living in and buy a house. And we did it! It's our first home and we could not be happier. We bought a foreclosure though, and while it was move-in ready (like there are walls and a roof and everything works), it has some fashion crisis issues going on. Poor house is totally stuck in 1988, but like your grandma's ideas of awesome in 1988 with blue carpet and questionable wallpaper. Also the whole downstairs is covered in paneling. I feel like paneling is the house version of a mullet.
Anyways, we have been working out the aesthetics little by little since we moved in – and we have made some real progress! One day I will find a minute to take a zillion photos and show you.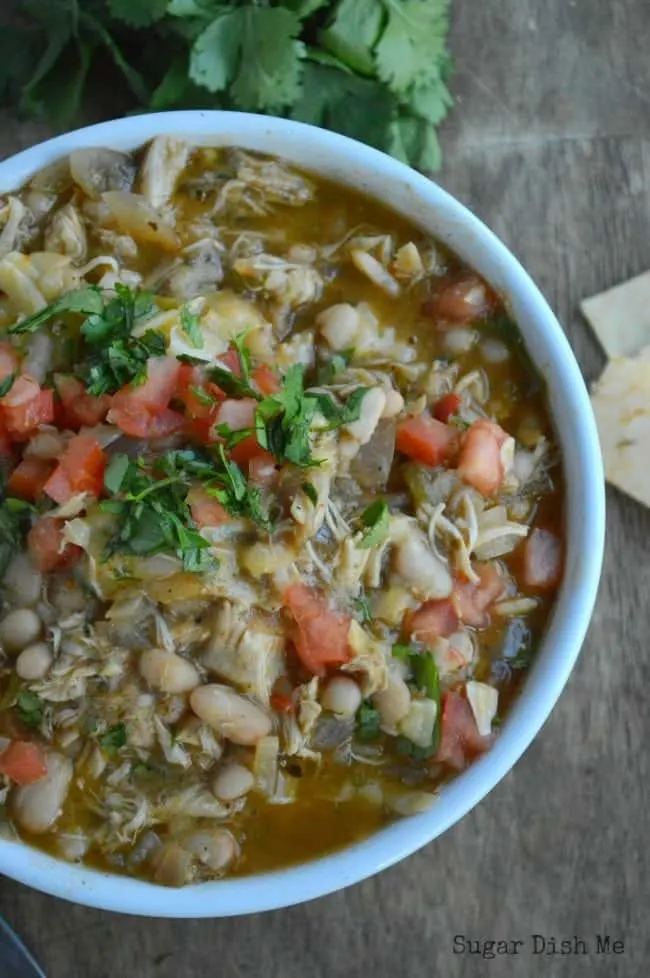 Since I am hosting my first Thanksgiving ever this Thursday I decided that the bathroom had to be painted before then. A fresh coat of pain goes a looooooooooong way. But before I could paint I had to strip the really atrocious yellow-gold wallpaper. Halfway in I learned that the ugly wallpaper covers another layer of… you totally guessed it. Ugly wallpaper.
To that point it was still manageable, you know? Elbow grease and a couple hours.
THEN.
The bottom layer of wallpaper started to fade into the wall. I was not really understanding what I was looking at.
But after a minute I realized it was mud — like drywall mud. I kept going and found a huge wall patch. Instead of making the repair correctly, the winners that did the work just spread the mud right over the bottom layer of wallpaper, and then covered it with the top layer of ugly wallpaper. Because no one was ever going to want to change that, right?
The moral of the story is that now my bathroom looks like a war zone. There is exposed wall here and yellow wallpaper there. There are holes that we uncovered and now have to fix. There is an opening in the wall the size of a door because… they covered up a door. There's dust and drywall and a gimantico mess.
And all I was trying to do was paint the bathroom.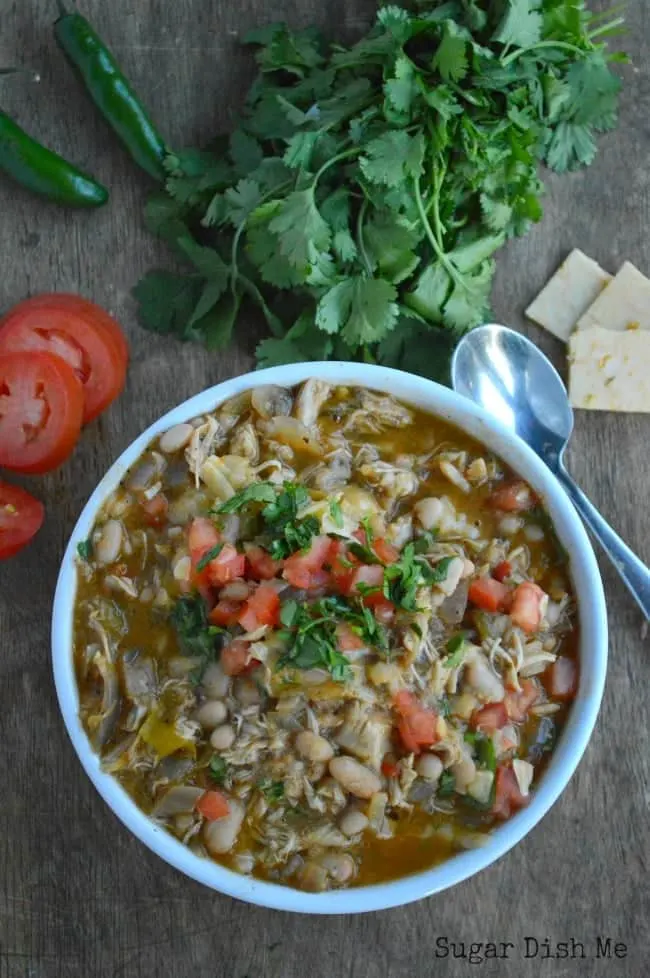 So yeah. Fuss-free food is what we are looking at for the next two days.
Fortunately this Slow Cooker White Chicken Chili recipe is about as fuss-free as you can get. It's a toss everything in and go kinda recipe. You'll come back and shred the chicken before serving, but besides that there's basically no work.
This is also a slow cooker recipe that can happen fast. Sometimes I forget to start my crock pot in the morning. I'll remember around 3 that I wanted to use it to get the dinner ordeal off my plate, and for lots of recipes that's not enough time. But this recipe can be ready to rock in just 2 hours. You can also take as long as 8 hours to cook it – and obviously any of the intervals in between.
It's simple! Be sure to check the recipe notes for adjustments based on the cook time you need.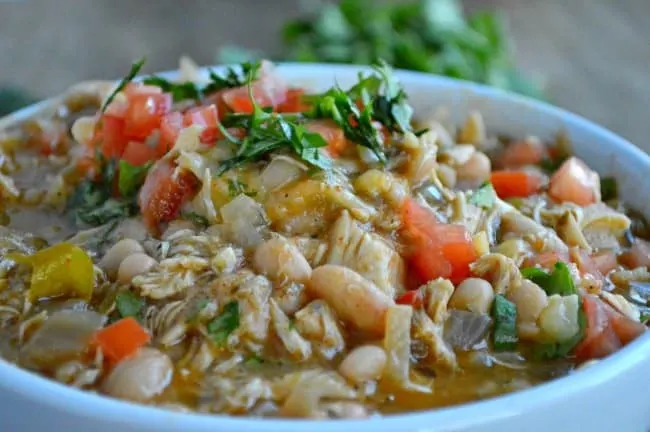 Yield:

serves 6
Slow Cooker White Chicken Chili
Total Time:
4 hours
10 minutes
A simple, no-fuss, Slow Cooker Chicken Chili recipe! Just toss everything in and go! This can also be ready in as little as 2 hours, or as many as 8. Be sure to check recipe notes for adjustments according to the cook time you need.
Ingredients
1 large onion, chopped
1/2 cup green bell pepper, chopped
2 cloves garlic, minced
1-2 jalapeno peppers, diced (de-seed the peppers for less heat; 1 pepper for mild, 2 for medium)
1 pound boneless skinless chicken breast **See Note**
2 (4.5 ounce) cans chopped green chiles
2 teaspoons cumin
1 teaspoon garlic powder
1 teaspoon chili powder
1 teaspoon salt
1/2 teaspoon paprika
1 cup chicken broth
2 (15 ounce ) cans navy beans, drained and rinsed
1 (15 ounce) can great northern beans, drained and rinsed
shredded cheese, diced tomatoes, and fresh chopped cilantro to garnish
Instructions
Place the onion, bell pepper, and jalapeno in the bottom of the slow cooker. Place the chicken breast on top. Pour the cans of green chiles over the top. Add the seasoning and then pour in the broth. Cover and cook on high for 3 1/2 hours (see notes for cook time recommendations).
Remove the lid and use two forks to thoroughly shred the chicken. Add the beans and re-cover.
Cook on high for an additional 30 minutes.
Serve and garnish with the cheese, tomatoes, and cilantro
Notes
1. For a faster cook time (as little as 2 hours) use boneless chicken breast tenders OR slice the breast into 1 1/2" strips and then cook on high. For a 4 hour cook time, leave the breasts whole and cook on high. For 6 - 8 hours, leave the breasts whole and cook on low.
Nutrition Information:
Yield:
6
Serving Size:
1
Amount Per Serving:
Calories:

276
Total Fat:

4g
Saturated Fat:

1g
Trans Fat:

0g
Unsaturated Fat:

2g
Cholesterol:

65mg
Sodium:

877mg
Carbohydrates:

28g
Fiber:

10g
Sugar:

2g
Protein:

33g