Little pretzel rounds filled with dark chocolate and your choice of happy toppings! You can cover Chocolate Pretzel Party Bites in sprinkles, pecans, crushed peppermints, peanut butter chips, M & M's — the fun possibilities are endless! These make great gifts and are perfect for setting out at parties.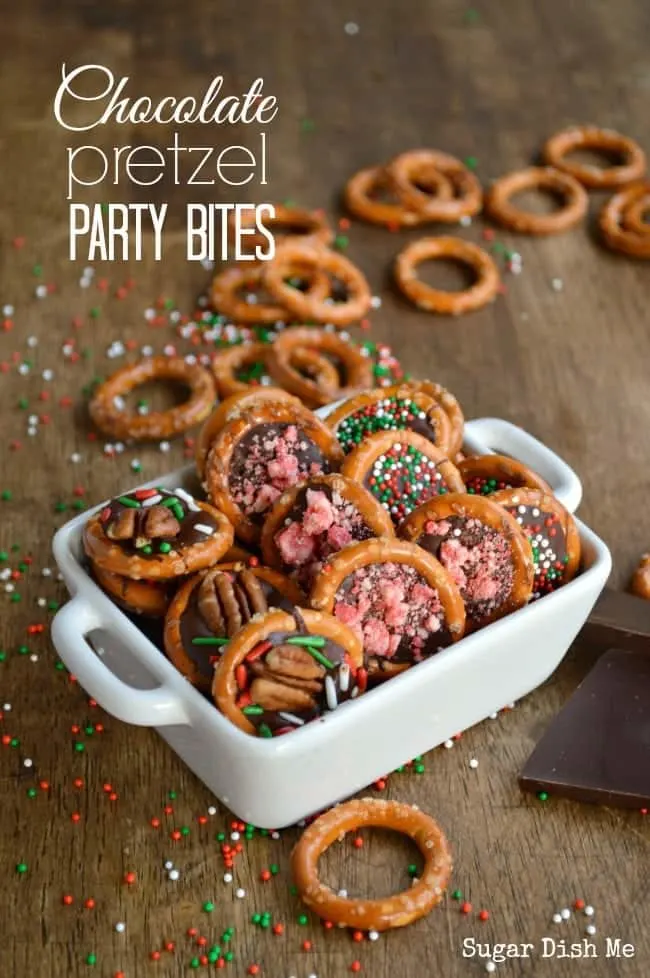 Sooooo… this barely qualifies as a recipe.
Those are the best kind though, right?
I found pretzel rings while grocery shopping last month and just knew they would yield some kind of happy little treat. My kids ate the first bag when I wasn't looking because that's how they roll. The good news is that pretzel rings seem to be plentiful so there was no reason to panic.
I mean… I didn't panic about pretzels.
Only a crazy person would do that.
Speaking of panic though — I might be in a slight panic about getting all of the food things done by tomorrow. I do this thing where I am always slightly ambitious with my endeavors.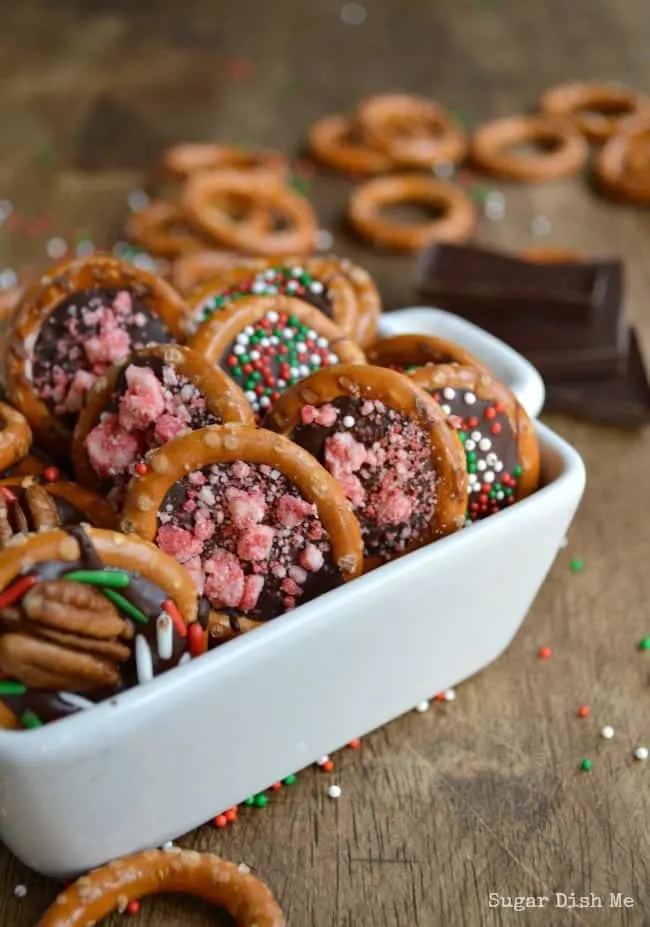 I'll be like SURE! I can make you 150 cupcakes by tomorrow morning! And then halfway through the cupcakes and the subsequent kitchen explosion I am making extra pots of coffee and spiking them with bourbon and wondering why I did this to myself.
A good example would be painting the bathroom while I should be making pie crust or something. On Sunday it seemed like a great idea. But after battling with wallpaper removal and glue boogers and hidden doors for 3 days, it's sort of seeming like I should have maybe let that one go. So far I think the bathroom is winning.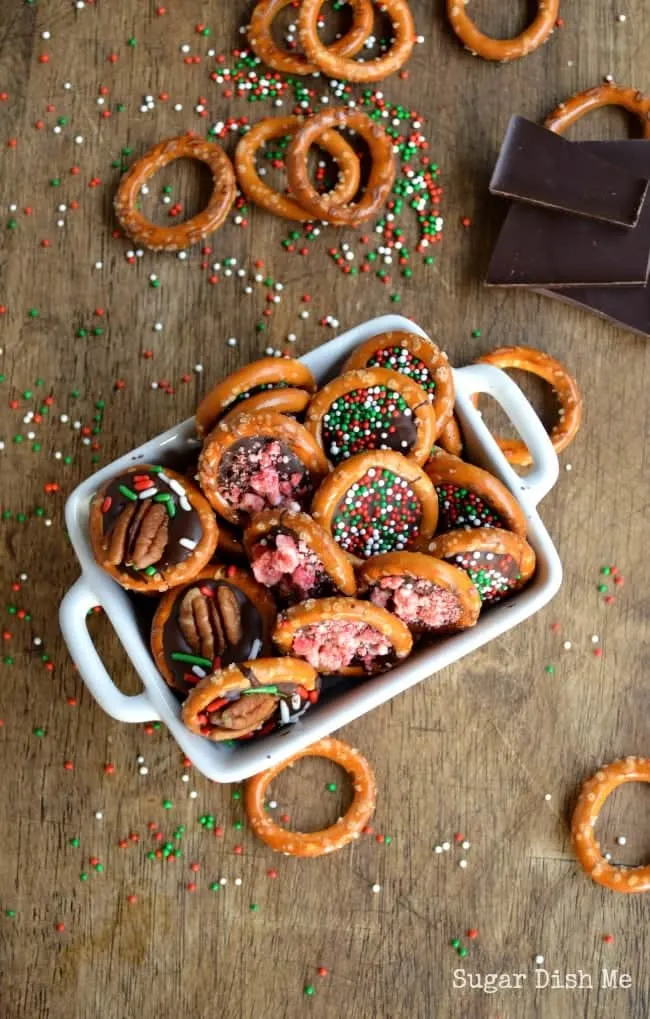 The extra good news today is that these Chocolate Pretzel Party Bites are COMPLETELY unambitious. Like maybe 15 minutes of active time, let them set up, and bam! Adorable dessert bites. These make great gifts! They are fun for parties. Chocolate, pretzels, sprinkles.
DONE.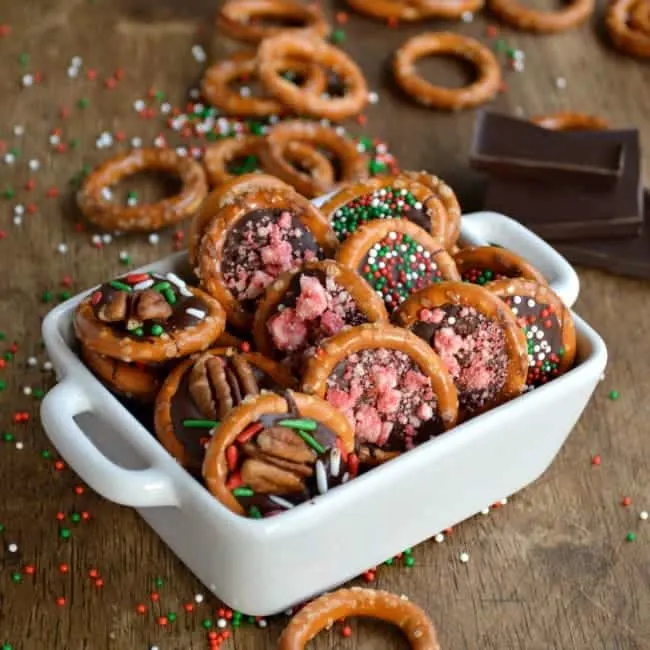 Chocolate Pretzel Party Bites
Bite size treats that are full of salty pretzel and rich dark chocolate flavor! Chocolate Pretzel Party Bites can be topped with sprinkles, candies, nuts, peppermint chips -- you name it! These make great gifts and are so fun to set out at parties!
Ingredients
5.5 ounces good quality chocolate (dark, milk, white) **See Note**
25 - 30 pretzel rings **See Note**
½ teaspoon sea salt
sprinkles, pecans, crushed peppermint, etc for toppings
Special Equipment:
Wax or parchment paper
Instructions
In a small saucepan over low heat melt the chocolate, stirring frequently. You can use all dark chocolate, a blend of dark and milk chocolate, all milk chocolate, or even white chocolate! If you decide on white chocolate melt very carefully because it has a tendency to burn.
Lay the pretzel rings in a single layer on the wax or parchment paper.
Using a small spoon, fill each ring with the melted chocolate. Sprinkle each piece with a few granules of the sea salt.
Top with sprinkles, nuts, peppermint, and all of your choice of toppings while the chocolate is still warm.
Let everything set up for at least 30 minutes -- until chocolate is firm.
Notes
1. I bought the chocolate for these at Aldi; they sell really good quality chocolate very inexpensively! ($1.99/bar is the price point here) If you are shopping for chocolate elsewhere just know that it will take 5 - 6 ounces of chocolate to make 25-30 pretzel bites
2. I also found the pretzel rings at Aldi!
3. Prep Time is listed as 45 minutes -- the chocolate will need AT LEAST 30 minutes to set up at room temperature. It will set faster in the fridge. Active time is minimal -- 10 mins tops.