These brownies.
Okay let me just start by saying that I totally fell victim to a very accurately placed display while shopping for wrapping paper the other day. My arms were all full of discounted polka dottiness and on my way to the cash register I nearly walked into a giant tower of Hershey's bars with boxes of graham crackers on either side. Those marketing people have my number.
It wasn't until I got home that I realized they forgot the marshmallows.
What the marketing geniuses DON'T know is that I have 3 random jars of marshmallow fluff stuffed in my cabinet. Ha.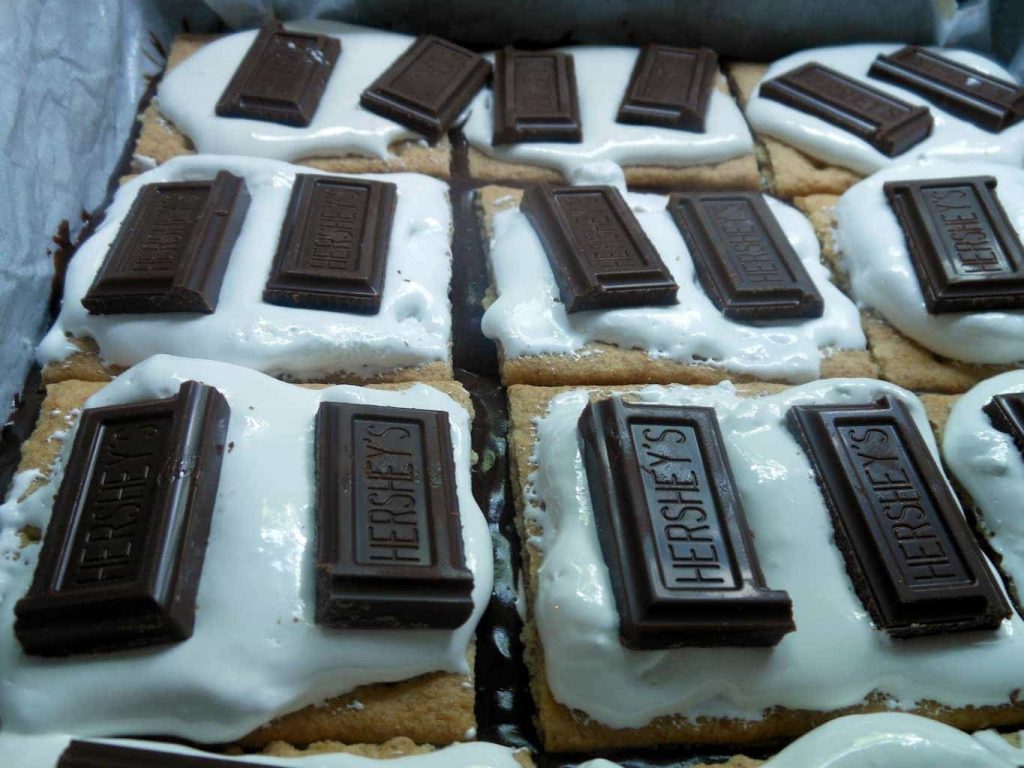 But before I tell you all about these brownies I need to stop for a sec.
I have another amazing video from BlogHer TV to save the hair day! Remember last month when I shared devastatingly embarrassing photos of my hairthat I took with my phone while standing under the skylight in my bathroom? Well. This month I learned how to use hot rollers. Now I can have awesome hair like all the actresses on ABC. I would show you more pictures but I've been too busy baking brownies and I'm pretty sure we've seen enough of that mess anyway. So… watch this video. It's quick!! And at the end of the post there's a link for a sweepstakes sponsored by BlogHerTV and Olay

And now I will pay you with brownies.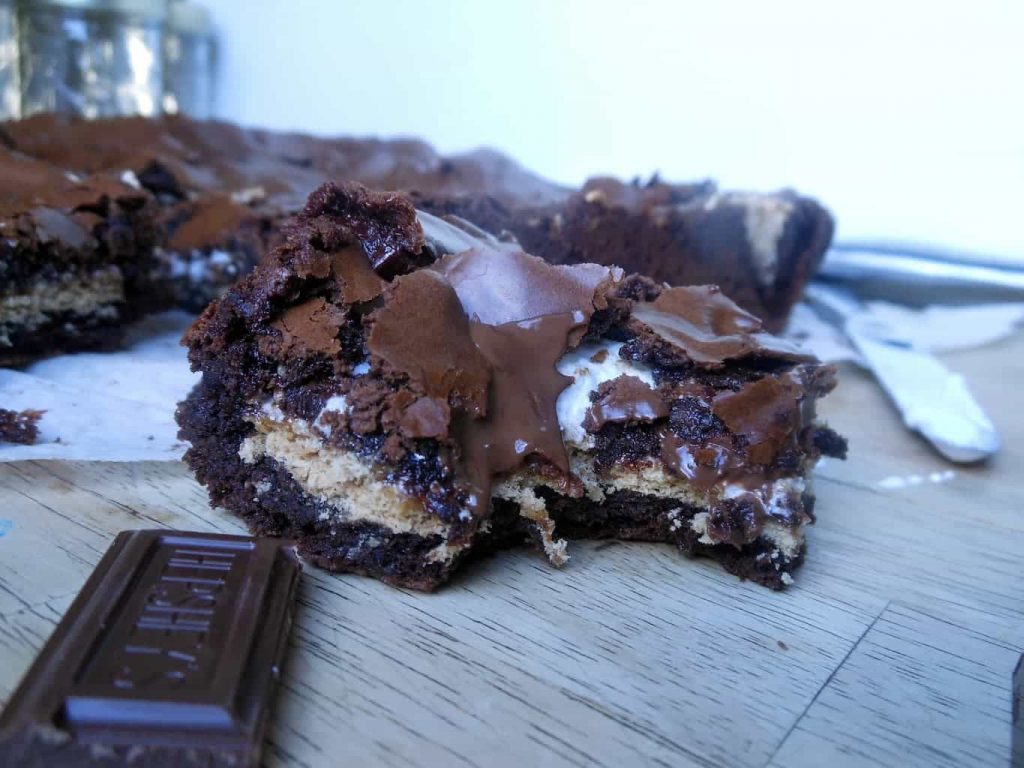 These brownies are insanely, ridiculously, STUPID good. Like I'm pretty sure they are the best brownies I have ever made. And I normally make a pretty mean brownie. I used my favorite from-scratch brownie recipe, but you could totally grab your favorite box mix and work it out. The graham crackers stay slightly crunchy, like a good s'mores graham cracker should, the marshmallow fluff is… MARSHMALLOW FLUFFY, and the chocolate is like magic. Even when these s'more brownies are completely cooled the layer of Hershey's milk chocolate stays smooth and creamy and all melty-like. It is completely wonderful.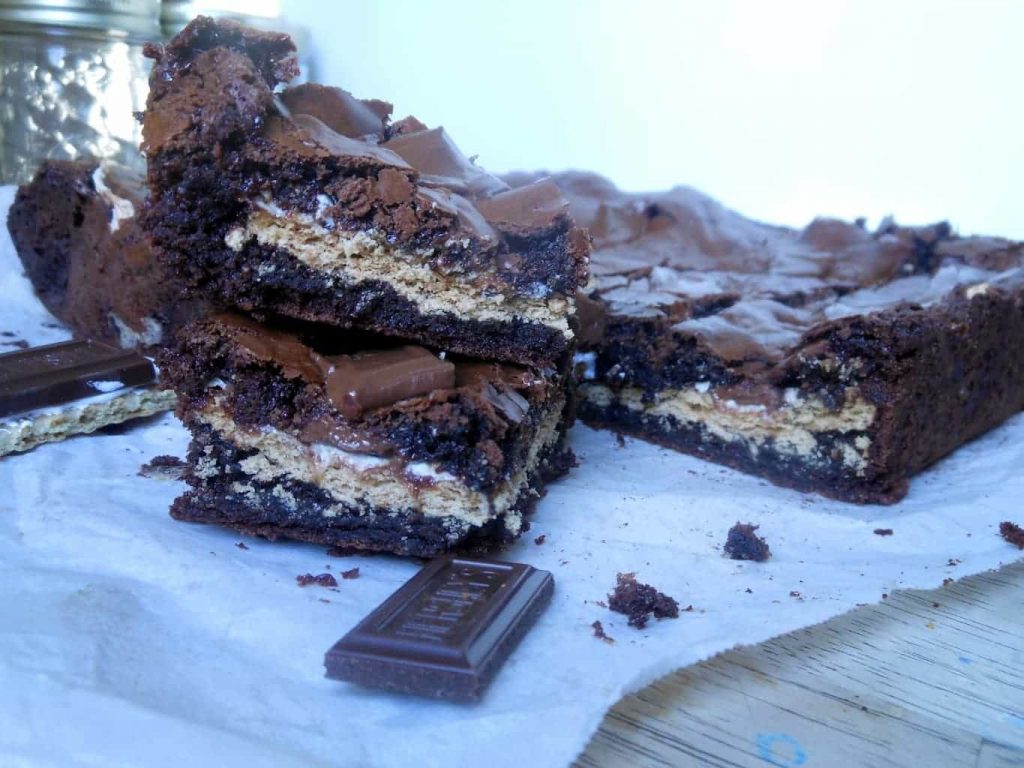 S'mores Brownies
Ingredients
About 6 graham crackers
5 standard size Hershey's bars (they sell 6 packs!)
3.5 ounces marshmallow fluff (about half a jar)
⅔ cup flour
½ teaspoon baking soda
½ teaspoon salt
2 tablespoons unsalted butter
½ cup granulated sugar
2 tablespoons water
1½ cups semi-sweet chocolate chips
2 eggs
1 teaspoon vanilla
Instructions
Pre-heat the oven to 325. Butter a 9 X 9 baking dish, line it with parchment paper, and then butter the parchment paper.
Break all the graham crackers in half so you have 12 squares. Break the Hershey's bars by snapping them at the scores. Spread 9 of the graham crackers with the marshmallow fluff. Place 2 pieces of Hershey bar onto each graham cracker. Set them aside.
In a medium bowl, whisk together the flour, baking soda, and salt.
In a saucepan over medium heat, melt the butter and whisk in the sugar and water until the sugar is dissolved.
Remove the pan from the heat and stir in the chocolate chips until melted.
Beat in the eggs and vanilla.
Gradually mix in the flour mixture.
Pour half of the brownie batter into the prepared baking dish.
Lay the prepared graham crackers over the brownie mix. In a 9 X 9 pan they should line up neatly and fit snugly. There will be a small gap at the bottom.
Snap the remaining graham cracker halves in half again, spread each (you'll need 3 pieces) with the marshmallow fluff and top each with one piece of chocolate. Fill the remaining gap in the pan.
Pour the remaining batter over the s'mores and use a rubber spatula to spread it out to the edges. It'll take a minute to work the thick and cooling batter across. It's cool. Trust.
Bake for 30-35 minutes (check them at 25! 30 minutes is always EXACTLY right for me). The brownies will puff up in the oven, but they'll fall slightly when they cool.
When you remove the brownies from the oven, IMMEDIATELY insert the remaining chocolate pieces sort of sideways into the top of each brownie piece (16 pieces altogether). The chocolate will slump and melt as it cools but will still hold its chocolate bar shape.
Let the brownies cool completely before cutting.
Annnd… you're welcome.
What's your favorite way to eat a s'mores?
Don't forget to enter the sweepstakes! There's a $250 gift card up for grabs!
Obviously I was compensated to include information about the BlogHer Sweepstakes in this post. But all opinions are my own and I have found every video majorly helpful!! I was not compensated for these brownies. I just really love you.
You Might Also Like…