This meal. Mmmmmmmmmmm.
I love it.
So here's what's up. I have about 84,531 desserts to bake/make this week. We have an ice cream social thing tomorrow for Chad's grandpa's birthday, and here it is, time to make a decision on what sort of ice cream to make (too many delicious things to pick from!!!!!) and I still have no idea. Help. Also Andrew's birthday is Thursday. Can you guys believe I have a kid that's about to be 13?!!! How. Did. This. Happen.
Thursday is Leftovers Club and I can't even begin to tell you about how excited I am to share the recipe I shipped to NYC… more baked goodies. Friday: another birthday (more on that later). Saturday: a giant birthday party. And a giant excuse to make a zillion goodies.
So.
I decided that before I drown in sugar I'd better balance it out a little bit with a pretty quick weeknight meal that I would like to eat everyday: Risotto with Pineapple and Coconut Milk.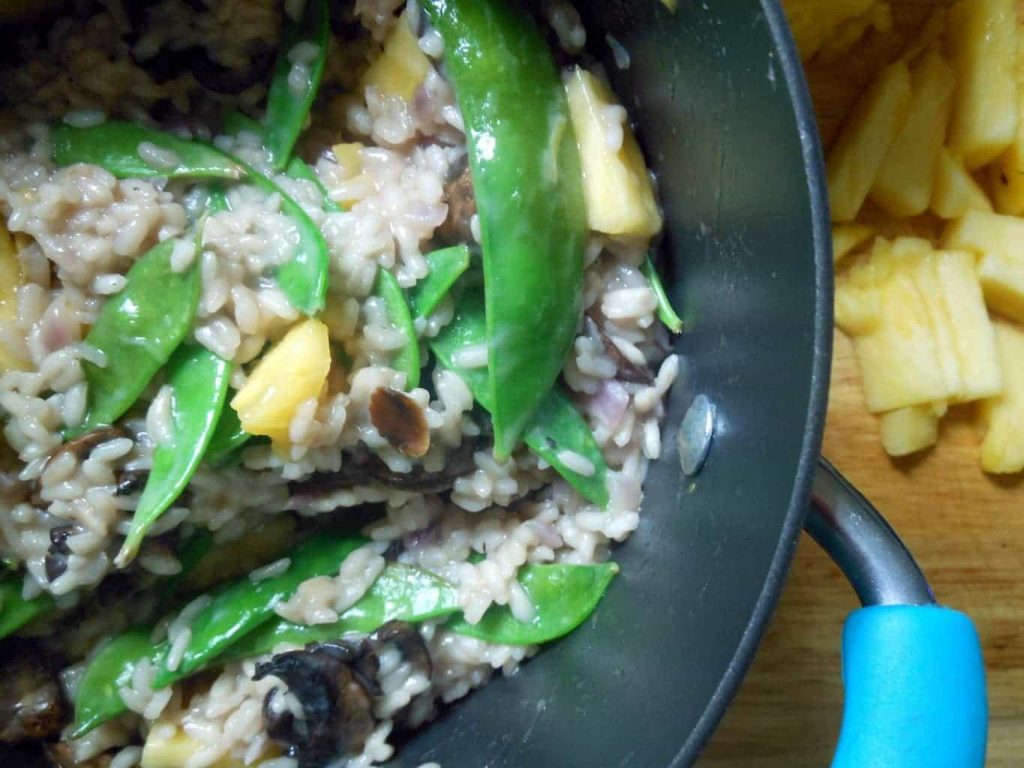 I don't guess I've ever posted a risotto recipe here and I have NO IDEA why. I make risotto every couple of weeks because it's a great base for so many delicious ingredients (sweet potatoes, bacon, beer…) and it comes together pretty quickly while the boys do their homework. It's also a good reason to open a bottle of wine.
I think risotto gets a bad rap (kind of like the stovetop oatmeal) because standing in front of the stove for 30 or 40 minutes seems cumbersome. But if we're being real here, do you ever actually LEAVE the kitchen while you're making dinner? Cause I don't. So pour the wine and settle down.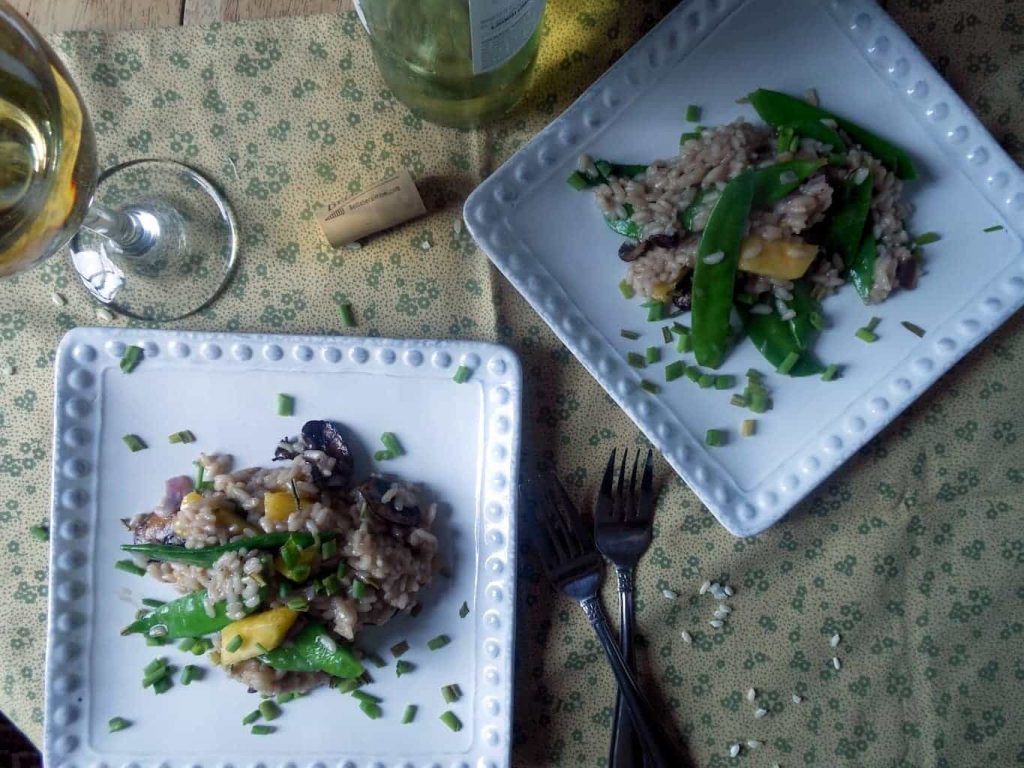 This risotto is creamy and slightly sweet. I love pineapples together with coconut and the snow peas give some green snap and crunch. It's a recipe that's easy to tailor– if you don't keep wine on hand, replace it with more broth. If you don't like mushrooms (WHO doesn't like mushrooms?!!) leave 'em out. Chad and the boys ate this with slices of baked chicken. I think it would be FABULOUS with shrimp.

Risotto with Pineapple and Coconut Milk
Ingredients
1 tablespoon unsalted butter
1 tablespoon olive oil
1 cup red onion, chopped
½ teaspoon kosher salt
6 ounces sliced mushrooms (I used button mushrooms)
1 cup arborio rice
½ cup white wine
1 cup lite coconut milk, divided
1½ cups low sodium vegetable (or chicken) broth, divided
1 cup fresh pineapple, chopped
4 ounces fresh snow peas
¼ cup green onions to garnish
1-2 tablespoons
Instructions
In a 3 or 4 quart stock pot, melt the butter and heat the olive oil over medium high heat. Add the onions and sprinkle them with the kosher salt. Turn the heat down to medium and let the onions caramelize, stirring occasionally, for about 6 minutes.
Add the mushrooms and stir them around with the onions, letting them cook for 3-4 minutes until they start the darken. Raise the heat back to medium high.
Add the rice. Stir it into the onions and mushrooms and then let it sit for just a minute or two so that it can toast.
Stir in the white wine, and stir constantly until all of the liquid is absorbed.
Stir in ½ cup of lit coconut milk. Keep stirring until all the liquid is dissolved.
Stir in ½ cup of the broth. Keep stirring until all the liquid is dissolved.
Repeat this process with the remaining ½ cup coconut milk and the remaining broth (adding the broth ½ cup at a time).
When all the liquid is absorbed, stir in the pineapple. Toss the snow peas on top and cover to let them heat and steam for just a minute (they will still be crisp but will soften slightly).
Plate up the risotto and garnish each plate with the green onions and cilantro.
Serve immediately.
Stay tuned for the impending sugar coma. And please help me with ice cream.