Because sweet potatoes are good for you.
Because in a few days people will be making a bunch of crazy biscuit-free resolutions and you need these before that happens!
Because these biscuits are ahhhhmayzing for breakfast, lunch, and dinner.
Other things that are amazing: the red velvet waffle my brother served us as an appetizer at Terrace Cafe this afternoon, the Draw Something game I can't stop playing on my phone, and a non-fat Toffee Nut Latte from Broad River Coffee Company. I mean… this is a pretty good day.
You might remember that I am not really great at making biscuits. Several of my biscuit-making attempts have ended in disaster. But this recipe is fool-proof. And Heather-proof. I got it exactly right on the first try. Talk about stuff that's amazing.
Oh! I just thought of another thing that's amazing: the amount of cardboard stacked up outside my kitchen door waiting to be recycled right now.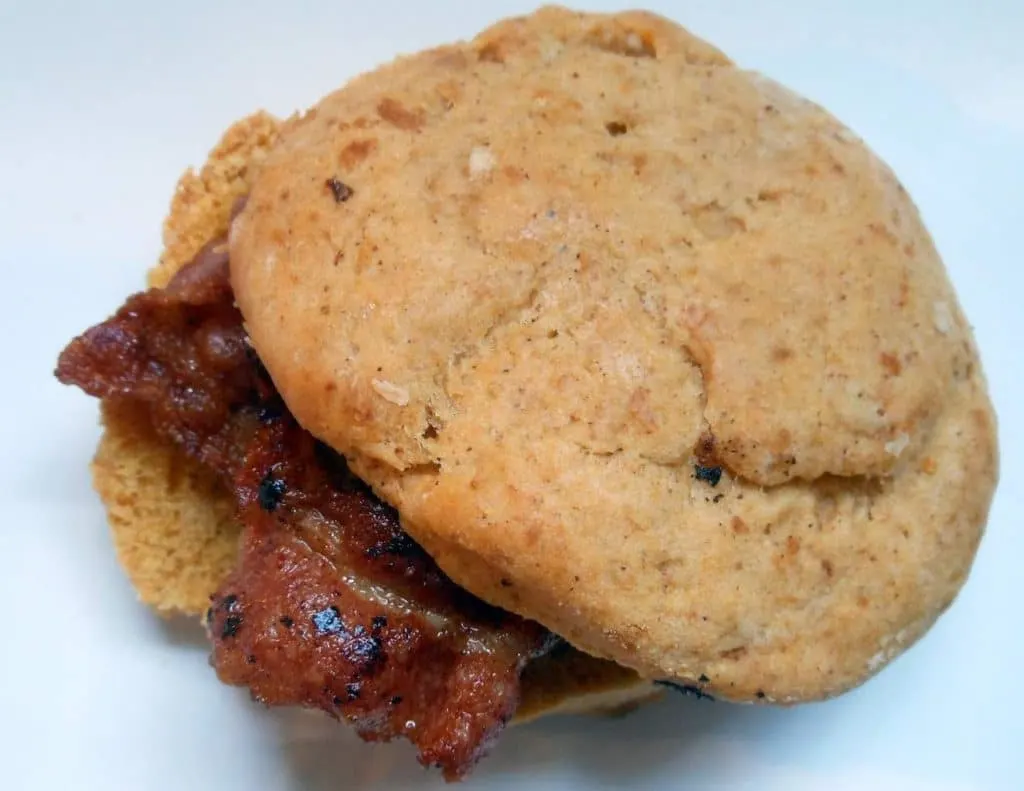 Best of all, though: I got a present in the mail from my friend Rachael. Sparkly English Trifle ornaments handmade and mailed from Spain! I am a lucky girl to have such awesomely thoughtful friends.
Make these biscuits. Good things will happen.
Really.

Spiced Sweet Potato Biscuits
Ingredients
2 medium sweet potatoes, baked and cooled (you'll need 2 cups of the sweet potato mash)
1 cup shortening
5 cups unbleached all-purpose flour
1 cup packed light brown sugar
2 tablespoons baking powder
2 teaspoons cinnamon
1½ teaspoons ground ginger
1 teaspoon allspice (see note)
1 teaspoon salt
1 cup heavy cream
Instructions
Scrape the flesh out of the baked cooled sweet potatoes and mash it with a fork. Measure 2 cups of the mashed sweet potato and place in a medium bowl.
Put the 1 cup of shortening in the freezer.
Pre-heat the oven to 450.
In a large bowl whisk together the flour, light brown sugar, baking powder, cinnamon, ginger, allspice, and salt.
Whisk the heavy cream with the mashed sweet potato and set aside for a minute.
Cut the frozen shortening into the flour/spice mixture until coarse crumbs are formed. Make a well in the center.
Add the sweet potato cream to the flour well and stir until just combined.
Turn the dough out onto a floured surface and pat out to about 2 inches thick. Cut the dough into 2-inch circles (I used a floured juice glass but a biscuit cutter would probably be sufficient) and place on an ungreased baking sheet.
Bake for 10-15 minutes.
Serve warm! (But they are actually still moist & delicious days later if you wrap them carefully)
Notes
1. Prep time does not include the time it took to bake the sweet potatoes (obviously). 2. I don't ever keep allspice in my pantry! You can make it by tossing together ½ teaspoon cinnamon, ½ teaspoon ground cloves, and ½ teaspoon nutmeg.
Sweet Potato Biscuits are from
THIS
recipe posted by my friend Deanna at A Year of Healthier Living. If you are interested in local sustainable living Deanna's blog is a must-read. There are budgets, recipes, shopping lists, farmer's market finds– it's awesome. Also, if you live in North Carolina, she has some really great resources for all kinds of local products; everything from fresh seafood to cheese and BACON.