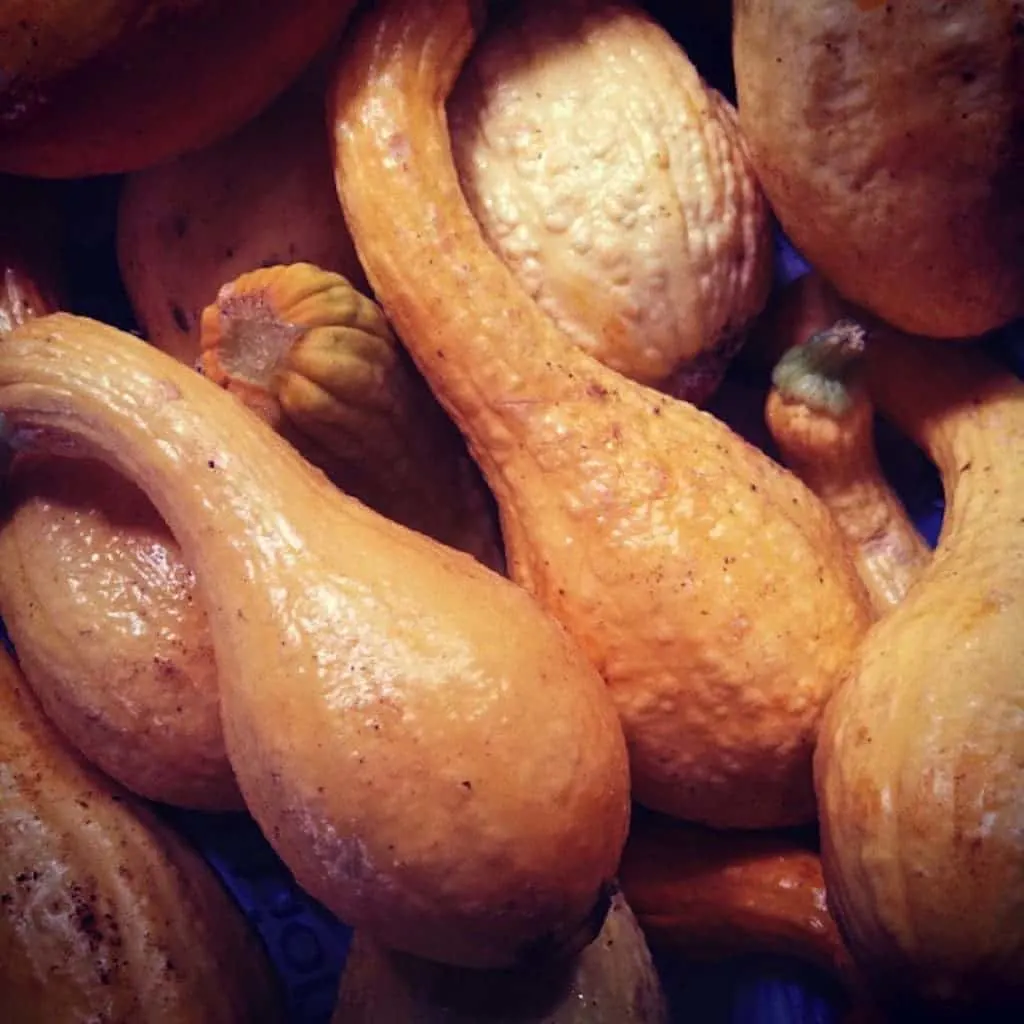 So here's the funny thing about a food blog: I make ALL SORTS OF THINGS that you all never see.
Obviously we eat everything I post here because family-friendly do-able cooking is kind of my thing. Plus I live with 3 hungry bottomless pits so of course they eat all the food. And then go looking for more.
But there are so many things I turn out of this kitchen every week that I don't share because it was raining outside (which in turn makes all the food look blue when I photograph it), or I was grilling after dark (because I am in south western North Carolina and it is 900 bajillion degrees in the daytime), or – and this happens A LOT – I throw things together and forget to write it down and have no idea what I did to make such a simple tasty meal.
Enter Summer Squash.
Our neighbors have a massive garden. We have a teensy garden and too many hot peppers. So the neighbors with the massive garden like to unload their excess produce on me, probably because they see me hauling grocery bags in the house 42 times a week and worry that these dudes might eat us out of house and home. It's an accurate worry. And too much summer squash is my favorite kind of problem.
So I'm sharing a handful of super simple recipes with you today- recipes that I just threw together with what I had in the house. Recipes made up of fresh family food. Recipes with un-staged camera phone photos because this is real life and I love it.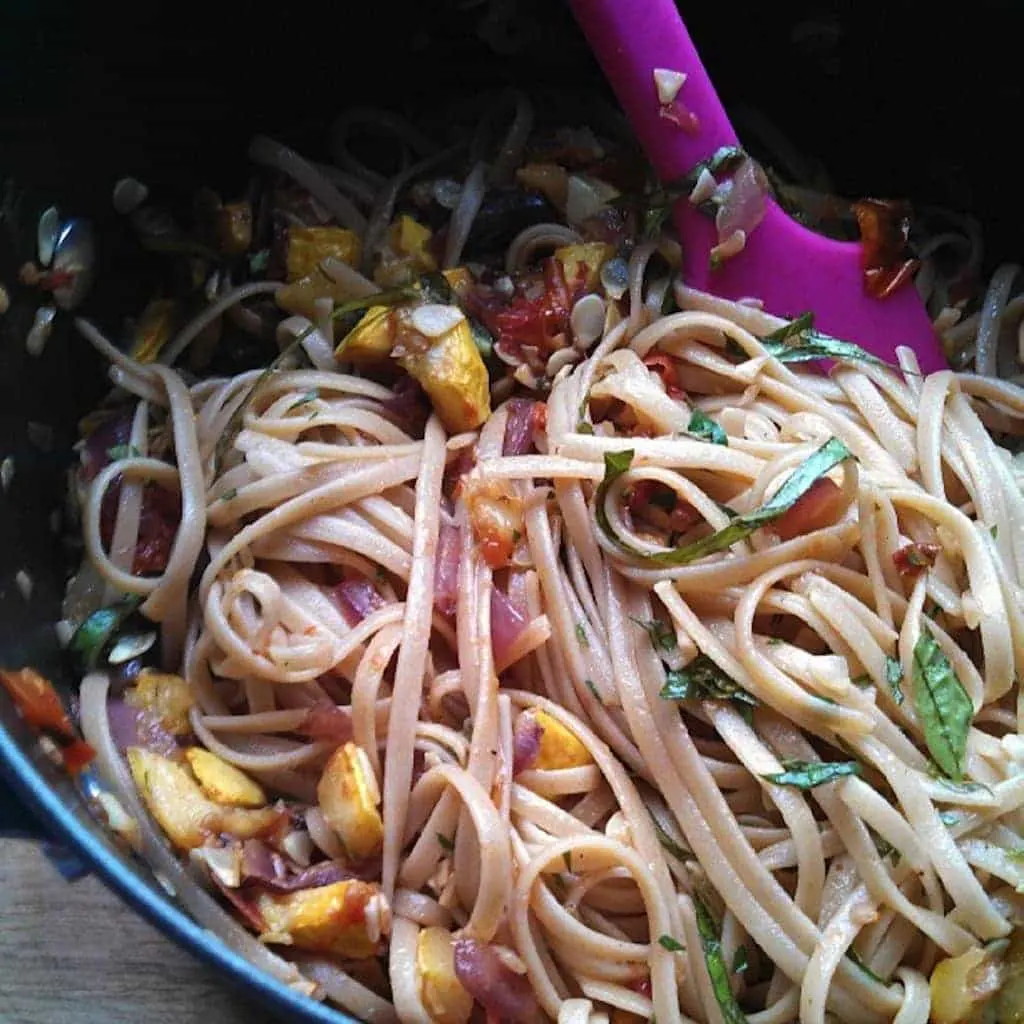 First… Roasted Summer Squash Pasta

Roasted Summer Squash Pasta
Whole wheat pasta (linguini pictured here) tossed with fresh roasted summer squash, red onions, tomatoes, and garlic. Sprinkled with fresh herbs and a little bit of Parmesan cheese & this dish is not only super easy, but a seriously healthy, delicious. and filling dinner.
Ingredients
5 cups summer squash, scrubbed and coarsely chopped
1 medium red onion, diced
2 cups fresh garden tomatoes (I used a combination of Roma & Cherokee Purple)
3 cloves garlic, minced
2 tablespoons olive oil
1 teaspoon kosher salt
1 (12 ounce) package whole wheat linguini
¼ cup chopped fresh basil (sprinkle in a couple teaspoons of dried if you don't have fresh herbs)
2 teaspoons chopped fresh oregano (add just a pinch of dried if no fresh herbs)
¼ cup shredded Parmesan cheese (more to taste)
Instructions
Pre-heat the oven to 425. Line a sided baking sheet with parchment paper.
Toss the squash, red onion, tomatoes, and garlic with the olive oil.
Spread the vegetables in a single layer across the prepared baking sheet. Sprinkle them with the kosher salt.
Roast the vegetables for about 30 minutes, stirring around about halfway through.
While the veggies roast, cook the pasta according to package directions, reserving about 1 cup of the pasta water before draining.
Place the drained pasta back in the pot, stir with about ¼ of the reserved liquid (so the noodles don't stick) and toss with the finished roasted vegetables. Add more liquid if you need it.
Sprinkle the pasta with the herbs and cheese and serve.
This stuff is also REALLY good cold.
Next up… Grilled Yellow Squash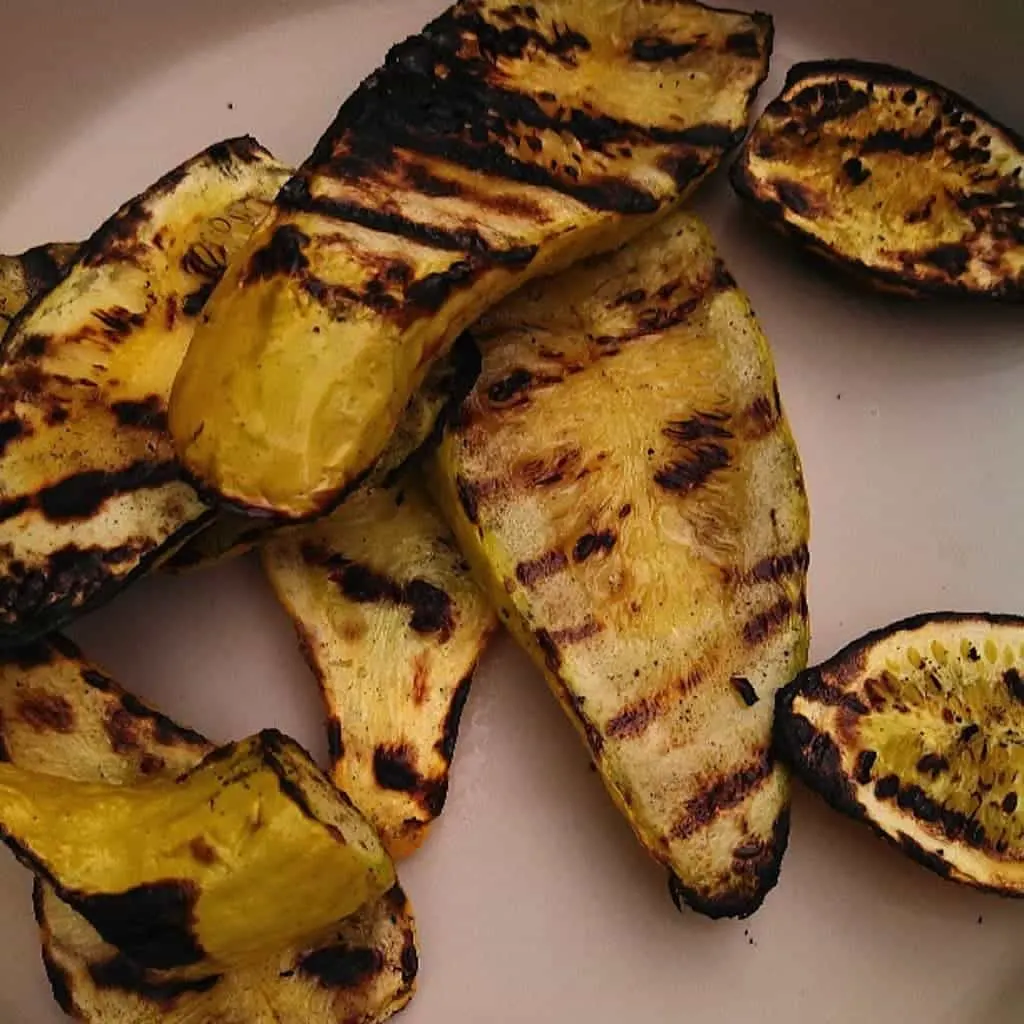 Grilled Summer Squash
Fresh garden yellow squash brushed with a little garlicky oil, sprinkled with kosher salt, and grilled to charred veggie perfection.
Ingredients
yellow squash, scrubbed
olive oil
garlic, minced (optional)
kosher salt
Instructions
Heat the grill to about medium (350-ish).
Cut the squash into thick slices lengthwise. My slices here are about ¾" thick.
If you are using garlic, add it to the oil (start with just a tablespoon or two-- get more if you need it.) and then brush the garlic and oil over all sides of the squash slices.
Throw them on the grill, sprinkle with kosher salt, and close the lid.
They'll need about 4-5 minutes on each side. I like mine kinda charred.
Serve and eat!!
Notes
I did not include amounts or measurements with this recipe because you can make as much or as little as you need. It's a perfect way to do veggies for one or veggies for ten!!
And then we have… Simple Summer Squash Pizza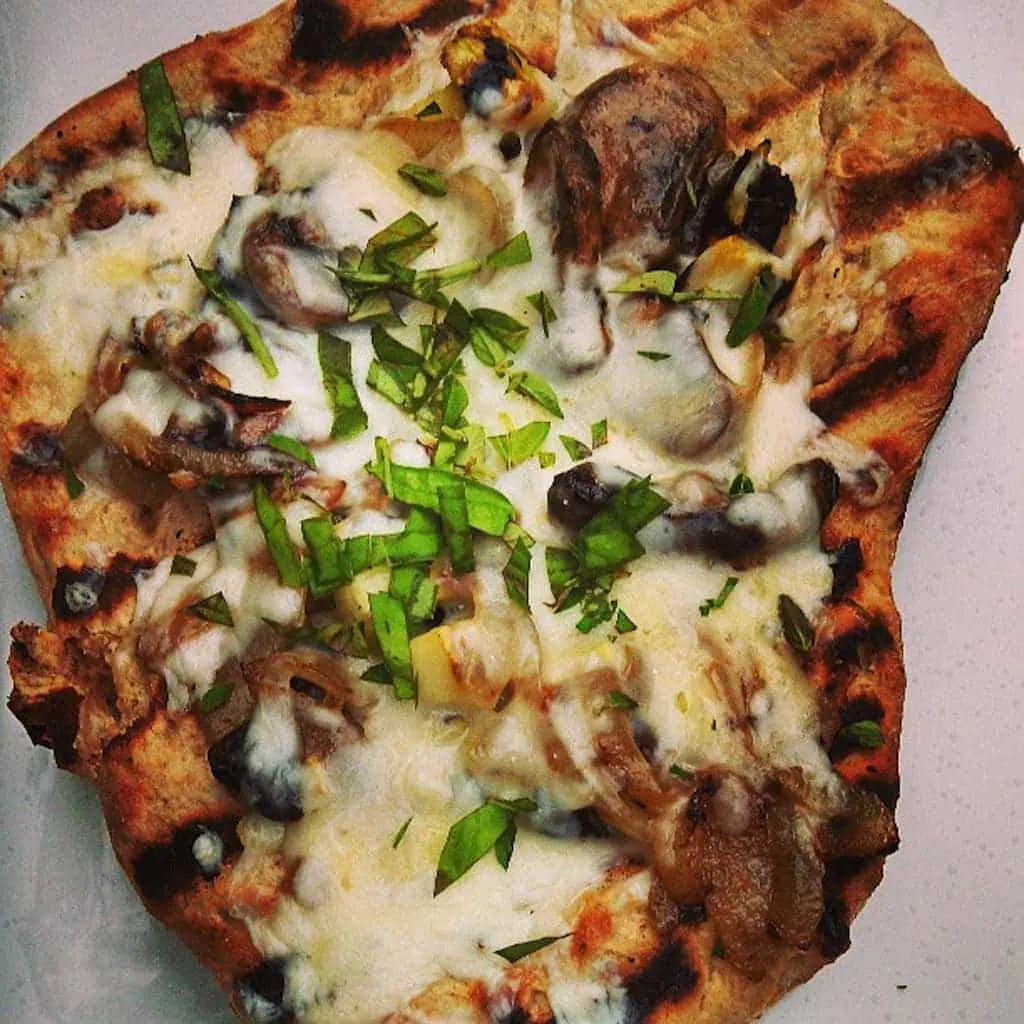 Simple Squash Veggie Pizza
Super fast summer meal using your favorite pizza dough and fresh garden veggies.
Ingredients
2 pizza doughs (your favorite! store-bought or homemade -- you could even use one of those pre-cooked thick crusts. Or flatbreads. Go crazy)
1 tablespoon olive oil
2 cloves garlic, finely minced
2 cups summer squash, coarsely chopped (I used the grilled squash recipe and chopped it after cooking)
2 cups other veggies (options include onions, peppers, mushrooms, zucchini, broccoli, fresh tomatoes -- whatever you like)
bacon crumbles (this is optional and not in the photo shown but I think it would be DELICIOUS)
2 cups shredded cheese (I used half sharp white cheddar -Cabot of course - and half part skim mozzarella)
fresh torn basil, crushed red pepper flakes, and shaved Parmesan cheese to garnish
Instructions
Heat the grill (if you are grilling your pizza) or the oven to 500 degrees. If you have a pizza stone use it! If you do not have a pizza stone, dust flour and a little cornmeal (if you have it) on the back of a baking sheet.
Brush the first pizza crust with the olive oil. Sprinkle with half of the minced garlic.
Evenly spread half of the squash, half of the veggies, and half of the cheese over the pizza.
Bake for about 7 minutes, or until the crust is golden and starts to crisp and the cheese is bubbly. ***While one pizza bakes prepare the second one following the same instructions***
Garnish with the basil, red pepper flakes, and Parmesan cheese.
I actually have MORE squash recipes … and I still have a sink full of fresh garden squash. But we will save that for another day. What are your favorite ways to prepare yellow squash? Recipe links are welcome!!
P.S. Don't forget to enter to win a free copy of the Tasty Food Photography eBook!!
P.P.S. Don't forget to enter to win a $100 Amazon Gift Card!!