A dang good diner classic. Grilled sourdough, deli Swiss, crispy bacon, juicy tomatoes, and natural slow roasted turkey breast! This Super Bird Sandwich is a copycat recipe you'll love making at home.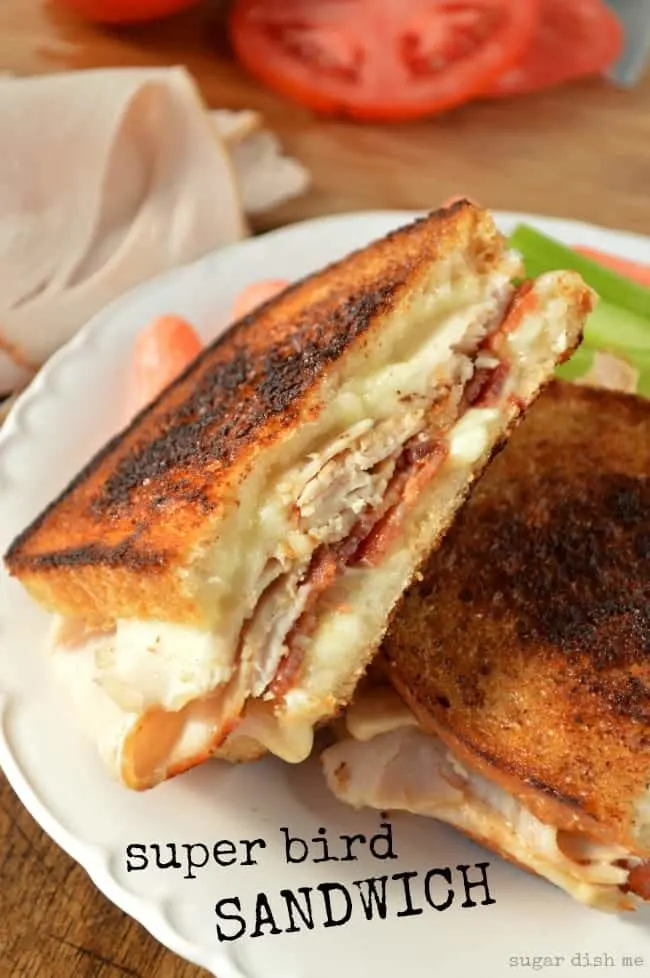 This post is sponsored by Hillshire Farm® Naturals and Food Lion. Sharing products and brands I use in my own kitchen is a way for me to give tips and keep the lights on all at once. All opinions, the original recipe, and food photos are my own!
So… My kids were out of school for 5 days this past week. Friday through Wednesday. Thursday was my reprieve. But now? For this Friday? They are calling for winter weather. IN THE SOUTH. Do you know what that means?
If you do not live below the Mason-Dixon line, I'll tell you that any mention of a "wintry mix" down here equals disaster. Everything will close. There will be no bread or milk (although I have yet to figure out what happens to all the bread and milk people buy; Is there a giant bread pudding happening somewhere?). And of course, the kids will be out of school AGAIN.
All of this is making it extra hard to maintain my routine.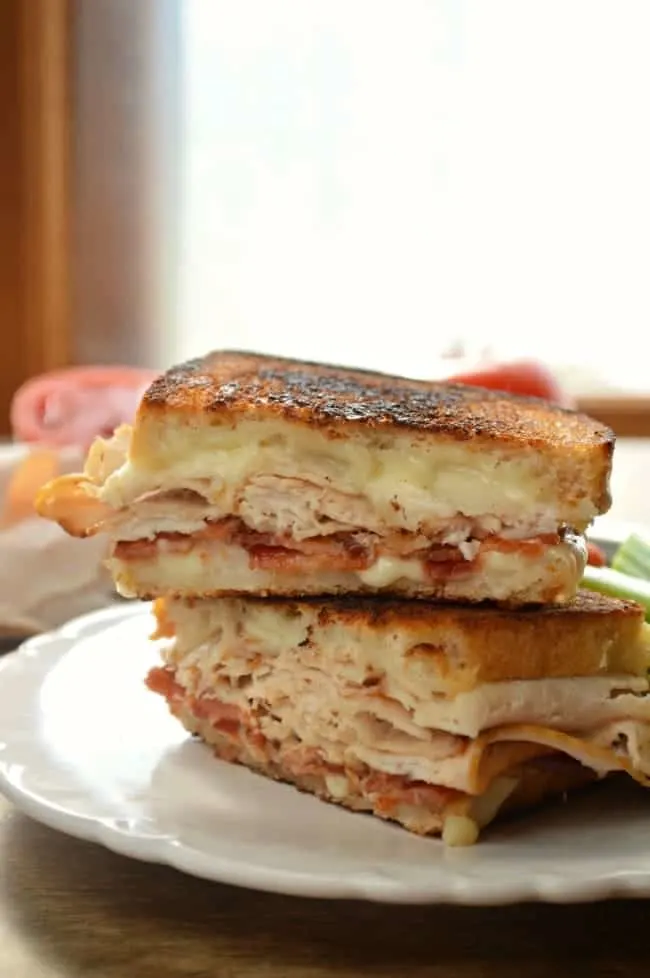 Like last night, life happened and I didn't make it home from running errands until a little after 7 p.m. We try to hit the gym by 8, but at 7:45 I had yet to start dinner between walking dogs, talking to kids, and trying to quiet my 153465476523 notifications from everywhere. At this point you can forget cooking. I'M NOT DOING IT. But these dudes still have to eat.
They are like bottomless food pits and just when I think they don't need to eat more, THEY DO.
Anyway.
I could just feed them cereal but then I have guilt (which is dumb because I am totally fine with cereal for my dinner, but whatever). So my answer – at least once a week – is a sandwich. A big fat sandwich. Sometimes we pile things up on sub rolls. Sometimes we layer slices on wraps with hummus. Other times — when it's freezing and the sky is about to fall like today — I make grilled sandwiches. This Super Bird Sandwich Recipe is one of my FAVORITES.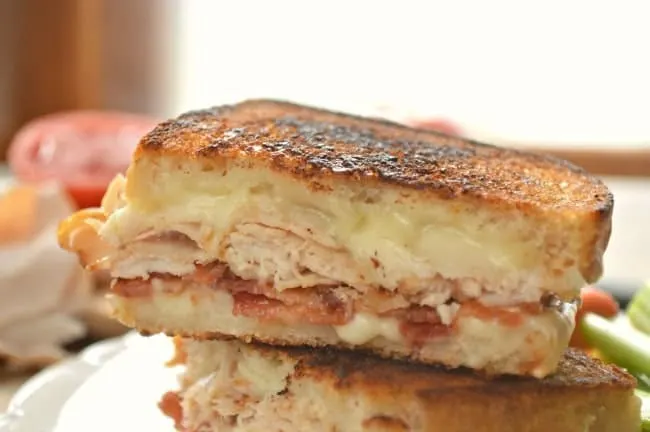 Denny's has this sandwich called the Super Bird. It's grilled sourdough, Swiss cheese, tomatoes, and bacon, plus turkey. Oh! And some jazzed up mayo. That's important. I make these at home using Hillshire Farms® Naturals Slow Roasted Turkey Breast. Because it's quality without standing in line at the deli. Because Hillshire Farm® Naturals contain no artificial ingredients, preservatives, colors, or added nitrites/nitrates. Except those occurring naturally in celery juice.
And who doesn't love celery juice?! Kidding. But seriously. There's no junk. Just good stuff.
All of this makes working sandwiches into our completely crazy routine MANAGEABLE. Which is super important to me.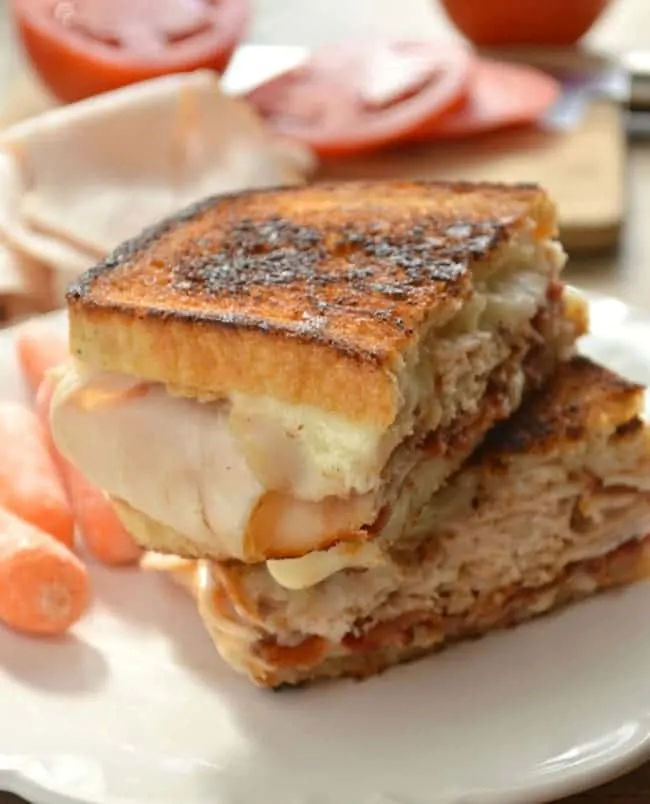 Get a coupon to save $1 on any Hillshire Farms® Lunch Meat at Food Lion so you can make awesome sandwiches and get back in the swing of things.
(offer expires 2/6/16)
Super Bird Sandwich
Ingredients
2 tablespoons butter
2 tablespoons mayo
2 teaspoons chipotle-based hot sauce (or your favorite)
4 slices sourdough bread
4 ounces Hillshire Farms® Naturals Slow Roasted Turkey Breast
2 ounces deli Swiss, very thinly sliced
4 slices tomato
4 slices bacon, cooked and excess grease drained on paper towels
Instructions
Melt the butter in a large skillet over medium heat.
In a small dish mix the mayo and hot sauce. Spread one side of each slice of bread with the sauce, then place the dry side in the skillet to soak up the butter. Place the turkey in the skillet so it will heat and slightly brown while the bread grills and the cheese melts.
Lay the cheese slices on top of the sauce -- I like 2 or 3 slices on each side which is why I get it sliced super thin.
Lay tomatoes on one side of each sandwich and bacon on the other -- 2 cooked slices per sandwich. Then pile the turkey on one side of each sandwich and carefully use your spatula to put the halves together.
At this point both halves should be grilled but I like to gently press so they stick together. Continue cooking until the sandwiches are melty inside and golden toasty on the outside. Cut in half and serve.
If you need help finding Hillshire Farms ® Naturals I found mine at Food Lion! It looks like this: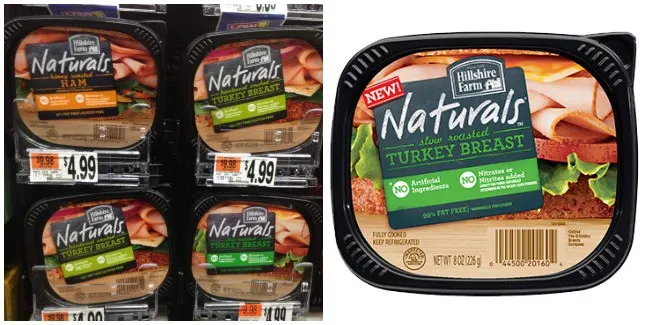 This is a sponsored post written by me on behalf of Hillshire Farm®. All opinions are entirely my own.