Italian Wedding Soup with Kale is a lighter twist on a classic soup recipe. It's easy to make and loaded with goodness, and the leftovers are terrific!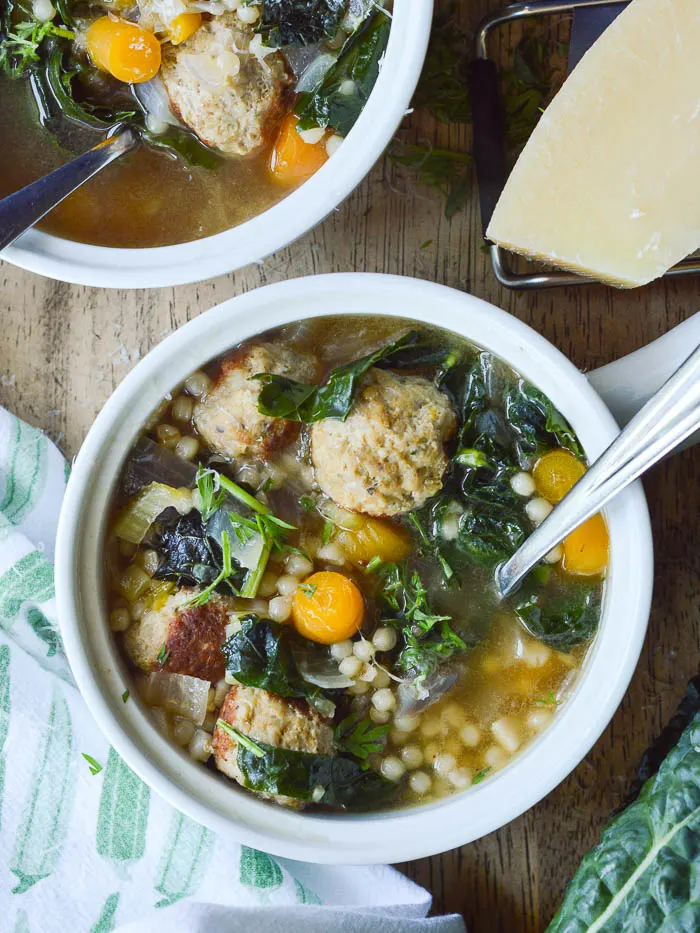 The first time I tested this recipe, I'd just had a REALLY bad haircut. Like … the world's worst. I looked like a cocker spaniel. And I LOVE cocker spaniels! But not on my head.
So anyway, it was a day with a lot of feelings is what I am saying. And I'd like to say that making [and eating] this soup helped a little bit.
Soup is good like that.
Italian Wedding Soup with Kale is just like the classic recipe, but with a little bit of a twist. I use kale in place of the spinach, and ground turkey in place of beef and pork. I sear the meatballs instead of just dropping them in the broth to boil. And! In this version I used Israeli couscous instead of acini di pepe.
More on that in a minute. First let's talk meatballs.
How to Make Meatballs for Italian Wedding Soup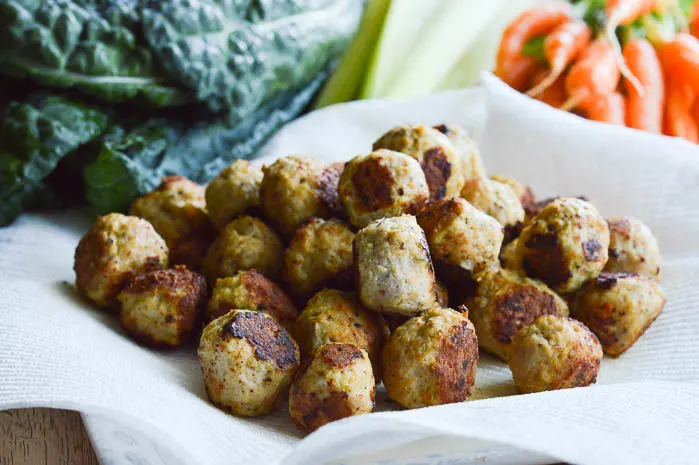 Making meatballs for soup is not that different from making BBQ Turkey Meatballs or Slow Cooker Meatballs. You need the same basic building blocks.
1 pound of ground meat (in this case, ground turkey)
1 egg, lightly beaten
4 tablespoons breadcrumbs (more on breadcrumbs in a second!)
2 tablespoons of seasoning
1/2 teaspoon salt
What kind of breadcrumbs are best for meatballs?
I grew up with a mom that put crushed Ritz crackers in her meatloaf, so I tend to be pretty resourceful in the breadcrumb department. My general answer here is always going to be to just use what you have on hand. If that means you need to crush saltine crackers? COOL. But if we wanna get specific:
Panko breadcrumbs are made from bread without crust. They are fluffier and lighter than traditional breadcrumbs, and the difference will show in your meatball texture
Regular breadcrumbs will definitely require you to be heavier-handed with the seasoning because they are, well – PLAIN
Italian breadcrumbs really vary from brand to brand so taste them before adding and adjust your seasoning accordingly.
Crushed crackers will also affect the texture depending on how fine the crumb is, so have that in mind.
PRO TIP: Brown the Meatballs
If you read some more traditional Italian Wedding Soup recipes, they call for you to drop the raw meatballs into the boiling broth to cook. THIS RECIPE calls for browning them ahead of adding them to the soup.
YES, it's an extra step. YES it's worth it.
It will also let you make the meatballs ahead if you are a meal prepping kind of person.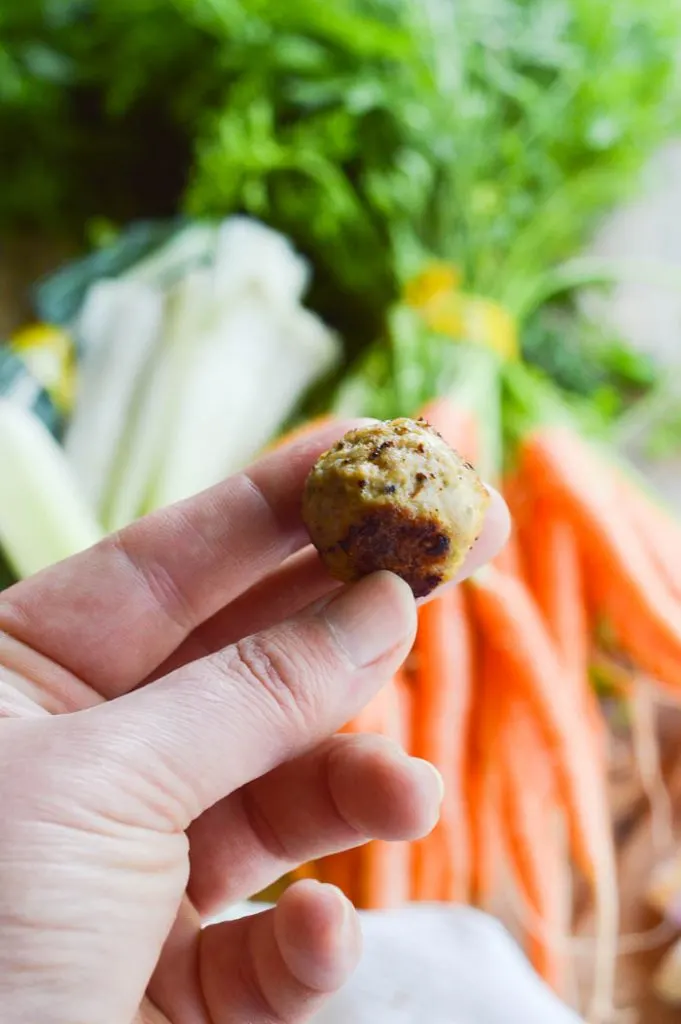 Also it's freezing cold. So the only good thing to come out of any of this is soup.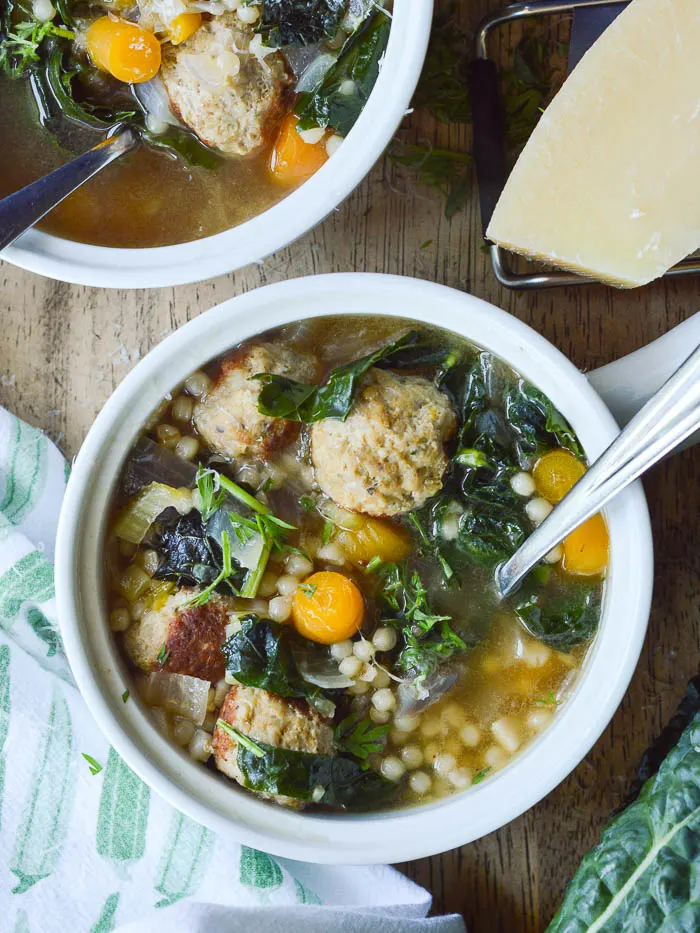 Yield:

6
Italian Wedding Soup with Turkey Sausage & Kale
Ingredients
1 pound turkey sausage
1 egg, lightly beaten
4 tablespoons Italian seasoned bread crumbs
1 tablespoon grated Parmesan cheese
1 tablespoon chopped fresh basil
1/2 teaspoon onion powder
4 tablespoons olive oil, divided
1 medium onion, chopped
1 cup carrots, chopped
6 cups low sodium chicken broth
1/2 cup uncooked small pasta; I used ditalini
2-3 cups raw kale, chopped and stems removed
Instructions
In a large bowl, combine the first 6 ingredients. Pinch the turkey mixture by the rounded teaspoonful and shape into meatballs. Having a clean plate handy to set the raw rolled meatballs on is handy.
In a large skillet heat 2 tablespoons of the olive oil. Over medium to medium high heat brown the meatballs, working in batches. It takes about 5 minutes per batch to brown the meatballs and cook them through. Remove them from the skillet and set aside.
In a medium to large stock pot heat the remaining 2 tablespoons of oil. Add the onions and carrots and cook over medium heat until the onions are soft and translucent, 4-5 minutes.
Pour in the chicken broth and bring to a boil. Toss in the pasta and kale. Add the meatballs back in. Reduce the heat back to medium and simmer until the pasta is tender.
Nutrition Information:
Yield:
6
Serving Size:
1
Amount Per Serving:
Calories:

369
Total Fat:

20g
Saturated Fat:

4g
Trans Fat:

0g
Unsaturated Fat:

14g
Cholesterol:

101mg
Sodium:

693mg
Carbohydrates:

20g
Fiber:

2g
Sugar:

3g
Protein:

28g