Taco seasoned ground beef, Cabot's Chipotle Cheddar Cheese, guacamole, and fresh pico de gallo grilled between thick slices of sourdough bread.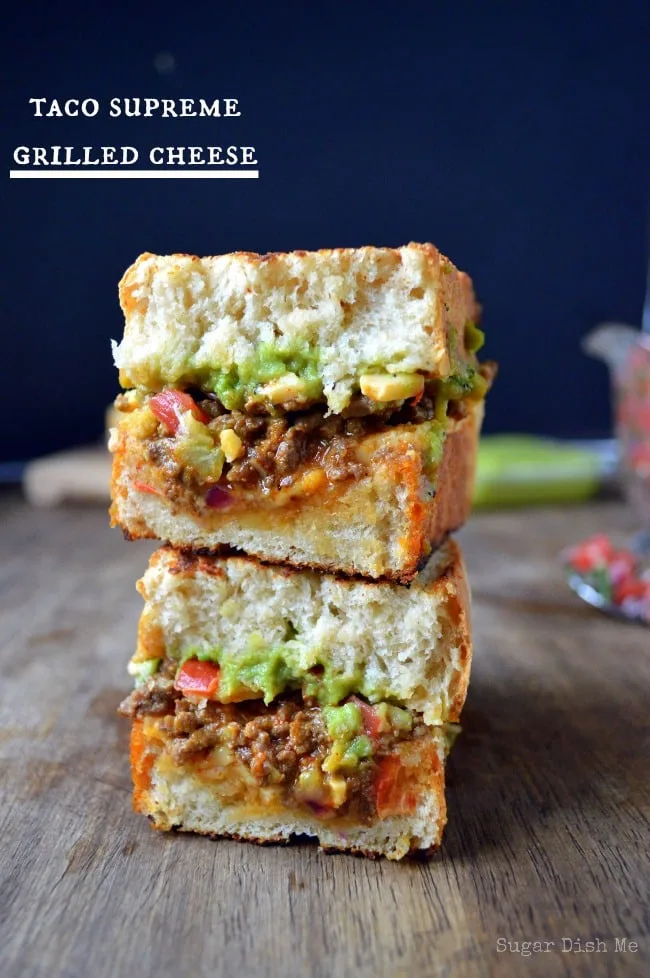 This sandwich is a game-changer.
Especially in the House of Hungry Boys on Spring Break.
Yesterday I was taking a minute to catch up with a friend, and after I rattled off the list of things I am currently juggling I realized how totally scattered I am. I also realized that margaritas are in order.
Two boys milling through the kitchen twice hourly is not helping my current state of affairs either. Evan keeps doing this thing where he walks past me, carefully avoiding eye contact, heads to the corner of the counter where the Starburst jellybeans are stashed, grabs a few, and then tries to walk out again while cupping the jellybeans in his hand. He thinks I don't notice.
But after the third nonchalant stroll past me and all the healthy snacks I made a special trip out to stock up on, I have to call him on it. I mean… he should at least know that he is NOT being sneaky. As soon as I say his name though he looks at me, eyes all wide, and says, "Whaaaaaaaaaaaaat?!" while feigning innocence.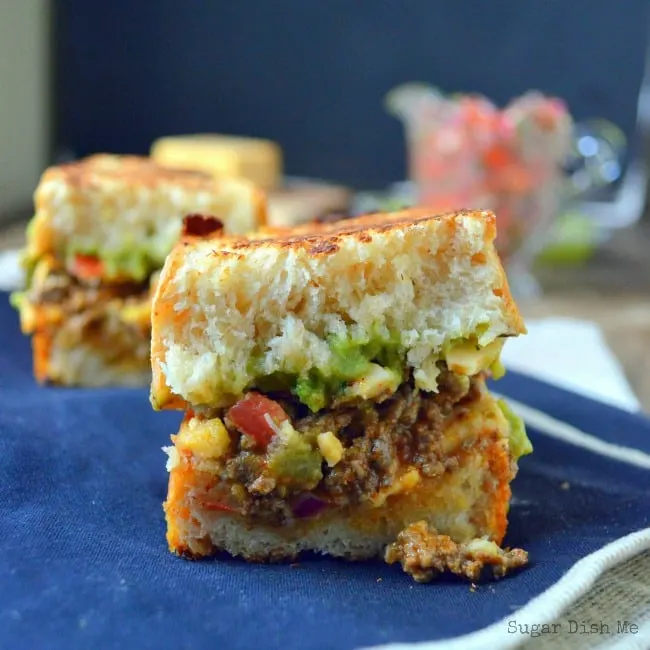 "If you're hungry, make a sandwich," is ever my response. Although, to be fair, I don't think my 11-year-old could make THIS sandwich without a little help.
Some of you know that I occasionally do work with Cabot Creamery – I cannot say enough good things about their products and company. Sometimes they send me boxes of goodies to play with in the kitchen, and the contents of this month's box served as all the inspiration I needed to make a really excellent sandwich.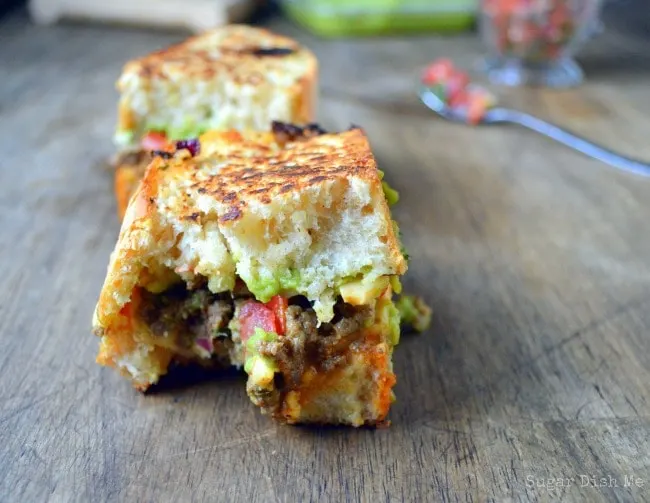 I used really really really lean ground beef dressed up with my favorite taco seasoning blend. I made fresh pico de gallo, which is my other half's favorite thing in the world to eat. He gets disproportionately excited when he sees me chopping tomatoes.
Cabot's Chipotle Cheddar gave us cheese with that perfect smoky spice from the chipotle peppers, and Wholly Guacamole gave that fresh and rich buttery avocado flavor. I can NEVER find a decent avocado here. My local stores are not with the program AT ALL. But Wholly Guacamole is as fresh and natural as you can get without mashing the avocados yourself. It's creamy and perfect and I love it. King Arthur Flour sent a box of their Alaskan Sourdough Yeast Bread Mix and not only was it super simple to throw together, but totally stood up to all the things I piled in this sandwich.
This sandwich basically solved all my problems for the day.
Taco Supreme Grilled Cheese
Taco seasoned lean ground beef, fresh pico de gallo, guacamole, and chipotle cheddar cheese on thick slices of grilled sourdough
Ingredients
For the Beef:
½ pound lean ground beef
2 tablespoons chili powder **see notes**
1 teaspoon cumin
½ teaspoon dried oregano
½ teaspoon garlic powder
½ teaspoon onion powder
¼ teaspoon cayenne pepper (optional)
salt & black pepper to taste
½ cup water (more as needed)
For the Pico de Gallo:
2 Roma tomatoes, diced **see notes**
2 tablespoons diced red onion
1 jalapeno pepper, finely minced
1 clove garlic, minced
2 tablespoons chopped cilantro
¼ teaspoon onion powder
¼ teaspoon garlic powder
½ teaspoon kosher salt
½ teaspoon black pepper
2 tablespoons red wine vinegar
2 tablespoons olive oil
For the Sandwiches:
8 slices thick sourdough bread
4 tablespoons Wholly Guacamole
4 ounces Cabot Chipotle Cheddar Cheese, shredded
butter for the skillet
Instructions
Brown the ground beef. Add the chili powder, cumin, oregano, garlic and onion powders, cayenne, salt, and pepper, and stir to coat. Pour in the water and let the mixture simmer over medium heat for a few minutes, adding water to keep everything moist as needed. Remove from the heat and set aside.
To make the pico de gallo, toss together the tomatoes, onions, peppers,garlic, and cilantro. Sprinkle with the onion and garlic powders, salt, and pepper. Pour the vinegar and oil over everything and toss.
Heat a medium to large skillet. Spread guacamole on one slice of bread for each sandwich. On the other slice layer cheese, taco beef, more cheese, and pico. Place the slice with the guacamole on top.
Butter the skillet and add the sandwich. Grill until golden and toasty. Flip to toast the second side. Repeat with the remaining sandwiches. Serve hot.
Notes
I always make my own taco seasoning, but if you do not have access to a large spice selection you can certainly use a package of taco seasoning (adjust the amount according to package instructions).
You can also use store-bought chunky salsa in place of the pico, but fresh is always best!
Full disclosure: Cabot Creamery sends me product on a regular basis, but my use of their products in my recipes is totally voluntary and all opinions are my own. I was not compensated for my recommendations in this post, these are just products I use in my own home and would recommend based on my experience.