A simple, delicious dish! Creamy Lemon Risotto with Spring Peas is fresh and full of flavor, studded with tender green peas and a hint of Asiago cheese.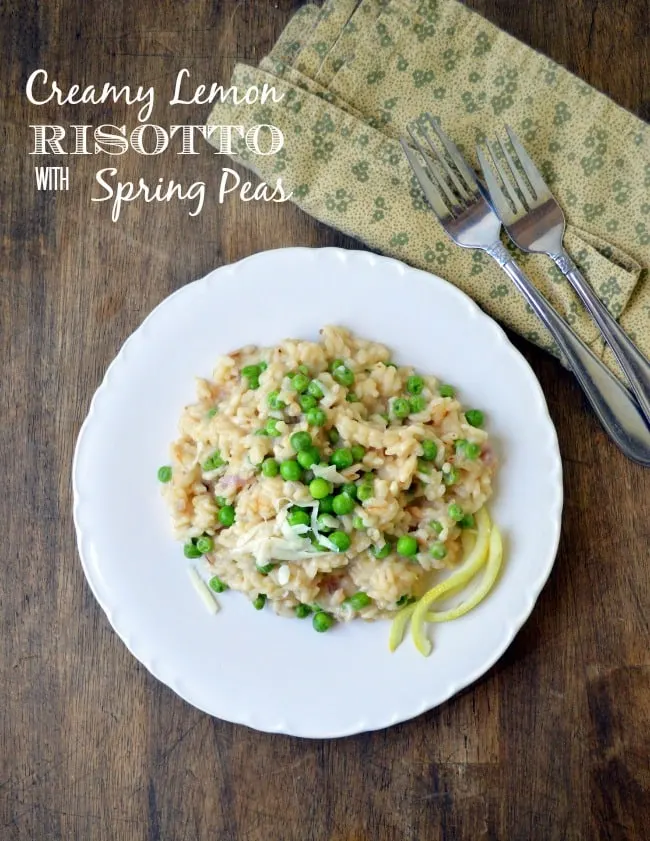 When I was a kid, peas were at the top of the list of things I WOULD NOT eat. I mean, right up there with lima beans and the dreaded canned creamed corn. I'm not sure if it was the mushiness of canned peas or the missing flavor that happens when you boil frozen peas, drain the water, and serve them without seasoning or salt, but I WAS NOT having any part of that. Ewwww.
I think we all know that as we grow our tastes change (except for those few adults that still eat like 5-year-olds where all the food needs to be the same goldy chicken finger macaroni color, and nothing can touch on the plate — you know who you are), but for me, with peas, I think it's more that I learned what they actually taste like.
Have you ever had fresh peas?
They are like candy.
And so the lima beans and creamed corn were left on the Never Gonna Happen list all alone. I guess they have each other.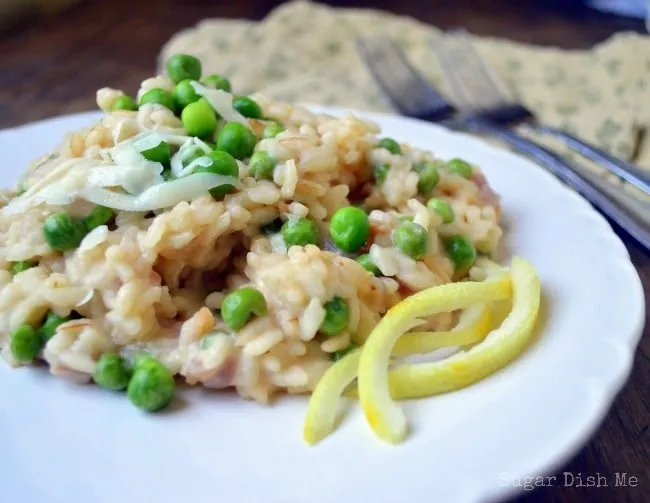 Arborio rice is something I think you should always always have on hand. It lives in my pantry forever and always, and I grab it whenever I have a few veggies on hand but have no idea what to make. This risotto comes together so easily using things that I nearly always have hanging around. It's filling and fresh and totally delicious. The lemon flavor really shines, but in a subtle way, and I am a firm believer in both cream and cheese. They basically improve all the things.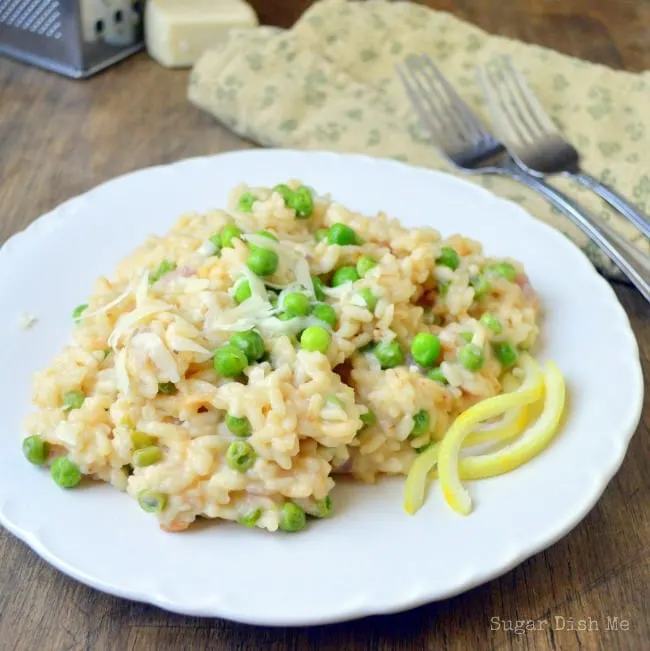 Creamy Lemon Risotto with Spring Peas
A simple risotto made with wine, cream, chicken stock, and fresh lemon. Studded with tender spring peas and Asiago cheese, this dinner dish is sure the please!
Ingredients
1 tablespoon olive oil
1 tablespoon unsalted butter
½ cup minced shallots (or very finely minced onions)
½ teaspoon sea salt
1 cup arborio rice
½ cup dry white wine (you can substitute more broth if you don't have wine handy)
zest and juice of 1 large lemon
2 cups low sodium chicken broth, plus more as needed
½ cup milk or cream
1 cup fresh spring peas (or frozed, thawed)
½ cup shredded Asiago cheese
fresh mint to garnish (optional)
Instructions
Heat the oil and melt the butter over medium high heat in a large skillet. Reduce the heat to medium. Add the shallots, sprinkle with the salt, and cook for 2-3 minutes, until translucent and very fragrant (if you opt for onion cook longer so they are more caramelly and sweet).
Add the arborio rice and toast for about 2 minutes. Pour in the wine and stir until it absorbs into the rice.
Add the lemon zest and juice. Stir until it is absorbed.
Add the broth 1 cup at a time, stirring constantly until all the liquid is absorbed. Then add the milk or cream, stirring until all the liquid is absorbed. If the rice is not cooked at this point, you can continue adding broth ½ cup at a time, stirring and letting the liquid soak up between each addition.
Stir in the peas and just let them heat slightly. You still want them to retain that fresh, almost crisp texture. Stir in the cheese. Garnish with the mint if you'd like. Serve immediately.