All the flavors I love in Thai chicken piled on a French bread pizza. Thai Chicken French Bread Pizza is a delicious blend of flavors and textures, and it comes together quickly for a great weeknight meal.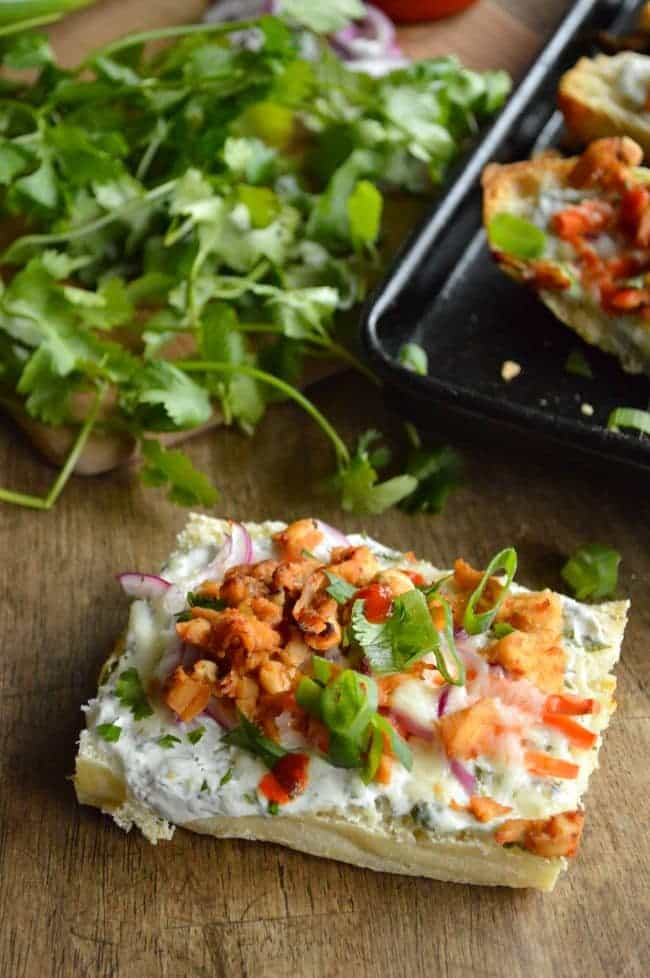 I'm not sure if it's because I live in a house full of guys (save the dog and cats who cannot talk so they don't count. Sorry, girls) or if it's just because I'm a mom, but I find myself saying really ridiculous things pretty regularly.
Sometimes I when the boys are actually listening to me they laugh at the words coming out of my mouth. So I took a minute to write some of them down.
"No one wants to hear you cry about dominoes."
"Who left 3 popsicle sticks behind the couch?" (I'll tell you who. It was EVAN.)
"Why are you walking around outside in your socks?"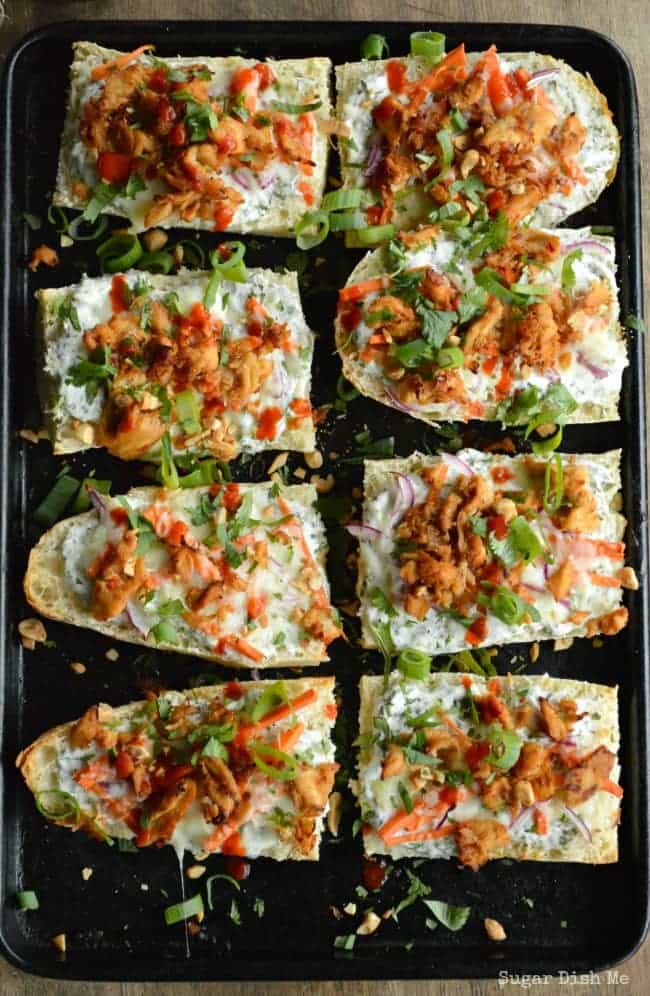 "The shower curtain liner goes INSIDE the shower. That's why there is water all over the floor."
"No, you cannot have chocolate at 8:30 in the morning."
"Brush your teeth."
"Brush your teeth."
"Did you brush your teeth?" (and more importantly, why do I have to tell them to brush their teeth?)
"No, I do not want to play Monopoly. Ever."
"Who left an empty bag of pretzels in the cabinet?"
"I have no idea what you are talking about." (after a 10 minute recap of a Minecraft video watched on YouTube)
"You ate onions yesterday. What's the problem?"
"Dude. It's just a game."
This list of crazy ridiculous could go on for daysssss. In fact I am probably forgetting lots of things, including Chad's improv Burger King ads yesterday (which is definitely a whole other story).
This pizza is anything but ridiculous (unless ridiculously GOOD counts). I took some of my favorite things about Thai food — slightly sweet, slightly spicy, just a hint of lime juice sour — and put them on one of my childhood favorites: French bread pizza. You guys. The results are crazy delicious.

Thai Chicken French Bread Pizza
Delicious Thai chicken, carrots, onions, peanuts, cilantro, and Sriracha on toasty french bread with a little melty mozzarella cheese!!!
Ingredients
Chicken:
2 teaspoons oil
2 cups uncooked boneless skinless chicken, diced
2 teaspoons chili sauce (I used SAMBAL OELEK Ground Fresh Chili Paste)
1 tablespoon low sodium soy sauce
1 teaspoon peanut butter
¼ cup water
Sauce:
⅔ cup plain Greek yogurt
⅓ cup chopped cilantro
juice of ½ a lime
Pizza:
1 loaf French bread, halved and then sliced horizontally (like you are slicing bread for 2 giant sandwiches
1 cup shredded mozzarella cheese
¼ cup matchstick carrots
¼ cup thinly sliced red onions
2 tablespoons chopped peanuts (I use dry roasted UNsalted)
⅓ cup chopped cilantro
¼ cup chopped green onions
Sriracha sauce to garnish
Instructions
Preheat the oven to 400.
In a large skillet heat the 2 teaspoons of oil. Add the chicken and brown it. Add the chili sauce, soy sauce, and peanut butter. Stir and toss. After a minute add the water and stir. Continue cooking until the sauce is thick and mostly soaked into the chicken (and the chicken is cooked through). Remove it from the heat and set aside. Depending on the size of your chicken this step should really only take about 10 minutes start to finish.
Add the Greek yogurt and cilantro to the blender. Pulse until it's well combined -- it will have a pretty green tint but some of the cilantro leaves will still be in tact. Squeeze in the lime juice and stir to combine.
Lay the French bread slices on an ungreased baking sheet. Spoon ¼ of the Cilantro Yogurt blend onto each of the French bread slices.
Scatter the chicken across each pizza. Sprinkle the cheese over the chicken. Add the carrots, red onions, and chopped peanuts.
Bake for about 15 minutes.
Top the baked pizzas with the chopped green onions, more cilantro, and then dot them with Sriracha sauce.
EAT.
What are some of your favorite childhood foods? Do you find yourself spouting craziness as much as I do?