This major southern classic is actually The Ultimate Tomato Sandwich – a kicked up version celebrating gorgeous garden tomatoes.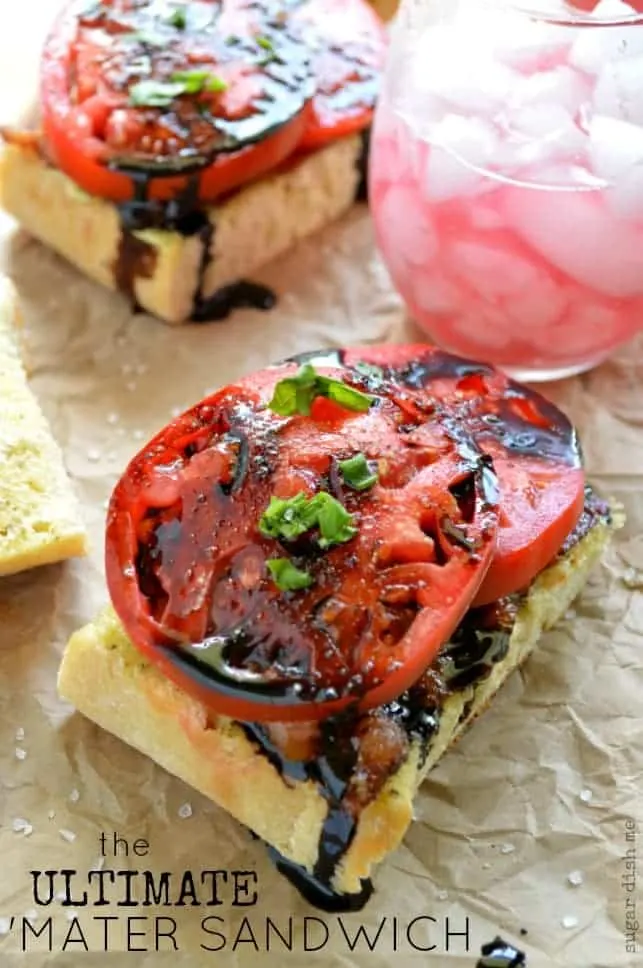 DISCLAIMER: I am not southern enough to pull off the word "mater". And my other half? The guy with a deep southern drawl like you would not even believe? He can't really pull it off either, if only in the interest of proper pronunciation.
But! We where we live, the 'mater sandwich is a very real thing.
If you live below the Mason-Dixon line you probably know what I mean.
Before I moved here I was never much interested in tomatoes. A few slices on a sandwich? Okay. Cherry tomatoes in my salad? Sure. Margherita Pizza? DUH. But revolving an entire sandwich around a tomato? Unheard of.
Garden tomatoes are like a cultural staple of summer – I do get that. And once you've have a really really REALLY good, fresh, garden tomato? There is no turning back. We stopped at a little produce stand the other day and I spied these insanely gorgeous tomatoes and knew exactly where they were headed as soon as I picked them up.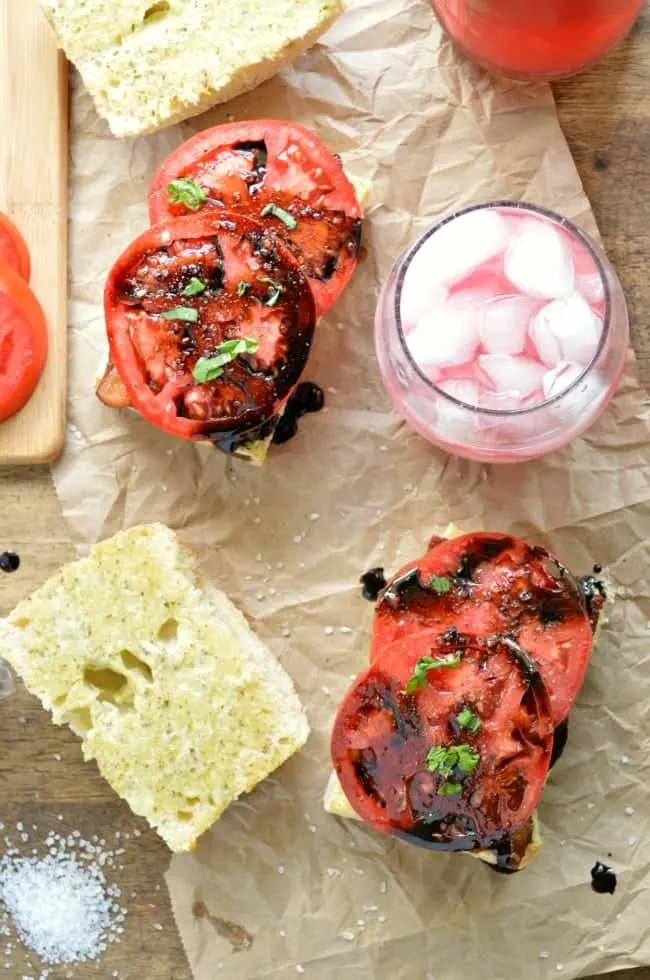 Tomato sandwich purists use Duke's mayo on white Wonderbread.
Sorry guys. I can't get down with the Wonderbread. I need bread with heft.
I also don't love regular mayo. I can use it sparingly, but that's it. So for my ultimate 'mater sandwiches, I made a quick pesto mayo. The basil really does the trick.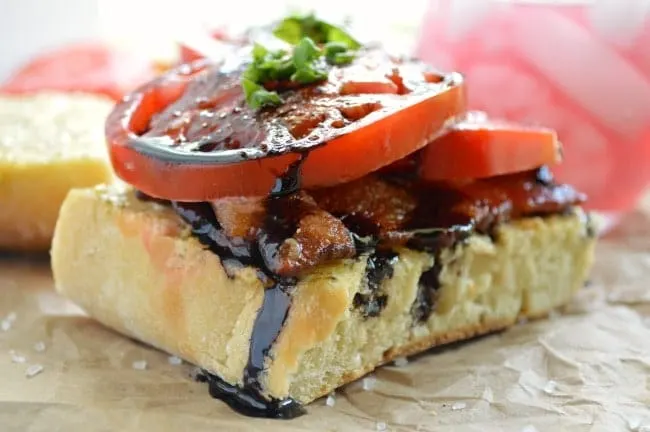 Also there's bacon. BIG THICK SLICES of bacon.
The balsamic glaze happens really quickly on the stove and add a depth of flavor plus some sticky sweetness that I adore.
I am in love with these sandwiches! And I even got my oldest tomato-hating kid to devour one. #tomatowin
Oh! And if you wanted to do a smaller, open-faced version? Wouldn't these be the best summer appetizers? Doing it.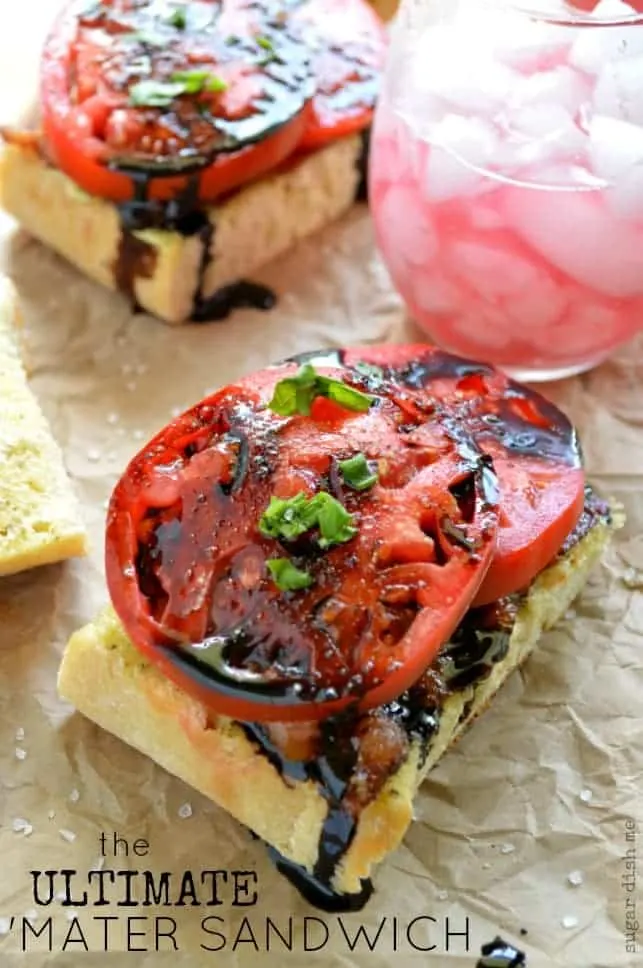 Yield:

2 large sandwiches
The Ultimate 'Mater Sandwich
A southern summer tradition! This recipe is for the most ultimate tomato sandwich you will ever have! Thick cut bacon, pesto mayo, and a balsamic glaze dress up this perfect summer produce into a sandwich that will have you craving garden tomatoes for years to come!
Ingredients
4 thick slices of bread **see note**
3 tablespoons mayonnaise
2 teaspoons prepared pesto
1 large garden tomato, cut into thick slices
4 slices thick cut bacon, cooked and excess grease drained off on paper towels
1/4 cup balsamic vinegar
sea salt and fresh cracked pepper to taste
torn basil leaves to garnish
Instructions
Lightly toast the bread so that the outside has a little crunch, but the inside is still warm and soft. I like to just put my bread in the oven for a few minutes at 350F.
Mix together the mayonnaise and pesto and spread the mixture on each sandwich.
Pile the bacon on top of the pesto mayo. Then add your thick tomato slices.
Pour the balsamic vinegar in a small saucepan. Cook it over medium to medium high heat until it simmers and the liquid reduces by half. This usually takes me less than 5 minutes.
Drizzle the balsamic glaze over the tomatoes, sprinkle them with salt and pepper, and top with fresh torn basil.
Add the top piece of bread, grab a napkin, and enjoy!
Notes
1. This Crusty Herbed Dinner Loaf is PERFECT for making these Ultimate Tomato Sandwiches.
2. Serve a smaller open-faced version for awesome little appetizers!
Nutrition Information:
Yield:
2
Serving Size:
1
Amount Per Serving:
Calories:

493
Total Fat:

29g
Saturated Fat:

6g
Trans Fat:

0g
Unsaturated Fat:

21g
Cholesterol:

34mg
Sodium:

1169mg
Carbohydrates:

41g
Fiber:

3g
Sugar:

11g
Protein:

16g