Simple shortbread dough is pressed into a pan, baked, and then topped with a simple ganache made with Hershey's Truffle Kisses. Truffle Frosted Shortbread is EASY to make for any holiday!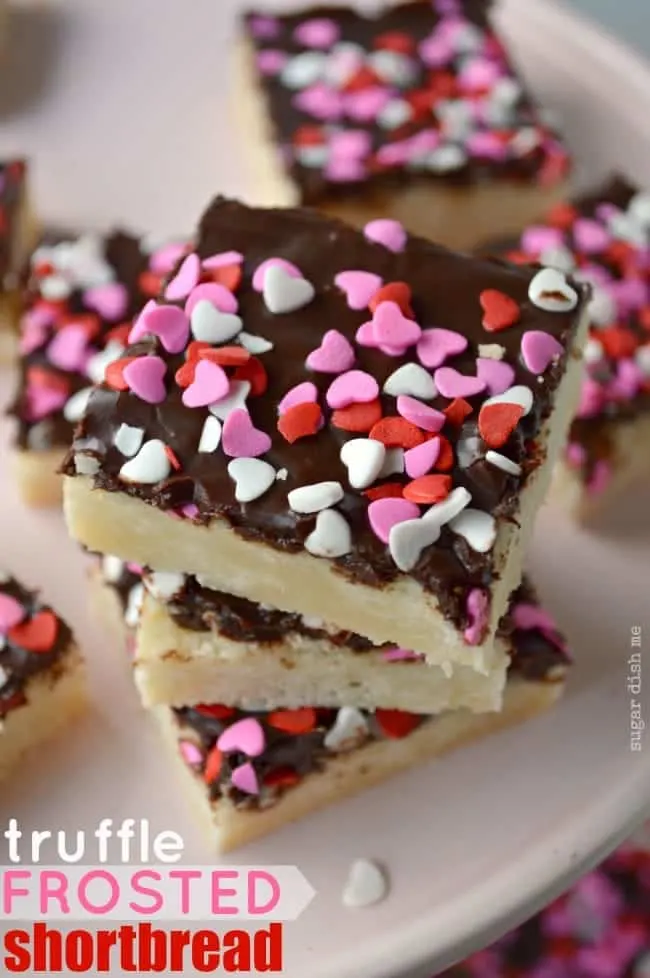 A quick update: I originally posted this recipe in December of 2013 (hence all the Christmas references) but have updated the photos. I didn't change one single thing about the recipe. It's insanely simple! The Hershey's Truffle Kisses are minty near the Christmas holidays but are rich, dark chocolate the rest of the year.
We have a Christmas party to attend in about 2 hours. And I have just realized that I do not own one shred of festive clothing. Nothing with sparkles. Not even any red.
This is what happens when your grown up work uniform consists mostly of yoga pants and hoodies, with a few jeans and t-shirts for those days I actually need to leave the house. I don't even have a sparkle scarf!!!!
Dang.
I also realized the other day that if it is raining I don't own any appropriate footwear for leaving the house. Annnnd it's been raining every. single. day.
Rainy and 75 degrees. Thanks a lot North Carolina.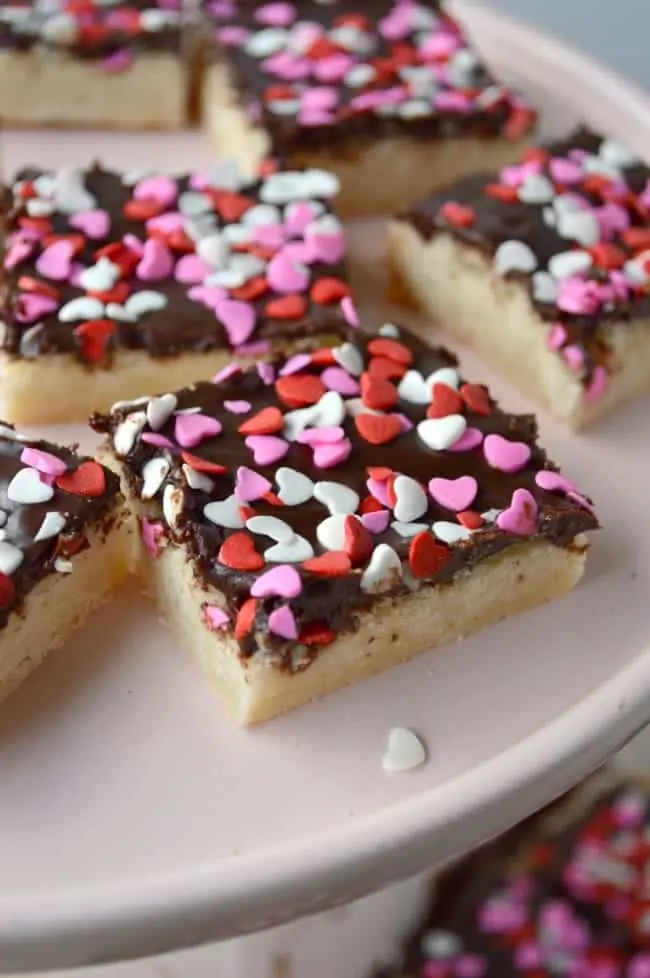 So. To cover for my lack of festive clothing and the summer weather that makes my hair poof out all crazy I have covered my whole house in lights and there are sprinkles on everything. I also have considered taking some Christmas fashion advice from Designing Women.
And for the 3rd Day of Christmas Cookies I made you shortbread!!!! And THEN I covered it in melted Hershey's Truffle Kisses. So it's buttery and minty and sprinkled delicious. The cookies are dressed up enough for everybody.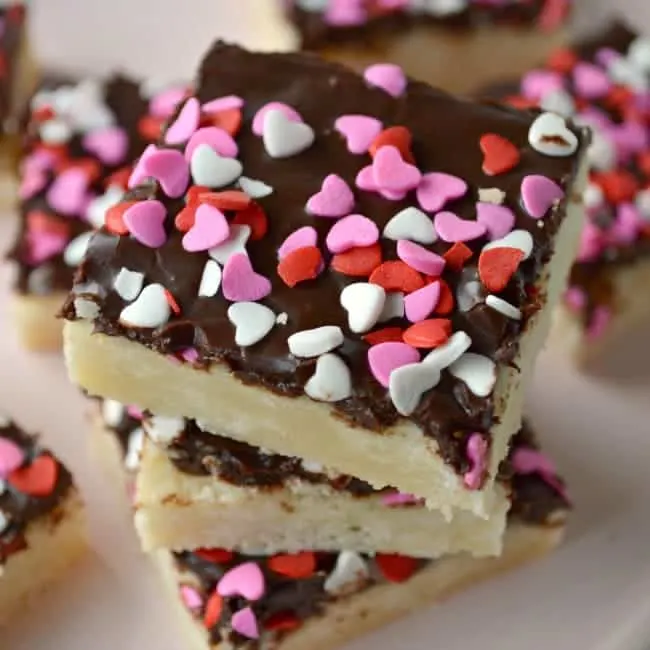 Truffle Frosted Shortbread
Deliciously simple buttery shortbread bars frosted with melted Hershey's Mint Truffle Chocolate and loads of festive nonpareils. Happy Christmas cookies!!!!
Ingredients
For the Shortbread:
½ cup (1 stick) + 1 tablespoon unsalted butter, at room temperature
½ cup granulated sugar
1 cup all purpose flour
½ (scant) cup cornstarch
For the Truffle Frosting:
about 20 Hershey's Mint Truffle kisses, unwrapped
3 tablespoons heavy cream (you can also use half and half or whole milk, but cream gives the best consistency)
SPRINKLES!!!!
Instructions
Butter a 9 X 9 square pan OR line it with parchment paper and then butter the parchment (makes removing from the pan super duper easy). Preheat the oven to 325.
In a large bowl beat together the butter and sugar until fluffy. Add in the flour and cornstarch.
Mix until even coarse crumbles form. The dough will appear dry but if you set aside the mixer and press the dough together with your hands it will form a buttery soft ball.
Press it evenly into the bottom of the prepared pan. Bake for 20-23 minutes. The edges will be just slightly golden but the center will still be pale and will appear slightly puffed.
Let the bars cool completely.
To make the truffle frosting, place the unwrapped Hershey's Mint Truffle candies in a bowl. In a small saucepan heat the 3 tablespoons of cream until it barely simmers. Pour the hot cream over the chocolate and stir until it's smooth. If the chocolate doesn't melt fast enough and seems too cool and clumpy you can scrape the frosting back into the saucepan and continue stirring over low heat until it's smooth.
Pour the melted frosting over the shortbread. Smooth it out with a rubber spatula, pushing the chocolate evenly to all the edges. Top with the sprinkles.
Refrigerate for about 10 minutes until the chocolate sets up. Cut into 12-15 cookie bars.
Shortbread recipe from my
Homemade Caramel Cookie Bar
recipe