With just a few easy ingredients and less than 30 minutes you can have these Apple Butter Whoopie Pies ready to take along to your next potluck party! Perfect for game days, picnics, cookouts, birthdays… there's really no reason NOT to make them and take them along!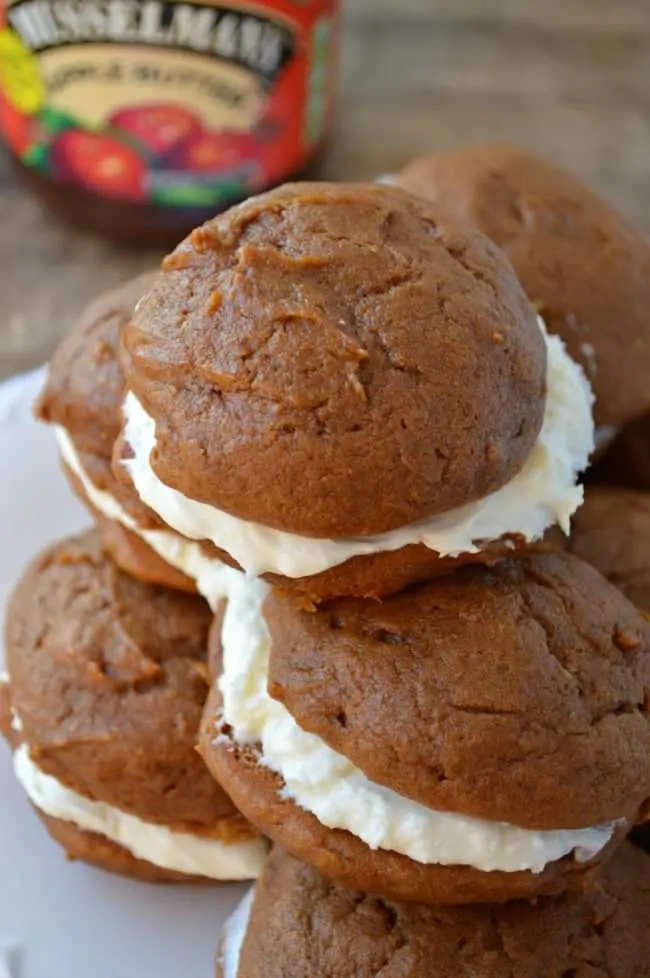 This post is sponsored by Musselman's! I am so thrilled to be partnered with them again this year to bring you some fun ways to use apple butter in your kitchen. As always, all opinions, photos, and original recipes are my own.
These whoopie pies. I am obsessed.
We will talk about them in a minute. Because first — hiiiii.
I feel like it's been forever since we have had a conversation. Things have been crazy busy lately – work is bananas ( a good thing), Chad and I are trying to cross things off our wedding to-do list (also a good thing), free weekends are spent playing with dogs (even more good things!). But all of those good things mean that I have been sitting down, sharing a recipe, talking about food, and leaving out the fun stuff.
I miss the fun stuff.
So I sat down today to write some fun stuff and found that… I think I have been too busy to collect any funny stories for the last 3 weeks.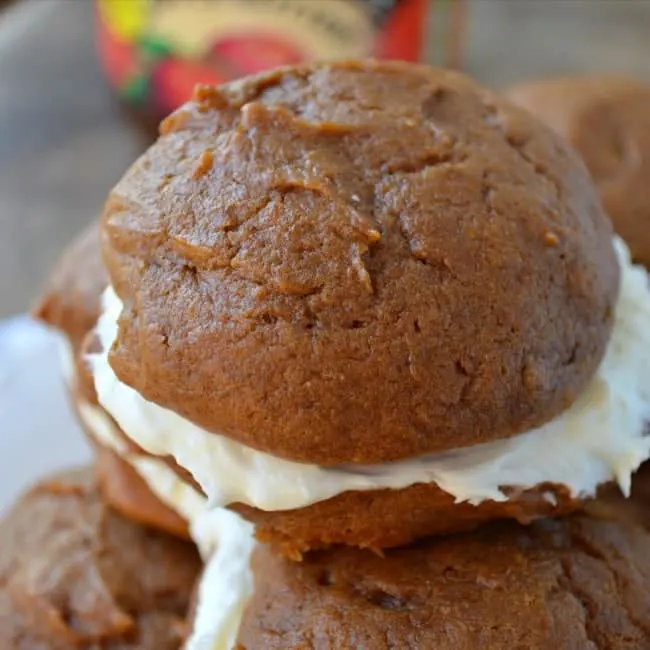 I legitimately sat down to tell you all the things, and am drawing a blank.
The good news though is that we have Apple Butter Whoopie Pies. The other good news is that I've been cooking up a storm and will for sure think of something to tell you about tomorrow. In the meantime let's discuss these babies: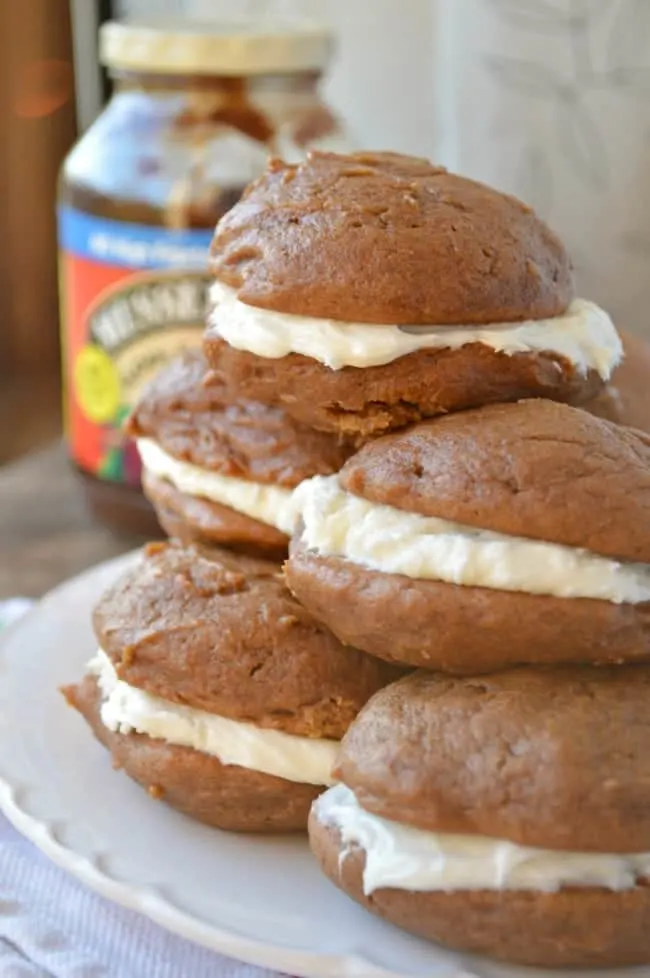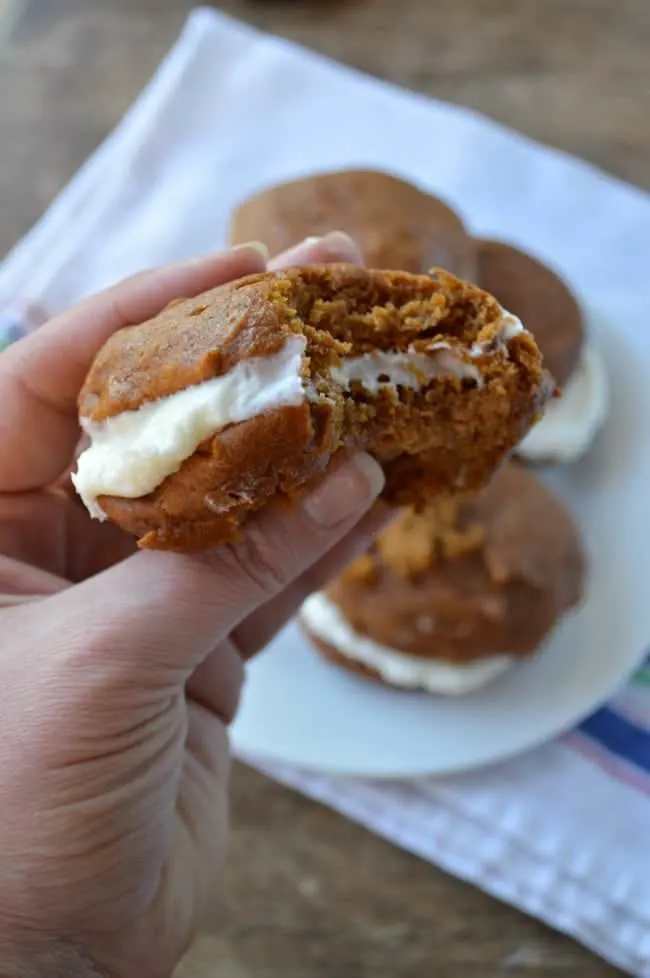 Can you believe that in almost 5 years I've never posted another whoopie pie recipe? I was poking around and have a few recipes that are kinda whoopie-pie-ish but they weren't all the way there. These are ALL IN. Whoopie Pie Zone established. The two halves are basically like cake mix cookies. I used a box of spice cake mix, Musselman's Apple Butter (of course), canned pumpkin, and oil. The filling can go two ways: I am voting the cream cheese frosting way. But if you want something quick and ready-made, marshmallow fluff works great!
Apple Butter Whoopie Pies
Serves:
about 15 Whoopie Pies
Ingredients
1 box spice cake mix
1 cup pumpkin puree
½ cup Musselman's Apple Butter
½ cup oil
For the Filling:
Option 1: marshmallow fluff
Option 2: Cream Cheese Frosting (ingredients follow)
8 ounces cream cheese, softened
4 tablespoons unsalted butter, softened
3 cups powdered sugar
2 tablespoons heavy cream
1 teaspoon vanilla
Instructions
Preheat the oven to 350°F. Line a baking sheet with parchment paper or a silpat liner.
In a large bowl mix together the cake mix, pumpkin, Apple Butter, and oil until smooth. Let it stand for 3 or 4 minutes.
Spoon the batter onto the prepared baking sheet a heaping, rounded tablespoon at a time, spacing them about 2" apart.
Bake for about 14 minutes and let them cool completely.
Frost the flat side of each "pie" half with either the marshmallow fluff or make the cream cheese frosting.
To make the cream cheese frosting, beat the cream cheese, butter, and powdered sugar until fluffy. Add the cream and vanilla and beat for another 1-2 minutes.
Musselman's
is the brand I have worked with consistently since launching Sugar Dish Me in 2011. So I have LOTS of great apple butter recipes. You can also find more by visiting their
Apple Butter Recipes Page
. And follow along in social media for all the newest ideas!
Facebook
,
Twitter
, and
Pinterest
!
You'll Also Love These: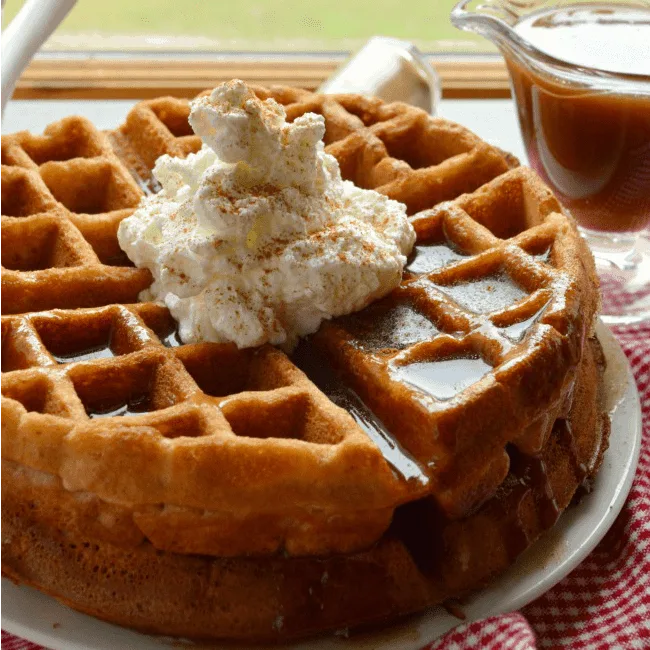 Apple Butter Waffles with Cinnamon Syrup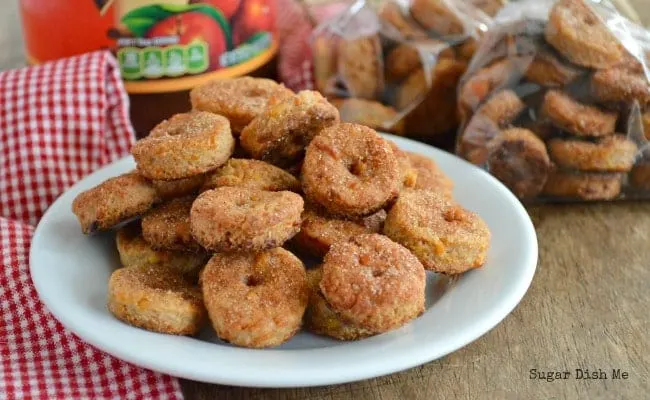 Homemade Apple Butter Cheese Crackers