This easy recipe for Bacon Wrapped Figs takes just 2 ingredients! This is a great appetizer and a perfect addition to any tapas table.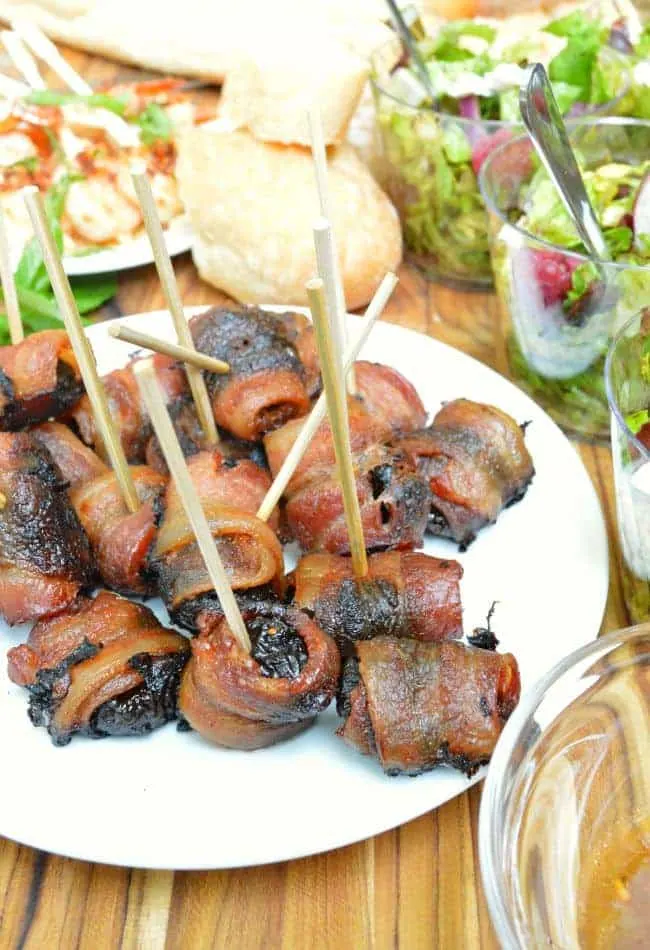 I made these Bacon Wrapped Figs as part of my post on Easy Tapas Recipes. This remains one of my favorite appetizers ever in the history of the world! We serve them for holidays and at cook outs. They are great as a pick up snack when you really only wanted to serve drinks.
I love this recipe because it seems a little fancy but requires hardly any effort. Let it also be said that bacon wrapped figs spread with a little soft goat cheese are one of life's seriously great pleasures.
If you are a fan of fresh figs, you for sure need to try Fresh Fig Newtons. Especially if you have a sweet tooth.

Bacon Wrapped Figs
A simple appetizer recipe that is simple to turn out for a crowd! Bacon Wrapped Figs are a favorite for every occasion.
Ingredients
25 dried black mission figs
7-9 slices center cut bacon
Optional for Serving:
soft goat cheese
Instructions
Preheat the oven to 350F. Line a baking sheet with parchment paper.
Cut each slice of bacon into thirds and wrap each fig with ⅓ of a slice. Larger slices of bacon can be cut into fourths.
You just want enough bacon around each fig to go around once neatly and just slightly overlap.
Place the bacon wrapped figs seam-side down on the prepared baking sheet.
Bake for 25-30 minutes, or until the bacon is crisp. You can turn them halfway through if desired, but it's not required.
Let them cool for a few minutes before removing to a paper towel to drain any excess grease.
Serve with soft goat cheese if that's your thing. Note: it should totally be your thing