These homemade Fresh Fig Newtons use fresh figs and a cookie dough that has just a hint of orange– just like the store-bought cookie. Soft and full of fruit.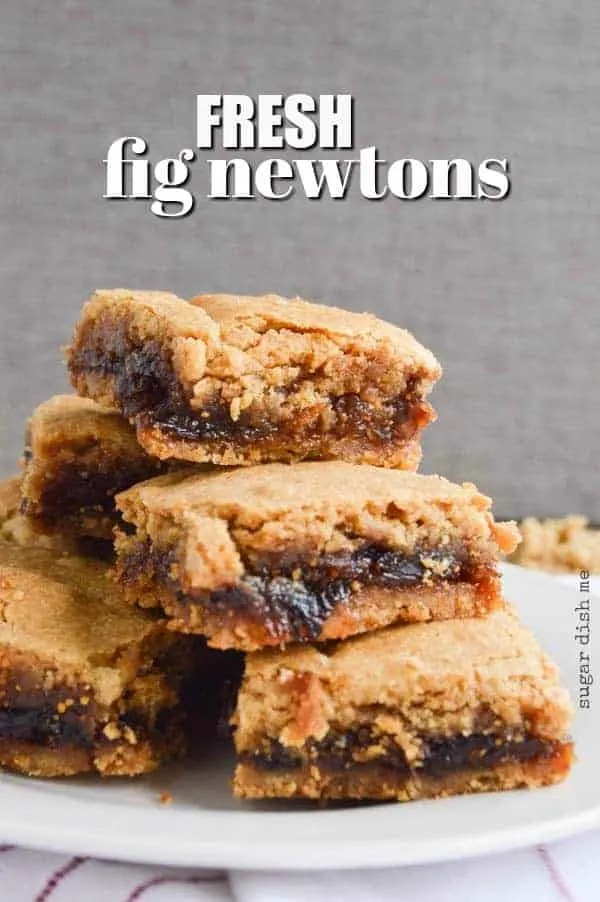 These cookies were a happy accident. And YES. Fig Newtons ARE cookies in my world. Not cake.
Soft orangey shortbread wrapped around figgy jam… oh man Fig Newtons are good.
I will readily admit that if I am left unattended with a book and that bright yellow package I am likely to mindlessly eat every single one. Well maybe I would leave a couple. But only so no one would blame me for eating the last cookie.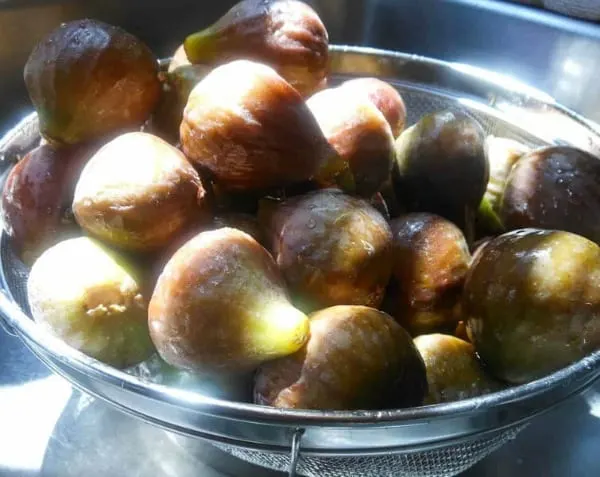 We stopped by a local produce stand that sits just around the corner from us; I've been trying to get there for a while.
They sell plants, and fresh vegetables, and nuts by the pound. There are flowers, and wind chimes, and handcrafted cedar Adirondack chairs. This place is right up my alley.
I grinned at Chad while I loaded the back seat of our car with hanging baskets, oregano plants, and a six pack of jubilee watermelons that are already bearing tiny little fruits. He humors my slight obsession with buying plant life every time I see it. I think it's so I don't roll my eyes at the amount of money he spends on parts for his remote controlled randomness.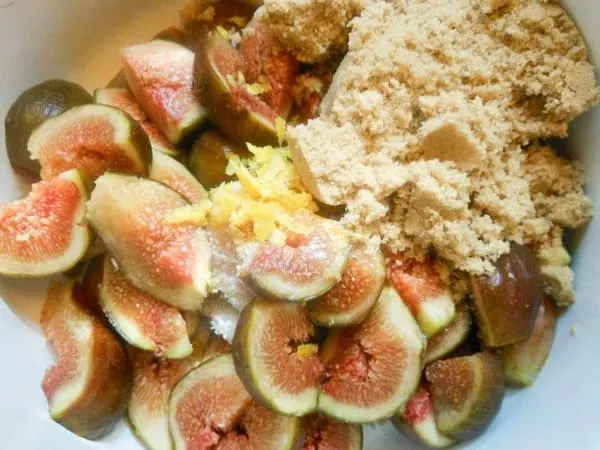 The owners were a friendly couple eager to help us, and we fell into a lengthy conversation about this and that.
Chit chat finally landed on the figs they had for sale that no one knew what to do with. The fig tree is yielding at an alarming rate and the fruit is ripening faster than anyone can eat the fresh figs. They told us they thought they would sell more figs if people had ideas about what to do with them. AND THEN they gifted us a whole basket to experiment with!
I returned home happy, HAPPY, HAPPY because not only did I acquire a carload of plants to fuss with, I got myself a kitchen project, too!
I'll be honest … I've never made anything with figs.
I spent a few hours surfing around with my laptop finding gorgeous fig salads with goat cheese and delicate fig tarts. And while those fig recipes are beautiful and definitely have a tasty place in this world, that place IS NOT HERE in the land of fried chicken, pinto beans, and Sundrop.
So I settled on cookies. More specifically, Fig Newtons. From Scratch.
Everyone likes cookies, right?
If you don't like cookies I'm not sure we can be friends anymore. Sorry bout that.
So I sliced up the figs and put them into a heavy-bottomed saucepan with some brown sugar, lemon zest, and vanilla.
After 40 or 50 minutes of simmering and a little bit of stirring/smashing the larger pieces with the back of a fork, my fresh figs turned into a gooey jam that was deliciously sticky and sweet. I had to talk myself out of smearing it on toast.
Twice.
I stowed the jam away in a jar while I worked on my cookie crust. The jam can be made ahead. It will keep in the fridge for 3-ish days. Less if you make toast.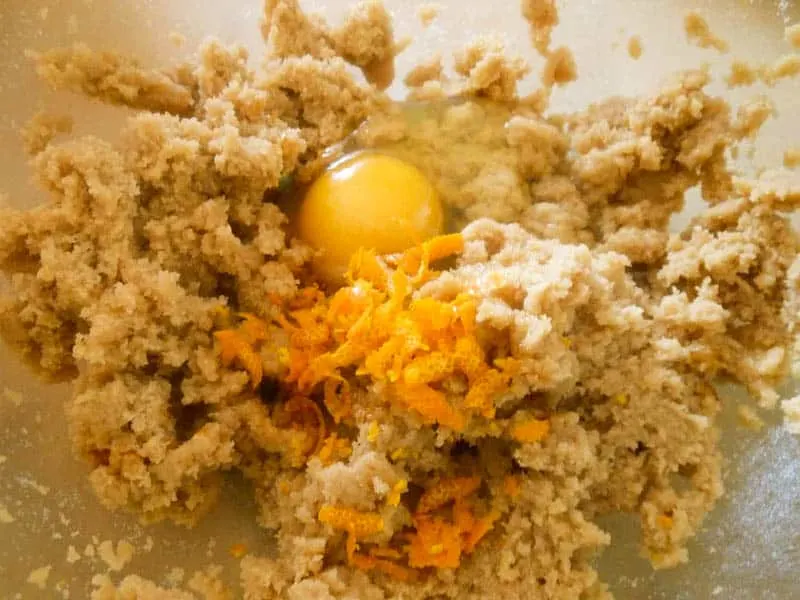 The dough gets divided; half is pressed into the pan to bake and half is pressed or rolled out and set aside in the freezer while it waits its turn. I pressed mine out in between two generously buttered pieces of foil. Parchment paper IS DEFINITELY better, but you hafta work with what you've got. Am I right?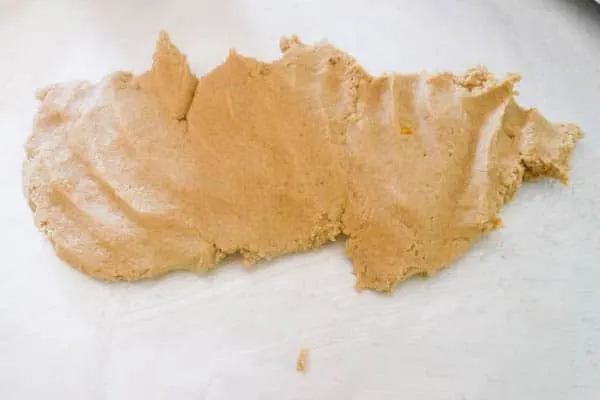 When the baked bottom layer comes out of the oven, spread the fig filling evenly across it. Then lick the spoon.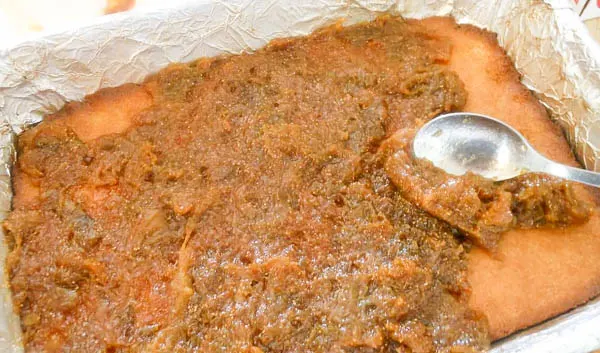 Go get the top layer of pressed out cookie dough from the freezer. Carefully peel it from between the foil or parchment paper.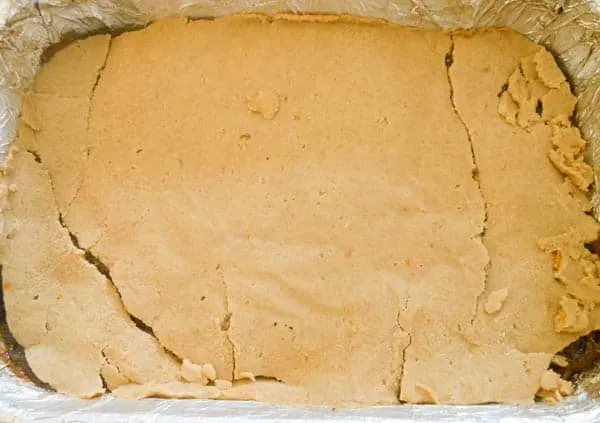 As you can see, my dough is very ugly and broke apart in places.
That's because this is real life.
And it's cool. Because when it bakes, it all melts together. No one will ever know it wasn't perfect.
Except in the case of mine because I published my imperfections on the internet.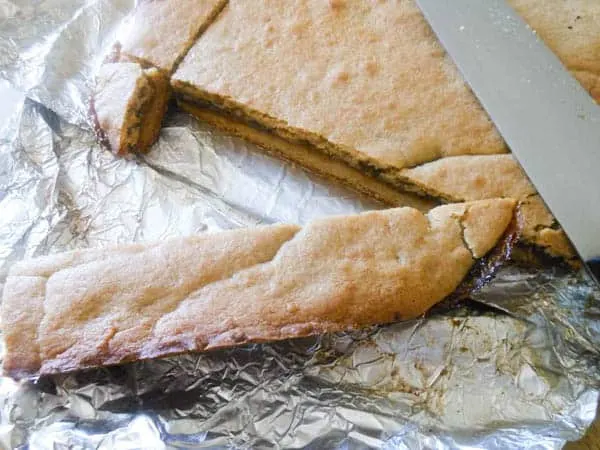 After baking and cooling completely, I lifted the foil out and sliced my Newtons into little cookie-sized bars. You see? No evidence of the uncooperative cookie dough anywhere.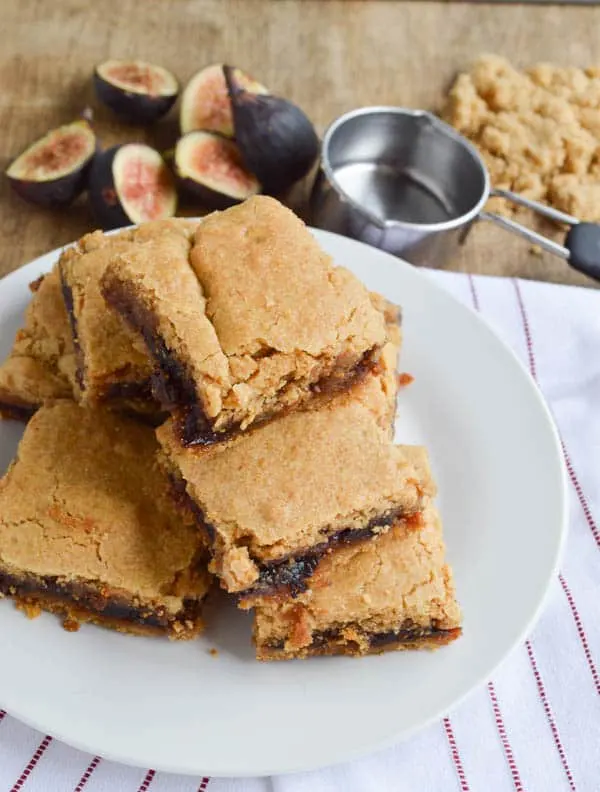 Of course we promptly returned to the produce stand with a bag full of these cookies and a copy of the recipe. I hope they enjoyed them. We didn't wanna be creepy and make them try the cookies while we stood there to judge the reaction.
But my verdict is: WIN!!!
I absolutely love them. You will, too.
Other Fig Recipes to Love
Bacon Wrapped Figs are an appetizer favorite. Seriously so simple and great for feeding a crowd.
Feels Fancy Figgy Chicken is SO EASY, but it's a recipe that feels fancy. Great for dinner parties or impressing a date.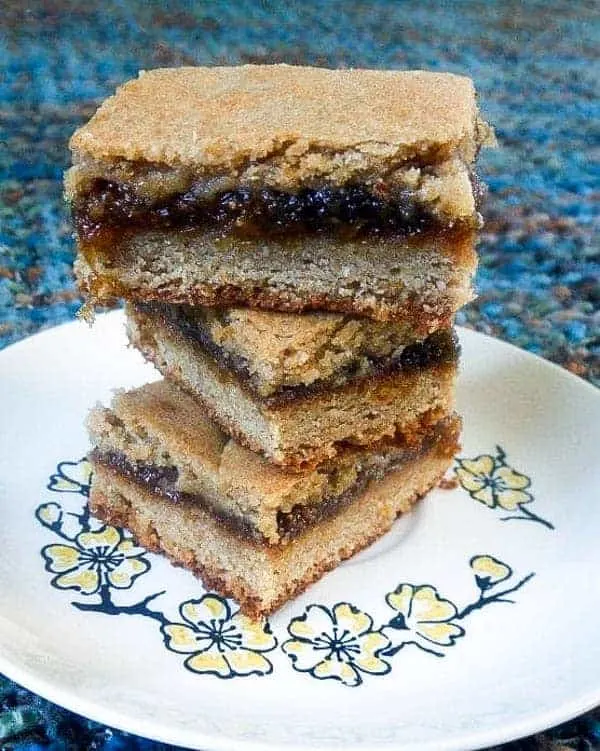 Yield:

12-18 cookies
Fresh Fig Newtons
Total Time:
1 hour
30 minutes
Fresh Fig Newton are a homemade version of the popular store bought cookies, made with fresh figs!
Ingredients
Filling
16 fresh figs; washed, dried, and quartered
1/2 cup packed brown sugar
1 tablespoon lemon zest
1/4 teaspoon coarse salt
1 teaspoon vanilla
Cookie Crust
1 1/2 cups all purpose flour
1 cup whole wheat flour
1 teaspoon baking powder
1/2 teaspoon salt
3/4 cup butter, at room temperature (12 tablespoons)
1 1/2 cups brown sugar
1 tablespoon orange zest
2 eggs
4 teaspoons vanilla
Instructions
In a medium-sized, heavy-bottomed saucepan, make the filling. Bring the figs, 1/2 cup brown sugar, lemon zest, and 1 teaspoon vanilla to a low boil, stirring as needed.
Reduce the heat and simmer for 40-50 minutes, occasionally smashing the larger pieces with the back of a fork and stirring. They will cook down and thicken with a jam-like consistency.
Remove the filling from the heat and cool completely. See Note**
Preheat the oven to 350. Butter a 9 X 13 baking dish, then line with parchment paper or foil then butter the parchment or foil. Use plenty of butter.
In a medium sized bowl whisk together the flours, baking powder, and salt.
In a large bowl, beat the butter and 1 1/2 cups brown sugar until it's fluffy. Add the orange zest and eggs. Beat on medium until the dough comes together. Then stir in the vanilla.
Gradually incorporate the flour mixture with the mixer on low. The dough will be sticky.
Butter two "pan-sized" pieces of foil or parchment paper, measure 1 1/2 cups of the dough out, and roll or press the dough in between the pieces. This will be your top crust, so get it into a rectangle-ish shape if you can. Put it in the freezer.
Press the remaining dough into the prepared baking dish and bake for about 20 minutes. It will be pretty and golden brown.
Spread the fig filling across the baked crust and then get the top crust out of the freezer.
Gently peel the foil or paper away from the frozen cookie crust and then place it over the top of the fig filling. Pat any stray crust pieces into place.
Bake for another 20-25 minutes. Watch it closely! The top will turn a nice golden color.
Let the whole thing cool completely in the pan, on a wire rack if you have one. Once cooled, lift the parchment (or foil) out of the pan and slice into squares.
Notes
The fig filling can be made ahead stored in the refrigerator for up to 3 days.
Recommended Products
As an Amazon Associate and member of other affiliate programs, I earn from qualifying purchases.
Nutrition Information:
Yield:
1
Amount Per Serving:
Calories:

0
Cholesterol:

0mg
Sodium:

0mg
Carbohydrates:

0g
Fiber:

0g
Sugar:

0g
Protein:

0g
(adapted from Tracey's Culinary Adventures HERE and HERE, and then I referenced about 351 more fig newton recipes, including Fig Squares from my fave kitchen bible, Cook's Illustrated The New Best Recipe.)
Origins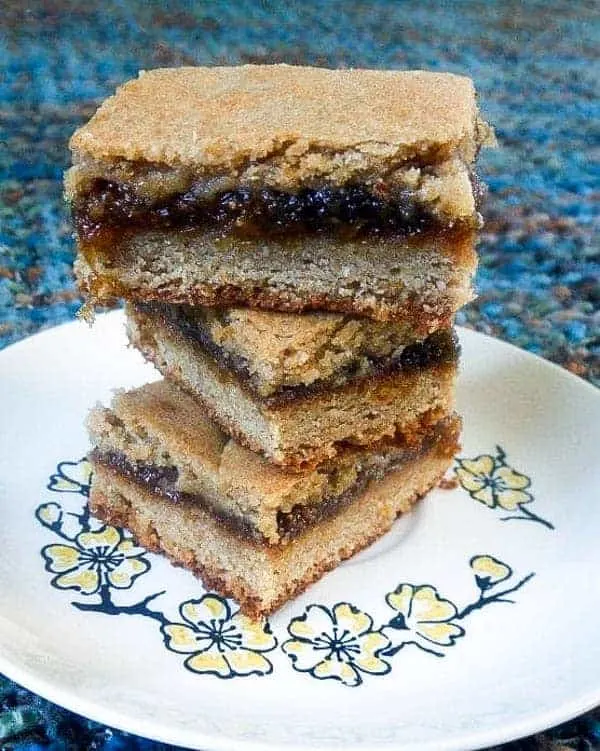 Are you still with me allllll the way down here? If yes, then I'll take this time to share a little more with you about this recipe.
It was originally published in June of 2012. This was my very first time working with fresh figs. I've made this recipe many MANY times since I originally published, and many of you have made it, too. It has gotten pretty rave reviews from the makers AND the eaters.
Fresh Fig Newtons are very old fashioned. This isn't a quick recipe but it will sooooo not disappoint. I edited this post in August 2018 with some new photos, and I touched up the directions to make the language more concise. There were pieces that seemed confusing, and I had more than one reader be extra confused about the original measurement of "6 fresh figs". That should have been 16 – I'm sorry! Typos are the worst. You can actually get away with around 12-14 figs here, and pro tip: If the filling seems too thick, add a dash more lemon juice.
I hope you enjoy this recipe as much as we do!