Shredded chicken is cooked with peaches and chipotle peppers and then rolled into tortillas and baked. These Peach Chicken Taquitos are an excellent way to use up summer peaches! They make a great appetizer, easy meal, or snack.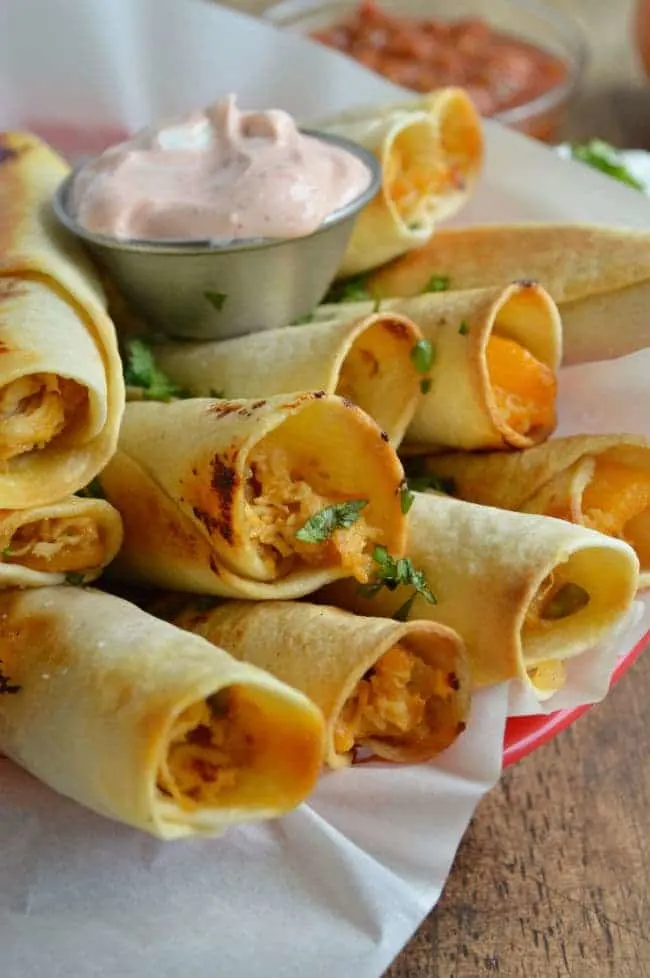 This post was originally written in 2013. I've updated the photos and added a few recipe notes. This easy meal remains one of our favorites! Had to share it again.
If you caught my post on Monday, you might recall a photo of Norma Kitty Jean passed out on top of a mess of little boy clothes that were strewn in the floor after a visit to Grammy's house.
So yesterday I had to get all exorcist-mommy on the Sloppy Summer Monsters. I made them clean.
Let's talk about how boys clean. I don't think this is exclusive to my boys because I have brothers.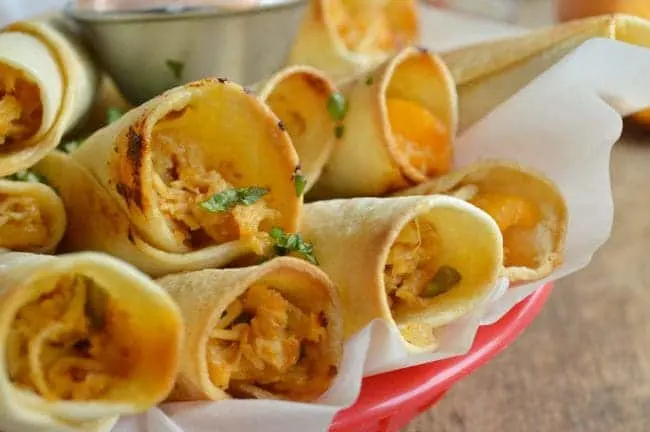 My mom is awesome and when the boys go to visit she collects all their clothes, washes them, dries them, folds them, and then sends back a bag full of clean laundry. It's like she can't turn off the mommy switch. But my kids can un-do her nice gestures in about 3.5 seconds.
So when I ask them to clean and then I turn my back and resume work, they grab up a big arm full of [clean] clothes and throw them in the general direction of the washer, which just happened to be halfway loaded full of cleaning cloths and other things that funk up laundry really fast.
And then everything had to be washed again. [NOTE: two years later, the boys have just returned from a weekend with my mom and totally repeated this slobby behavior all over again]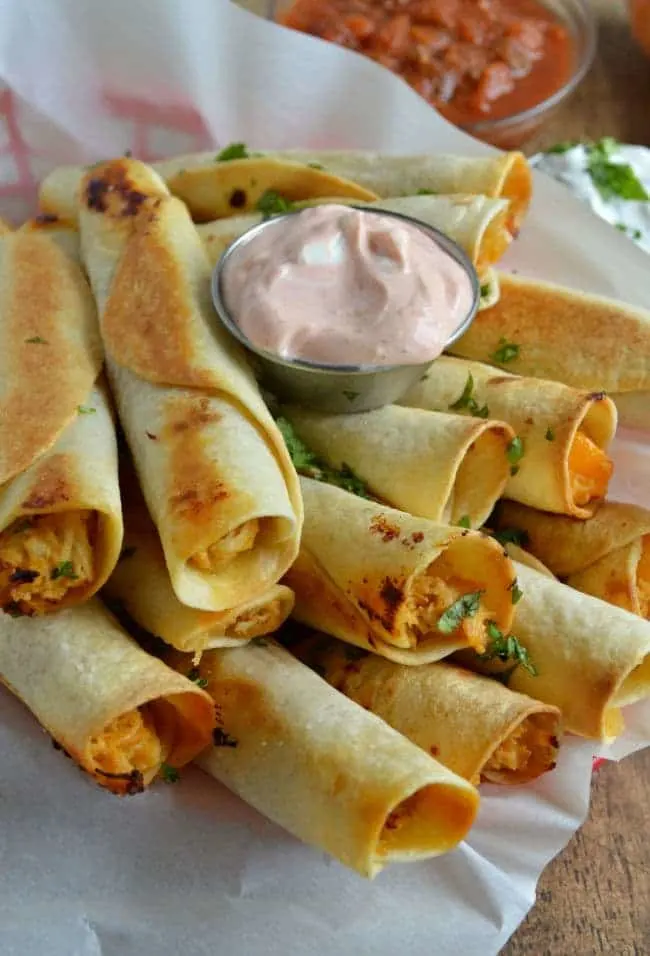 I. Was. Pissed.
Since Andrew just happened to be the laundry-ruining culprit that I caught in the act he learned a very valuable lesson yesterday: How to Do Laundry.
He was not happy. He complained. He could not understand why the laundry had to be separated or why I don't want my clothes washed with the muddy swim trunks they wore all day to slip-n-slide. He insisted that the washer/dryer manufacturers were at fault because why couldn't they offer some kind of magical laundry technology that lets you do all of it at once? I tried to explain that our year-old washer IS magical technology and can we talk about a washboard for a minute? But Andrew refused to believe that this is actually the easy way.
So today we are doing laundry again.
And really… no matter the technology, laundry is not fun or easy. But these Baked Peach Chicken Taquitos ARE!!!
I snatched up a giant basket of fresh peaches from the closest roadside stand the other day [again- two years later, history repeats itself; it's like summer de ja vous ] and this meal is the first thing I made. Crisp, summery, and just slightly sweet– the peaches and chicken meld beautifully with the sharp white cheddar cheese. The chipotle dip is SO simple and perfectly cool, creamy, and smoky with just enough spice. A quick warning: make more than you think you'll need cause these little appetizery treats disappear fast!!
Cooks's Notes:
The instructions below walk you through quickly poaching and shredding chicken. You can do this a day ahead OR you can use leftover chicken. I also find that shredding a rotisserie chicken from the grocery store works great.
You could also prepare the chicken in the slow cooker by tossing in the uncooked chicken, sliced onions, oil, butter, salt, peaches, and peppers. Cook on low for 6 – 8 hours, or high for 3-4. Shred the chicken, stir in the cheese, and then follow instructions from Step 6
I use Cabot Sharp White Cheddar here AND Cabot Greek yogurt. It's a creamy, dreamy dairy combo.
Sour Cream works in place of Greek yogurt here, too
Baked Peachy Chicken Taquitos
Crispy little baked flour tortillas stuffed with shredded chicken, caramelized onions, fresh peaches, a little jalapeno, and sharp white cheddar cheese. Served with a cool, cream, and spicy chipotle dipping sauce. For faster prep, use leftover chicken (shaves off 20-25 minutes!) Cook time shown includes all stovetop prep and 25 minutes in the oven.
Ingredients
1 pound boneless skinless chicken (see note)
1 medium Vidalia onion, halved and thinly sliced
1 tablespoon oil
1 tablespoon butter
1 teaspoon kosher salt
1½ cups fresh peaches, pitted, peeled, and chopped
1 jalapeno pepper, finely minced
1 cup shredded sharp white cheddar cheese (I always use Cabot!)
14 small flour tortillas
1 teaspoon olive oil (for brushing)
½ teaspoon kosher salt for sprinkling
1 cup plain Greek yogurt
3-4 chipotle peppers in adobo sauce
Instructions
Place the chicken in a medium saucepan and cover it with water. Bring it to a boil and then reduce the heat to a simmer. Use a fork to lift it away from the bottom of the pan so it doesn't stick and cook the chicken for about 15-20 minutes (until it's DONE). Remove the chicken to a cutting board to cool.
Pre-heat the oven to 375. Spray a 9 X 13 casserole dish with cooking spray (or lightly brush with oil).
Pour out the liquid that was in the saucepan you used to cook the chicken. Toss the sliced onions, oil, butter, and 1 teaspoon of kosher salt in the pan. Cook the onions over medium heat for about 15 minutes until they are soft, translucent, and start to caramelize.
Shred the chicken and add it to the onions. Add the peaches and jalapeno pepper.
Cook the mixture for about 5 minutes, stirring occasionally. Remove from the heat and stir in the cheese.
Spoon a little of the mixture into each tortilla (2-3 tablespoons) and roll them up.
Line the rolled up filled tortillas in the prepared pan. Brush the tops with the 1 teaspoon of olive oil, sprinkle with the ½ teaspoon kosher salt, and bake for about 25 minutes. The tops will be crisp and golden.
While the taquitos bake, place the Greek yogurt and chipotle peppers in the blender and blend until smooth.
Serve the sauce with the warm Peachy Chicken Taquitos.
Notes
You can use 2 cups of shredded cooked chicken in place of the 1 pound of boneless skinless chicken. Just skip over the 1st step. These are a great way to use up leftover chicken!