This easy recipe for Banana Oat Pancakes is healthy, filling, and a major weekend favorite in our house. Fluffy oatmeal pancakes are sweetened with ripe bananas and topped with toasted pecans.
It's been awhile since we made pancakes, right?
Today is the first day of school over here (where does the time go?!!?) and since I shared my favorite pancake shortcut last year on the first day of school, I thought maybe we should continue the tradition. This year we are going hearty and healthy with Banana Oat Pancakes.
I put all the good morning stuff in here.
We found out last week that Evan, my youngest, will not be eating lunch until 1:00 pm. That is super late for us. If we are being serious here, I'm usually up so early that I'm ready for lunch by 10:30 a.m.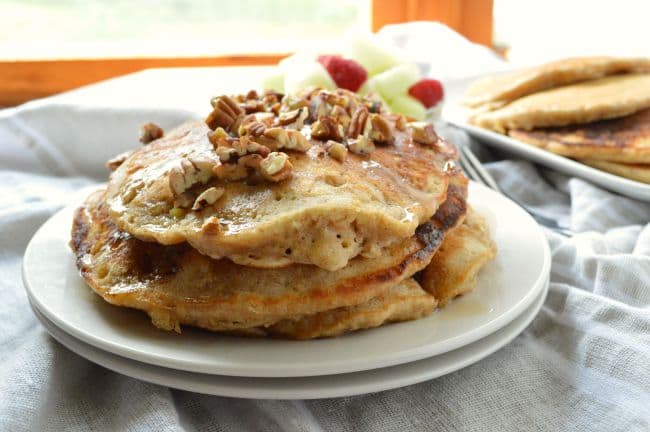 I have no idea how my man is going to hold out until 1. Especially if snacks aren't an option.
So I'm thinking I may need to up my breakfast ante, and sometimes include things like these pancakes. It's an effort to fill my dudes up, with the hope that they can make it to math class without gnawing off an arm. Do you guys even know how much food teenage boys can eat in a day? If you aren't there yet, be prepared to need an extra income.
Anyway.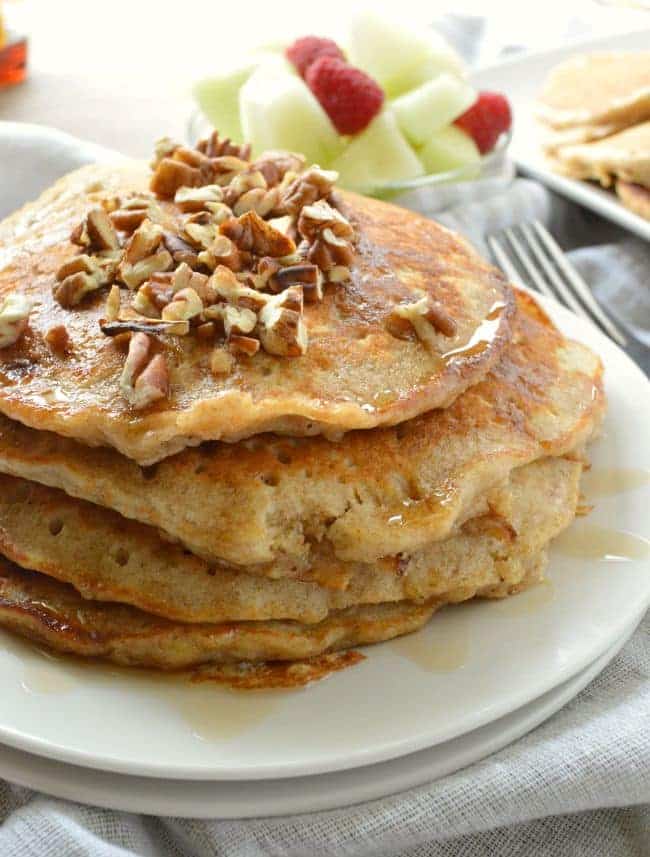 What makes these oatmeal pancakes amazing?
They are fluffy and heart-healthy and I would not be disappointed if someone made these for me every day. There are a few details that make these oatmeal pancakes amazing.
The recipe calls for whole wheat flour AND all purpose flour. That gives these pancakes an earthy flavor that I love while still being fluffy. You CAN sub in all all-purpose flour if you don't have any handy.
The oats are mixed with the bananas and milk first, while you assemble everything else. That lets them soften before adding them to the rest of the batter.
Just 2 tablespoons of brown sugar in the mix. Bananas do a great job of acting as a natural sweetener, so you can skip the additional sugar if you are keeping track. I like to add it because sugar in the batter adds some depth to the sweet.
The nuts (walnuts OR pecans!) add the perfect amount of crunch and protein.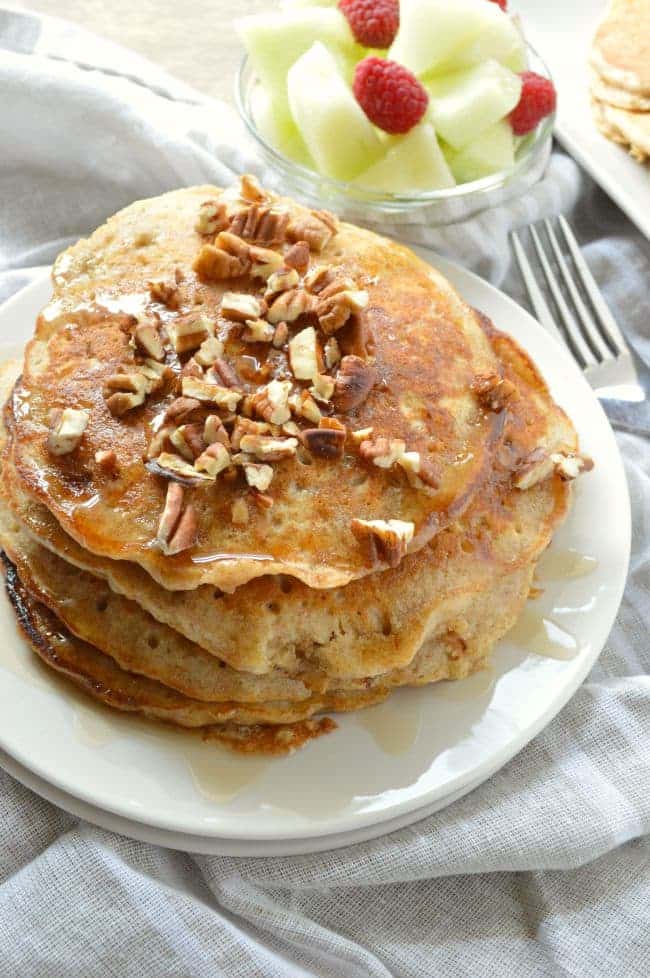 Tips to make the best Banana Oatmeal Pancakes
Pecans are optional. Walnuts are also delicious! Or you can leave out nuts all together.
The batter can hold an extra medium banana (making it a total of 3) if you have more over ripe bananas hanging around, or if you just want more banana flavor.
For a shortcut, you can use my Homemade Fluffy Pancake Mix and add 1 banana + 1/4 cup oats when you are mixing the batter up. you may want to add just a splash more of milk (not more than 1/4 cup)
School year routines are hard. Let's have pancakes.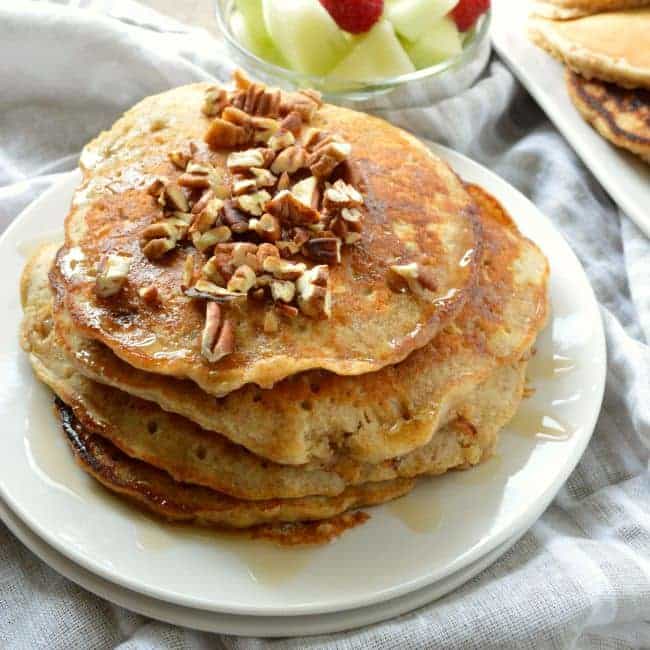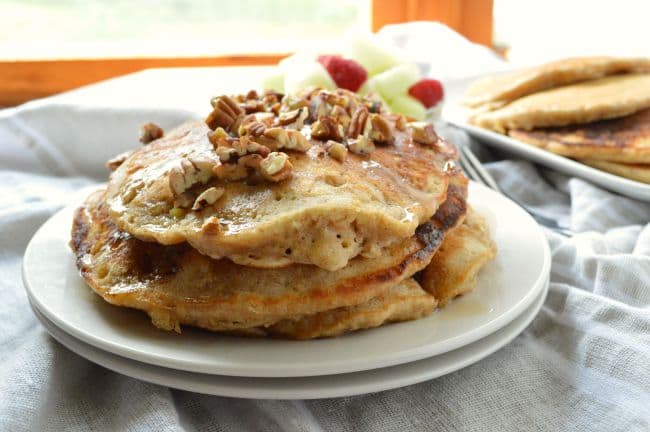 Yield:

6 servings
Banana Oat Pancakes
Banana Oat Pancakes are hearty and heart-healthy! Naturally sweetened with bananas, fluffy and with the perfect pecan crunch, these will be a new breakfast favorite!
Ingredients
3/4 cup Old Fashioned Oats
2 medium Bananas, Mashed
1 1/2 cups Milk
3/4 cup Whole Wheat Flour
1/4 cup All-Purpose Flour
2 tablespoons Brown Sugar
1 1/2 teaspoons Baking Powder
1/2 teaspoon Kosher Salt
1/4 teaspoon Baking Soda
1 Egg
3 tablespoons Vegetable Oil
1/4 cup Chopped Pecans, Plus 2 tablespoons to garnish
Butter, For the griddle or skillet
Syrup, For serving
Instructions
In a medium bowl, mix together the oats, bananas, and milk. Set them aside to let the oats soak and soften.
Preheat a pancake griddle or skillet over medium high heat.
In a large bowl, whisk together the flours, brown sugar, baking powder, kosher salt, and baking soda.
Beat the egg and oil into the wet oatmeal mixture, and then pour the wet mixture into the dry. Stir until just combined.
Butter the preheated surface and then pour the batter out about 1/4 cup at a time.
These pancakes will need to cook a little longer on the first side than most, so wait until the entire exposed surface is bubbly and the edges start to look as though they are cooking through.
Flip to cook the second side and then remove the pancakes to a plate.
Garnish the pancakes with more chopped pecans (and sliced bananas if you'd like!) and serve with syrup.
Notes
TIP: You can place the additional 2 tablespoons of pecans (for your garnish) in a DRY skillet over medium high heat for 1-2 minutes, tossing them periodically. Toasting the pecans adds extra crunch and flavor.
Recommended Products
As an Amazon Associate and member of other affiliate programs, I earn from qualifying purchases.
Nutrition Information:
Yield:
6
Serving Size:
1
Amount Per Serving:
Calories:

293
Total Fat:

13g
Saturated Fat:

2g
Trans Fat:

0g
Unsaturated Fat:

10g
Cholesterol:

36mg
Sodium:

397mg
Carbohydrates:

38g
Fiber:

4g
Sugar:

9g
Protein:

8g