This insanely delicious Chicken Cordon Bleu Pizza starts with a creamy garlic sauce and is topped with ham, chicken, onions, and Swiss. Once slice won't do!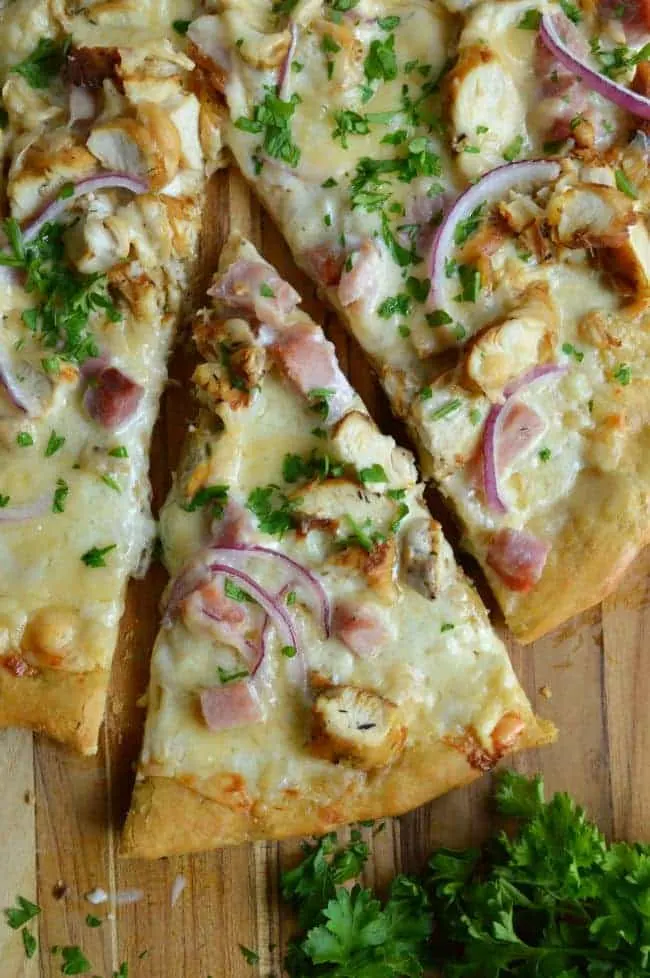 This post is sponsored by CuttingBoard.com. I use all kinds of tools in my kitchen, but none see more use than my cutting board! So I partnered with CuttingBoard.com to share some good wood. All opinions are my own.
I made you this Chicken Cordon Bleu Pizza. And then I spent a really, really long time deciding if I should say 'bleu' or 'blue'. Like… an unreasonable amount of time. Survey says: we are going with both. It's a Chicken Cordon Blue Pizza. It's also a Chicken Cordon Bleu Pizza.
Enough with semantics already, right?
We have more important things to discuss. FIRST! Being these pizza toppings.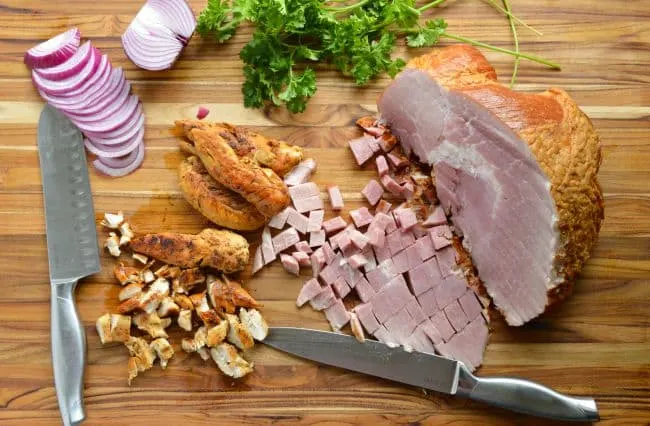 And second being the gorgeous cutting board they are laid out on. This thing is huge, ya'll. That's a half a ham in that photo! And I still had plenty of room to move!
Likewise, in the photo below, I fit a whole pizza on this baby. With lots of room to spare.
Remember last month when I blasted your Instagram feed with all of my kitchen remodel photos? Well I am still working on the finish details (photos to come soon!) but essentially, I installed a 74″ X 64″ countertop. It's massive. I am in love. I have room to work, room to spread out, and room for a cutting board that will get the job done.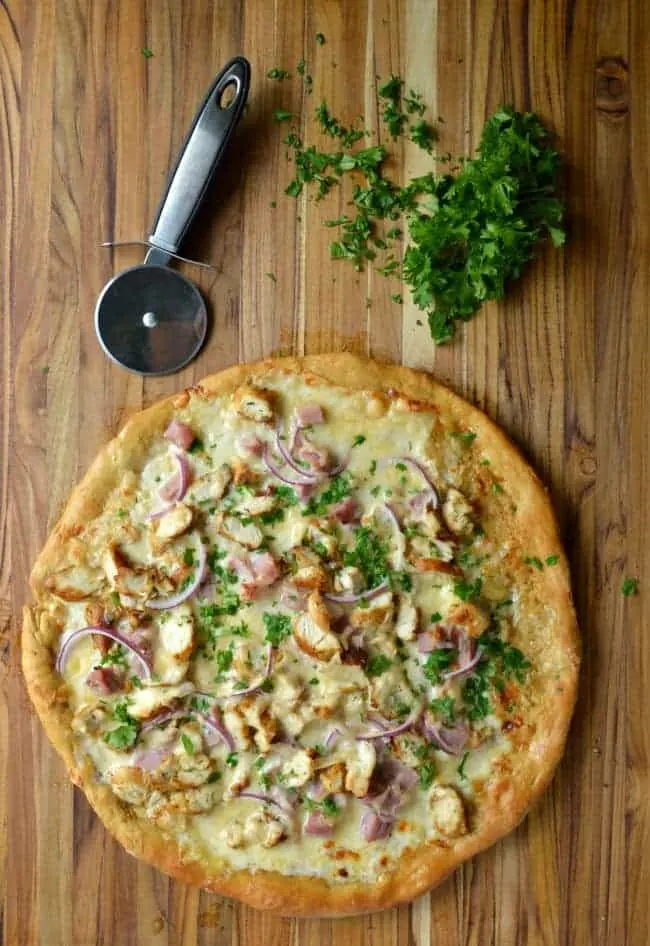 I've been longing for a big pretty board for my kitchen for forehhhhver. But after we exploded most of our house, I was reduced to barely any counter space. So my cutting board wants stayed on the wishlist.
The cutting boards in my kitchen see as much action as my sink! I'd say that they are the tools that see the MOST activity. And when something sees that much use, it really pays to work with something nice. QUALITY!
CuttingBoard.com is a boutique retailer of cutting boards and butcher blocks. They also happen to carry one of the widest selections of John Boos boards (you know! The pretty ones they show on MasterChef!) and take care to house their boards in a climate and humidity controlled warehouse.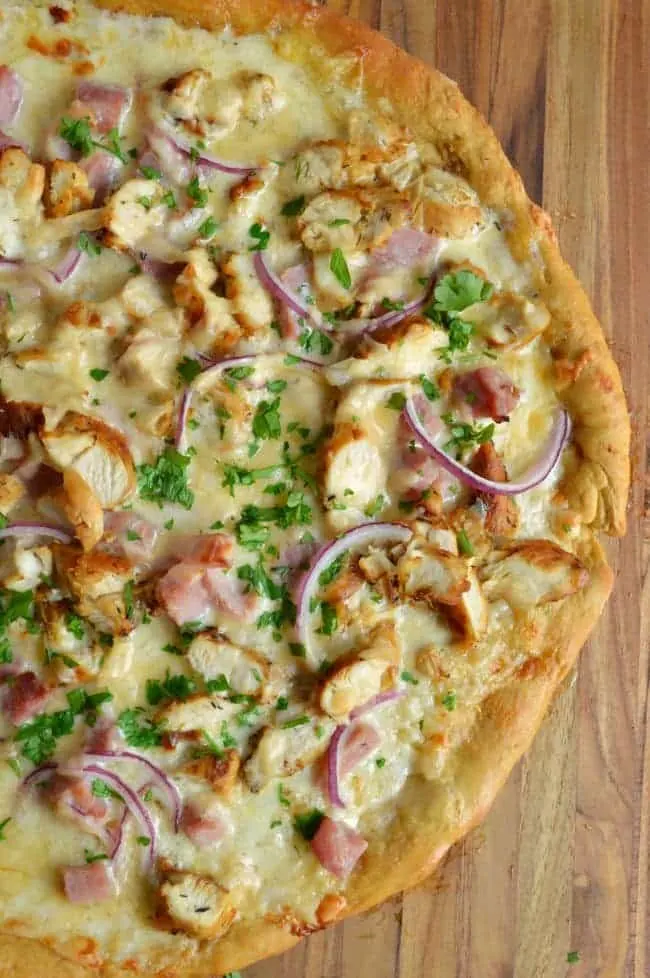 What makes Cuttingboard.com different from other physical and online stores is that all of their beautiful products are 100% environmentally friendly and have been harvested from renewable resources. As a genuine small business, Cuttingboard.com takes pride in ensuring that their customers are always happy when shopping with them.
From the way they lovingly oil and paper wrap your new board, you can tell that they consider each one to be a work of art. I was lucky enough work with one of the boards they carry for this post. Pictured here is the Proteak Edge Grain Rectangle. It's a great big sturdy board that cleans easily and has a beautiful grain. It has totally held up to my daily abuse and is the nicest board I have ever had the chance to call my own. L.O.V.E.
You can win one!!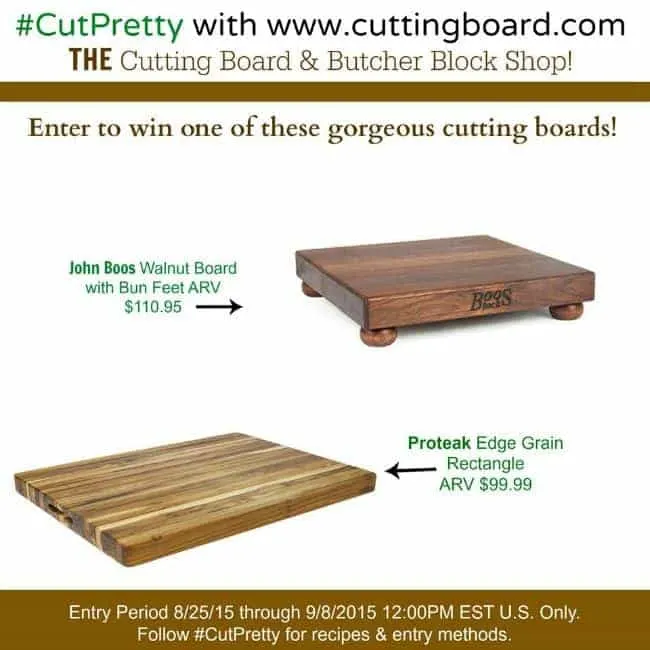 a Rafflecopter giveaway

Okay. So back to this PIZZA. It is unbelievable. The creamy garlic sauce is on point and easy to make. The chicken is tender with a hint of thyme. The ham is salty, the cheese is mild — it is fair to say we adore this recipe. You can make it super fast with a store bought pizza dough, or you can linger over the details and take your time by making your own crust. You can also try it with my 10 Minute Pizza Dough from Scratch!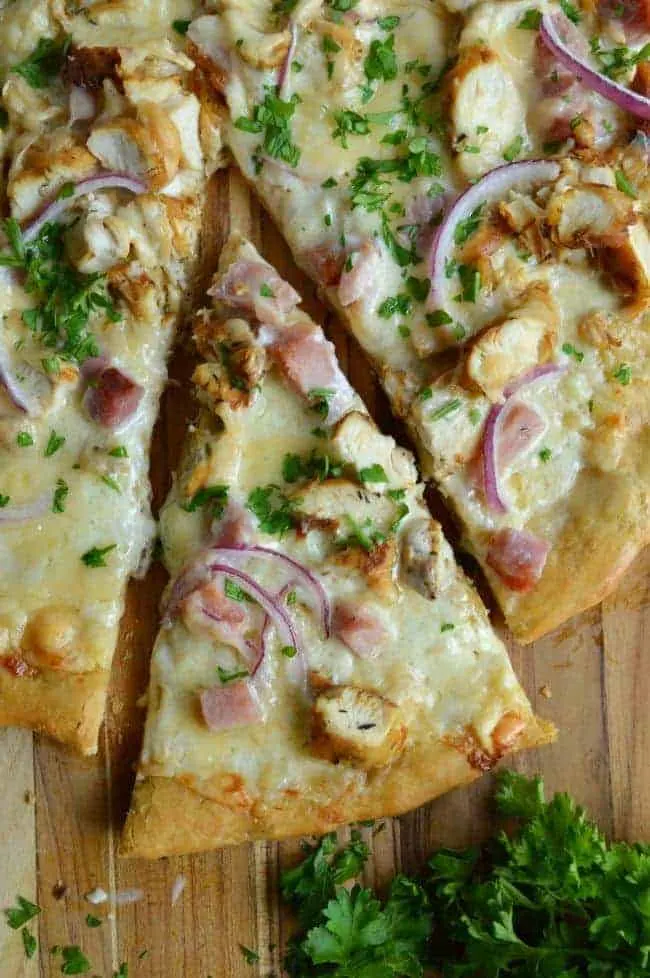 Yield:

serves 8 (2 large pizzas)
Chicken Cordon Bleu Pizza
Chicken Cordon Bleu Pizza has a creamy garlic sauce and is covered with sliced chicken, ham, sliced onions, and Swiss cheese.
Ingredients
2 large unbaked pizza crusts
For the Creamy Garlic Sauce:
1 teaspoon olive oil
2 teaspoons garlic, finely minced (about 1 large clove)
4 tablespoons butter
1 cup heavy cream or milk (Note: use whole milk or at least 2%)
1 cup grated Parmesan and/or Romano cheese
For the Chicken:
1 tablespoon olive oil
1 pound boneless skinless chicken tenders
1 teaspoon dried thyme
salt and pepper to taste
1/2 cup water as needed
Additional Pizza Toppings:
1 cup chopped ham
1 cup red onions, thinly sliced
8 ounces Swiss cheese, shredded
chopped fresh parsley to garnish
Instructions
Preheat the oven to the temperature specified on your pizza dough packaging or recipe (I set mine to 525F). If you are using a pizza stone, make sure to preheat it with the oven.
Stretch your pizza dough across the pan you are using (or your pizza peel). Set aside.
To make the Creamy Garlic Sauce, heat the oil in a small saucepan. Add the minced garlic and cook for 1 minute. Add the butter and let it melt. Pour in the cream and let it come to a simmer over medium high heat. Remove it from the heat and stir in the cheese until the sauce is smooth. Set aside.
To make the chicken, heat the oil in a medium skillet. Add the chicken and sprinkle them with the dried thyme, salt, and pepper. Brown one side, and then the other, cooking over medium heat. If the pan seems dry, slowly pour in the water. It will evaporate as the chicken continues to cook. Check that the chicken is cooked through and remove it to a cutting board to cool.
Ladle half of the creamy garlic sauce over the prepared pizza crust.
Top with half of the chopped ham and red onions. Sprinkle with half of the shredded Swiss. Slice the chicken tenders and place them over the cheese.
Bake for 10 minutes, or until the crust is golden and the cheese is melted. Garnish with the chopped parsley.
Repeat with the second pizza.
Notes
1. This recipe makes 2 whole pizzas! I feed hungry guys and love leftovers, but if you need less this is easy to cut in half.
2. If you only make one pizza but choose to make the whole sauce recipe, you can save the unused portion of sauce and serve it with bread or pour it over pasta.
Nutrition Information:
Yield:
16
Serving Size:
2
Amount Per Serving:
Calories:

448
Total Fat:

23g
Saturated Fat:

11g
Trans Fat:

0g
Unsaturated Fat:

10g
Cholesterol:

79mg
Sodium:

645mg
Carbohydrates:

37g
Fiber:

2g
Sugar:

3g
Protein:

22g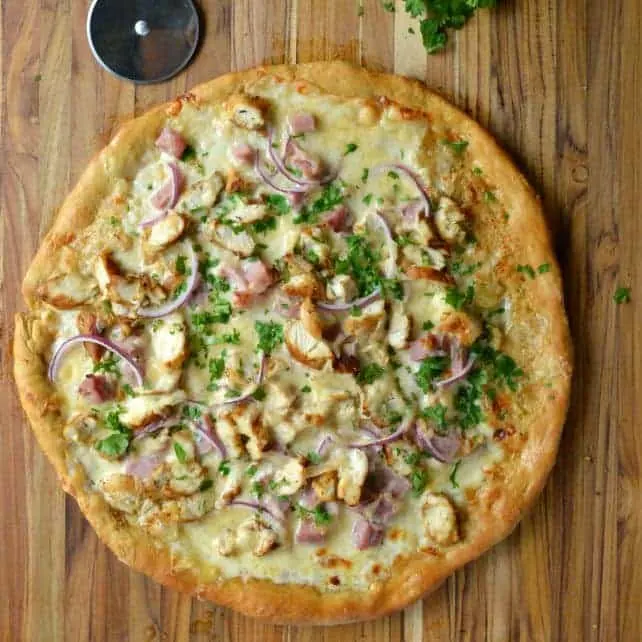 Company Info:
CuttingBoard.com features the web's best selection of curated cutting boards and butcher blocks. Owners, Mike & Grant, have personally selected and chosen their products after handling and seeing each piece with their own eyes. Many of the their products are sourced from independent artisans and woodworkers that only make limited runs of each product. In addition, Cuttingboard.com also carries high quality knives and kitchen accessories that will accentuate the kitchen of any home chef.
CuttingBoard.com is proud to source products that are certified sustainable, renewable or reclaimed. They believe in a commitment to quality and environmental stewardship, so all of the products in their store adhere to these principles. They are also a member of 1% For the Planet and donate a portion of each sale to charity toward environmental causes.