The Best Dang Egg Salad Recipe Ever! Separating the whites from the yolks is what makes this egg salad recipe something super extra special. Add-ins include options of jalapenos and bacon for some delicious variations of a traditional sandwich spread!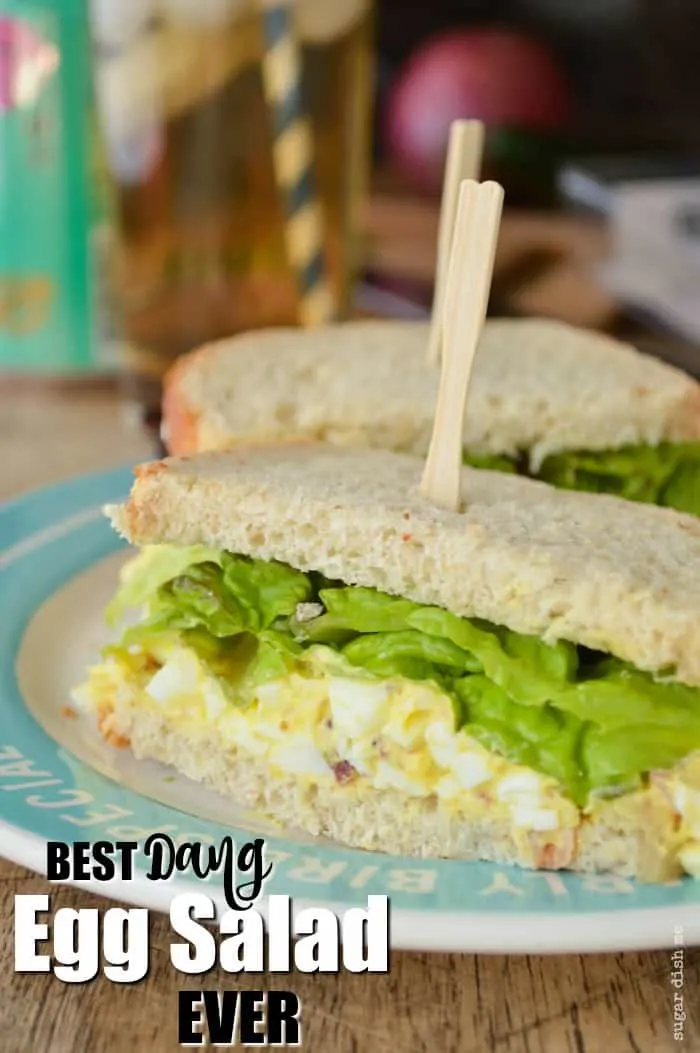 I have this major obsession with all foods that are diner-ey. Obviously I love breakfast since I try to feed you guys pancakes at least once every couple of weeks. But I really love all kinds of greasy-spoon type foods. Don't even act like you don't love it too. Say it with me now: BLT… Beee eeeLLLL Teee. Yeah. (try this Breakfast BLT!)
So really I guess the obsession is not so much diner foods as it is improving on diner foods and making them into what I really want them to be. There are no good diners where we live which I actually find really surprising.
This place is pretty rural and country and I sort of expected to be able to get like a big club sandwich (you know the kind– triple decker toasty white bread with thick layers of turkey, lettuce, tomato and bacon?!) with a side of local fried squash somewhere. Makes sense right?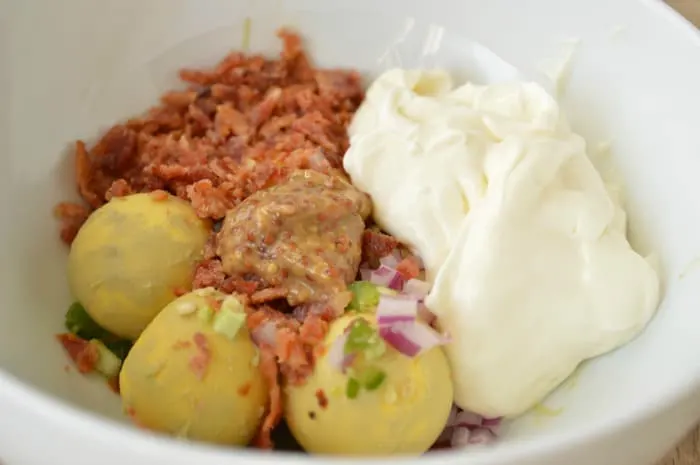 Wrong.
Diners here serve instant oatmeal at breakfast. The menu actually offers prices for one packet or two. Once I ordered a chicken club and I got a big slab of greasy pre-formed fried chicken covered in yellow American cheese with wilty lettuce. Ew. No thank you. (If you want a REAL chicken sandwich try this Barbecue Grilled Chicken Sandwich recipe)
There was the time I ordered apple pancakes and got… a stack of sad from-a-mix pancakes topped with canned cooked apples. I find all of this very confusing because I grew up in a city not far from here full of dank little diners that serve amazing food.
24 hours a day.
Awesome steak fries with homemade ranch dressing at 3 am? Don't mind if I do (note: it's been A LOT of years since I ate anywhere at 3 am but I swear junk food tastes better when you should be sleeping).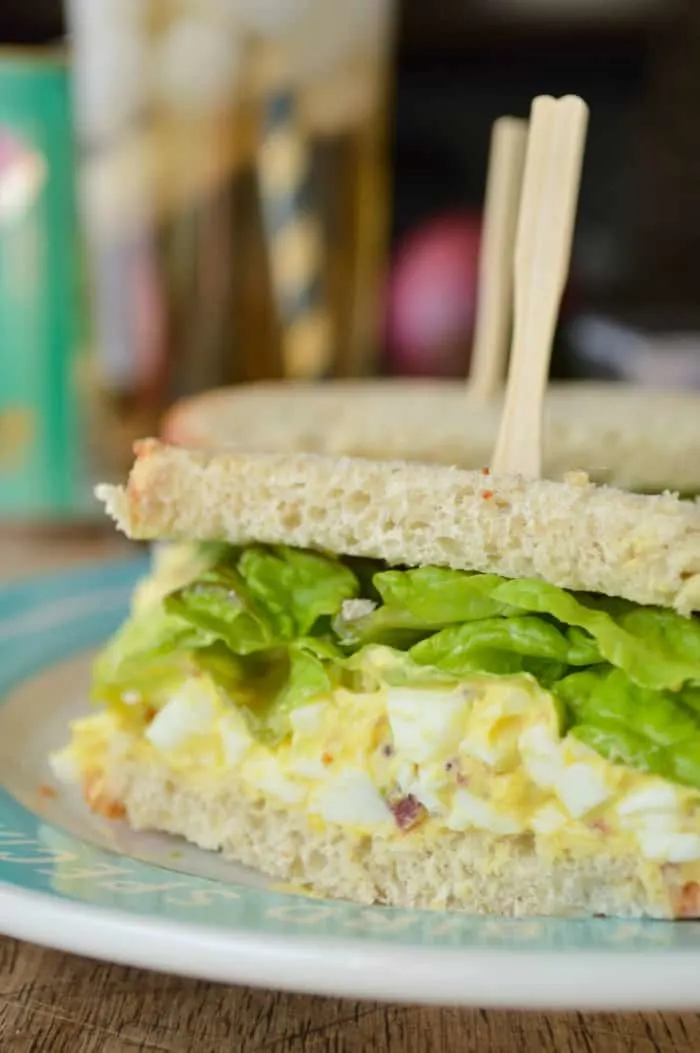 The moral of the story is that now you all understand why I home cook so much food. It's better like this anyway. So I'm passing it on to you.
Egg salad is not something I would ever be brave enough to order out somewhere but it is on every single diner menu. There are some secrets to FANTASTIC egg salad. I'm sharing them because I heart all of you. Best Dang Egg Salad Recipe Ever coming right up!
And the very first thing you need to know is… separate the egg whites from the egg yolks. You know how when you make deviled eggs the yolks are scooped out and mashed with all the goodness? This is like that.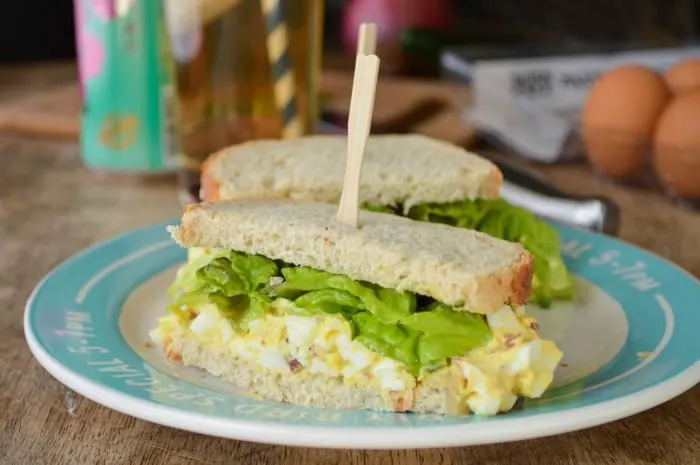 Added to the yolk will be a little mayo, some mustard, vinegar, onion, seasoning, BACON, and chopped jalapenos.
Obviously you could opt to leave out the jalapenos but I have a garden full of peppers that have to go somewhere and egg salad needed a little kick. Plus I hate sweet pickles.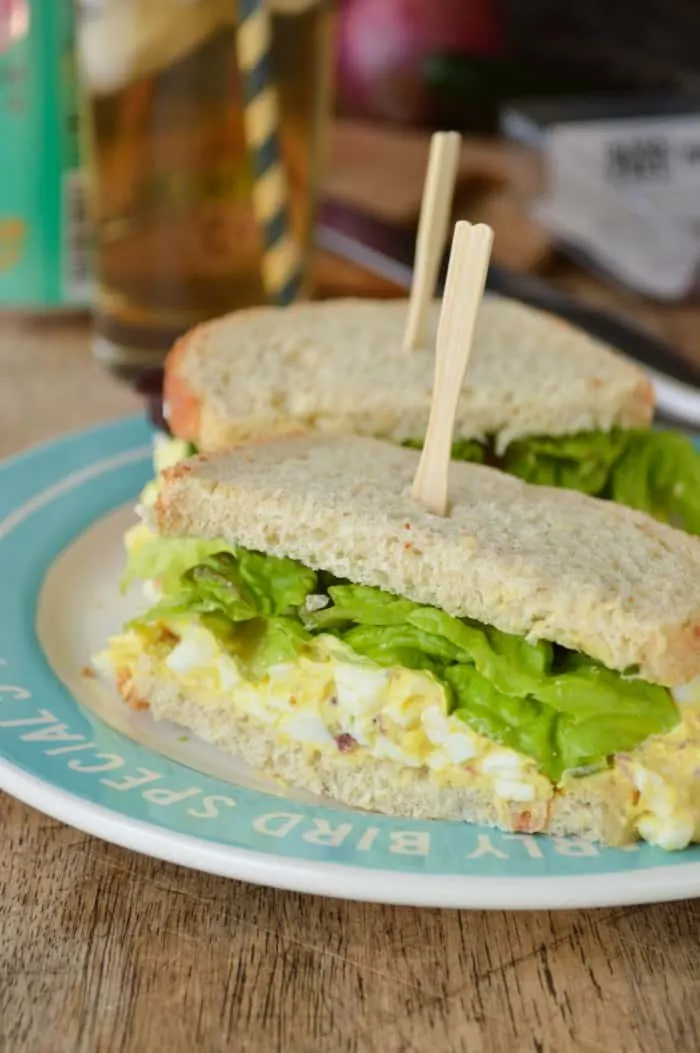 When it's time to assemble your sandwiches with the Best Dang Egg Salad Ever, crunchy lettuce is crucial. Iceberg if you want to be authentic. You can opt for more bacon. And potato chips!!! Do you put potato chips on your sandwiches? They definitely amp up a sandwich X 1000. This egg salad sandwich is serious. If I had a diner I would be proud to serve this.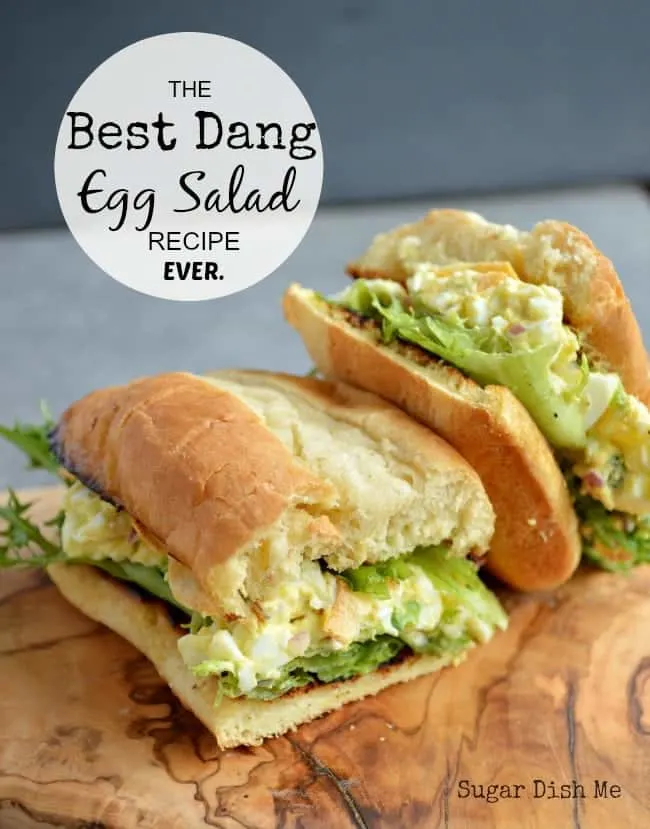 Update February 2018: I added some new photos because this post actually sees quite a bit of traffic! Y'all love egg salad. This is the same great recipe, though. It has been the same great recipe since I added the photo above a few years ago, and it was the same great recipe before that when I learned how to make this particular version from my friend Heather at the Park Cafe.
It's still totally The Best Dang Egg Salad Ever.

Wanna save it for later? Pin This Recipe.
Best Dang Egg Salad Recipe Ever
The Best Dang Egg Salad Ever starts with a simple technique: separating the egg whites from the egg yolks! This recipe is awesome; it even has bacon!
Ingredients
Egg Salad:
5 hard boiled eggs
2 slices of bacon, cooked and crumbled
3 teaspoons finely diced onion
1 small jalapeno, diced (optional)
3 teaspoons light mayo
1 teaspoon spicy mustard
½ teaspoon white wine vinegar
¼ teaspoon coarse salt
pepper to taste
Sandwiches:
thick bread
shredded iceberg lettuce
crispy plain Kettle Chips
a dash of vinegar for dressing the sandwiches
4-6 slices cooked bacon
Instructions
Cut the eggs in half and separate the whites from the yolks. Place the whites on a cutting board and coarsely chop. Place the yolks in a bowl and mash with the back of a fork.
Toss the crumbled bacon, diced onion, and chopped jalapeno on top of the egg whites. Cut the ingredients together to form an evenly incorporated finely chopped mix.
Add the mayo, mustard, vinegar, salt, and pepper to the yolks and mash/stir until smooth. Add the egg white blend to the bowl and stir to incorporate everything.
To make the sandwiches, pile shredded iceberg lettuce on the bottom sandwich slice. Spoon a heap of egg salad on top. Dress with the extra vinegar if you like it like that (we do!!). Add a slice or two of bacon to each sandwich and then pile the Kettle Chips on top.
EAT.
Best Dang Egg Salad Recipe Ever.
I used the recipe for
Easy Homemade French Bread
from
The Prairie Homestead
using half white flour and half whole wheat to make the bread in some of these photos. You guys always ask questions about the bread! So I thought I'd pass along that this recipe was SIMPLE and successful on both attempts (plus it only requires 5 ingredients– flour, salt, sugar, yeast, water, egg wash!) and we
loooooved
it.
Need more twists on diner classics? You should also try…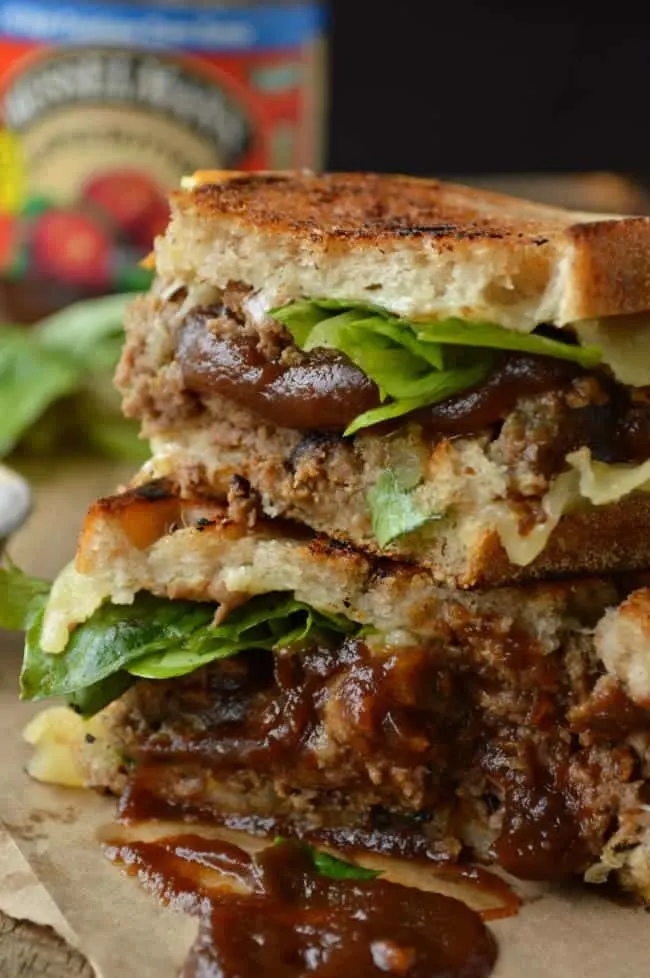 The Best Dang Meatloaf Sandwich I've Ever Had – this sandwich is equal parts hearty and handheld. It's saucy, there's cheese, and it really is the best. I promise.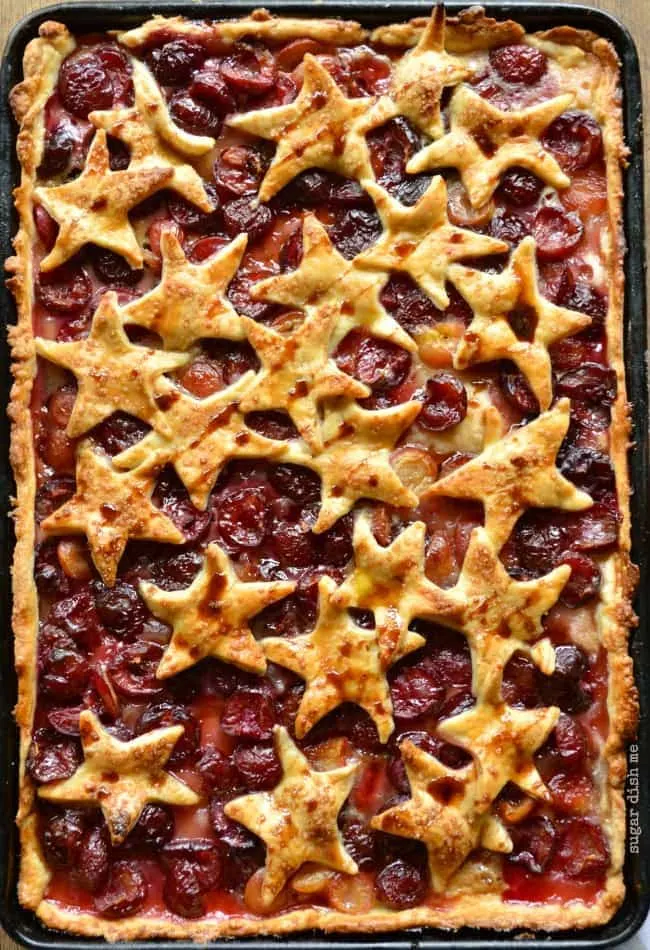 Fresh cherries are soaked in cola and then baked into an all butter pie crust in this Cherry Cola Slab Pie Recipe. This is All-American summer right here.